April 2002
Meadowlark Audio Flies North for the Winter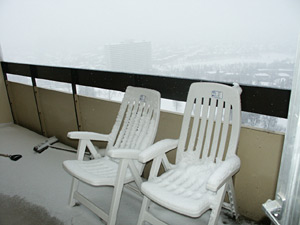 "We always get at least one bad snowstorm in March," some guy blared, using that characteristic loud and declarative voice reserved for people who enjoy stating the obvious. I clutched my Tim Horton's coffee, zipped up my jacket, pulled my toque over my ears, slipped on my gloves, and psyched myself up for the 20-minute walk back home from the Rideau Centre Mall amidst the blizzard. My living room usually has a view of Ottawa and the adjacent city, Gatineau. Today, I was lucky to see past the balcony door. Welcome to springtime in Canada.
It's at times like this that you wonder why anyone would live around here, let alone move from someplace like sunny Southern California. But that's precisely what Pat McGinty of Meadowlark Audio did in October of 2001 -- arriving just before the beginning of winter! One day after our March snowstorm, I visited Pat in Watertown, NY, his new home, just two hours by car from Ottawa. I wanted to see the factory, but I also wanted to find out just what had possessed him to travel for what Mapquest says is 2786 miles (46 hours and 57 minutes by car) from San Diego, to set up shop in Watertown, just 30 minutes shy of the Canadian border.
A new nest…
The drive that day was quick, and required only one Tim Horton's coffee stop along the way. The only peculiar thing was that the guards at the Canada/US border were a little more surly than normal and unexpectedly searched my car -- thankfully leaving my body alone. When I arrived at Meadowlark's new factory on the north side of Watertown, Pat informed me that someone had attempted smuggling drugs recently and that was likely why the border guards were a little jumpy.
Pat and I chatted for a moment, but I couldn't hold my tongue and quickly confronted him with the question whose answer I had been wondering about since I left my snow-infested city: "Why the hell would someone move from San Diego to Watertown just in the time for winter?" Pat laughed. "Because I love it up here. Besides, for all I care it could stay cold all year round -- in fact, I love the cold!"
Loves the cold?! I know people who detest the cold (me), and others who tolerate the cold (most Canadians), but I've never met anyone who loves the cold. That's odd.
Lucinda, Pat's wife, born and raised in Burbank -- now some 2734 miles from her hometown -- looked at him out of the corner of his eye as if to say I'm not so sure about THAT. But she did acknowledge that she loved the area, too. I'm sure that if cold winters didn't come with it she'd love it just as much, if not more. But winter is just a fact of life in this neck of the woods, so you must accept it. It's a good thing Lucinda's not intimidated by the cold because she's an integral part of the Meadowlark Audio operation -- although it wasn't always that way.
In the '80s, Pat was a hobbyist speaker builder making a lot of "one offs," as he put it. In the early '90s, armed with a whole lot of experience, Pat decided to forgo the one-off business and produce a speaker he could sell a lot of. That speaker was the Kestrel. When he finished it, he figured he had a winner on his hands and told Lucinda that he was going to make a living building loudspeakers. She laughed -- yes, laughed.
As they say, though, the rest is history -- and today Lucinda helps him run the rapidly growing company. She's no longer laughing; she's only smiling -- up in the cold, mind you.
Lucinda may be far from her home, but I found out that Pat was born and raised on Long Island, and even lived for a time in Syracuse (which is one hour south of Watertown). Even though he enjoyed his time in Southern California, he always considered this area his home and wanted to move back for quite some time. This decision wasn't all that difficult after all. Besides, there were many other benefits to moving.
Watertown has given them not only a new home, but also the opportunity to expand their company. This small city of about 30,000 people has a rich manufacturing past and is keen to attract growing companies like Meadowlark Audio. As a result, Meadowlark now has a 10,000-square-foot factory for a fraction of what it would have cost in the skyrocketing real-estate environment of Southern California. Not surprisingly, residential housing is also much cheaper, and Pat even managed to coax his production manager, Joyce, to move out here too.
Moving to Watertown also allowed Pat to do something he always dreamed of: have his own woodworking shop. In fact, that's one of the most important things about his move, since it makes all the difference in the world for his operations. In California, much of the Meadowlark manufacturing was subcontracted. Today, the cabinets are built in-house with state-of-the-art machinery. This not only allows Pat to build better loudspeakers, it allows him to build more different models, too. So, look for a significant number of additions to the flock of Meadowlarks soon.
A bird of a different feather…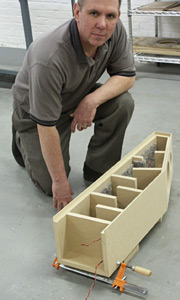 Designer Pat McGinty gives us a rare look inside the Kestrel loudspeaker. The speaker has a transmission-line to increase bass performance. The seemingly simple two-way speaker is surprisingly complex.
Pat thinks differently -- and that's partly the secret of Meadowlark's success. After all, everybody knows that one-product companies aren't supposed to succeed like his did.
But Meadowlark's success had everything to do with exactly what that single product was. It was the venerable Kestrel loudspeaker, an attractive floorstander with a real-wood veneer, and, obviously, great sound. The clincher was its price, which, in 1994, was $995 per pair. Dealers snapped it up because the product was low-risk. Consumers snapped it up because it was a no-brainer purchase.
Pat wasn't surprised. He'd planned it that way from the get-go. In fact, the Kestrel is still his hottest seller, and he still hasn't changed the design (Meadowlark says there are more than 4000 in the field). Had Meadowlark been a one-product company with a $9995 speaker, it would have likely been a different story. Moral of the story: Make a product people want and can buy.
But Pat didn't rest on his laurels. He followed that speaker up with the Petrel center-channel, then came the Shearwater, hot on the claws of that was the Heron (which spawned a Blue Heron, too), and finally the Nightingale emerged. This one-product company grew into a speaker-building powerhouse, and Meadowlark was flying.
And Pat's not stopping. Soon you'll see a Kite loudspeaker (with a powered woofer section); a yet-unnamed subwoofer, based on the Kite's powered-woofer technology; and, perhaps, one of the most important new speakers yet: another $995 floorstanding loudspeaker. This last product is highly relevant because inflation has pushed the price of the Kestrel up to $1395. Meadowlark built itself on providing great value, and they're not going to forget this.
And how is all this possible? In their ninth year of production, Pat and Lucinda are not slowing down. They say they've worked 360 of the last 365 days, but love every minute of it. Running the company, you could say, is their holiday. And, of course, this new factory in Watertown is helping immensely. No wonder Pat and Lucinda don't mind the winter.
Look forward to an upcoming factory tour for a deeper glimpse inside Meadowlark Audio.
...Doug Schneider
das@soundstage.com
If you want to find out more about Meadowlark Audio's products, visit their website.