March 2002
Visiting Roger Hebert of Wyetech Labs
Canada is a country of extremes, where we must endure extraordinary cold, and then a few months later, unbearable heat. As a result, the people, houses, and cars are some of the most durable that you'll find anywhere.
The hottest weather I've ever endured was 37 degrees (about 97 degrees Fahrenheit) in downtown Ottawa. Dripping sweat in a suit and a tie, I scurried from an air-conditioned hotel to an air-conditioned office. The coldest I've ever been was -39 degrees Celsius without wind-chill being factored in (in Fahrenheit this converts to about the same). That was in downtown Saskatoon, Saskatchewan -- and traveling three blocks from a hotel to an office was a life-threatening experience.
February 1st wasn't that bad, but it was -21 with a brisk wind. After one of the mildest Januaries on record, I had softened up, and even -21 was just too much for me. So I vowed that this month I would stay home. I didn't leave my city for the entire 28 days. I mainly worked on reviews, took a few trips to the National Research Council for speaker testing, and also took the opportunity to visit a fellow Ottawa resident -- a man who makes audio components that are every bit as extreme as our weather: Wyetech Lab's Roger Hebert.
This wasn't the first time I'd visited Wyetech Labs. Roger's always got something new cooking, as is proven by the fact that since 1995 he's taken Wyetech Labs from a one-amplifier company to the multiple-product lineup he produces today. And that's a fascinating story.
History
Although Roger's first amplifier debuted in 1995, Wyetech's history goes back some 25 years to the day when Roger decided to start a company and named it after a slang term for the electrical connection used when wiring three-phase transmission lines -- a "wye" ("y") connection. Wyetech started as more a hobby than a business. In the beginning, all Roger produced was a single black box that read the output voltage from an amplifier, made an assumption of a traditional 8-ohm load, and showed the output using red LEDs. While this sounds like a simple product, it was really fairly revolutionary, and, as far as I know, it was the market's first digital read-out power meter. He sold it to hobbyists like himself, but never really considered producing electronics.
In the '90s, though, Roger retired from his day job and, with more time on his hands, he decided to get more serious about his audio passion. He knew electronics and design inside and out -- having worked in the field for years -- and had dabbled in various amplifier projects. This was when he became enthusiastic about tube-based design.
Being a risk taker, he took a large portion of his savings and decided to build the world's best single-ended tube amplifier. Why single-ended? Roger firmly believes that simpler is better. He wanted to create the purest signal path possible. As for tubes, Roger just loves the way they sound. So does his wife, Mary Ann. Roger found this out when he experimented with solid-state products. Mary Ann was always telling him to turn the music down -- or better yet, off! When he experimented with tubes, she encouraged him to play more music. There's something about the nature of tube sound that she finds pleasing to the ear, and Roger took heed.
Product
In 1995, the distinctive and stunning Topaz 211A stereo amplifier debuted -- Roger's statement in cost-no-object single-ended tube design.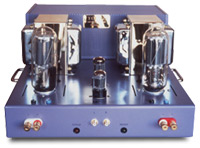 If you're the kind of person who wants a big black metal box that can put out as many watts as there are stars in the sky, then the Topaz won't impress you. But if you're a tube-o-holic and you appreciate the musical splendor that a product like this can deliver -- the kind of person Roger designed the 211A for -- then you will be awestruck by his accomplishment. It's an interesting combination of audiophile esoterica and engineering practicality. I reviewed that amplifier and was floored by its many sonic virtues. I looked it over closely and was taken aback with how much effort went into building it.
When Roger built it, he didn't just set out to create the best-sounding amplifier; he wanted to build the best amplifier -- period. You must see it, feel it, and, if you can, pick it up to understand its appeal. Its 18 watts (into 4 or 8 ohms) come from a chassis made from 12-gauge all-welded steel. It runs pure class A and has absolutely no negative feedback. Everything inside is wired point-to-point, by hand, of course. The unit weighs an astonishing 106 pounds! And when Roger stamped his name on it, he also gave it a 20-year warranty (one year for tubes). He built the 211A to last, and, knowing what I know about Roger, he's thought of everything to make sure it will. Flick one of its toggle switches and you'll hear a heavy-duty thunk -- there's nothing flimsy about this amp. Who knows? It may even be able to do a cold-winter start in -39 degree weather. If I could afford one, I would own one.
But then the question arose: No matter how good it is, is the world ready for a $10,700 18-watt amplifier from a guy up in Canada? Anyone could realize that this wasn't going to be a mainstream product -- ever.
Roger learned the hard way that the audiophile world isn't a fair world. He took his amp to shows and garnered oohs and ahhs -- and even got some buyers along the way, enough to make him a bona fide success. But he learned that, in order to succeed, no matter how good his product was, and no matter how sincere his intentions were, it would take time and, more importantly, he would have to produce a product line.
More products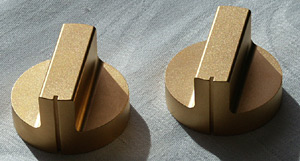 Wyetech uses gold on solid brass for the volume and selector knobs for the Opal.
With the same fanatical detail that went into the Topaz, Roger went to the design room and came back out with the matching all-tube Opal linestage. Like the Topaz, it appeals to the hardcore audiophile who eschews most everything practical, including a remote control. But also like the Topaz, it's built to an astonishing standard. The main chassis and separate power supply total 56.5 pounds! Each side is 3/8" thick and can't be folded -- it's all bolted together. The volume and selector knobs are gold over solid brass and, like everything else, they're heavy. Roger moved from shiny gold to high-gloss black nickel to a textured hard-gold finish that doesn't show fingerprints. The Opal is simply gorgeous in an audiophile way. And it all comes with a commensurate price tag -- $7500 -- and, once again, it has that 20-year warranty to back it all up. Another success -- but perhaps more importantly, Wyetech was no longer a one-product company.
You would think that with the preamp now in the bag, Roger would relax. But being a two-product man really got Roger moving. He liked the way that the Wyetech name was expanding, and he didn't rest on his laurels. He set his eyes on the people who don't have almost $20,000 to spend on an amp and preamp (that's most of us). So he created the $3800 Jade preamplifier and $4500 13W Onyx mono amps, which look like little brothers and sisters to the big ones. Because of the price difference, he could not build them to quite the same standard, but I doubt that anyone who sees and owns them will quibble. They have that rugged Rogerness about them, and he's put a 10-year warranty on their lives -- double what you'll see from most companies -- so you know that he's not really cutting corners too much at all.

And Roger's not stopping there. He'll still build the Topaz 211A today if you really want one, but there's not much use to that. He's using a new tube (right), and from that there is now the $8900 23Wpc Topaz 572B - more power, lower price, same everything else. Who could ask for anything more? Of course, someone could, so mono versions of the amp -- the Topaz 572M -- go for $17,500 per pair. And there's more to come.

The faceplate of the new Coral line stage on paper -- literally.
Most importantly, he hasn't forgotten about the little guy (and no doubt he realizes what success one can have by offering products more affordable to all). So he has drawings done and a circuit design finished for his new Coral preamplifier, which he hopes will debut in mid 2002. He's setting his sights on bringing it out at $2000.
One of his dealers started him wondering: If the world did finally realize they needed a single-ended amp like the Topaz, then how long would it take people to realize they needed another super-high-end headphone amp? For 2003, Roger has an all-tube headphone amp coming that will accommodate impedances from 32 to 600 ohms. It will cost about $3000. Perfection has a price.
Finally, there's the phono stage, due out in 2003. Recognizing the need for this product undoubtedly goes back to the realization that if you're going to build audio electronics, you better build matching sets. If you have amps and preamps, well then, you better have a phono stage to complete the package. There are just too many audiophiles out there who will never give up their turntables no matter how much music gets released in digital formats. As usual, this will be built to Roger's standards, and he hopes to have it come in under $4000.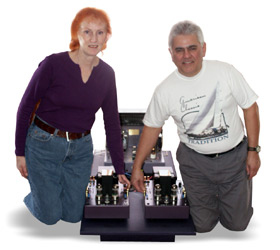 A Wyetech family portrait. Mary Ann and Roger Hebert with the Onyx monoblocks. Behind is the Topaz 572B, and barely visible on top of that is one of the original power meters.
Is there anything more? He won't tell me.
Future
I really doubt that Wyetech Labs' products will ever be as everyday recognizable as, say, a Tivoli Audio Table Radio (which Roger owns, loves and has on his kitchen counter - "Great for what it costs," he says, "and it's heavy, too!"). But I do foresee the day when audiophiles the world over know his name and the amazing products he creates. When that day comes, he'll have hit the mainstream.
Come March 22, Roger hopes to be at Montreal's 15th annual Son & Image show held in beautiful downtown Montreal. That's my next stop too.
...Doug Schneider
das@soundstage.com
If you want to find out more about Wyetech Lab's products, visit their website.