Tony Fafoglia
---
November 1997
Exposure 13 Phono Stage
Questions abound in the world today. Why do oldies radio stations play lots of Gary Puckett and very little of the Kinks? If the imaging in a forest becomes more palpable and there's no audiophile to hear it does it really become more palpable? What's with the proliferation of stand-alone phono stages? It's like Eric Burdon says in "Spill the Wine" -- there's short ones, fat ones, thin ones, even long ones. These days we have everything from a $100 phono upgrade to your receiver to serious stuff like the new Herron phono stage at around $3k or the FM Acoustics unit whose price made me lightheaded.
Recently, the old analog dog and the LP loving pup have been confronted with a purchaser's dilemma when eyeing some lusted-after preamp in the local audio salon. Merely asking if some coveted line stage preamp has a phono option can garner a look like announcing you've had a ride with JFK in Bigfoot's UFO. Although things have improved of late and many companies have started reinstating the phono option in their designs, many fine preamps do not come with a phono option at all! Admittedly, this is a result of the CD's domination as the main music source of the masses (sounds chilling, doesn't it?). Thus, the outboard phono does serve a function beyond mere upgrade path (which we audio geeks usually love in and of itself).
One company that has held the line on phono is the the Portslade, UK based company Exposure. Their 17 preamp and 15 integrated amp have some of finest phono stages at their respective price points. This is due, in large fact, to company head/designer John Farlowe's love for, and large collection of, LPs. It is also interesting to note that Exposure has only recently entered the digital domain with their excellent new single box CD player.
All of Farlowe's designs are based on the premise that a unit's power supply implementation is one of the key aspects to how it will perform sonically. Thus, the new 13 phono stage is an extension of this philosophy. All Exposure gear features extensive power supply regulation with lots of custom, over- specified parts. Exposure's importer in the US, Mike Pranka, pointed out that the 13 was primarily designed to be used with the new top-level 21 remote control line-amp. This allows each unit to perform its function to the fullest by incorporating refinements not possible if both units were placed in the same box.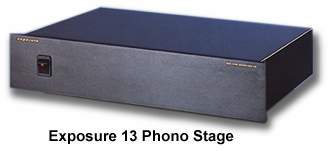 The 13's price of $1350 isn't exactly chicken feed to most of us. Still, it is at an interesting price point that lies between stuff like the Creek OB8-9 and the high priced spreads I mentioned earlier. The 13 can be ordered with either a moving magnet or low-output moving coil board and can be switched by the dealer if one decides to change cartridge type up the road. In fact, the phono boards in the 13 are the same as those used in the 17 and 15. The crucial difference being the 13 and those units is that the 13 has its own dedicated power supply. The power supply's capacitors and large torroidal transformer are the same as used in the 18 power amp. All this may seem like overkill, until you listen to it for a while. Exposure's view seems to be that shared power supplies compromise performance in some way.
The 13 measures 17 inches wide by 3.5 inches high by 12 inches deep. In fact, this is the same box used, not only by their model 18 power amp, but most of the components in the Exposure lineup. It comes in their traditional simple, yet elegant black finish with an LED-lit on/off switch. Those seeking the sexy and exotic may want to wander elsewhere. The rear of the 13 features two sets of heavy duty gold plated RCA jacks for input and output and a phono ground post. Regarding the use of the ground post, experience had shown me that I actually had to use the ground on my preamp, otherwise, I got noise that sounded like a Cicada on a summer evening. Technically, I'm not sure why this was so, but it is something the potential user should be aware of. The power cord is a heavy duty, three prong affair that is, unfortunately, non-detachable (hard core tweak-o-philes may begin screaming now!). The unit weighs in at a hefty 18 pounds, which is heavier than many preamps, including my Conrad Johnson PV10a). Since I use the Audio Technica ML150 mm cartridge, listening was done with the moving magnet board.
If I've learned anything from messing with high end audio, it's that most components need to break in. Then, there are those components that need to BREAK IN. The 13 is one of the latter. When I first plugged it in, it was like, "eh." After an hour that turned to, "this is nice." After a couple days I though, "hey, this is good." Then I didn't get to listen much for the next couple of days. Then after about a week, on a Saturday morning, I threw on the Classics/RCA reissue of Reiner conducting Stravinsky's "Song of the Nightingale." Man, I jumped out of my seat!. Dynamically, the 13 was a world apart from my CJ and most other phono stages I had heard. Exposure gear is known for its way with pace and dynamics and the 13 was no exception. "Could it be that there big power supply?" I asked myself in my best Hee Haw style. The transient attack at the beginning of the piece was intense. The break-in factor is significant to any prospective consumer because this unit, was in fact, an importer's demo unit and not fresh out of the box. I wouldn't know how long a new-in-box piece would take to sound good, but I'd guess it would improve over several weeks.
I don't like to get way crazy into sonic and tonal parameters because if taken to far, I view them as symptoms of audio psychosis, but here goes, anyway. The 13 seems even-handed with the usual excellent midrange of the other Exposure products I've heard. Once it was warmed up, the 13 demonstrated extended bass with the slam one expects from the best of the UK designed gear. The balance seemed a tad cooler than than the tube phono stage in my CJ preamp. How much of these differences are due to the 13's silicon heritage or the tube euphonics of the CJ is hard to say. Conjecture may lead to excessive aspirin use. To be fair, the PV10a is less "tubey' sounding than a lot of tube stuff. On the other hand, the 13 has a bunch of other things going for it that make me tend to overlook its slight coolness.. I will say that if that ellusive "tubeness" factor is a high priority for you, then the 13 may not be your ultimate choice. I guess my intent here is avoidance of the dreaded neutral word.
In terms of sound parameters the 13 seems to extract a gob of detail from LPs. I've listened to my copy of Handel's "Water Music" on Harmonia Mundi many times. With the 13 I got a sense of the hall, of the musical lines and the players interaction and perhaps even more of Handel's intent. Hard to say,I just knew I had to play both sides. One of my favorite lp's these days is Los Straightjackets Viva Los Straightjackets on the Upstart label. Los 'Jackets play instrumental rock that owes a debt to such great 60's guitar instrumental bands as the Ventures and the Shadows. On one of my fave cuts, "Pacifica," the stops and starts of the tempo reminded me how you can't have a great rock band without a great drummer. They sure do have one -- L.J. Lester.
Some of you may ask what does that have to do with audio. Well, if audio gear gives you bloom and staging, but it doesn't make you think about either how great the playing or the music is, then there's trouble in river city, friends. Another favorite record is Toots Hibbert (of Toots and the Maytals fame) Toots in Memphis." This features Toots backed by the classic Hi Records rhythm section, the guys who played behind folks such as Al Green, plus the crack team of Sly and Robbie on bass and drums. Toots tackles soul classics by Otis Redding, Al Green, Eddie Floyd and the Staples Singers on this album. The bonus is it's well recorded late 80's analog. The 13 laid out all the details in the recording yet the Memphis via Kingston grooves had my foot pounding and I wasn't thinking about audio. I played this one all the way through as well.
The 13 didn't seem to favor anyone kind of music which is a good thing in my book. I pulled out Miles, Gene Ammons, the Stones, Billie Holiday, Mahler…, well you get the idea. Stuff I like and they got played the way through. Another thing I dug about the 13 is it's high on the "Grunt" factor. This is when a component reveals shouts and noises made by the players on my classic jazz and blues records. While listening to the new Classics reissue of the Ben Webster/Sweets Edison We Wanted to do One Together, the 13 revealed yet unheard noises made by the musicians. I know this may seem crazy but to me it's just as valid as listening for stuff like hall reflections on recordings.
All in all, I enjoyed my time with the 13 phono. Before signing off, let me point out one aspect of auditioning the 13 that may cause concern. Even with the moving magnet board the 13 is not as high output as some phono stages. This means to get the 13 to strut its stuff you may have to turn it up more than you're used to. Generally I run my CJ volume at around 8 or 9o'clock. With the 13 it was generally between 10 to 12 o'clock. You should be aware of this; otherwise, you may not be hearing the 13 at its fullest. I'd also like to hear the 13 in the context of an all Exposure system, but will save that for another day and another column, I'm afraid. Besides, I've only got the 13 for a little longer and there's some LPs I haven't played yet.
...Tony Fafoglia
tonyf@soundstage.com
Exposure 13 Phono Stage
Price: $1350 USD

Exposure Electronics
The Works, 59 North Street
Portslade, East Sussex, BN41 1DH
England
Phone: 01273 423877

Distributed in the US by:

Toffco
P.O. Box 4618
St. Louis, MO
63108
Phone: 314-454-9966

Web-Site: www.exposure-audio.com
---