November 2000

At Home with a Standout System

What's that sound goin' round? At an audio show, it seems that every room is featuring CDs that do little but show off what the exhibitor hopes is good transient response. So each room plays CDs that feature percussion or plucked instruments recorded very closely. The clack of woodblocks and bones, the metallic "swoosh" of cymbals and brushes, guitarists knocking their guitars, guitars recorded with the microphone inches away from the player's fingers -- after a while, I started to ask if I could hear some music. The exhibitors who know what I meant looked at me as if I had just created an unpleasant smell. Those who did not were genuinely puzzled. But a few knew from the outset that music is more than "The Thundering Organs of the Baroque Beings from Planet Drum." They realized that melody and depth in a singer's voice are music. And they knew they had systems that allowed the magic of their CDs and records to come through relatively intact.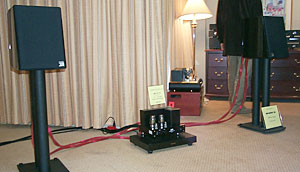 This same system at the Festival du son et de l'image in Montreal.
There were several rooms at the Festival du son et de l'image in Montreal last March that focused on the magic. One of these rooms was playing this month's standout system. The ingredients are simple and seem at first an unlikely combination.
The source is a heavily modified CD player, the NOS Audio Mu2 ($1800). This is a top-of-the-line player in which Michael Thompson of Toronto's Executive Stereo has replaced the usual DAC with a transformer DAC. This technique is not unheard of, but it is rare and usually part of very expensive players. Thompson, a personable electronic artist, explains that a specially built transformer performs all the necessary analog junctions, including current-to-voltage conversion and low-pass filtering, while allowing wideband isolation of the digital and analog sections. He goes to great pains to point out that this system generates no noise because of the passive nature of transformer amplification. He points out that the distortion and phase characteristics of transformers compensate for negative recording and digital artifacts within CDs. However, the player is not totally amplifier free: A buffer amp provides the constant load necessary for the transformer and, Thompson says, adds the least amount of noise of any type of amplifier.
The next item down the line is the ridiculously inexpensive Antique Sound Lab MG-S115DT single-ended integrated amp ($595). With a tube complement of two 12AX7s driving two KT88s, it is not a rockin' powerhouse. If you really love running raves with your gear, you can stop reading right here. The MG-S11DT is handsome in its tubey way, with the usual high-end complement of two knobs and an on/off switch.
Then come the darlings of this system: the Reference 3A De Capo speakers, which retail for $2500 per pair. I reviewed these fine speakers for the October issue of SoundStage!.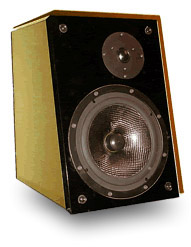 They are two-way, no-crossover speakers. A 26mm latex-coated, fabric-dome tweeter runs alongside an 8" woofer made of woven carbon fibers into an exponentially shaped cone that moves independently of the centerpiece. The bass driver is run wide open and mechanically crosses over to the tweeter as its range naturally dissipates at 3kHz.
So put all this together with some midrange van den Hul cables -- D 102 III interconnects and Teatrack speaker cables -- and what do you have? The answer is music. And that is what stopped all of the SoundStage! crew in Montreal. And it is what I have enjoyed with these items in my listening room.
It is too bad that insipid music earned the title "easy listening," because this is the term that best describes this combination. And it is anything but insipid. Offering clear, transparent sound with good imaging, this system never pushes itself on you. It enfolds you with its musicality. You sit up and take notice because it does not grab you by the throat and shake you.
The experience is odd. If I compare this system to my own, it lacks the resolution and detail that I prize, but it has the musicality I also love. Not that it has poor resolution -- just not as much. But then there should be some differences between a $600 integrated amp and a $2000 unit or I would be really ticked.
Listening to the Hyperion disc, British Light Music Classics [Hyperion CDA20868] (re-issued at mid price as one of the 20 Hyperion discs so marketed for the label's 20th anniversary), I could have let it go all day. Big bass drum, soaring strings, and powerful horn sections filled my room. Then I put on Bill Frisell's Gone, Just Like a Train [Nonesuch 79479-2]. Wow! This is a great record for textures, harmonies and percussion (yes, it is also good music), and it swept me away, not because it was the gutsiest sound, but because it captured the feeling and passion of the music.
Interested yet? Then I played some Mozart: Thea King's soulful basset clarinet playing Mozart's clarinet concerto and clarinet quintet (English Chamber Orchestra, Jeffrey Tate, conductor [Hyperion CDA66199]). Orchestral detail and imaging were good, and the deep notes of the basset clarinet came out with the rich, round tone I had hoped for.
And just for mischief's sake, I played "A Groove of Love" from C+C Music Factory's Gonna Make You Sweat [Columbia CK 47093]. This outfit rocks -- in a dignified way. Turning it up to full volume will not break the lease, but you can still enjoy your rock classics and all the rave music you like. Just remember that you are going to listen to the music, not have your ears bleed, and you will love every minute of this standout system.
...Neil Walker
neil@soundstage.com