August 2000

A Meeting by the River

Until recently, most surround-sound processors that were truly capable of doubling as high-performance two-channel preamplifiers were tremendously expensive units from high-end manufacturers. Because home theater requires more circuits for surround processing, additional speakers and additional channels of amplification, setting up a home-theater system almost invariably meant compromising two-channel performance.

The problem is that adding surround processing to an existing preamp/power amp combo or integrated amp usually requires bypassing the high-quality preamp section of the existing two-channel system. However, many manufacturers now offer an additional input that allows the user to bypass the preamp section of his current system when required for home theater -- so that a surround processor can be piggy-backed onto the system. The two-channel system can then be integrated into a full-blown surround system at the flick of a switch -- no swapping of speaker cables or interconnects, no worrying about matching volume control levels, etc.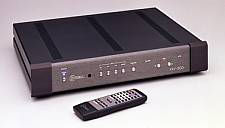 This feature, called Theater Throughput Mode, is available on several of Krell products, including the KAV-300i integrated amp, which I use in my reference two-channel system. In my previous Standout Systems column (January 2000), I described my two-channel rig that was based upon the KAV-300i and a pair of Infinity Composition Prelude speakers. These components have been integrated into a home-theater system that is now my one and only reference system for both movies and music.
The Song Remains The Same

The two-channel portion of this system remains essentially the same -- consisting of the Krell integrated and Infinity speakers along with Nordost Blue Heaven interconnect and speaker cable. CD-spinning duties remain the task of the venerable TEAC VRDS-T1 transport. However, I have replaced the MSB Link DAC, Audio Alchemy DTI Pro 32, and DTI v2.0 with an upgraded MSB Link DAC III. The upgraded Link DAC III consists of the Half Nelson parts upgrade, 24/96 upsampling option, and P1000 Power Base. These modifications to the Link transform it from a very good DAC to an excellent one. It does everything that the old Link did, only better. The overall sound is even smoother and more musical, but with resolution and detail also bumped up a notch. The bass (another strong point of the original Link) is more refined and has greater extension and better pitch definition. There is also more air around instruments, with the soundstage opening up and getting just a little deeper and wider. Although the stock Link DAC remains the value champ at a suggested retail price of only $399, the upgraded Link DAC III ($1282) takes you several rungs up the performance ladder.
Two Hearts Beat as One
Integrating the Krell KAV-300i into a home-theater system is relatively easy. One of the line-level inputs is designated as a "processor" input, but comes configured as a standard input from the factory. However, by removing the cover of the Krell and switching some jumpers inside the unit, that input is changed to Theater Throughput mode and now bypasses the preamp section of the integrated amp, essentially turning it into a power amp when that input is selected. The Krell can now be controlled by the surround preamp when the processor input is selected and then operate like a normal integrated amp when any of the other inputs are selected. With the amplification and speakers for the front two channels of my home-theater system taken care of by the Krell and the Infinity speakers, it was simply a matter of adding the necessary parts to complete the system.
Video Killed the Radio Star
At the heart of the system is the Sherwood Newcastle AVP-9080R processor. This was one of the first affordable ($1200 USD) full-featured surround processors with both Dolby Digital and DTS decoding. Some of its key features include S-Video and composite switching of all five A/V inputs, one component video input and output, built-in RF demodulator for laserdiscs, six-channel direct input, switchable (MM, MC) phono input, and the list goes on. Oh yeah, it sounds great too. It was definitely a step up from the Technics SH-AC500D processor that I had been using (a very inexpensive, but very good digital decoder). Surround-sound performance may not be up to the standard of some of the very best preamp/processors, but the AVP-9080R can hold its own against anything in its price range. My only beefs with the Sherwood are its lack of digital inputs (it only has one coaxial, one optical, and one AC3-RF) and its bass management, or should I say bass mismanagement. Like many surround processors, including some very expensive ones, the AVP-9080R tends to throw away bass information when any of the speakers are set to "small." I get around this by setting all of the speakers to "large" (the Doug Blackburn method), but this could be a real problem for those who use low-frequency-limited speakers and rely on the processor to manage the bass.
God Of Thunder
I only require three additional channels of amplification, so I just use three of the Anthem MCA 5's five channels to drive the center and surrounds. This 200Wpc beast just loafs along with its two large toroidal transformers splitting the amplification duties between the center and rear channels. Although there are better home-theater amps out there, at a list price of only $1399, few amps can match the MCA 5's combination of power, performance and value. It is for this reason that it was awarded a SoundStage! Reviewer's Choice Recommendation.
Speaking In Tongues
My center-channel speaker is the now-discontinued Boston Acoustics 555X ($300 USD). This was one of the first THX-certified front speakers, and it still does a good job, even with the increased dynamics of today's discrete digital soundtracks. Not only can this speaker handle a lot of power, but its sound is relatively uncolored, and dialog always remains clear and intelligible. The Definitive Technology BP-10s ($999 USD) that I am using as surrounds are full-range, bipolar floorstanders that previously were the main speakers in my separate home-theater system. Although I find the Definitives to be a tad bright for stereo, they make exceptional surround speakers that can create a very powerful and enveloping soundfield.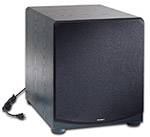 Even though I have full-range main and surround loudspeakers, a good subwoofer is still required for the LFE channel of movie soundtracks. The Paradigm PW-2200 is just such a sub. It is relatively inexpensive ($799 USD), but it still goes down to almost 20Hz, and it is reasonably articulate. While it lacks the absolute slam of some of the very large subs, like the Mirage BPS-400 that I recently reviewed, the PW-2200 does a good job in my modestly sized room. This mish-mash of speakers might not seem like it would make a good home-theater system, but because all of the speakers are relatively neutral-sounding, they blend very well together.
You Spin Me Round
The main source for my home-theater system is the Pioneer DV-626D DVD player ($645 USD). Most current DVD players from manufacturers such as Pioneer, Sony, Panasonic, Toshiba, etc. offer state-of-the-art picture quality and sound quality at least on a par with that of good CD players. The DV-626D offers all that plus the ability to pass 24-bit/96kHz signals to its digital output. This gives me the ability to send 24/96 digital signals to the MSB Link DAC III and have its superior digital and analog circuitry handle the audio signal when playing back 24/96 audio-only DVDs from Chesky or Classic Records.
Too Legit To Quit
What makes me most proud of this system is that I was able to piece it together with several high-value components from different manufacturers (including the speakers) to obtain a very satisfying result at what I feel to be a reasonable cost. The end product is a system that is a high-performance two-channel system that is integrated into a home-theater system that is nearly as capable. While I would have liked to have had timbre-matched speakers all around, a high-performance surround processor capable of high-end, two-channel sound, and five channels of reference-quality amplification, I live in the real world. I have a nine-to-five job, I live in an apartment, and I have a life outside of audio (or at least I like to think that I do).
...Roger Kanno
roger@soundstage.com