May 2000

Show System

If you think it's difficult to set up your own audio system in a room you know, try setting one up in a hotel room, as manufacturers and distributors do multiple times each year for the CES and other audio shows. I often think it's a wonder anyone can get good sound under show conditions, and yet companies do -- some of them delivering consistently fine, even terrific, sound. Such is the case with electronics manufacturer Lamm Industries and distributor TreMa Sound, who handles the Kharma line of speakers from the Netherlands. It's never been the case in my experience that a Lamm/Kharma room delivered poor sound.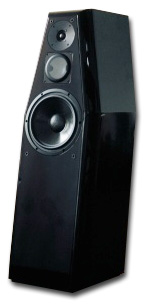 In fact, this combination of products can always be counted on to offer some of the best sound at a show, any show, and thanks to some reviews I'm working on, I'm lucky enough to have this show system in my listening room.
My version of the show system uses Lamm ML2 monoblocks ($29,290 per pair) and L1 line-stage preamp ($6990), both of which we've reviewed and given our Reviewers' Choice designation. One potential problem with the ML2s is their very modest power output, a mere 18 single-ended watts each. Enter the Kharma Ceramique 1.0 speakers ($14,999 per pair) and their 90dB efficiency. In my room, and in the show rooms I've visited, this combination plays plenty loud, and Lamm's Vladimir Shushurin says the Ceramique 1.0s are better mates with the ML2s than the much more expensive Kharma Exquisite Reference 1b speakers.
The source component for this system is the well-known Mark Levinson No.39 CD player ($5995), which offers unmatched convenience and wonderful sound. Cables are from JPS Labs, not Kharma or Purist, which has been the case at shows. Via their great transparency, the JPS Labs Superconductor2 interconnects ($699 per meter pair) and NC Series speaker cables ($2499 per eight-foot pair) allow the topflight electronics and speakers to do their work in an unfettered way.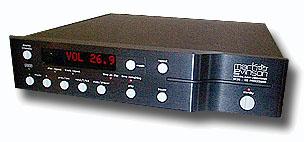 I also use a PS Audio P300 Power Plant ($995) to give juice to the CD player and preamp along with power cords from ESP, JPS Labs, API and Audio Magic. Each of these cords is used in a specific location and thus was chosen based on its contribution to the overall sound of the system.
There are so many things this system does well, but in the midrange it shines. The Lamm amps have a way with voices that will keep you glued to the listening chair, and the ceramic midrange driver of the Kharma speakers -- not to give too much away from my upcoming review -- lets it all pass in a way that has made me reevaluate what I thought was a great midrange. The bass is not lacking in any way, and the treble is as clear and clean as I've heard in my room -- or at shows. The only down side of the system is its cost. I wish such rarefied performance could be coaxed out of less expensive equipment, but I have yet to hear a cheaper equivalent.
Like Doug Schneider with his Blue Circle electronics, I've found a sonic home with Lamm. No wonder after a long day of trudging up and down stairs while doing show coverage the Lamm/Kharma room is so inviting. The only things lacking from the CES experience I have in my listening room are the cookies -- gooey in the midrange, crispy on top and bottom -- that Vladimir and Elina of Lamm and Trevor de Maat of Kharma bring to each show to entice sugar-deprived attendees….
...Marc Mickelson
marc@soundstage.com