November 1999

Go-Anywhere System

One of the things that has always bothered me about high-end audio is the formality of it. We build a system -- speakers, amplification, source -- that we often house in its own room and pamper like a child. We tweak and evaluate and accessorize and in the end assemble something that we cherish and few other people see -- or use.

In many ways, HeadRoom helped democratize high-end audio by taking great sound to the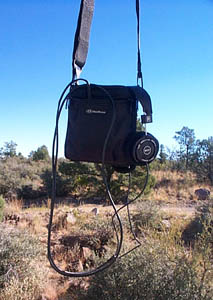 people, so to speak. With a HeadRoom system, you can have your music anywhere except underwater. The company's line of headphone amps and related products make high-quality sound portable -- if not always cheap. But then HeadRoom addressed cost too, developing the AirHead, which at $179 lowered the price tag of sound on the go. HeadRoom even developed a special carrying bag for the AirHead, your portable CD player and your music, so you can have it all even when you're not at home.
My go-anywhere system consists of a HeadRoom AirHead, Panasonic SL-SX300 portable CD player ($109), Grado SR60 'phones ($69), and a HeadRoom AirBag ($49.95). The AirHead comes with HeadRoom's Audio Imaging Processor circuit, which is the AirHead's primary feature after its ability to drive more headphones than the output of the Panasonic player alone. The Processor circuit reduces the left/right/center imaging that headphones can have, pushing the soundstage seemingly out in front of you some and filling in the blind spots. The effect is subtle when you first switch it in, but once you listen to a few cuts, turning the Processor circuit off makes the whole soundstage sound homogenous and "in your head." The AirHead runs on two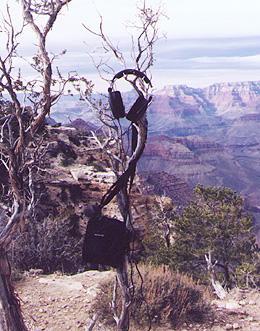 AA batteries or an AC adapter. The batteries last about as long in the AirHead as they do in the portable CD player -- a couple days of heavy play for me. The whole thing is easy to sling over your shoulder, and it weighs practically nothing.
The sound of this system is terrific. The Grado headphones are warm and involving, but you can substitute others -- like Sennheiser HD 580s or 600s -- to kick up the resolution and spaciousness a notch or two. In fact, with the Sennheisers, the AirHead produced the best headphone sound I've ever heard -- music that's as transparent as you'll hear from most high-end speakers. You could probably use some other CD player than the Panasonic, but it sounds so good on its own that a substitution is out of the question for me.
This system is great for listening in the car or late at night, but what I like most is that it offers me the possibility of listening anywhere, anytime. No more scheduling time away from others in my private audio sanctum sanctorum. Just drop in a disc and hit play -- automatic for the people, and way cool too.
...Marc Mickelson
marc@soundstage.com