October 2005
Vincent SV-382 Surround Amplifier
Multichannel Pick of the Month
Falla: El Sombrero de Tres Picos
Asturias Symphony Orchestra; Maximiano Valdes, conductor.
Hybrid Multichannel SACD, Naxos 6.110018

Spanish-born composer Manuel de Falla completed the stage version of the ballet El Sombrero de Tres Picos (The Three-Cornered Hat) in 1919. Here it is presented with his second-most-noteworthy stage production, written five years earlier, El Amor Brujo (Love the Magician). Both of these compositions are classics, and are performed in rousing fashion by the Asturias Symphony Orchestra in a cleanly produced studio recording. The sonic highlights here include remarkable atmosphere and robust dynamic range. Delineation of individual performers could be a touch better, but this is likely masked by the clearly reverberant nature of the recording space. That reverb, however, provides the listener with a sense of space and atmosphere that is missing in many recordings. It adds a "liveness" that has to be heard to be appreciated. The generous dynamic range and forceful playing only reinforce the impact of the performance.

...Jeff Fritz
jeff@soundstage.com

The High End Society's annual High End show takes place every spring in Munich, Germany. This European audio/video extravaganza has introduced me to a wellspring of equipment over the six years I've attended. Much of this sometimes-exotic gear I'd not be able to experience simply by visiting close-by dealers and stateside audio/video trade shows. The Orpheus Labs Two multichannel preamp, for example, is a component manufactured and designed in Switzerland, and I learned about it in Germany. It served as my reference preamp for some time due to its slick multichannel functionality and spotless audio quality.

Vincent Audio is a company whose wares I've seen at the High End show for several years now. The rugged build quality and diverse product line have always intrigued me, though I've known little beyond what I could gather at the company's mostly static displays. I was thrilled to see this line finally show up in the US (imported by distributor Q-USA) and also to see the $1595 USD Vincent SV-382 appear on my doorstep.

What is it?

The Vincent SV-382 will delight some and sorely disappoint others. Like many of the specialty-audio components available today, the SV-382 is designed for a subset of the mass market. This is not an audio/video receiver in the classic sense -- there is no tuner, and the processing options are not cutting edge. It does have basic surround-sound functionality covered, however. There is a multichannel input for the six-channel analog outputs of a SACD/DVD-Audio player; there are coaxial and TosLink digital inputs that you can use to decode Dolby Digital Surround EX and DTS-ES 6.1-channel audio from your DVDs; you'll also find outputs for six speakers and a power amplifier rated to deliver 100 watts to each channel. Video inputs on the SV-382 include component and S-video terminals, as well as standard composite jacks. There are no preamp outputs, no HDMI/DVI inputs or outputs, no room-correction or equalization functions, and the remote is the most basic affair I've seen in ages.

So what might possess someone to buy this mid-priced unit as opposed to the far more advanced Japanese offerings littering the store shelves these days? One great-sounding amplifier section, that's what.

I had an idea that the Vincent SV-382 had some serious muscle inside when I hefted the box from my front steps and hauled it in the house. Its almost 50-pound weight meant that there was likely a substantial power supply inside the chassis, always a good indication that the amplifier section packs some punch. The heavy-gauge steel casing and aluminum front panel denote a look that means business. The chassis doesn't flex when you lift it, unlike that of most receivers these days. I did notice that the front panel's plastic backer wasn't cut to fit the faceplate exactly, creating imperfect edges. This is something you would not see on a Denon receiver, for instance.

Once fired up, the SV-382's digital front-panel readout appeared to resemble a retro-styled, '70s-era component more than a modern receiver. The dancing vertical bar graphs for each channel tracked along with the output level, indicating whether you were jamming or just listening quietly. I like the look myself, but you need to see it up close to determine whether it's your cup of tea.

Large knobs on either end dominate the faceplate. The right one is for volume control and the left is for input selection. Function selectors are located in a row on the front panel, just below the display. These small, centrally mounted buttons include Mode, DSP, Test, Channel, Set, Speaker, Tone, BBE, and Delay. A headphone jack and a large power button round out the facilities. The remote offers a few more functions, such as the ability to dim the display to three different levels of intensity; a Night Mode that enables clear dialogue at low volume levels; and a mute function. Channel delays and levels, and bass management, are easily accomplished via the remote as well.

Hook 'er up

I used the Vincent SV-382 with five paradigm Studio 100 v.3 loudspeakers arranged in an ITU-type arrangement. Cabling was Nordost Red Dawn II interconnects and speaker cables. The source player was a Samsung HD-841 universal audio/video player. I also listened to the SV-382 briefly in stereo mode with a pair of Wilson Audio Sophias, and the sonic signature was essentially the same as with the multichannel Paradigm setup.

Turn on some music

Although the story to this point might seem a bit mixed, the sound quality made up for any functional or cosmetic shortcomings. The SV-382 came out of the gates with a big, bold sound that filled my room with an expansive soundstage. The bass and lower midrange were powerful, the highs smooth and relaxed, and the midrange full and palpable. In many ways the sound of the SV-382 was the antithesis of the thin, bleached sonics I sometimes hear from the usual suspects in the A/V-receiver world. There was power to spare regardless of the output level I chose. As the music grew in volume, so did the expansiveness of the soundstage. This is counter to many receivers, where things tend to fall apart as the music gets louder. Images within the soundstage were not razor-etched in space, but three-dimensional and substantial. It was a sturdy, powerful sound that I heard. I never once ran out of headroom, regardless of the software chosen -- no matter how loud I listened. This is a tribute to the Vincent amplifier and the Paradigm speakers.

Dark Side of the Moon on SACD [Capital CDP 7243 5 82136 2 1] clearly illustrated the large, enveloping soundstage that the SV-382 is capable of producing. "Time" was rendered with a larger-than-life, get-inside-your-head character. The presentation remained impressively cohesive from all channels; no speaker in the array was shortchanged, a must when playing this cut. The opening heartbeats on "Speak to Me" were substantial and thick with sonic information. You could feel them pulse not just in the room, but as part of the room. The SV-382's signature sound was not "palpable" in the sense that can be created by an overt layer of high-frequency air around instruments, but "palpable" with life-sized bloom and realistic scaling. In fact, the sound was more akin to what I've heard from separate home-theater components -- amps dedicated to amplifying and processors that only process -- in that the sound was unforced and relaxed. To make a broad generalization, the SV-382 reminded me of why I like the sound of older McIntosh gear. Even if it's not the most resolving when compared with the best of modern equipment, it is easy to listen to over the long term and always seems to get out of the way of the music or movie. The Vincent SV-382 has the same quality.

There was plenty of power on tap, something that you don't always get with A/V receivers. I've seen test-bench measurements for many of the current crop of A/V receivers on the market and I am mostly disappointed by the failure of these products to meet their rated power specs. There are exceptions, like NAD's Full Disclosure Power rating. In my experience you get the power you pay for with that company. The problem, at least from a marketing perspective, is that it makes NAD look a bit weak on paper when compared to some of the more powerfully "rated" competitors. In the real world the NADs I've heard surpass my expectations in the power-delivery department. Such is the nature of conservative, honest power-output ratings.

Although I have not seen the measured performance of the Vincent SV-382, I can tell you that I get the same feeling as I get with NAD products: the amplifier section is stout and delivers more oomph than most of the receivers I've heard, even those that are rated at higher power outputs. Don't let these 100 Vincent watts fool you. Examples of how this ample power benefits the music abound. Blue Man Group's The Complex [DVD-A, DTS 69286-01120-9-4] is surround power music if I've ever heard it. The Vincent/Paradigm combination performed like heavyweight champs with "Time to Start" and "What is Rock." The drive, musical energy, and top-to-bottom clarity at high volume levels satisfied my inner rocker. I had great confidence that whatever I threw at the system it could easily handle. That proved to be true over and over throughout the review period -- with music and some bombastic movies.

Listening to Faith Hill's When the Lights Go Down on DVD-Video turned up one characteristic that may, depending on your perspective, be either a weakness or a strength. The top end sounded a bit soft. There was detail present in "Cry," but there wasn't that last inkling of sharp, defined high-frequency precision. The Faith Hill cut sounds a bit more relaxed with the Vincent receiver than I'm used to hearing it, but the expansion of the soundstage and the full, more present quality of her voice made up for it. I can see where this aspect of the SV-382's sound would yield fine results with many lesser DVD-Video concert soundtracks, not to mention some over-the-top action-adventure/fantasy movies.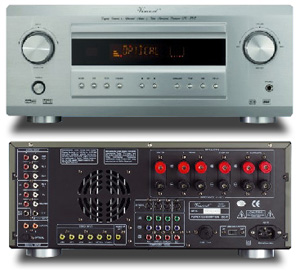 This month's Multichannel Pick of the Month, Falla's El Sombrero de Tres Picos [Naxos 6.110018] illustrated the Vincent's prowess with large-scale works with lots of atmosphere and charm. The big sound of the SV-382 enhanced the big sound of this recording. My room was awash with music that I could listen to for hours without any fatigue -- and did I mention it was big?
What are you shopping for?
I pass out a lot of advice when answering the various letters I receive from readers of the SoundStage! Network sites. And like everyone else with a modicum of A/V knowledge, I have an endless supply of friends and family who are always looking for me to turn them onto the next great thing. Although on the surface the questions I field seem to be seeking simple product recommendations, I have come to realize that it is important to see through the initial query and decipher just what it is the person is shopping for. Many times I'll learn that what the person thinks he wants is in fact the wrong product for him. Sometimes there is an alternative to what he's asking about that fits the bill better; it's just that he did not know to ask about it to begin with.
The Vincent SV-382 is a unique product that just doesn't quite fit into the me-too mold of most A/V receivers. It has strengths that you don't normally find in a receiver, but it also has some limitations. It will come with my recommendation under certain, specific conditions. If you care little for expanding your array of home-theater processing possibilities, care nothing for upgradeability and Internet firmware downloads, and don't need the absolute slickest user interface on the planet, then you've made it past the limiting aspects of the SV-382. If you do want a real power-amplifier section, a bold, present sound that will be easy to relax to while filling your room from wall to wall with a full, rich musical presentation, then this product might be for you. The Vincent SV-382 deserves a serious listen if just sitting back and listening, as opposed to playing with bells and whistles, is your thing.
...Jeff Fritz
jeff@soundstage.com
Vincent SV-382 Surround Amplifier
Price: $1595 USD.
Warranty: Two years parts and labor.

Sintron Vertriebs GmbH
Electronic Import & Export
Südring 14
D-76473 Iffezheim Germany
Phone: (+49) 7229 18 29 98
Fax: (+49) 7229 18 29 99

E-mail: sintron.vertriebs@t-online.de
Website: www.vincent-tac.de

US distributor:
Q-USA
462 N. Baldwin St,
Madison, WI 53703
Phone: (608) 237-1726
Fax: (608) 237-1728

Website: www.q-usa.com