May 2005
Talk Electronics Hurricane 2.2 Multichannel Preamplifier and Tornado 2.2 Stereo Amplifier
Multichannel Pick of the MonthVivaldi: Flute Concerti, Op.10
Daniel Rothert, flute/recorders; Cologne Chamber Orchestra, Helmut Müller-Brühl, conductor.
DVD-Audio, Naxos 5.110008

Daniel Rothert is only 30 years old, but he has been playing with the Cologne Chamber Orchestra since 1999 and is part of the Arcangelo Trio, along with cellist Marius Mollenbeck and harpsichordist Gerald Hambitzer. His playing on this Naxos DVD-Audio disc is lovely. Light and spirited, the Vivaldi Flute Concerti, reproduced here in 5.1-channel surround sound, are performed with skill and precision. Sounding like a songbird of spring, this release will hopefully help usher in some warm weather here in the East.

I found the multichannel sound delicate and airy as played back in my room. This disc might be the ultimate test of tweeter acuity. You'll be able to hear out into the far reaches of your speakers' high-frequency limits. If your highs tend toward being etched or grating, this disc will drive you crazy. If they gravitate towards soft and subtle you'll quickly know that the life and exuberance of the playing are missing. As Goldilocks said, it needs to be just right to sound as if it must have in the live performance. This is not just a demo disc, however; this is one that will surely lift your spirits.

...Jeff Fritz
jeff@soundstage.com

Hi-fi equipment is like food. No, you don't need it to sustain life, nor will it generally spoil if you leave it out all night. With both food and audio gear, though, what you choose to consume does ultimately come down to personal preference. What I find tasty might or might not be palatable to you. We each have our likes and dislikes, and these will hold sway over our buying decisions. At the end of the day we each gravitate toward what we think will satisfy us most.

Take multichannel controllers as an example of one product genre where tastes vary greatly. Some folks can't do without surround-sound processors. These components are like seven-course meals. There's a little bit of this to whet your appetite, and a little of that to fill you up. Then there's still a little more for dessert. I'm amazed at the computer-like capabilities of today's surround-sound processors.

Conversely, a multichannel preamp, like Talk Electronics' Hurricane 2.2, is simple but carefully prepared fare. There's little in the way of enhanced functionality over that of a conventional stereo preamp, but it can be -- if used in an optimally configured system -- quite fulfilling to a multichannel aficionado.

Talk it up

The Hurricane 2.2 ($2750) is best thought of as a conventional stereo preamp with one added feature: a set of six-channel inputs and the corresponding outputs. This input set is designed to be used with the multichannel outputs from source components such as universal audio/video players or separate surround-sound processors. If you're using a universal player (or simply a multichannel SACD or DVD-Audio player, for that matter), you'll want to make sure that your model has adjustments for channel balancing and bass management. The Hurricane 2.2 has no facility for balancing channel levels, setting crossover frequencies or any other multichannel programming. It controls the volume of your multichannel source via a buffer circuit, plain and simple. That's the extent of its surround-sound functionality.

Considered as a stereo preamp the Hurricane 2.2 is full featured. It has a full-function remote control; inputs for five stereo sources, including one set using balanced XLRs; XLR and single-ended stereo outputs; separate switches for power and stand by, the latter to keep the circuitry warmed for optimal playback; the ability to mute connected Talk Electronics amplifiers via the Mute Link; and two gain settings for proper amplifier matching. The RCA-plug-equipped multichannel inputs and outputs are what make the Hurricane 2.2 relevant here, though. If you're looking for a new stereo preamp, the multichannel functionality could be thought of as a bonus for future system expansion.

Occupying the same form factor as the Hurricane 2.2 preamp is a series of Talk Electronics amplifiers. I was sent three Tornado 2.2 stereo power amplifiers ($2250 each) to fill out my five-channel system. Each Tornado is rated to deliver 100Wpc into 8 ohms with no rating specified for lower impedances. This is a bipolar design utilizing a dual-wound 400VA toroidal power transformer. Inputs include both RCAs and XLRs, and the binding posts are nicely made gold-plated jobs. Although there are no separate power-on and stand-by switches on the Tornado 2.2, the amplifiers are mutable via the Mute Link function of a Talk Electronics preamplifier. This requires a single mini-jack-terminated cable run between the two. A removable IEC power inlet will allow use of aftermarket cords if desired.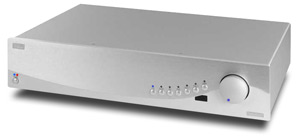 The Hurricane 2.2 preamp (17 1/2"W x 3 1/2"H x 12 3/4"D and 20 pounds) and the matching Tornado 2.2 (17 1/2"W x 3 1/2"H x 12 3/4"D and 36 pounds) stereo power amplifiers are beauties. Their brushed-aluminum silver faceplates are distinguished by a wavy contoured offset running from one end to the other. The shroud-like top panel is done in a sand-textured finish and is colored to match the faceplate. Although moderate in dimension, the units do feel substantial when lifted.
My system for auditioning the Talk Electronics components was unchanged from my last few articles: five matching Paradigm Reference Studio 100 v.3 speakers arranged in an ITU-type setup and an Esoteric DV-50 universal audio/video player. Power conditioning was from Shunyata Research, namely a Hydra Model-8 and two Hydra Model-2s. Cabling was a combination of Shunyata Research and Nordost.
Talk the Talk
Functionally, I experienced no glitches with the Talk Electronics system. Everything operated without a hiccup. The components were mechanically quiet and just the faintest hiss emanated from my speakers' tweeters, indicating fairly low background noise. One caveat is to not adjust the preamplifier's Gain switch with the amplifiers powered on. Doing this will cause a loud thump that will startle the daylights out of you. I consider this more of a user error than any shortcoming with the products. The simplified user interface is reminiscent of a time when onscreen menus and fancy matrixed surround modes were glimmers in a techno-geek's eyes.
Listening to the system provided me with a detailed, rhythmic rendering of a variety of multichannel discs. The sound that I achieved in my room had a light, airy quality that was always comfortable to listen to. I loaded up disc after disc and always enjoyed the experience.
Bucky Pizzarelli's Swing Live [Chesky CHDVD222] was my first test for the Talk Electronics components. This disc is still, several years after its initial release, one of the best multichannel recordings I've heard and a personal reference. It is minimally miked and doesn't have an overlay of processing that the listener has to wade through to hear the musicians. The venue is intimate -- a small jazz club in NYC -- and the various players inhabit their own unique spaces, just as they must have on stage. A high-fidelity system will let you pick out individual performers' locations and audience members'seats within a clearly defined, three-dimensional room-stage. (Soundstage doesn't really fit the bill when describing a venue's sound; the performers and their space are simply a part of the larger picture.)
With the Talks in the system, I was able to hear the Chesky disc's nuances easily: the back wall of the club, the tingling of glasses on the tables, the murmur of the crowd, the skins of the drums as they were struck, the twang of the strings. The interplay among the musicians came across perfectly timed in a foot-tappin', rhythmic manner -- hey, maybe there is something to the British-termed PRAT you always hear about (pace, rhythm, and timing). Regardless of how you define it, clearly the Talk system was letting through the gestalt of the performance as it occurred in the club. All the little details I know to be on this recording were reproduced intact for me to hear.
The ability to track dynamic swings and frequency modulations was also a strength of the Talk components. The Blue Man Group's The Complex [DTS 69286-01120-9-4] is filled with all types of percussive elements, some of which are played with blinding speed and surprising impact. The transient response exhibited by the Talk/Paradigm/Esoteric system on "Time to Start" was sharp, with clearly defined leading edges and properly scaled decay. I never had the sense that the system was slowing down or marring this blindingly fast track. The name of the Talk Electronics game was speed and clarity, two elements that combined for a fleet-footed sound that served the techno nature of Blue Man Group perfectly. Vocals were clear and present; not warm or highlighted, but neutral and unforced.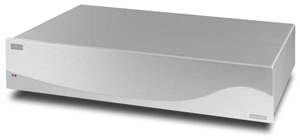 The Tornado 2.2 power amps did have their limitations. Turning off the Energy S12.3 subwoofer I used to test Dr. Chesky's Surround Show [Chesky CHDVD272], I was able to hear how the system handled the bass end of things with some admittedly difficult program material. At moderately loud levels playing "Bass Drum March," the Hurricanes lost their grip on the Paradigms' woofers, resulting in muddy, sloppy sound. This shortcoming wasn't present at more typical volumes, but became apparent with peaks close to 100dB in my room. I know the Paradigms are capable of clean output at this volume setting, as I've heard them with more powerful amplifiers without the same sonic shortcoming. Now, I do have a large room, and the Paradigm Reference Studio 100 v.3s are capable of bodacious low-frequency output, so the setup itself requires a modicum of control to keep things focused. In a smaller room or with smaller speakers this shortcoming would likely disappear.
The detailed, quaint sound of this month's "Multichannel Pick of the Month," Vivaldi's Flute Concerti, Op.10 [Naxos 5.110008 ], was particularly beautiful as heard over the Talk-injected system. The light-hearted, less bombastic nature of the Vivaldi disc wove its airy melody throughout my room. It cast a delightful glow from floor to ceiling and wall to wall, with excellent dimensionality and clarity.
Talk of the town
The Talk Electronics Hurricane 2.2 multichannel preamp and Tornado 2.2 stereo power amplifiers are a fine system. They excel in the areas of clarity, speed, transient response, and everything to do with timing. The system's limitations are power delivery and ultimate control in the lowest frequencies; if you have big woofers that need a tight-fisted grip, you best look elsewhere. Of course, if you use a powered subwoofer and route all of your bass to it, this consideration is mostly irrelevant. The rest of the frequency spectrum -- the midrange through the treble -- is top notch.
Functionally, the Hurricane 2.2 is an easy step to make for an audiophile used to a stereo preamp. For someone who is thinking of adding multichannel music playback and wants to leave all of the processing functions to his or her source player, this setup makes good sense. If you're coming from a system designed around a surround-sound processor and you like that level of flexibility, the lack of basic multichannel functions, such as channel balancing, might be hard to overcome.
When you consider all of the potential home-theater factors, the Talk Electronics system has a semi-narrow window of applicability. However, this setup talks to the audiophile sensibilities of multichannel-music admirers in a very direct way.
...Jeff Fritz
jeff@soundstage.com
Talk Electronics Hurricane 2.2 Multichannel Preamplifier and Tornado 2.2 Stereo Amplifier
Prices: Hurricane 2.2, $2750 USD; Tornado 2.2, $2250 USD.
Warranty: Three years parts and labor.

Talk Electronics
3 Eliot Close, Camberley, Surrey
Phone: +44 1276 709966
Fax: +44 1276 709966

E-mail: info@talkelectronics.com
Website: www.talkelectronics.com

North American distributor:
British Hi-Fi
1336 Lorne Street
Regina, Saskatchewan, Canada S4R 2K1
Phone: (306) 522-4454
Fax: (306) 522-4435

E-mail: info@britishhifi.com
Website: www.britishhifi.com