November 2004
NAD T743 Audio/Video Receiver
Multichannel Pick of the Month
Blue Man Group: The Complex
DVD-Audio/Video, DTS 69286-01120-9-4

Blue Man Group is not so much a musical group as a performance. In their own words, "These performances feature three enigmatic bald and blue characters who take the audience through a multi-sensory experience that combines theater, percussive music, art, science and vaudeville into a form of entertainment that is like nothing else."
So what do you get with a Blue Man Group DVD-Audio/Video disc? That's a complex question. The Complex is the answer. The sounds you'll hear range from PVC sticks to harpsichord to a 1981 CasioTone. There are driving guitars, guest vocals from the likes of Tracy Bonham, and, well, everything else but the kitchen sink (though you might see one of those in the live performance). If the music were not inventive enough, you've got to see how this DVD is put together. You might be intimidated by the breadth of the menu options alone, as they are, well, complex: audio options include DVD-Audio, PCM stereo, and DTS 5.1. There are also music videos, a "making of" section, and a "Drum Breakdown" for those of you interested in the percussion as an art form unto itself.
The sound quality of The Complex is superb: quick, clean, and dynamic. The opening track, "Above," starts with the hammer dulcimer and proceeds to introduce listeners to many of the myriad sounds they'll hear over the course of the disc. The detail and precision playing combine for an aurally tingling experience. The all-around-the-room soundstage whirs and rushes with full bass, larger-than-life vocals, and lightning-quick transients. As you might expect, the surrounds are used as an integral part of the music, definitely not just for ambience.
As demo material for your surround system, or to give you the rush you need before that weekend-warrior basketball game, try 2:30 into "Time to Start." You'll be pumped up, trust me.
...Jeff Fritz
jeff@soundstage.com

I recently exchanged e-mail with a reader regarding his purchase of a used NAD 304 integrated amplifier. A little Internet research turned up a brochure on the NAD website detailing the 304's specifications. Made between 1993-1996, this unassuming integrated amplifier was rated at 35Wpc, paltry by today's standards. Or is it?

Specifications are like opinions -- everyone has 'em. They can be useful in some instances, especially when considering features -- a decidedly important and straightforward aspect of choosing a home-theater receiver. You can rest assured that if the specs list Dolby Digital decoding, for example, the unit you are considering will decode Dolby Digital. Power-output specifications are not as simply deciphered, however. Although power ratings are supposed to be telling, my experience indicates that they're not always as they appear.

The first words to look for when examining the power rating of a multichannel receiver are "with all channels driven simultaneously." When a receiver is tested with only one channel driven -- a common testing method these days -- that channel has a monopoly on the unit's power supply. This scenario will lead to the receiver's handily meeting its specifications. But what happens when two or more channels are simultaneously driving speakers, as they typically would for everyday home-theater use? The power output with multiple channels drawing from the shared power supply can drop to well below the specified rating. Not meeting spec is bad enough, but an inadequate power-amplifier section leads to other problems.

A common complaint I hear about from readers is insidiously frustrating: during the height of musical or cinematic enjoyment the receiver just quits, shutting down for what seems like hours (though generally just long enough for the unit to cool down; a few minutes is common). This happens when the amplifier section within the receiver heats up to unsafe temperatures, prompting the unit's protection circuitry to activate. Nothing is more frustrating than buying what you think is a powerful receiver only to have it stop working when you're enjoying it most. A buddy of mine had a bout of this with a $4000 monster receiver driving a system of B&W DM-series speakers, and he almost chucked the thing out the window.

NAD's approach

Enter NAD and their seemingly lower-than-typical power-output ratings. Lest you think the 304's output of 35Wpc just a sign of the times years ago (before the high-power needs of home theater and multichannel music would rear their heads), witness the subject of this review, the 50W x 5 with all channels driven simultaneously T743 ($699 USD).

If a receiver is not rated by the manufacturer to deliver power into a 4-ohm load, assume it won't. And if it is not rated into 4 ohms, stay away from it. In the real world, most loudspeakers drop below the industry-standard 8-ohm rating. If the receiver you're considering is specified and will deliver into 4-ohm loads you can rest assured that the amplifier section is beefier than average, meaning there's some reserve in the tanks when you need it. The NAD T743 is rated to deliver 5 x 50Wpc into 8 ohms continuously and 2 x 70Wpc in stereo mode. It will also pump out 105W of dynamic power into 8 ohms, 145W into 4 ohms, and 165W into 2 ohms! The fact that it will operate into 2 ohms without melting means that NAD is putting a real amp inside the case of this little gray devil.

The only problem for NAD is that its receivers don't measure up on paper with most of its competitors' receivers. This must drive the marketing department crazy. The T743 may seem underpowered from looking at the numbers alone, but in actual practice it's not. In fact, it's a powerhouse.

What else it does

I won't go into tremendous detail on the feature set because I spilled so many pixels on the power rating, but the T743 (17 1/8"W x 5 3/16"H x 13 3/4"D, 36 pounds) does have the basic features you'd expect from a modern surround-sound receiver. There's the obligatory Dolby Digital 5.1, DTS 5.1, and Dolby Pro Logic II decoding, along with a few other modes such as NAD's own EARS processing. This proprietary arrangement subtly enhances stereo sources by producing 5.1 channels of ambient-rich sound. There are also a learning remote, plenty of inputs (analog and digital), and a Stereo Bypass function.

Multichannel analog inputs are provided for an SACD or DVD-Audio player. Preamp-output connections are available for each channel if you wish to use external amplifiers. A Soft Clipping circuit -- a feature NAD has been using for years -- is employed so that if the receiver's amplifier section is overdriven it will behave itself and not produce offensive sounds that could harm your hearing or your speakers. Lastly, a simple onscreen menu system allows the owner to program the T743 for use in his or her hi-fi. Standard fare such as channel levels, speaker settings, and speaker distances are augmented with a subwoofer crossover (with selectable frequency cutoffs: 40Hz to 200Hz, in 20Hz increments).

The NAD T743's appearance is clean and uncluttered, in the longstanding tradition of the company. This simplified fascia seems to be more common these days, as manufacturers appear to be eschewing the lights, camera, action! appearance so prevalent in receivers just a few years ago. It's good to see serious components getting away from those flashy cosmetics. Have you seen the latest craze in boom-box design? We don't need a similar abomination in receiver form.

Real-world use

The first exercise I conducted with the T743 was to hook it up to five Paradigm Studio 100 v.3 loudspeakers arranged in an ITU-style configuration. After all of this discussion of power I'd have been remiss not to give account of how I came to respect the T743's 50Wpc. (The DVD player in the review system was the Esoteric DV-50 universal audio/video player, while cabling was from the Nordost Red Dawn line). I blasted some fairly loud Blue Man Group (The Complex [DTS 69286-01120-9-4]) in an attempt to get the NAD to choke up. It didn't budge; it played loud and clear, and without a hint of truncated bass or abrasive highs. This was impressive performance, especially considering that the Paradigms are big speakers with lots of drivers to control. Although the Studio 100 v.3s do not present a punishing load to the amplifier driving them -- Paradigm rates them as "8-ohm compatible" and 91dB sensitive "in room" -- the fact that I was using five of them as opposed to two (plus dinky surrounds and a dinky center-channel, which is a typical arrangement) means that in most real-world systems the T743 will provide more than sufficient power. That "measly" 50Wpc goes a long way in actual use.

Although the power output was surprisingly robust with the Paradigms, the sound of that power was what impressed me the most. The sonic signature of the T743 was clean and just a touch laid-back, which perfectly complemented a lot of what I listen to. You won't hear the unshakable bass grip of a large, separate solid-state amplifier with this NAD receiver, but you'll get darn close. Years ago I remember hearing a system based on a Yamaha (model number long forgotten) receiver and Advent speakers. The bass was anemic. Later I heard the same system, except the owner had replaced the Yamaha with a hefty Technics integrated amplifier. The sound was transformed: bass was strong and full, and headroom was increased dramatically. I heard the same full-range drive from the NAD/Paradigm pairing, especially down into the low frequencies, which I heard from the Technics/Advent system years before. The T743 just kept rockin' no matter how hard I pushed it. Maybe some users would listen at higher levels and/or have less efficient speakers, and therefore need a larger NAD receiver (of which there are several), but in my system the power output of the T743, especially when considering the price, was downright amazing.

The NAD T743's midrange was more of the buttery-smooth than the in-your-face variety. Vocals such as those on the DVD-Audio/Video release of Surf City All-Star Band [AIX Records 80036] melted into the relaxed highs, with a smoothly rendered transition that never called attention to itself. Overall I'd characterize the T743 as unassuming in the midrange and treble. It's the kind of sound you can live with over the long term, all the while enjoying your favorite music or movies, not just the audiophile-approved releases. The T743 might not jump out and grab you in the way that immediately impresses, but it impresses nonetheless. It does its job without calling attention to itself.

The real deal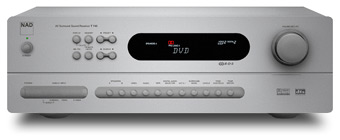 The NAD T743 is the least-expensive and lowest-powered receiver in the NAD lineup (the $1799 T773, for example, is rated to deliver a whopping 110W x 7 with all channels driven simultaneously). I saved that "least-expensive" fact for the end of this article for a purpose: everyone reading this column should know that a functional, solidly built, adequately powered receiver can be had for a relative bargain. But be warned: just going out and buying a receiver with a name you recognize from the local big-box store won't insure you're getting a good deal. The T743 is a good deal. Of course there are receivers on the market that have more processing power and features, and whose front panels look more impressive from a distance. But for me what's important is what's inside the box. In this case it's a healthy little power amp that belies its power rating. And for high-resolution multichannel music, clean power is a necessity, whereas processing features are not.
Just think: you can take the T743 over to your buddy's house and put it beside his 120W x 12 LED-laden billboard and show him that it's what's under the hood that counts. Won't that be fun?
...Jeff Fritz
jeff@soundstage.com
NAD T743 Audio/Video Receiver
Price: $699 USD
Warranty: Two years parts and labor

NAD Electronics International
633 Granite Court
Pickering, Ontario
Canada L1W3K1
Phone: (800) 263-4641 (North America), (905) 831-0799 (worldwide)

E-mail: nad@nadelectronics.com
Website: www.nadelectronics.com