September 2003
Esoteric DV-50 Universal Audio/Video Player
Multichannel Pick of the Month
Faith Hill: When the Lights Go Down
DVD-Video, Warner 38591-2

As much as I like seeing Norah Jones perform on Live in New Orleans, Faith Hill's magnetic vision on When the Lights Go Down is even more appealing. The DTS soundtrack is clean and clear, although it does seem a bit dynamically compressed when compared with the better DVD-Audio and SACD discs. But Faith's better half, Tim McGraw, is a charismatic live performer, especially when coupled with the excellent musicianship of his wife's band, and even a full orchestra on selected tracks. Highlights include "When the Lights Go Down" and a minimalist rendition of "Breathe" with Carlos Santana. There are also three bonus songs and behind-the-scenes footage on the making of the DVD (taped at The Palace Theater in Los Angeles). In addition to the DTS track, you'll also have the choice of Dolby Digital 5.1 and a stereo track. Do I lose my audiophile pocket card with a made-for-TV DVD-Video recommendation? I'll hand it over. Video or not, this is pure musical enjoyment, and when presented in surround sound, you get the full experience.
...Jeff Fritz
jeff@soundstage.com

Buying a universal audio/video player is about the best move you can make if you like multichannel music and wish to enjoy SACD, DVD-Audio, and DVD-Video. There are other options -- like buying multiple players, each designed for a specific format -- but these solutions are less attractive when there are players like the Esoteric DV-50 available.
Hold on -- there aren't that many other players like the DV-50 available.
If you want a source player that has truly high-end aspirations and can play back anything you put in it, then Esoteric has for all intents and purposes cornered the market. Marc Mickelson liked it enough to make it a Reviewers' Choice, and this was only through auditioning it in his ole-timey two-channel system. (It is worth mentioning that Marc's system is reference-caliber plus.)
So if the DV-50 passed the editor-in-chief's strictest test, why write more about it? Because it does so dang much, that's why.
General overview
The Esoteric DV-50 is a substantially built 46-pound front-loading player that rests upon three integral spike-in-a-cup footers. The DV-50's Ultra High Density chassis is heavy-gauge steel, while the front panel is brushed aluminum that comes in either a black or pewter finish (black is the only finish option for US buyers). The unit's back panel features a set of six-channel RCA outputs that you'll use to connect to a multichannel preamp or a processor's multichannel inputs. There are also two-channel outputs using RCA and balanced XLR connectors. Optical and coaxial digital outputs are present, as well as a host of video outputs: component-video, RGB SCART, S-video, and composite.
The DV-50 will play back SACD, DVD-Audio, DVD-Video, CD, Video CD, CD-R/CD-RW, DVD-RW, and even MP3-encoded discs. The audio section consists of differentially balanced Burr-Brown PCM1738 24-bit/192kHz DACs. Most impressive is the ability to customize the DV-50's digital filtering. You have three choices that are switchable via a toggle on the front panel: RDOT, FIR, and RDOT+FIR. According to Esoteric's description, "The RDOT filter has a slow roll-off and natural extended audio characteristics and provides frequency multiplication." The "FIR-type digital filter also provides frequency multiplication. It has a sharp roll-off and firmly defined bass characteristics." Lastly, RDOT+FIR is a combination of both filters, "allowing the best characteristic of each filter to be used." These settings seem to indicate the upsampling frequency achieved by the player, with 1536kHz being the choice when both filters are chosen. Of course, these are disabled when an SACD is in the player, with the DV-50 instead using its own DSD filter.
More technology
Like it or not -- and I like it more and more -- DVD-Video is a big part of multichannel music. It therefore stands to reason that the DVD-Video design details of the progressive-scan-capable DV-50 are impressive. There are six Analog Devices ADV7300A 12-bit/108MHz video DACS in the unit. These utilize what Analog Devices refers to as Noise Shaped Video (NSV) technology, which, according to the company, reduces video noise. Dolby Digital and DTS decoders are also built into the DV-50, which are almost a necessity for any universal audio/video player nowadays; those using the multichannel analog outputs of such a player for DVD-A, SACD, and CD playback will likely want to use them for DVD-Video, too (meaning the use of Dolby Digital or DTS). I've invested in a top-notch multichannel preamp and replacing it with a processor for home theater or DVD-Video-based music is enough to make me cringe.
If you're using only two left and right speakers in your system, the DV-50 gives you the option of virtual surround sound using SRS TruSurround. This processing mode works with Dolby Digital-encoded software only, but it does give the user a way to enhance the DVD-Video-watching experience in a system using a conventional stereo arrangement. While I have experimented with this feature at length, I can't say that everyone will like it with all software. I found it more useful with movies than with concert DVDs; the fact is that its effects are program dependent and taste dependent. However, TruSurround's inclusion makes the DV-50 a more complete player for a wider variety of potential purchasers. Isn't that what a universal player is all about?
What it doesn't do
It won't pop popcorn (for movies) or make coffee (for music); that's a shame. It also has some limitations with respect to processing for multichannel music formats. Specifically, delay times are not adjustable for SACD playback. I personally don't feel this critically hobbles the DV-50. Delay-time adjustment can in no way make the drivers in the your surround speakers acoustically blend if they're too close to your head, or create proper dispersion characteristics if their placement is askew from what the manufacturer intended. Those are the biggest problems real-world users face with surround speakers.
What delay-time adjustment can do is ensure that the signal leaves each speaker of the array in closer time proximity. Having this adjustment set correctly will improve rear-stage imaging. However, with the DV-50 you must rely on the old-fashioned way of achieving proper time alignment: setting up your surround loudspeakers in the physically correct -- meaning symmetrical -- locations. Place your surrounds as best you can, with as little difference between them and your main speakers in terms of distance to the listening position. The DV-50 does have delay-time adjustment for DVD-Video-based surround, just as most players do.
The bass-management adjustments of the DV-50 are available for DVD-Video-based material, but not DVD-Audio. This can be problematic in home-theater systems where smaller surrounds are used and bass is routed to a subwoofer. With speakers fixed to Large all around, you'll miss the lower frequencies that your surround speakers can't reproduce, and in the worst case possibly damage them if you have bass-heavy music playing at too loud a level. The solution is to use more robust, more full-range surrounds. In my experience, this will sound better anyway.
What it sounds like
I have not found an area of performance where the DV-50 disappoints. It's been satisfying in its ability to anchor a system that wears so many hats and in its individual performance with each format.
Telarc's From the Isles to the Courts (Ensemble Galilei [Telarc SACD60536]) was reproduced with illuminating resolution over the DV-50. This disc features Scottish pipes and fiddles in a clean, precise mix. With the DV-50 at the helm, frequency extremes were extended to the outer reaches, yet weighted properly with the rest of the spectrum. The music was delivered as a cohesive whole and at the same time the distinct separation of instruments brought me into the performance. Involving? Yep, in spades.
Bucky Pizzarelli's DVD-Audio version of Swing Live [Chesky CHDVD222] is one of my favorite discs for auditioning multichannel equipment. The four-channel configuration (mains and surrounds only) available on this disc allows the listener to bypass bass-management functions and processing. For a live recording, this setup is ideal. The result was sound that was at once stunningly precise and wholly natural. If that sounds like the best of both worlds, then you've got it right. The soundstage was seamless, the scale dramatic, and the resolution stunning without being busy or obtrusive. The sound of this disc over the DV-50 delivered the promise that truly high-resolution technology can get you closer to the sound of live music.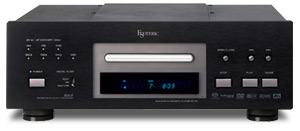 The great thing about having a universal player is that when wandering through the music store you may just find a disc in a format that you might not otherwise consider but that you just want to buy regardless. The DV-50 gives you the confidence that you'll get the best out of whatever it happens to be so that your only consideration is the music.
I recently picked up two DVD-Video discs that I found really enjoyable. The first, Norah Jones' Live in New Orleans [Blue Note Records 7243 4 90427 9 7], is a 5.1 Dolby Digital soundtrack of uncommonly good quality. The vocals are fairly crisp, the bass is not overblown like with so many DVD-Video discs, and the ambient quality of the surround tracks is satisfyingly mixed. The video material is quaint and fits the music perfectly. (See my Multichannel Pick of the Month for the other selection.)
Universal conclusion
There is no single component that will appeal to all people. I suspect the DV-50 will not find favor with audiophiles who believe multichannel means home theater, or to those that think video circuitry translates into compromised audio. However, the DV-50 just might signal a new age of component for those who want more entertainment in the home than just what CD can deliver. Whether DVD-Audio, SACD, or even DVD-Video, the Esoteric DV-50 delivers fun, and there's universal appeal in that proposition.
...Jeff Fritz
jeff@soundstage.com
Esoteric DV-50 Universal Audio/Video Player
Prices: $5500 USD.
Warranty: One year parts and labor.

TEAC America, Inc.
7733 Telegraph Rd.
Montebello, CA. 90640
Phone: (323) 726-0303
Fax: (323) 727-7656

Website: www.teac.com