August 2003
Bass for Your Place -- Super-Subwoofer Roundup
While there has been spirited debate for years over the need for subwoofers in stereo systems, there's little doubt that 20Hz frequency extension has for a long time been the accepted standard for true full-range music reproduction. And to get down that low, most speaker systems require some help.
Boogying in the basement of frequency response is not a given for even the most costly of systems. After all, midrange reproduction is king, and those pristine highs are a close second; if you get those two right, conventional audiophile wisdom will tell you that you're most of the way there. But for those willing to pay the price -- in dollars and room real estate -- low-bass reproduction completes the sonic picture. And if you're putting together a multichannel music system, you'll definitely want all the bass contained in the 5.1 mix.
There's never been a better time to shop for a subwoofer for a high-resolution multichannel music system. Subwoofers were a minor subset of the speaker industry for many years, but all that has changed, and we're the beneficiaries. With the advent of high-resolution multichannel music -- and the low-frequency-effects channel contained in SACD and DVD-Audio, specifically -- the subwoofer is not just a home-theater necessity anymore. In fact, really good subwoofers can play on any field: stereo systems, home theaters, and yes, multichannel music systems.
So let's look at a group of subwoofers that combine equal amounts of brawn, finesse, and flexibility. These are the super subwoofers -- cost-no-object designs -- that will give you all the bass for your place you'll likely ever need.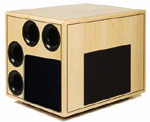 SVS B4-Plus
Having reviewed the 25-31PC-Plus for our sister publication Home Theater & Sound, I've become unabashedly impressed by SVS's offerings. SVS specializes in subwoofers, and the B4-Plus is by their own admission the ultimate expression of their sub-bass art. This particular model makes it into the survey because it contains four of the 25-31PC-Plus's 12" drivers and comes with a super-powerful Crown K1 amplifier. At 190 pounds, this is a beast, but it plays below 20Hz at what is reported to be extreme sound-pressure levels. The SVS B4-Plus retails for $3849 factory direct, which includes the Crown amplifier, a Rane equalizer to help dial the sub into your room, and BetterCables interconnects to hook it all up to your system. And as if all that weren't enough, the B5-Plus comes in your choice of 20 finishes.
Aerial SW12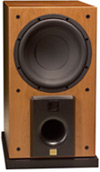 Designed to supplement Aerial's line of high-fidelity loudspeakers, the SW12 is a mid-sized masterpiece from Michael Kelly. With a 12 1/2" custom-designed driver (with a 30-pound weight itself) and a 400W amplifier, the SW12 is wrapped in several great-looking wood veneers consistent with Aerial's excellent cabinet construction (check out those nicely done seams). What's more important, though, is that this subwoofer is agile enough to blend seamlessly with every speaker I've heard it paired. A parametric equalizer is included to coax out that last bit of performance once the SW12 is in your room. The Aerial SW12 comes with an aluminum remote control for you coach potatoes, too. Retail prices start at $4500 in black-ash finish and increase as more exotic finishes are chosen.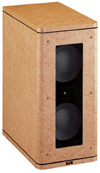 Thiel SW1
A long time coming, Thiel's first subwoofer was worth the wait. According to Jim Thiel, the primary goal for the SW1 was the ability to interface with the room and your speakers in a way that generates the smoothest, deepest bass. And according to the design brief, Thiel accomplished this goal through the development of what the company refers to as SmartSub technology. The user enters information about the main loudspeakers and the room, and the SmartSub processing configures the subwoofer's acoustic response. This, according to the company, limits the interaction of the subwoofer with the room's boundaries and blends it perfectly with the other loudspeakers in the system. The SW1 sports two long-excursion 10" drivers, a 1000W switch-mode power amplifier, and the optional SC1 SmartSub Controller for additional crossover/programming features. If the way the SW1 has sounded when paired with Thiel's own PowerPoint speakers is any indication, Jim Thiel has accomplished his bass-ic mission. Prices start at $4800.
Velodyne 1812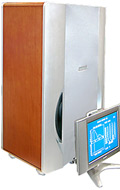 The massive Velodyne Signature 1812 subwoofer tips the scales at almost 400 pounds. The driver complement, just as massive as the aluminum and wood cabinet, includes 12" and 18" drivers mated to two 1250W amplifiers. The system is actually the only two-way subwoofer I'm aware of (the 12-incher covering the upper bass while the big 15" driver handles the bottom-most frequencies), but that's not the only unique feature. The Signature 1812 incorporates Velodyne's Digital Drive room-correction system. This computer program analyzes the listening room and digitally corrects the Signature 1812 for flat response at the listening position. I've been impressed with the Digital Drive's user interface, as I've stood in awe of its slick readout at trade shows. Hopefully this is an indication of the system's at-home usefulness. The price of the Velodyne Signature 1812 is $15,000.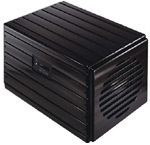 Krell MRS
The Master Reference Subwoofer (MRS) is all Krell, and most of you know what that means: hugely powerful, all aluminum, and as heavy as a boulder. The good news is that all that mass and power are translated into room-filling bass. Capable of a manufacturer-rated 120dB at 20Hz, the MRS has enough output for huge spaces. I've heard it in an all-Krell system delivering thunderous bass in what must have been a 30' x 40' room. The MRS has a 2600W amplifier that powers the two 15" drivers (each capable of 3" excursion), while the cabinet is constructed from 1" aluminum side panels and 2" baffles. The crossover electronics are even housed in their own metal case for isolation from the woofers. The cost of all this high-tech metal? A cool $28,000.
MartinLogan Descent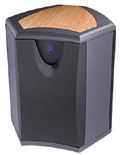 The MartinLogan Descent was the electrostatic speaker company's first foray into the high-performance subwoofer market. And just as their loudspeakers are unconventional compared with typical cone-and-box units, the Descent features a unique configuration that the company says lowers distortion over more conventionally designed subs. BalancedForce is MartinLogan's proprietary technology and is said to minimize cabinet resonance to inaudibility. In the Descent, BalancedForce means three 10" high-excursion opposing drivers mounted in a three-sided enclosure. Each driver is said to cancel the back wave from its partners so that energy is not transferred back into the cabinet. The result is a relatively lighter enclosure, only 95 pounds, but reported frequency response down to 18Hz. The Descent retails for $2795.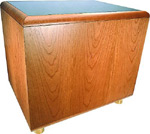 Rel Studio III
The Rel Studio III's claim to fame is a manufacturer-rated -6dB point of 9Hz! The design brief is impressive: a 500W discrete MOSFET amplifier (with eight output devices), two 10" long-throw Volt drivers, all housed in a heavily braced 95-pound cabinet. The list of audiophile goodies doesn't end there. There are Neutrik connectors; a toroidal transformer in the amplifier module; double-sided, double-thickness, glass-epoxy circuit boards with through-hole plating; and a removable IEC power cord. Round out the package with enough connection options for any conceivable configuration, and you have a contender suited to the most advanced multichannel music systems. The Rel Studio III retails for $9000.
Wilson Audio Specialties WATCH Dog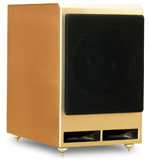 The Wilson Audio Specialties WATCH Dog has been successfully mated to systems using the company's WATT/Puppy 7, MAXX, and even X-1 Grand SLAMM speakers. The big Dog is constructed from Wilson Audio's proprietary "M" and "X" materials and contains a massively constructed 12" driver. The amplifier, designed by Richard Marsh (of Marsh Sound Design), is rated at 400W and incorporates an equalizer to tame room anomalies. I've heard the WATCH Dog blend seamlessly with the ultra-resolving WATT/Puppy 7, which stands as testament that it should keep up with any speaker a user will pair it with. The 283-pound cabinet is available in Wilson's trademark palette of exotic finishes. The Series II version of the WATCH Dog will begin shipping soon and adds remote-control triggers for custom installations and other functional refinements. The Wilson Audio Specialties WATCH Dog is $10,000.
Considerations
Having a super-high-performance subwoofer is the stuff of dreams, but it is not something a potential customer should go blindly into. A multichannel music system requires expert blending of the sub with the rest of the loudspeaker array, which means that proper placement is key for good sound. Many of the subwoofers I 've mentioned have facilities for making this room/subwoofer/system mating more successful, but you'll also gain from a little sweat and experimentation.
Last words of advice: Consult a good dealer, and if at all possible lug a few of these beasts home to audition in your room. This exercise (and it will be exercise) is not just to hear the subwoofers under evaluation, but also to learn more about how your room interacts with super-low bass. Once the work is done, though, any of these monsters will help massage you into multichannel bliss.
...Jeff Fritz
jeff@soundstage.com