December 2002
Roundup of Universal Audio Players
A universal audio player is a machine that will play four distinct music-delivery formats: DVD-Video (which can be used for audio only), DVD-Audio, SACD, and compact disc. Each has its specific requirements -- some of which necessitate a unique set of hardware specifications -- that enable it to interface with your system. Although it has been heralded for quite a while now, and there have been sightings (much like the Loch Ness Monster up to this point), universal players are available now from several manufacturers, and in time for the Christmas buying season.
You can think of the universal audio player as, first and foremost, a DVD player. This will make its use comfortable for most consumers once they get used to a few additional connections and operational differences. The DVD-Video performance will be identical to what you're used to with your DVD player. You'll connect to your TV using composite, component, or S-video cables, which will allow the video portion of the signal to get to your monitor.
The universal audio player will have a digital output for the audio signal that will interface with the digital input on a receiver or A/V processor (or digital-to-analog converter for pure two-channel audio). This digital output will send a signal encoded with Dolby Digital or DTS surround sound for your external decoder to unravel. There will also be two-channel analog outputs for conventional stereo playback, if you choose to use it that way. All this is standard operating procedure for DVD, and is carried over to universal audio players. But there's more.
The differences come in when playing back multichannel DVD-Audio and SACD. With a few exceptions (which will be explained below), these formats interface with the outside world via a set of six-channel analog outputs. These six cables (usually RCA types) carry the full 5.1 signal -- front left and right, center, left and right surround, and subwoofer (or LFE, for low-frequency effects). They must have a corresponding six-channel input, which can be found on most modern receivers, A/V processors, and purpose-built multichannel preamps. The six-channel analog outputs will carry DVD-Audio, SACD, and an internally decoded Dolby Digital or DTS signal.
Note on the Dolby Digital and DTS signal via the six-channel outputs: Most older DVD players relied exclusively on external decoders for this function, but universal audio players have internal decoding. This internal processing can be utilized via the six-channel outputs, which will take the place of the digital connection to external decoders such as a receiver. It's your choice which to use. Since I use a multichannel preamp (without its own decoding), I use my source player's internal decoding exclusively. If you're using six-channel outputs, it is redundant to use the digital connection too, unless there are specific processing features in your receiver or AV processor not present in the universal audio player that you wish to use.
Choices, choices
Below is a listing of currently available universal audio players. You'll have to check with your local dealer, but at the time of this writing, these were readily available (or will be very soon) in most markets.

Pioneer should be credited for blazing the trail for universal audio players. Though their first player, the DV-AX10 ($5000, when available), did not play back multichannel SACD (instead, SACD via this machine was two-channel only), it was compatible with all the formats listed above. More importantly, it was almost two years ahead of its time. Pioneer's current offerings are the DV-47Ai ($1200) and DV-45A ($700). Both players offer a full suite of features, including 192kHz/24-bit audio DACs, PureCinema progressive-scan video, and full bass management. The DV-47Ai adds a proprietary digital output (for SACD and DVD-A) for use with Pioneer's upscale receivers. It should be noted that the "i-link" will not currently interface with other manufacturers' gear.

Onkyo has in its stable the DV-SP800 ($1000). Features include 192kHz/24-bit audio DACs and the company's proprietary Vector Linear Shaping Circuitry (VLSC), which was included "to remove unwanted pulse noise for a smoother analog output signal." The DV-SP800 is Onkyo's top-of-the-line DVD-Video player as well, evidenced by 108MHz/12-bit video D/A converters.

On the upper end of the price scale for the players included in this list is the Marantz DV8300 ($1600). The host of performance-enhancing features includes Cirrus Logic 192kHz/24-bit digital-to-analog conversion, Marantz's proprietary HDAM (High-Definition Amplifier Module) output stages, as well as "a separate power transformer for the audio circuit, and a zero-impedance copper grounding plate for the analog multichannel output." Marantz specifies the DV8300 with "full bass management for DVD-Video, DVD-Audio, and SACD discs."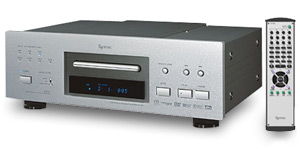 Although scant little information is available on the Teac/Esoteric DV-50 at this time, it is undoubtedly the most ambitious of the universal audio players currently available. Built like the proverbial tank in the best Esoteric tradition, the DV-50 includes user-selectable digital filters and a chassis designed to provide shock-resistant playback of all the currently available audio formats. As can be garnered from the DV-50's $5500 price -- and evidenced by its almost 50-pound net weight -- it is a serious machine.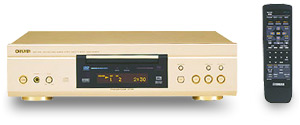 Look for a review here in 2003.
The Yamaha DVD-S2300 ($1000) sports a host of audio/video goodies such as Faroudja's DCDi video processing (the only universal audio player with such capability) and full bass management. The player's hefty build quality, especially for the price, has garnered the player a ton of pre-production Internet buzz. The gold finish in the picture may or may not be available in North America; write Yamaha and tell them you want it!

Integra has come to the party with the THX Ultra Certified DPS-8.3. Equipped with 192kHz/24-bit audio DACs and built-in Dolby Digital and DTS decoding, the Integra has some features designed purely to augment audio performance. For example, critical signals are routed through heavy-gauge cables (as opposed to circuit boards, which are prone to noise pickup according to Integra). The DPA-8.3 retails for $1200, and it's another player you'll see reviewed on SoundStage! in 2003.
There are several more players from various manufacturers that I am unclear about in terms of availability and/or actual production. The Apex Digital AD-7701 was a second-generation machine. There's been a promised replacement, but I have not seen one. Luxman was reportedly producing two players as well, but I have not turned up any availability in North America. I expect more players to crop up at next year's CES, and of course the SoundStage! Network will report on all of them.
Universal audio players are an exciting development for those looking to be surrounded by all the currently available multichannel-music formats. But please check with each manufacturer to ensure that a particular player's bass-management functions will satisfy your system's needs. If not, you can use the Outlaw Audio ICBM to compensate for any deficiencies.
...Jeff Fritz
jeff@soundstage.com