August 2002
Multichannel Music to Sink Your Teeth Into
If it's been said once, it's been said a thousand times: The biggest drawback to adopting a new audio format is the lack of a significant quantity of software. And sometimes the quality of what is available is suspect, which doesn't help matters. When you're talking about DVD-Audio or SACD, formats whose selling points are greater resolution and multichannel capability, as opposed to convenience, price, durability or some other characteristic the masses would typically flock to, you have a real uphill battle to fight.
The reasons for this struggle are simple when you break them down. Usually the first companies onboard with a new audio technology are smaller labels associated with smaller acts. They typically have quality in mind, and that's a good thing. But Britney Spears-type sales figures are not happening right off the bat, and this surely limits the initial possibility of widespread acceptance. The smaller labels producing a limited number of releases, as opposed to the flood of a big-time act needed to really drive the market, will only take the new format so far.
Enter 5.1 Entertainment Group
I'd love to write the marketing propaganda for the 5.1 Entertainment Group and their labels Silverline, Immergent, and Electromatrix: High-resolution multichannel audio for people that listen to real music. Like that one, do you? It's one thing to receive a catalog with six or eight titles scheduled for release over the next year -- all by artists I would not know even existed had I not heard of the disc within audiophile circles. That's OK if it's one component in a bigger, well-planned picture. Well take notice: The 5.1 Entertainment Group is providing -- almost single-handedly -- the bigger picture.
In February 2002 the California-based record company made a major announcement: They would be releasing 140 DVD-Audio discs under the Silverline label. These titles were licensed from UK-based Sanctuary Records, and include work from artists such as Widespread Panic, Bob Marley, and Megadeath. The rollout was to begin in April and continue at an ever-increasing rate throughout the year. We're now in July as I write this, and the discs are coming out at a fast and furious pace. There's a little something for everyone in the batch of current releases, but there are a few standouts that are important for us to talk about.
The 140 Sanctuary-derived releases are not all they're producing, though. We all know there has to be a selection of new music, released for the first time on the new format. The older stuff is fine, but we need a mixture of fresh material to really promote the new recording technology. The 5.1 Entertainment Group works with an impressive list of acts, most notably Eminem, Sting, Fleetwood Mac, Herbie Hancock, Everclear, Alice Cooper, and Aaron Neville. Seeing new music from these types of artists is an absolute necessity.
Rock to sway to

Dishwalla's Opaline [Immergent 287009-9] was released simultaneously on CD and DVD-A. This is an important development because it shows a real commitment to the format. A current act producing new music on DVD-A is a promising proposition -- if the music is good!
If you're a Dishwalla fan, you probably became so back in 1995 with the release of the single "Counting Blue Cars," which rose to number one on every alternative chart in the land. It then crossed over and became a mainstream hit with what seemed like massive airplay from light-rock stations. The Pet Your Friends CD [A&M 0319], from which "Counting Blue Cars" came, was a breakout hit for the Santa Barbara-based rock group, and the subsequent tour made them a favorite in college towns across the nation. Now seven years into the band's career, we have Opaline, their first release under the Immergent label.
The good news is that if you liked Pet Your Friends, you'll like Opaline. I like to refer to Dishwalla as rock to sway to. Their music possesses the groove you need when attending a live show, holding your honey with your eyes closed, moving back and forth in that otherworldly groove. Dishwalla is prone to introspection, and you'll be too when listening to tracks like the title "Opaline." You'll forget everything but the moment you're in, and it's a great escape. Counter to the grunge-based Seattle sound, this type of feel will find favor with light-rock stations and a new audience, as well as old fans. Dishwalla hasn't forgotten their roots. "Angels or Devils" could have come directly off Pet Your Friends. But the band has matured and the sound has too. It is a bit more comfortable, though just as soulful, than what they've produced in the past. If you haven't listened to Dishwalla in a while, or you haven't heard them at all but listen to the lighter side of Collective Soul or, dare I say it, Creed, check out Opaline.
The surround mix is heavy, but engulfing, and translates pretty well into the mood the band is trying to create. Just crank it and sink back into the music. There's a 96kHz/24-bit stereo track too, and this straight-ahead approach provides ample opportunity to compare the two configurations. I've found myself cueing up both about equally. There are also photo galleries, artist's commentaries, and a scrapbook to keep you Dishwalla-fied.
Skynyrd!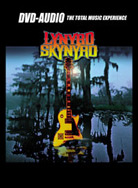 Somewhere in their history, Lynyrd Skynyrd became the Harley-Davidson of Southern rock. They transcended the pigeonhole and became as mainstream as any slice of Americana you'd care to name. They have a distinctive sound, like that of a Harley, and it is that trademark that has endured and spread through the years. Who among us doesn't turn it up when "Sweet Home Alabama" comes on the radio? And who doesn't know the lyrics by heart:
Well, I heard Mr. Young sing about her
Well, I heard ole Neil put her down
Well, I hope Neil Young will remember
A Southern man don't need him around anyhow
Recorded between 1997 and 1999, Then And Now [Silverline 288076-9] features ten tracks, some live and some studio-produced, that tell it like it is. From the aforementioned "Sweet Home Alabama," to the anthemic "Free Bird" to the rowdy "Saturday Night Special," these are classics that deserve to played loud and proud. Even if you don't fly a Rebel flag in front of your house or attend Bike Week in Myrtle Beach, South Carolina each year, it's hard to resist the lure of Lynyrd Skynyrd.
As is normal, the live tracks work best in surround, with the studio tracks sounding most natural with the surrounds turned off. There's a bit too much compression used for the sound to be truly live, but it is better than most versions of the same music (that I've heard) by a long shot. I gotta tell ya, I cranked "Free Bird" as soon as I popped this disc in, and I loved every minute of it. As for extras, you get the standard artist biography and still photos to round out the package.
Ziroq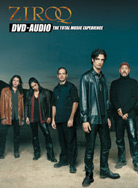 Perhaps the cleanest-sounding recording of the Silverline bunch comes is Ziroq's self-titled disc [Silverline 288067-9]. This is in many ways a reference-quality work that also happens to be captivating in its musical content. The Latin sound of Flamenco guitar mixed with a Hammond B-3, various percussion, keyboards, violin, and front-man Marcus Nand's energetic vocals combine to produce a worldly, eclectic, zesty blend that'll hook you right off. It's about passion and energy, with equal parts pop and world. If it sounds as if Ziroq doesn't easily fit into a category, you're hearing me right.
Luckily for us, there's a biography, band interviews, and music videos on this disc, in addition to the DVD-A, stereo, and Dolby Digital tracks, to help you get acquainted with the band. But listening to the music is what'll captivate you. I also think this is one of the best of the 5.1 Entertainment Group's forays into multichannel sound. The type of music, aided by production that keeps the important musical information up front, works great in surround. The relative channel balance keeps a large three-dimensional soundstage intact, and although there is musical information coming at you from the rear, it isn't distracting. It adds to the experience. I liked "Tierra Del Sur" and "Cerca De Mi," but this is one you can just put on and leave for a while. Ziroq is a new act with a lot of promise, and the DVD-A format helps communicate their message quite effectively.
Wrapping up
If you think there's not any decent music coming out in multichannel high-resolution DVD-A, you must not be looking very hard. These picks are just a few that the 5.1 Entertainment Group has released, and there's a lot more to suit varying tastes. I'd suggest you take a look at what they have out now and what's slated for release in the very near future. They're rolling, and hopefully they'll keep rolling. I'd like to see more day-and-date releases from new artists, and continually improved production values. That's what pushing a new format successfully will take.
...Jeff Fritz
jeff@soundstage.com