May 2005
Zanden Audio Model 5000 Signature Digital-to-Analog Converter by Marc Mickelson


"Statement, ne plus ultra, the best of the best."
Innovation in Design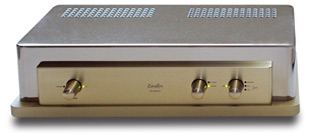 We have praised Zanden Audio's Model 5000 DAC more than any other piece of equipment we've reviewed. I make this claim based on the fact that the Model 5000 has been reviewed, re-reviewed, and reviewed a third time, each time with a new model designation and each time named a Reviewers' Choice, the only product to which this has happened. The Model 5000 sported modest changes from version to version that were nonetheless sonically meaningful. Over time, Kazutoshi Yamada, the uncompromising designer of all Zanden Audio products, discovered ways to improve his DAC, and he was always willing to support owners by providing upgrades for a few hundred dollars. Through all of this, the Model 5000 retained its $9800 list price, so Mr. Yamada was refining the Model 5000, not giving it a complete makeover.
With the new Signature version of the Model 5000, the incremental upgrades have come to an end. Much of the reason for this is due to the creation of the Model 2000 Premium transport. In order to take full advantage of the Model 2000 Premium's highly accurate word clock, the Model 5000 Signature, the latest and greatest iteration of Mr. Yamada's DAC, has gained an I2S digital input, which carries the word clock on a separate conductor, so it doesn't have to be reconstructed from the digital data stream, a process that can add jitter and negatively affect sound quality. The DAC's output section has been beefed up as well, allowing for the use of a 7308/E188CC tube in place of the stock 6922 (a 6DJ8/ECC88 will also work). The Model 5000 Signature has also gained a gleaming, shoebox-shaped outboard power supply, a phase switch (the Model 5000 DAC has always inverted phase), and a new price: $15,470 USD, an increase of over 50%.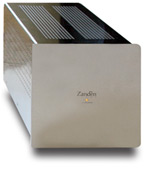 Due to the nature of the changes, earlier Model 5000 DACs cannot be upgraded to Signature status, although I suspect that Mr. Yamada will at some point gather together some of the Signature updates and offer these as a package for older DACs. The Model 5000 LE ($11,970) without the I2S input is available for those who won't be using Zanden's transport.
The Model 5000 Signature retains much of what made its predecessors such unique products, namely a tubed output stage and tube-rectified power supply, a proprietary analog filter that Kazutoshi Yamada claims preserves the phase integrity of the signal better than any alternatives, and long-discontinued Philips TDA-1541A Double Crown DAC chips, which Mr. Yamada considers superior to any DACs currently made. Analog outputs are single-ended only, while digital inputs include S/PDIF BNC and RCA along with AES/EBU and the aforementioned I2S. Upsampling has never been a feature of the Model 5000.
The Model 5000 Signature is still one of the most attractive pieces of audio equipment extant and the perfect visual mate to the soft-gold, gleaming Model 2000 Premium transport. The two are like a pair of stunningly beautiful sisters (or a foursome if you include their outboard power supplies). Mr. Yamada designs the look of his products as well as their circuits. Some guys have all the talent.
In sonic terms, the Model 5000 Signature represents evolution, not revolution. That's a very good thing given that the Model 5000 Mk III I've used for a few years has been the best-sounding DAC I've heard. To evaluate the Model 5000 Signature, I first connected it to the same Mark Levinson No.37 transport or Audio Research CD3 Mk II CD player with which I used the Model 5000 Mk III. The DAC was connected BNC output to BNC input, which simply sounds best. The digital cable was a Siltech G6 Signature Golden Eagle, whose pure, detailed sound works wonders with really good digital separates, albeit at a price ($4800 per meter length) that will make you wonder if it's solid gold. Actually, its conductors are silver and gold. On first listen, it was obvious that the Golden Eagle was the best digital cable I've used by a considerable margin.
Used in this way, the Model 5000 Signature displayed increased top-end air and sparkle -- this was the greatest difference I noted between the Signature and Mk III DACs. This gave the sound a more see-through character. More of the overtones and the sound of the recording venue were captured, and the overall sound of the DAC had nudged closer to that of very good SACD playback. I also noted greater image density along with better low-end drive, the product of improved bass definition -- a quicker start and stop to acoustic bass, for instance. The Model 5000 Signature retained the general character of the Mk III unit it replaced -- a silky presentation that can belie its great detail -- but was obviously better in the ways I've noted. Physically and sonically, the Signature upgrade is easily the most significant set of changes to the Model 5000 DAC yet.
But this was only the undercard; the main event was using the Model 5000 Signature and Model 2000 Premium together via their I2S connectivity. Here, the improvement over even the very good Levinson and ARC transports was profound. Everything in every region sounded significantly more detailed and, at the same time, more relaxed -- in short, more lifelike. I've urged many people with whom I've conversed over the years to try a simple experiment in their listening rooms: Listen to someone speak or sing, and note what's heard. Among the things you'll notice is that the voice doesn't exhibit the collection of emphases, especially in the highs, that reproduction does and ultimately reminds us that what we're hearing is not live music. I can easily imagine what some audiophiles would say if a perfect audio system could reproduce this experiment perfectly: "Rolled-off highs," "reduced attack and decay," "no transparency." What savvy listeners will be reminded of is what lifelike means and in what ways recorded music falls short of it. Live music flows with a realistic sense of linearity, tonality and energy. The unnatural crispness is gone. It's obviously the real thing.
The combination of the Zanden DAC and transport sounds like that in-the-room voice -- more graceful than I'm used to hearing from CD, and more resolved and pure as well. The sound lacks the earmarks of reproduction, especially those that have come to define digital reproduction, including an upper-midrange/lower-treble accentuation that so many listeners have gotten used to and some have begun to believe is a positive characteristic of high-fidelity sound. When it's missing, however, you need to make no adjustments. You are used to things sounding this way. The Zanden DAC and transport require no acclimation, quite the opposite, in fact. Their rightness is apparent and familiar.
I bought Neil Young's Harvest Moon [Reprise 45057-2] right around the same time that I acquired my first good digital source, and I've heard it with just about every CD player, DAC and transport that has been in my system since. It certainly is not a great recording, but particular cuts illustrate both digital's potential for stunning sound and capacity for lousy sound. The Model 5000 Signature and Model 2000 Premium were completely unfazed by this dichotomy. They were certainly true to the recording, but they were more true to the music's essence, as though this recording was being reproduced by a decoding device that finally understood its bitstream. Young's plinking and strumming on the title cut sparkled with high-frequency energy, and the space around him and the other musicians displayed width, depth and height, all of which made the soundscape truly palpable.
Young is a noted evangelist for the superiority of analog playback, and while I haven't owned a turntable for over a decade, I have residual memories of analog sound that are refreshed each time I hear an LP at a show. I am convinced that Neil Young would love to hear his recordings on the Zanden combo, so closely does it come to replicating the sound of a top-flight analog rig -- the easy resolution, the lack of a hard, analytical character that has historically plagued much digital playback.
Closer to home for me is a comparison to SACD, which the Zanden DAC and transport invite. SACD's greatest triumph is that it doesn't sound like CD, which is to say that CD's identifying characteristics are pretty much banished. The same holds true for the Zanden combo, which raises the question, "Which is better?" My mind says it's a draw, but when I look at the pile of discs I've been listening to, I have to admit that the Zanden Model 5000 Signature and Model 2000 Premium have been monopolizing my time. I still think just as highly of the SACDs I own, especially when they are played on a top-flight player like the Esoteric X-01, but I can't deny that I've been listening to the Zanden DAC and transport more than the X-01. CD playback from the Esoteric player is among the very best I have heard, but the Model 5000 Signature and Model 2000 Premium are at another level -- statement, ne plus ultra, the best of the best. I never thought I would write this, especially in light of the review I wrote on the Esoteric X-01 last year, but given my tastes and the wide array of music I play, I am aware of no better digital source than the Zanden separates.
Near the end of the review period, Jim Smith of Avantgarde USA, Zanden Audio's US distributor, sent me one of his stock of specially chosen NOS Mullard 7308 tubes to try in the Model 5000 Signature. Smith made his decision to import Zanden products based on his experience with the DAC and its stock 6922, but he provides the 7308 to all US buyers of the Model 5000 Signature or Model 5000 LE DACs because he believes it improves the sound to a consequential degree. The 7308 definitely increases image solidity and body, but not at the price of merely warming the sound. The treble sounds ever so slightly more luminous and brilliant, and everything from the midrange to the bass is firmer and more resolute. If you didn't buy your Signature or LE DAC in the US, contact Jim Smith about purchasing one of his Mullards, which is a worthy upgrade. However, there are certainly other 6DJ8, 6922 and 7308 tubes worth investigating as well.
The only drawback of the Model 5000 Signature/Model 2000 Premium combination is its $43,440 price. Such stratospheric expense often separates audiophiles into three groups: those who ridicule any audio product that costs such an amount, those who can't afford such an expensive product but can admire its sonic performance nonetheless, and those who buy exactly what they want regardless of price. Ultimately the only justification for the price of the Model 5000 Signature and Model 2000 Premium is their sound, which is the best I've heard from CD and a rival to SACD in effect -- the sheer delight, and often amazement, derived from listening to them.
I'll leave it to you to decide where your financial and sonic lines are drawn. I'll simply enjoy some more music with this remarkable DAC and transport.
...Marc Mickelson
marc@soundstage.com
Zanden Audio Model 5000 Signature Digital-to-Analog Converter
Price: $15,470 USD.
Warranty: Two years parts and labor.

Zanden Audio Systems Ltd.
6-6-2-101 Shinmori Asahiku
Osaka-City Osaka, Japan
Phone: +81-6-6185-0404
Fax: +81-6-6185-0405

Website: www.zandenaudio.com

North American distributor:
Zanden Audio USA
6445 Calamar Drive
Cumming, GA 30040
Voice: (770) 777-2095
Fax: (770) 777-2108

E-mail: info@avantgarde-usa.com
Website: www.zandenusa.com
---
Avantgarde-USA responds:
Four Reviewers' Choice Awards in a row! I have to admit I was concerned that -- after Yamada-san's long track record of success -- maybe you guys would take anything new from Zanden for granted. Not!
I really can't think of much to add to this thorough analysis. Except....
The buzz seems to be about how hard-core analog diehards have fallen for the Zanden. I noted Roy Gregory's recent comments to that effect in Hi-Fi+. Not just as a new and acceptable digital effort, but actually as a serious challenger to great analog as a primary source. And with plain old Red Book CDs!
I can't help it. It makes me smile when I think of Yamada-san's quiet quest to pry open the door to the promise of CDs that appeared to be locked forever. Imagine -- he did it right in the face of the onslaught of various "Hi-Rez" formats, and various forms of digital designs, many from formidable engineering and marketing organizations! It took not only Yamada-san's unwavering strength of conviction, but no small amount of courage.
Finally, if you'll allow a brief additional note. I've been listening to the new Zanden 5000 LE, the two-piece DAC (DAC and power supply) that looks like a 5000 Signature, but stops short of offering the front-panel absolute polarity switch and the I2S clock-link input for the 2000P transport.
Frankly, for those who had planned to acquire the 5000 IV before it was discontinued last fall, this actually may work in your favor! The 5000 LE is surprisingly close to the 5000 S when the latter is run in the non-clock-linked configuration, and it's a significant improvement over the 5000 IV.
Thanks for allowing me to add my comments to your awesome review!
Jim Smith
Avantgarde-USA