March 2008
Walker Audio Ultra Vivid CD Cleaner
by Vade Forrester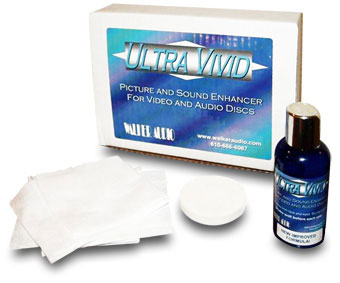 Review Summary
| | |
| --- | --- |
| Sound | "Discs cleaned with Ultra Vivid showed greater clarity and sounded more open. Instrumental harmonics were better defined, and I could hear deeper into the soundstage. Bass had more weight, with better definition. Dynamic gradations were more finely delineated and tracked. Differences were not enormous, but they weren't subtle either." |
| | |
| --- | --- |
| Features | "The $75 USD Ultra Vivid is an optical enhancer and cleaner made of proprietary ingredients. It's a thick gray fluid that comes in a four-ounce bottle with a top that opens slightly to permit you to squeeze out a few drops at a time.... Cleaning the CD twice is said to produce best sound." |
| | |
| --- | --- |
| Use | "Walker Audio recommends using Ultra Vivid in conjunction with one of its Talisman magnetic treatment devices ($225) and points out that Ultra Vivid is suitable for use with DVDs and SACDs too. One bottle will clean at least 200 discs." |
| | |
| --- | --- |
| Value | "If you were upgrading your system, you'd have to spend considerably more to achieve the same sonic improvement." |
LP enthusiasts understand full well the need to clean their vinyl treasures. After all, when you acquire LPs from garage sales, thrift stores, and friends' attics, it's normal to discover that they need heavy-duty cleaning before they're even playable, much less silent. And even if you feed your turntable a steady diet of newly manufactured LPs, they still sound better if you clean the mold-release compound out of the grooves before playing them. So a serious record collector will probably use some sort of cleaning process on most LPs, often involving a specialized vacuum cleaner to suck the dust, dirt, mold and mildew, along with cleaning solutions off the record.
But what about CDs? After all, a major appeal of the CD is its convenience, and if you look at a new CD right out of the jewel case, it looks pretty darned clean. And, unlike with even brand-new LPs, you won't hear a single pop or click. So why would you bother cleaning a CD?
To my way of thinking, the only reason you'd clean a new CD is to make it sound better. There may be some sort of release agent on a new CD that helps it pop out of the stamper, but does that affect the sound? Of course! Also, if you frequent used-CD stores or seek out CDs on eBay, then you'll recognize the need to clean off dust, fingerprints, and strawberry jam, so some kind of CD cleaner will be essential.
Walker Audio makes some of the finest equipment an audiophile can lust after. The Proscenium Black Diamond turntable, for instance, may well be as good a turntable as you can buy today; and although it's priced in the range where if you have to ask, you can't afford it, it's nowhere near the most expensive you can buy. But Walker Audio is not just about high-priced, state-of-the-art gear. Proprietor Lloyd Walker is also concerned that you should get the best sound out of whatever source you use, whether it's his or someone else's. So he makes an assortment of cleaning fluids, contact enhancers, footers, cables, and other items to improve the sound of your system. One of those items is Ultra Vivid CD cleaner, the subject of this review.
The $75 USD Ultra Vivid is an optical enhancer and cleaner made of proprietary ingredients. It's a thick gray fluid that comes in a four-ounce bottle with a top that opens slightly to permit you to squeeze out a few drops at a time. You must shake the bottle to mix the solution before using it, and then squeeze three or four drops onto the included foam application pad. Use the foam applicator to spread the solution onto the CD and buff it with medium pressure. Then apply another two or three drops to the applicator and apply it to the outer edge of the CD. Finally, using the cloths that are included, wipe the solution off the CD before it dries. Cleaning the CD twice is said to produce best sound. Both the foam applicators and drying cloths can be washed to remove excess cleaning solution. Walker Audio recommends using Ultra Vivid in conjunction with one of its Talisman magnetic treatment devices ($225) and points out that Ultra Vivid is suitable for use with DVDs and SACDs too. One bottle will clean at least 200 discs.
Review process
I took a two-phase approach to evaluating the Walker Audio CD cleaner. First, I played an uncleaned CD, then applied the CD cleaner and played the disc again. I did that lots of times, and, yes, there was an improvement. Discs cleaned with Ultra Vivid showed greater clarity and sounded more open. Instrumental harmonics were better defined, and I could hear deeper into the soundstage. Bass had more weight, with better definition. Dynamic gradations were more finely delineated and tracked. Differences were not enormous, but they weren't subtle either.
In the second phase, I compared Ultra Vivid to several other CD cleaners. Ultra Vivid is rather pricey, and because there are many cheaper CD cleaners available, it's useful to know how it stacks up against the competition.
Associated Equipment
Loudspeakers – Opera Audio Consonance M12.
Power amplifiers – Atma-Sphere S-30 Mk III stereo amp, Art Audio PX 25 stereo amp, Wright Sound Company WPA3.5 mono amps, Welborne Labs 300B DRD mono amps.
Preamplifier – deHavilland Mercury 2 Remote.
Digital – Meridian 508.24 CD player, Oppo DV-970HD universal player.
Analog – Linn LP12 turntable, Graham 2.2 tonearm, van den Hul Frog cartridge, Audio Research PH5 phono stage.
Interconnects – Crystal Cable CrystalConnect Piccolo, Purist Audio Design Venustas, DNM/Reson TSC, TG Audio High Purity Revised.
Speaker cables – Crystal Cable CrystalSpeak Micro, Purist Audio Design Venustas, Blue Marble Audio speaker cables.
Power cords – Purist Audio Design Venustas, Blue Marble Audio Lightning.
Accessories – Walker Audio Talisman LP/CD treatment, VPI HW-16.5 record cleaner.
I took a CD that I'm extremely familiar with, Jordi Savall's La Folia, 1490-1701[Alia Vox AFA 9805], and copied one song, "Folia: Rodrigo Martinez," onto six blank CD-Rs directly out of a new stack of Verbatim CD-Rs. I copied the original piece to my computer's hard drive as a .WAV file using Exact Audio Copy, a program which reads a CD multiple times to make perfect copies. I then burned the audio CDs using a program called Burrrn.
After the copies were made, I labeled them and cleaned each one with a different cleaning solution according to its manufacturer's instructions. The other solutions I tried were Vivid (an earlier Walker Audio cleaner), L'Art du Son ($54.99), and Record Research Labs Shinola ($24.99). I also tried Ultra Vivid with a Walker Audio Talisman, which is a magnetic treatment device that enhances both CDs and LPs. I then listened to each of the cleaned copies to see if I could detect a difference.
To ensure that I evaluated each CD the same way, I used a score sheet that allowed me to evaluate the following factors: clarity/detail, high frequencies, midrange frequencies, low frequencies, and soundstaging. Scoring was from +/- 1 to 10, where positive scores represented improvements over the uncleaned disc, and negative scores represented worse sound than the uncleaned disc. If you think this process seems a bit excessive, even nerdy, I'm an audiophile, so I have thick skin!
I listened to an uncleaned copy of the CD first, then played each of the cleaned CD-Rs, scoring the improvement or deterioration of the sound. I first planned to listen to all four of the CDs at once, but it became obvious that this would overload my aural memory, so I waited an hour between each CD in order to listen first to the uncleaned CD, then to a cleaned version. The scoring reflected the amount of improvement or deterioration for each cleaned CD relative to the uncleaned version.
My fear was that I would have trouble telling any difference between the cleaned CD-Rs and the uncleaned CD, but fortunately that was not the case. Although there were zero scores in some areas for some of the fluids, meaning I could detect no difference, there were no negative scores in any of the five areas. After I rated each of the cleaning solutions in each of the five areas, I totaled the scores to get an overall rating for each solution.
Of the four solutions I tried, the lowest total score was for L'Art du Son, with a score of +3. In fairness, I should note that this solution may have been past its prime; the label said it was best used before 2008. Next was Shinola, with a total score of +7. Walker's original Vivid scored a +12, while Ultra Vivid scored +17. So the Ultra Vivid was indeed the best of the lot.
Used as recommended with the Walker Audio Talisman, Ultra Vivid scored even higher -- +21. The effect of using the Talisman was to strip away a layer of grunge and distortion, so that the sound was purer and more transparent. To use a tired audio cliché, it was like looking through a freshly washed window. The Talisman is very easy to use -- pass it over the surface of the CD without touching it, and then do the same for the drawer of your player -- and it works on uncleaned CDs as well as those that have been cleaned. It even works on LPs. Unfortunately, the Talisman's effect is not permanent, so you have to use it every time you play a recording.
Summing up
My tests showed that cleaning a CD, even a new CD, makes an improvement, no matter which cleaning solution I used. Of all the CD cleaners, the Walker Audio Ultra Vivid made the most improvement in sound. It was also the least convenient to use, with multiple applications required for best performance. However, even for someone as lazy as I am, applying Ultra Vivid was not an onerous task. It was not one of those tweaks that winds up in the drawer because it's too much trouble to use.
While Ultra Vivid made an unambiguous improvement in sound, I can't say the degree of improvement was earth-shattering. CDs were listenable before cleaning, and somewhat better after cleaning. Some people will find that the expense and work involved in using Ultra Vivid isn't justified by the sonic improvement. But if you're not satisfied with less than the absolute highest-quality sound from your system, using Ultra Vivid will take you a few steps closer to audio nirvana, and if you were upgrading your system, you'd have to spend considerably more to achieve the same sonic improvement.
...Vade Forrester
vade@soundstage.com
Walker Audio Ultra Vivid CD Cleaner
Price: $75 USD.
Warranty: 30-day money-back guarantee.

Walker Audio
1139 Thrush Lane
Audubon, PA 19403
Phone: (610) 666-6087
Fax: (610) 666-5057

E-mail: lloydwalkeraudio@aol.com
Website: www.walkeraudio.com