May 2003

Von Schweikert Audio VR-1 Loudspeakers

by Doug Schneider



"A benchmark for two-ways in its price range"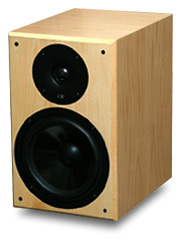 Review Summary
| | |
| --- | --- |
| Sound | "The top end sounds quite vivid. Couple that with the weighty bottom end and a tinge of warmth through the mids, and it all makes for a surprisingly open and full-bodied presentation." "Also sound big…as in spacious and room-filling"; "champs with vocal presentations, indicating…that the midrange is bang-on." |
| | |
| --- | --- |
| Features | "A 1" silk-dome tweeter and a 6-1/2" woofer -- pretty standard for speakers of this genre" -- but "both drivers are said to have VSA's Low Distortion Motor system"; "Pressure Release cabinet" that "allows the woofer to see a much larger cabinet and therefore produce deeper bass." |
| | |
| --- | --- |
| Use | "Different power requirements depending on your use of tubes or solid state" -- 50 to 100 solid-state watts, 10 to 100 tube watts; "magnetically shielded, so you can use the VR-1s close to your TV." |
| | |
| --- | --- |
| Value | "A real high-value design because it competes head-on with speakers that cost much more." |
Sending a two-way bookshelf speaker to Canada for review is a bold move. Canada didn't invent the two-way, but over the last 20 years so many have been produced here that it has become more or less a symbol of the Canadian loudspeaker industry. I'm sure that if the Royal Canadian Mint ever decides to honor the Canadian audio industry with a coin, we'll see a nickel engraved with a beaver leaning proudly against a vinyl-veneer-clad two-way speaker.
But if there is a speaker designer who can be described as bold, it's Albert Von Schweikert. Enter his company's new $995 USD per pair VR-1 loudspeakers, which were sent to me with the explanation, "Because I don't think Canada has enough two-way bookshelf speakers yet." Albert's comment may have been tongue-in-cheek, but there was a touch of seriousness to it too. After all, the VR-1 has a few new tricks up its sleeve that breathe more life into the two-way loudspeaker genre, not to mention a more-than-reasonable asking price given all that it offers.
Description
A two-way loudspeaker should be a snap to describe, but there's more to the VR-1 than meets the eye. Plus, a visit to Von Schweikert Audio's website would impress even the marketing-buzzword kings from the Harvard Business School. With the talk of a Global Axis Integration Network, Acoustic Inverse Replication, and Virtual Reality -- whew! -- my headed started to spin. But reading through the online literature and reflecting back on the many discussions I've had with Albert Von Schweikert over the years, I can assure you that the VR-1 is not all hocus-pocus, even if the terminology seems a little, well, overwrought. Albert simply employs many tried-and-true methods of speaker design, and then adds some nifty tricks of his own that he's learned over his nearly 30 years of speaker designing. The buzzwords are simply catchy names for more common things, not unlike the Weider Principles, for those who have gone to a gym.
The VR-1 has a 1" silk-dome tweeter and a 6-1/2" woofer -- pretty standard for speakers of this genre. Both drivers are said to have VSA's Low Distortion Motor system. What LDM exactly is I'm not sure, but we can presume it's a good thing, since low distortion is what we want in our audio gear. The woofer cone is said to be made from "micro-impregnated cellulose acetate pulp with polymer resin damping," with a basket that is cast polymer. Albert told me that the woofer has an extra-long voice coil, so the driver can really crank out the sound. The woofer assembly is also magnetically shielded, so you can use the VR-1s close to your TV.
The VR-1 weighs 14 pounds, and inspection reveals it to be quite sturdy. The 8"W x 12"H x 11"D cabinet is said to be all MDF with a 1"-thick front panel and a figure-8 internal cross-brace for increased rigidity. Since the front baffle is specified to be 1" thick, I assume the rest of the walls are thinner. The front edges and corners are chamfered, which is attractive and also helps to reduce edge diffraction.
The VR-1's veneer is the real surprise here. I just finished reviewing the $2600/pair Focus Signature FS-688 speakers that sport the best wood-veneer finish I've seen. The VR-1s can't quite compare with the FS-688s, but with a $995 price tag, VSA won't hear a complaint from me. The woodworking looks as good, and in ways it's better than that of lots of speakers that cost twice the price. Veneer choices include blonde maple, black ash, dark cherry, and African hazelwood.
Turn the speaker around and on the back you'll see high-quality rhodium binding posts, another nice touch, as well as the smallest darn port imaginable. In fact, it's not really a port -- not in the normal sense anyway. The literature calls this part of a Pressure Release cabinet design. No sound is supposed to come from that hole in the back; therefore, you can place the VR-1 very close to the front wall if need be. Albert says that the hole allows the woofer to see a much larger cabinet and therefore produce deeper bass than if the VR-1 were a sealed-box design.
The most telling aspect of a Von Schweikert design, though, is what you don't see -- something dubbed the Global Axis Integration Network (GAIN). While at first the GAIN thing might seem like a whole lot of voodoo, it's really not. In fact, Albert's ideas on loudspeakers go right to the heart of Floyd Toole's work at NRC in the mid-'80s, making this US-designed loudspeaker seem right at home on Canadian soil. In fact, during one phone call, Albert called Dr. Toole audio's "greatest loudspeaker engineer."
The "VR (Virtual Reality) Design Theory" paper (available on VSA's website) tells a tale that I've heard many times from numerous designers. Usually their first speakers employ a simple crossover, oftentimes a first-order phase-coherent type, with their main goal being flat-as-can-be on-axis response. The resulting speakers often had strengths along with many weaknesses. Albert found that his first speaker sounded good in certain parts of the room, but awful in others. This experience made him look at other things beyond just on-axis response.
Von Schweikert's GAIN terminology mostly refers to the on- and off-axis response of the loudspeaker; in other words, how the speaker disperses its sound and if it achieves phase consistency in 360-degree space. A design like this may or may not have the flattest on-axis response; it's the "family of curves" that tell a more compelling story. This is a common goal at Canadian companies like Paradigm, Energy, Athena Technologies, and Mirage, too. The result of this is sound that is more consistent from point to point in a room, along with a wider stereo sweet spot. This is in contrast to some designs, like Albert's original one, that exhibit vast tonal-balance shifts when you move side to side or up and down. To achieve this goal, the VR-1's crossover has "stacked first-order circuits configured to enable fourth-order acoustic slopes." The crossover point is about 2.5kHz.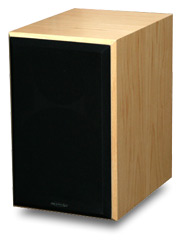 The VR-1 speaker disperses its sound best without grilles, so preferably you'll use it that way for serious listening. But if you need to use the snap-on grilles, they have been acoustically treated with foam around the tweeter area to help soak up some of the high frequencies, so they don't get bounced around by the grille's edges.
The VR-1's impedance is said to be a nominal 8 ohms with a 4-ohm minimum point in the bass. The sensitivity with 1W input is 90dB "in-room." Bass is quoted, again, in real-room conditions, where it's said to extend to about 40Hz. VSA offers different power requirements depending on your use of tubes or solid state. For solid-state amps, they say 50 to 100 watts; for tube amps they say to use 10 to 100 watts.
Each speaker comes with a frequency-response chart, personally signed by the measurements-conscious Albert Von Schweikert -- a nice touch and reassuring for those who want to know if their speakers are up to spec. The cardboard and foam packaging is typical for the price, but an additional surprise comes when you find each speaker shipped in a velvet bag. Yes, velvet. Finally, VSA caps it all off with a ten-year warranty -- twice the industry standard.
System
I situated the speakers on 24"-high stands. Since VSA spec'd the VR-1s for both tube and solid-state amplification, I tried both: the 30Wpc all-tube Zanden Model 600 and the 100Wpc Simaudio i-3. Power was never really a concern, and in my mid-sized room the Zanden unit was sufficient, while the Simaudio could blow the doors off. The digital front-end included the Weiss Medea DAC with my Theta Data Basic transport, connected by an i2Digital X-60 cable. The rest of the cabling in the system was from Maple Audio Works during one portion of the evaluation and Nirvana Audio for the rest of the time. The listening sofa was by Ikea, and electricity was by Ontario Hydro.
Sound
The VR-1's owner's manual recommends 100 hours of break-in. Always wanting to give a product the fairest shake possible, I alternated between Norah Jones' Come Away with Me [Blue Note 32088] and Lou Reed and John Cale's Songs for Drella [Warner Brothers 26205], leaving them on almost-infinite repeat and staying mostly in another room. To the credit of the music, I never tired of what I was hearing. To the credit of the speaker, the sound was a little crisp with the speakers straight out of the box, but it settled down in a reasonable time.
The break-in period actually taught me a lot about the VR-1. From outside the room as well as in the room as I walked through from time to time, the general character of the speakers impressed me. Wherever I was, the sound was rich, weighty, and clear. Based on the sound alone, had I not known the VR-1s were smallish bookshelf-size speakers, I would have thought they were quite a bit larger -- certainly not gigantic full-range speakers, but something fairly beefy and big. Could they use a subwoofer? Certainly. As with all small speakers, a good subwoofer can add bass that the speakers simply can't generate themselves. However, the VR-1 goes deeper than many similar-size speakers and, therefore, is less in need of bass augmentation.
I could also tell from the start that the VR-1s had vibrancy that was exhilarating. Even listening only peripherally, I found myself thoroughly engaged time after time. Ani DiFranco's new jazz-influenced Evolve [Righteous Babe Records RBR030-D] was punchy and incisive. The VR-1 certainly isn't bright-sounding, but its treble is apparent, and that makes the top end sound quite vivid. Couple that with the weighty bottom end and a tinge of warmth through the mids, and it all makes for a surprisingly open and full-bodied presentation. Jones' piano had a weighty and majestic sound. As she struck the keys, the rich tones resonated through my hallways. No one would ever accuse the VR-1s of sounding lean.
The VR-1s are champs with vocal presentations, indicating to me that the midrange is bang-on. Lou Reed's voice sounded startlingly direct on Drella's first track, "Smalltown." I was presented with a bold, stark voice hovering rock-solid in the center. The detail and texture were wonderful, chestiness was noticeably absent, and there was a richness that made Reed's voice sound quite real. On "A Dream," John Cale's spoken words further show the natural, coloration-free nature of the VR-1's midrange. There are no honky or hands-cupped-around-your-mouth colorations. Ditto for the Norah Jones female-vocalist test -- clear and effortless. If I had to quibble, female vocals had just a smidgen of splash and a tinge of sssshhh in the uppermost regions. Nothing too objectionable, but there nonetheless. If the VR-1s were the price of those Focal Signature FS-688 speakers, this would be a minor concern. At the price the VR-1s sell for, it's not a gripe that I'm going to belabor.
The VR-1s also sound big -- not just as in having bass weight, which they do have, but as in spacious and room-filling, too. The caveat here, of course, is that I have a mid-sized room. But what the VR-1s achieve is a left-to-right, front-to-back stereo spread that is room-swelling.
The tonal balance does shift a little bit when you move around. The highs, for example, get a little recessed when you stand up, move way to either side, or stand behind the speakers, but they'll do that with every speaker that has a forward-firing tweeter. However, the VR-1s don't shift drastically. They charge the room smoothly and are eminently listenable wherever you are positioned. You don't need to be in that one spot to hear the VR-1s sound good.
And while the little VR-1s have largeness to their presentation, they don't sacrifice precision. The stage they set is quite vast, both in width and depth, but they also lay out a clearly defined map of the performers. I mentioned in the Focus Audio Signature FS-688 review that the VR-1 can't quite match that speaker in terms of pinpoint imaging, but you must understand that the FS-688 images so well that it can outclass virtually all speakers I've heard. The VR-1 is just a partial step behind, but not all that much. I consider imaging a strength of the VR-1 -- for example, it matches that of the $5000 Verity Tamino. Where the VR-1 actually has an advantage over the hyper-precise FS-688 is the sense of spaciousness. The FS-688 sounds bigger than its size, but the VR-1 sounds even bigger yet.
The price ladder
In the last few months I've reviewed the $328 Ascend Acoustics CBM-170, the $2600 Focus Audio Signature FS-688, and now the $995 Von Schweikert Audio VR-1. Let's start with the CBM-170.
For $328, the CBM-170 is simply amazing value -- well built and offering neutrality and refinement that can shame some of the priciest of two-ways. For the price, you can't go wrong, but you also can't get everything. It's a little bit bass shy (although its sensitivity is higher than both the FS-688's and VR-1's, something that can't be overlooked) and although it's built well, it's not constructed to the same standard or with the same luxury-good appeal as much more expensive speakers. As I mentioned in the '170's review, you won't get a real-wood veneer, nor should you expect to.
The VR-1 is the next step up, and the $995 price tag reflects that. Cosmetically, the VR-1's real-wood veneer (which is on par with Revel's twice-the-price Performa M20), high-quality binding posts, velvet bag, and ten-year warranty, move it into a different league. The VR-1 is also more substantial-feeling than the cost-constrained CBM-170. In short, you pay more, you get more.
The VR-1 also sounds a little different, although it and the CBM-170 share an exceedingly neutral and refined character that despite their price difference makes them sonic references to judge others against. What the VR-1 gives you is more bass than the CBM-170 -- a fair bit more, even by small-speaker standards -- along with a richer, more vibrant presentation. The VR-1 is gutsy and robust, while the CBM-170 is a touch leaner-sounding in comparison.
When you get up to the $2600 FS-688 from Focus Audio, the differences are, well, different. The FS-688 can't be seen as a high-value design the same way the VR-1 and CBM-170 can -- the price and the fact that the FS-688 is still a conventional two-way dictates that. Price, though, has its privileges. The FS-688 is gorgeously finished in exotic, wanna-rub-up-against-it veneers that are heavily lacquered and polished to perfection. Add to that the top-name parts, like the Scan-Speak Revelator tweeter and Eton woofer, and you have a bona fide luxury item -- with a price to match.
The FS-688 isn't all about looks, though. The top end of FS-688 is sweeter than that of almost every other speaker I've heard and, as a result, I hold it up to speakers its own price and a whole lot more. Street-musician Tupahn's self-produced Covered Treasures CD [no catalog number] is musically involving, and this guitar-centric CD is adept at exacerbating problems in a speaker's tweeter. It's here that the FS-668's cleanliness way up top can be heard. Then there's the FS-688s' other standout feature: stellar imaging. The stage is so well delineated, with a walk-amongst-the-performers-blindfolded realism, that I use it as a reference by which to judge other speakers. The FS-688 has other sonic strengths, but in comparison to the VR-1, we're now talking more about differences rather than good versus bad.
Both the VR-1 and FS-688 have roughly the same bass extension -- a surprising amount given their small size -- but the VR-1 is fuller- and bigger-sounding with that spaciousness that fills the room more. The extension and quality that Von Schweikert Audio coaxes out of this design is impressive. The VR-1 is also more vibrant and incisive, particularly through the upper bass, mids, and top end. Compared to the super-suave FS-688s, the VR-1 can sound just a touch mechanical. It doesn't quite flow over you the way the FS-688 can, although with the tube-based, warmish-sounding Zanden Model 600 integrated amp driving the VR-1, some of that criticism is lessened.
On that other hand, that extra bit of liveliness that the VR-1 has gives a nice Technicolor flair that makes it exciting to listen to. Philip Glass's piano-dominated soundtrack to the film The Hours [Nonesuch 79693], for example, sounded superb -- with weight, richness, and vibrancy that made the piano sound exceedingly real and natural. The FS-688s handle this CD well too, but a little differently, with an equal amount of weight and a similar type of richness, but with a slight bit more laid-back and lush presentation through the mids. Both sound good, but which sounds better overall your own ears will have to decide.
Conclusion
While the world is rife with two-way loudspeakers, and has been for decades, there's enough room for the VR-1 to squeeze into the lineup -- even in Canada. And being someone who constantly fights for the common man and looks for value over hype, I can't help but say that for the price the VR-1 sells for, I think that the audiophile world has been waiting for this speaker.
For $995 you get a well-engineered, exceedingly well-built two-way loudspeaker that's a clear leap over the budget crowd, landing well into the cost-no-object jungle, but it doesn't sell for nearly as much as a good number of speakers in the same league. These qualities make the VR-1 a good candidate for budget shoppers who might be able to open their wallets a little further, and perhaps more importantly, a definite contender for those with already-stretched budgets who are simply looking for a top-notch two-way bookshelf-sized speaker. It's that latter group for whom the VR-1 is a real high-value design because it competes head-on with speakers that cost much more.
So while the VR-1 is not necessarily inexpensive, when you combine price, build quality, and performance -- not to mention the ten-year warranty and, yes, the velvet bag -- the VR-1 has wide audience appeal and ends up setting a benchmark for two-ways in its price range.
...Doug Schneider
das@soundstage.com
Von Schweikert Audio VR-1 Loudspeakers
Price: $995 USD per pair.
Warranty: Ten years parts and labor.

Von Schweikert Audio
204 Greenfield Drive, Unit F
El Cajon, California 92020
Phone: (619) 444-7136
Fax: (619) 444-2847

E-mail: albertvonn@aol.com
Website: www.vonschweikert.com
---
Von Schweikert Audio responds:
I and my staff (Kevin Malmgren, VP Engineering, in charge of cabinet design and fabrication engineering; Bradley T. Smith, VP Marketing/ Special Applications Director; Paul Garner, National Sales Manager/Customer Service; Phuc Dang, Phd, VP Quality Engineering/QC; Philip Richardson, VP Production Management; Ken Lonny, Phd. CFO; and Linda Von Schweikert, Office Manager) would like to offer our heart-felt thanks to all at SoundStage! for a wonderful review. Doug has a fantastic way with words, as well as offering an in-depth discussion of many listening aspects that other reviewers never seem to discuss or even notice! We also like the fact that our little VR-1 was compared to two other products, which gives the reader a reference point instead of being in a vacuum.
One thing that might need addressing is the fact that our claim of 40Hz bass is not shown in the free-field measurements of our own, nor those of the NRC. We DO measure and hear bass down to 40Hz (-6dB) when the speaker is located close to the wall, since the boundary reinforcement fills in the "missing bass" caused by the free-field measurement condition. In our room, we have the VR-1 only one foot from the wall, and the bass is fantastic! We are worried that keen readers might see the NRC graphs and believe that we are "fudging" on our frequency-response claim. However, if they look at our tech sheet, it indicates that the 90dB sensitivity is an "in room" measurement and that the bass response is best served by close-to-wall positioning. Hey, boundary reinforcement was factored into our design!
Thanks once again for great writing, done with an educated and interesting flair! No wonder SoundStage! is the most highly regarded Internet magazine!
Best regards,
Albert, Kevin, Phuc, Philip, and Linda
Von Schweikert Audio