November 2007
Volent VL-3 Loudspeakers
by Uday Reddy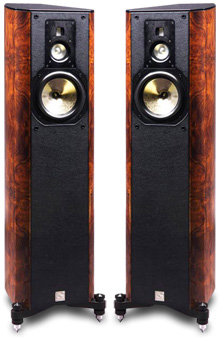 Review Summary
| | |
| --- | --- |
| Sound | "Because the VL-3 is quite a slim floorstander, soundstaging and imaging were first-rate, with a solid three-dimensional presentation." "While the VL-3 is on the cool side of neutral, this fortunately does not result in an analytical character." "Vocals were lifelike with excellent articulation and no evidence of nasality or chesty tones." "Not only does the bass seem to extend down to 28Hz, but it's tight and tuneful with no distortion, and it's easy to follow the bass lines, as bass depth is not achieved at the expense of articulation." |
| | |
| --- | --- |
| Features | "All Volent speakers feature a patented aluminum-ribbon tweeter said to employ "Twin Ribbon Technology," which is claimed to offer the vertical, horizontal and directional response of a conventional dome tweeter, but with the speed, detail and transparency of a ribbon tweeter. In addition to the ribbon tweeter, the VL-3 uses a 2" aluminum-cone midrange and a 7" titanium-graphite-sandwich woofer. Crossover frequencies are 5700Hz and 630Hz." |
| | |
| --- | --- |
| Use | "Volent recommends minimal toe-in and it's easy to hear why. With the speakers pointing almost directly at my listening position, the treble was very hard, almost harsh. By minimizing the toe-in so that the speakers were facing almost directly ahead, this tendency was greatly attenuated." |
| | |
| --- | --- |
| Value | "The VL-3 compares favorably to other speakers with similar pricing that I have auditioned in the past and it holds its own against my current reference, but with one added advantage: It costs more than $4000 less than the current Wilson Sophia 2." |
Like it or not, globalization is here to stay. While the relative merits and demerits of globalization are best left to other forums, there can be no doubt that music lovers and audiophiles have benefited greatly from a wider selection of components from which to choose. In recent years, many manufacturers have taken to designing their products in the West, then manufacturing them in the Far East, passing the savings on to consumers. More recently, native manufacturers, particularly in China, have been producing high-quality components with world-class sound, reliability and aesthetics.
This brings us to the product under review here -- the Volent VL-3 speaker. In one form or another, Volent has been designing and producing drivers and speakers in Hong Kong for the past 18 years, and since 2005 the company has been producing under the Volent name (short for "Voice of Excellence"). Volent's current product range includes the more budget-oriented Chorale series and the high-end Paragon series, which includes the two-way VL-2 minimonitor and the three-way VL-3 floorstander.
All Volent speakers feature a patented aluminum-ribbon tweeter said to employ "Twin Ribbon Technology," which is claimed to offer the vertical, horizontal and directional response of a conventional dome tweeter but with the speed, detail and transparency of a ribbon tweeter. In addition to the ribbon tweeter, the VL-3 uses a 2" aluminum-cone midrange and a 7" titanium-graphite-sandwich woofer. Crossover frequencies are 5700Hz and 630Hz. The VL-3's stated frequency response is 28Hz to a very extended 100kHz, so it should take full advantage of high-resolution formats such as SACD and DVD-Audio. Impedance is 4 ohms and sensitivity is 88dB/W/m, so even moderately powerful amps should have no difficulty in driving the VL-3. Each speaker measures a svelte 37"H x 10"W x 15"D but weighs a hefty 86 pounds.
At $9650 USD per pair, the VL-3 isn't cheap and it sure doesn't look it. The baffle is covered with embossed leather and the sides are encased in beautiful matched burl-walnut veneer with a lustrous high-gloss lacquered finish. The top and back plate are finished in piano-black lacquer. These speakers taper elegantly to the rear and look like a cross between the Sonus Faber Amati Homage and the Wilson Benesch ACT, only more beautiful. The appearance is reminiscent of fine furniture, and with its compact dimensions and elegant looks, the VL-3s will no doubt appeal to a wide variety of tastes and blend in well with the surrounding furnishings, especially if your listening room doubles as a family room.
Attached to the aluminum back plate is a single pair of gold-plated binding posts with knurled knobs that accept spade lugs and banana plugs but not bare wire. Each speaker comes with three adjustable machined-aluminum feet that screw into the base, anchoring the speaker to the floor and allowing for leveling.
Internally, the VL-3 is lined with 100% sheep's wool, which, coupled with its non-parallel sides, is claimed to not only reduce internal reflections but also improve low-bass response. The grilles are removable, but I didn't notice any audible difference listening with or without them, so I listened to the speakers with the grilles in place.
Although the VL-3 is a slim tower, unpacking a pair of them is a two-person affair, given how heavy they are. I enlisted the help of my neighbor, and we wrestled each box down my narrow basement steps into my dedicated listening room. Each speaker comes packed in sturdy cartons with Styrofoam inserts to hold them in place and a nice cloth sock to protect the finish. The machined feet with mounting hardware are housed in the base of the Styrofoam inserts in individual plastic bags, again to protect the finish. Such attention to detail should be necessary for anything that costs almost $10,000.
Location, location, location…
One of the benefits of purchasing Wilson Audio speakers is having your dealer optimize the setup for your listening room. When my Sophias were delivered, the dealer spent two hours adjusting their placement while I sat in the listening position to check for soundstaging and frequency-response abilities, particularly with regard to the bass. My room measures 22'L x 16'W x 8'H, and the inside-rear corner of each speaker was about four feet from the rear wall. Wilson Audio recommends toeing in the speakers so that the inside side walls are barely visible, in order to eliminate initial reflections. As a result, the outside rear corner is only about eight inches from the side walls and the outside front corner is about a foot away from the side.
Using this setup as the guideline, I started with the VL-3s in the exact same place. Ouch! Big mistake. Volent recommends minimal toe-in and it's easy to hear why. With the speakers pointing almost directly at my listening position, the treble was very hard, almost harsh. By minimizing the toe-in so that the speakers were facing almost directly straight ahead, this tendency was greatly attenuated. Other than toe-in, the VL-3s remained in the same spots as the Sophias, as further adjustments did not make any meaningful improvement and did much to degrade the bass performance and soundstaging. Once the final position was decided upon, I mounted the supplied footers, anchoring the speakers to the floor.
Right out of the box, the VL-3s sounded fine with no apparent break-in needed, and I did not notice any perceptible change in sound quality throughout the review period. I would guess, therefore, that the review pair of speakers had been played before they arrived.
Beauty isn't only skin deep
Because the VL-3 is quite a slim floorstander, soundstaging and imaging were first-rate, with a solid three-dimensional presentation. With eyes closed, I could easily mistake the VL-3 for a minimonitor were it not for the speaker's bass extension. With the music of small ensembles, individual instrumentalists were easy to localize. On recordings that were more localized to the speakers, like Bill Evans' Sunday at the Village Vanguard [JVC XRCD JVCXR-0051], this was a bit more noticeable through the VL-3s, but I didn't find this distracting. With symphonic music, the musicians were arrayed across a broad soundstage with depth that conveyed the essence of the music hall. Interestingly, the VL-3s also projected a much larger musical image than their diminutive size would suggest, but this never sounded exaggerated.
Having seen live acts at the Village Vanguard in New York City and also owning a large collection of jazz recorded at that venue, I'm very familiar with the sound of that space. With one of my favorite Village Vanguard recordings, Brad Mehldau's Art of the Trio, Volume 5: Progression [Warner Jazz 48005], the VL-3s' soundstaging was superb, portraying the club's space and warm, intimate tone in a most impressive fashion. This was among the more remarkable qualities the VL-3 exhibited. Other live recordings such as Jessica Williams' Live at Yoshi's Volume 1 and Volume 2 [MaxxJazz 210 and 214] and Keith Jarrett's At the Deer Head Inn [ECM 517720] exhibited similar qualities, with the VL-3s excelling at conveying the ambience -- the surrounding space -- and ambiance -- the atmosphere -- of these small clubs.
Associated Equipment
Loudspeakers – Wilson Audio Sophia.
Integrated amplifier – Jeff Rowland Design Concentra.
Digital – Wadia 830 CD player.
Interconnects – Transparent Audio Ultra MusicLink.
Speaker cables – Transparent Audio Ultra MusicLink.
Accessories – Audio Power Industries Power Pack II.
Regardless of what manufacturers may claim, all speakers have their colorations, and the art in designing speakers is to minimize them and build as neutral a speaker as possible. While the VL-3 is on the cool side of neutral, this fortunately does not result in an analytical character. Not having had any prior experience with ribbon tweeters, I was eager to hear this one. The treble excelled, with a sense of airiness that resulted in a delicate, open and smooth presentation. Detail was reproduced well with no edginess and with a particular affinity for percussion. On all types of music, cymbal splashes sounded lifelike with a realistic crash and sustained decay.
On Holst's "Jupiter, The Bringer of Jollity" from The Planets [Deutsche Grammophon 445860], the glockenspiel was reproduced with such crystalline clarity that the sound of the wood mallet striking metal was palpable. In fact, this is one of the sweetest-sounding speakers I have ever heard. I don't listen to much symphonic music these days, but for the first two weeks that I had the VL-3s, that's all I listened to, given how beautifully this music was rendered and the degree of transparency that made this speaker well suited to this kind of music. Transient response was excellent, with no smearing of detail.
My only complaint with regard to the treble lay in reproduction of piano. On some recordings, there was glare or hardness to the piano that I could not eliminate. Why this was not apparent on all recordings and only confined to piano I am at a loss to explain. In these instances, I was able to largely attenuate this by listening at a lower volume, but it did not completely disappear. Despite this quality, I never found the sound to be aggressive or fatiguing, and even with piano music I never felt the urge to switch to something else.
The bulk of musical reproduction is in the midrange, and because of this these frequencies have the greatest effect on the ultimate sound quality of any component. In this respect, the VL-3s performed very well with all types of music. If that sounds like a less than whole-hearted endorsement, it's not meant to be. The VL-3s didn't call attention to themselves and got out of the way of the music with no evidence of boxy colorations. This characteristic was not only a testament to the quality of the midrange driver, but also to the robust construction of the enclosure. Vocals were lifelike with excellent articulation and no evidence of nasality or chesty tones. Instruments sounded natural and convincing on both studio and live recordings with no sense of congestion or bloat.
On minimally miked recordings the tonal balance was excellent with good separation of instruments and multi-miked recordings never sounded like undifferentiated hash. Poorly remastered CDs, such as Stevie Ray Vaughan's Live Alive [Epic 40511] and Ted Nugent's Double Live Gonzo [Epic 35069], still sounded compressed and muddy, but considerably less so than with most speakers and certainly equal to my Wilson Sophias.
One of the most striking features of this speaker is its bass extension and quality. How Volent achieved such depth with only a 7" woofer and a relatively small enclosure is a marvel of engineering. Not only does the bass seem to extend down to 28Hz, but it's tight and tuneful with no distortion, and it's easy to follow the bass lines, as bass depth is not achieved at the expense of articulation. On Wood [A440 4001], David Bromberg performs a solo of the Beatles' "Come Together." The perspective placed me front row center, and, as Bromberg plucked and slapped the strings, I got a sense of his 300-year-old instrument within arm's length. Both acoustic and amplified bass were well rendered, and while the VL-3's low-frequency strengths were most apparent with jazz and classical music, it was certainly no one-trick pony, as it was quite adept at handling rock'n'roll and electrified blues. Not once did I hear any chuffing from the rear-firing port, and all but the deepest bass notes were handled with aplomb. Unless you listen to a lot of organ music or works with deep, synthesized bass notes, a subwoofer won't be required with the Volent VL-3s.
Head-to-head
Both my reference Wilson Audio Sophias ($11,700 per pair when still available) and the VL-3s share similar specs, and while the Sophias lean toward the warmer side of neutral and don't have the same issues with regard to reproduction of piano, both speakers sound remarkably alike. In short-term blind listening (and in the absence of music with piano), I'd probably have a tough time differentiating between the two. However, with extended listening, the differences were more apparent.
Both the Sophias and the VL-3s have a grain-free treble that's very smooth, but, apart from the aforementioned issues with some piano recordings, I found the VL-3s' top end to be sweeter, which could explain its affinity for classical music, especially with strings. On percussion parts, snare drums had a crisp, snappy sound, while idiophones such as cymbals, chimes and triangles rang clearly, as distinct vibrating metal. While the Sophias were no slouch in this department, I felt that the VL-3's ribbon tweeter more accurately reproduced the distinct quality of these tones.
In the midrange, the advantage more clearly lay with the Sophias, as they had a richer and warmer sound thanks to their weighty midbass, which was especially noticeable on the live jazz recordings I had also played on the VL-3s. As good as the VL-3s were in this respect, the Sophias sounded more like live music than reproduced live music.
With low bass, it was no contest. As tight and tuneful as the bass was with the VL-3s, the Sophias had a heft that only comes from having the increased radiating surface of its 10" woofer and a larger cabinet. Bass drums, in particular, had a forceful impact that the VL-3s just couldn't match. Still, the smaller speaker surprised with its low frequencies.
Given the warmer tone and more energetic bass of the Sophias, I'd have to give them the upper hand, but if I had a large collection of music on SACD and DVD-Audio, which could take advantage of the extended frequency response of the tweeter, and I listened mostly to classical music, I could easily see myself preferring the VL-3s.
Conclusion
The Volent VL-3 is an excellent loudspeaker that certainly deserves wider exposure. Its strengths are many, including lilting highs and surprising lows; its weaknesses -- that issue with piano -- are minimal and, for the most part, of a subtractive nature.
The VL-3 compares favorably to other speakers with similar pricing that I have auditioned in the past and it holds its own against my current reference, but with one added advantage: It costs more than $4000 less than the current Wilson Sophia 2. Think about it. With that chunk of change you could purchase a CD player and integrated amp and have a topnotch system for under $15,000 that you could happily listen to for a long time to come.
Am I ready to give up my current reference? No, but that doesn't mean a switch didn't cross my mind. Congratulations, Volent on a job well done. The VL-3 has a "Voice of Excellence" to be sure.
...Uday Reddy
uday@soundstage.com
Volent VL-3 Loudspeakers
Price: $9650 USD per pair.
Warranty: Five years parts and labor.

Volent Corporation, Ltd.
FT, K&L, 17F, BLK 1, Golden Dragon Industrial Centre
152-160, Tai Lin Pai Rd, Kwai Chung, Hong Kong
Phone: (852) 2437-2308
Fax: (852) 3427-2309

E-mail: contact@volent.com.hk
Website: www.volent.com.hk

US distributor:
E-Speakers.com LLC
P5117 Tampa Avenue
Tarzana, CA 91356
Phone: (888) 349-9419

E-mail: info@e-speakers.com
Website: www.e-speakers.com