May 2005
Thor Audio TPA-30 Mk II Mono Amplifiers
by Tim Aucremann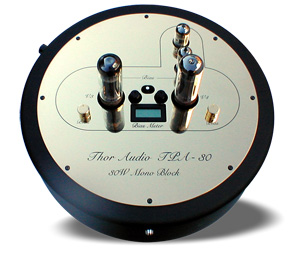 Review Summary
| | |
| --- | --- |
| Sound | "While the notes are clear and the tone color is sweet, it is the TPA-30 Mk IIs' dynamic fluidity that brings sounds to life as music." They "shower…instruments with a lit-from-within presence" and "conjure the presence of musicians together in space, and generate a wholly believable soundspace." "The Thor amps…have such a sweet, compelling voice, a tonality that can be so gorgeously right, it will command your attention, like a beautiful woman walking by. |
| | |
| --- | --- |
| Features | "The TPA-30 Mk IIs are 30-watt amplifiers," but "each uses a 60-watt custom-built power transformer." "With output transformers wound and wired for ultralinear operation, the proprietary circuit is a push-pull design that employs 20dB of negative feedback." "Each amp uses two SED (née Svetlana) EL34 output tubes along with one 12AT7 and one 12BH7A. While nominal output is spec'd at 6 ohms, Marks claims the amp will handle loads from 2 to 16 ohms with ease." |
| | |
| --- | --- |
| Use | "The 30-watt Thor monoblocks are recommended for use with speakers having no less than 89dB sensitivity…. Spec-wise the Thors were on the cusp in my system. Despite these away-game conditions, I'm happy to report the TPA-30 Mk IIs never gave me reason to suspect that their disposition was other than what I heard." "These are big watts. I was well impressed." |
| | |
| --- | --- |
| Value | "The TPA-30 Mk IIs are an expensive bit of kit, and Thor Audio builds 'em in the belief that they will be the last amplifier you'll buy. They want you to believe it, too, because a new purchase from an authorized dealer nets a lifetime warranty for the original owner (excepting the tubes, of course)." |
I can't get the image out of my head -- the image of George Jetson, audiophile. When George comes home after a hard day at Spacely Sprockets and goes to warm up his rig, his amplifiers look like large hockey pucks mounted on carbon-fiber cones. George glances into a meter and turns some small knobs as slender glowing cylinders rise from a golden surface. The amps fly around the room. Holographic images of the Kingston Trio Antiqua form in the air and begin to play. Wow, is that a Martin guitar? Of course -- this is a historically informed performance. George grooves to the tunes while Jane dials in dinner. Shane and the boys strum their way through "Sloop John B," and life is good at the Skypad apartments.
Fast-forward to the present. OK, I never really expected the Thor Audio TPA-30 Mk II monoblocks to fly, even though they look like they might go anti-grav at a moment's notice. In my low-lit music room their round shape, pointy feet, and electric glow from their slender glass envelopes evince a certain retro-futuristic charm. Maybe too many late-night listening sessions for me, but the Thor amps are cute in ways that make me think of devices used by a family from the future, circa 1962.
Don't get me wrong -- in the clear light of day there is nothing 'toonish about these power pucks. With a combination of space-age technology and old-world craftsmanship, Thor Audio claims to apply a "no price-point" philosophy to the design and implementation of their products. From packaging and documentation, to ergonomics, product support, and sonics -- my experience with the TPA-30 Mk IIs tells me they are exceedingly well-thought-out products. Paul Marks, the owner of Thor Audio, has paid close attention to all the right details -- just what one should expect from $10,990 USD amplifiers.
Set the Wayback Machine to 2005, and let's take a closer look.
Sound by design
Each TPA-30 Mk II weighs 40 pounds and is built using a one-piece 14"-diameter spun-metal chassis whose round shape yields a no-flex rigidity that helps cancel spurious external vibrations. Paul Marks described the build process to me. All components are carefully measured and hand selected before mounting inside this chassis. Marks is an easy-going fellow, but when he talks about his amplifiers his tone carries the conviction of a man who knows what he wants: "Our component-reject rate is high," he said. "Everything makes a difference to the sound." Circuit boards securely fix signal-carrying components, but no printed circuit carries an audio signal. After the bits are bench mounted by assemblers, Marks does all the point-to-point soldering himself -- each individual wire is fitted, installed and individually shrink-wrapped by hand.
According to company specs, the TPA-30 Mk IIs are 30-watt amplifiers; however, each uses a 60-watt custom-built power transformer with the goal that the amps never run out of steam when called upon to give their all. With output transformers wound and wired for ultralinear operation, the proprietary circuit is a push-pull design that employs 20dB of negative feedback to control reactive speaker loads and, Marks says, to meet the demands of macrodynamics head on. Each amp uses two SED (née Svetlana) EL34 output tubes along with one 12AT7 and one 12BH7A. While nominal output is spec'd at 6 ohms, Marks claims the amp will handle loads from 2 to 16 ohms with ease.
External fitments lie out across the back third of each unit's circumference. Here we find a power switch, an IEC power-cord connector, a beefy Cardas speaker binding post, and a solo Vampire Wire RCA input jack. (Pseudo-balanced, non-inverting three-pin XLR connectors are available as an option.) A generic Belden power cord comes with each amp. On the front side of the review amplifiers are small lime-green LEDs that glow just a wee too brightly for my tastes when the unit is hovering, er, powered on. Blue LEDs are now standard equipment. And underneath are those pointy feet -- three Black Diamond Racing carbon-fiber cones.
The review samples came with optional ($500) gold-plated top plates -- these really do give an elegant look against the powder-coated black chassis. The default tops are silver chromed. On the top plate each tube socket clearly indicates its match to labels on tube boxes. Centered between the two power tubes is a sturdy toggle switch, with a small LCD meter. Gold-accented bias-trim-pot knobs align next to each power tube, as do fuse ports for easy access.
Setup is intended to be easy, but here is where you want to pay attention to the red-labeled documentation that says, "Stop! Please Read First!" before turning on the amp. Three steps to get going: set bias knobs to straight up, install the tubes according to their labels, and absolutely be sure you have speakers connected before power up.
Once through the startup countdown, turn on the amps, let 'em warm up, and then set the tube bias. This is easy. Flip the toggle switch toward one tube, turn that tube's bias adjustment to get the proper reading on the meter, then flip the switch and do the other. Adjust as needed. I found the trim pots silky smooth to operate and finely grained in their sensitivity. Note that the bias setting for each output tube is different. When moved off center the toggle switch shunts the output, so you can check or change bias while music is playing. All the documentation is clearly written. An intuitive user-interface bodes well.
All these words about quality components and hand-craftsmanship are more than space chatter. The TPA-30 Mk IIs are an expensive bit of kit, and Thor Audio builds 'em in the belief that they will be the last amplifier you'll buy. They want you to believe it, too, because a new purchase from an authorized dealer nets a lifetime warranty for the original owner (excepting the tubes, of course). Thor's approach is antithetical to this-year's-model marketing, and their warranty distinguishes their product from the vast majority of high-end amplifiers. The company has been in business since 1996, so such a warranty carries some clout.
The music goes round and round…
The majority of music for this review originated from my Teres 255 turntable / SME V tonearm / Shelter 901 cartridge combo. I recently upgraded my phono stage to a Pass Labs Xono -- this solid-state unit brings highly flexible cartridge loading while offering a spacious soundfield, lots of detail and air, and a character just a hair to the forgiving side -- very nice. Line stages include the Conrad-Johnson Premier 16LS and new ACT2. Red Book CDs play through a belt-driven Parasound 2000 CD player.
A Conrad-Johnson Premier 140 amplifier powers Audio Physic Avanti Century speakers situated in the now-standard Audio Physic nearfield position within my 18' x 22' listening room. I sit on a couch against a wall about seven feet from the speakers, and when all is right the soundstage lives in the ten feet behind them. Cabling includes Shunyata Aries interconnects and Lyra speaker cables, and Alex Gibson's FMS Zero interconnects, with all electronics plugged into an original Shunyata Hydra. Isolation for electronics finds Symposium Rollerblocks under the Parasound CD player, with all other gear riding Walker or Mapleshade brass cones on maple butcher blocks from Tony's Woodshop. Likewise the Teres turntable loves sitting on a fat block of maple.
Each TPA-30 Mk II went into the Hydra and sat on its own floor-spiked amp stand from Mondo Designs. The manual says it takes a one hour warm-up to get the amps to the thermic best, and I went along with that suggestion before taking review notes.
Paul Marks told me the '30 Mk IIs are the "finesse" amp in the Thor Audio line, with their design goal being a SET-like sound. Having only passing familiarity with SET amps I made no attempt to gauge the Thor amps in predefined terms. Regardless, auditions happen in a context and component matching is always a factor. The 30-watt Thor monoblocks are recommended for use with speakers having no less than 89dB sensitivity. Audio Physic specifies the Avanti Century speakers at 89dB, and recommends minimum amplification of 30 watts. Spec-wise the Thors were on the cusp in my system. Despite these away-game conditions, I'm happy to report the TPA-30 Mk IIs never gave me reason to suspect that their disposition was other than what I heard.
…and it comes out here
Writing for SoundStage! affords me the luxury of using an amplifier in my system for several months. I've learned to be cautious about early assessments, so a relaxed audition is a good thing, as first impressions tend to be incomplete. Nonetheless, when I first took the TPA-30 Mk IIs out for a spin, Jascha Heifetz wasn't halfway to the lead-out groove on side one of the Sibelius Violin Concerto [RCA/Classic Records LSC-2435] when I knew it was going to be a good next several months.
If forced to choose a singular hallmark of these amplifiers I would say it is their sweet and discerning tonality. What deliciously vibrant tone sprung from Heifetz's violin in the opening bars, how sumptuously resonant sounded the cellos! With virtually any music I chose to play, the '30 Mk IIs shone in their delivery of clear sonic signatures -- that semantically elusive quality that clearly differentiates the sound of two different instruments playing at the same pitch. From midbass through upper midrange, from bass clarinet to soprano, timbre was natural and effortlessly appealing. Here, the Thor amps' effect was not discovered or revealed -- it was immediate.
Listen to the timpani playing piano on John Ireland's Symphonic Rhapsody Mai Dun [Lyrita SRCS 32] -- each mallet strike, each note, pellucid and distinctly intonated and resonant in decay. While one may regard the kettledrum as an impact instrument used when a composer wants emphasis or thunder, your typical timpanist carries a pitch pipe and will tell you his score indicates real notes. It is not often one gets in a lather over timpanic tonality, yet under the TPA-30 Mk IIs' sway the voice of this instrument was brought forth with a deft subtlety that really let me appreciate its place in the composer's orchestration. Definitive notes from other pitched percussion -- the wooden xylophone and metal glockenspiel and chimes -- are differentiated with ease from their spots way back in the hall.
From the midbass to lower midrange -- in that portion of the spectrum inhabited by violas, cellos and baritones -- tonality and dynamic contrast are among the best I've experienced. In the Intermezzo section of Holst's St. Paul's Suite [Lyrita SRCS 34], the TPA-30 Mk IIs expressively capture the plucked violas and cellos that provide the background for the solo violin. The ebb and flow of smaller dynamic shifts -- a moving intensity or shimmer, if you will -- reveal a conspiracy of bows formed from sections of individual players. Listen to how well the Thor amps articulate the background supporting figures in the Ostinato section of the Holst piece, as the strings run their quavers up and down, over and over. Harmonic differentiation and dynamic contrast within the substratum of massed strings playing in low-to-midrange frequencies are, for me, two of the true keys to enjoyment of symphonic and orchestral music, and here the TPA-30 Mk IIs truly excel.
In the upper midrange, everything is smooth, clear and non-fatiguing with a dynamic facility equal to the midbass. Clarinets and oboes are properly woody and dimensional. Brass has bite without blat or hardness. Occasionally, and only occasionally, when I pushed the amps with complex music at grand volume did a high note from a piccolo or trumpet come slightly forward.
The timbral character of the TPA-30 Mk IIs is both rich and sweet but not sugarcoated or bronzed. Their overall tone has a certain lilt, a lightness, almost as if the orchestra tuned a half step above A 440, though this may only be relative to my internal baseline of pitch. And the amps show surprising tonal strength in the lower bass, where this lightness of character suggests a subtle tilt from the fundamental toward the higher-order harmonics. Lowest bass notes are thoroughly believable, though not always endowed with the fullest heft or wumpf of ultimate authority.
Upstream changes and tinkerings do not escape the TPA-30 Mk IIs. Partway through the review period I swapped a couple NOS Siemens 7308s into the Premier 16 preamp to replace some Amperex tubes. The slight reduction of warmth and increase of high-frequency focus rendered by the Siemens tubes was immediately obvious. For those not familiar, this amounts to changing a mere one tube out of three in each channel. The Thor amps easily caught the difference.
The Thor amps show off their ability simultaneously to render big dynamic swings and individual musicians' artful control of their instruments as they bend and shape their way across the frequency spectrum. Ready to rumba? Check out Dave Grusin's soundtrack to the movie Havana [GRP Records GRD-2003]. This is a refined studio production and Grusin knows his stuff, so the mix is excellent. Try either the "Main Title" or "Mambo Lido." These are Desi Arnez big-band kind of tunes, which include a variety of rattlers, shakers, scratchers and congas, and feature guitar, flute, and horns. Each instrument emerges one by one from a pitch-black backdrop until there is a dense tapestry of Latin sound from a band going full tilt. Rhythmic chording is clear from Lee Ritenour's background guitar, brass is piquant and punchy, the flute smooth and breathy. While the notes are clear and the tone color is sweet, it is the TPA-30 Mk IIs' dynamic fluidity that brings sounds to life as music.
The TPA-30 Mk IIs easily reveal how the recording engineer creates a multi-dimensional soundstage and spots each musician precisely within it. With my speakers positioned well out into the room I walked into that space and stood even with their side-mounted woofers. The soundstage stayed wholly intact, Arturo Sandoval's golden trumpet floating high above it all. (Man, that guy's got some chops.) I then turned around and listened to an exact 3-D image mirrored off the wall at which the speakers fired. Here, the imaging is all done in the mix with lots of added reverb, but across this and every recording I played, the TPA-30 Mk IIs conjured up a firm positioning of musicians in all three dimensions. Mated with the C-J ACT2 preamp, they image as well as I've ever heard.
Tonality and dynamics coupled with a low noise floor breed immediacy. When I listened to Oleg Kagaan and Sviatoslav Richter in a 1974 recording of the Allegro from Mozart's B-flat major Sonata, K372 ("Unfinished") [EMI SLS-5020], I could almost smell the brie at the 13th-century stone barn that is home to the Touraine Music Festival. The TPA-30 Mk IIs certainly did justice to the venue, as they captured the essential vivacity of this live recording. The setting is intimate, with the violinist positioned to the left of the piano and slightly forward -- the back wall is not very reflective and notes seem to trickle upward. Preservation of sonic nuance is excellent without drawing attention to itself. The crowd shuffles and murmurs. The heartache of sweetness from Kagaan's violin coupled with Richter's delicate phrasing brings the audience to its feet as God speaks through Mozart in divine simplicity. The crowd loves the performance, and their applause makes the cat jump from my lap -- always a good sign. The Thor amps brought it all home.
These are five-figure amplifiers and I gave them no quarter just because they are rated at 30 watts. Only when exhorted to stentorian levels that stretched the upper limits of comfort did the soundstage slightly draw in upon itself and dynamics lose a bit of fluency. Regardless of how I pressed them, they hardly lost their composure and never ran out of steam. And remember the playing conditions -- the speaker sensitivity and amp power match were at the edge of the acceptable. "Only 30 watts" will be an obvious question for those who evaluate the TPA-30 Mk IIs, and all I can say is listen for yourself. These are big watts. I was well impressed.
Show down and round up
For primary comparison, I used my current reference amp, the Conrad-Johnson Premier 140 ($7500) with its four 6550 power tubes per channel. With fondness I also recall the Nightingale ATS-90 monoblocks ($12,595 per pair), each powered with six 7581As that helped heat the house this past winter. Like these amps, the Thor TPA-30 Mk IIs offer an equipoise of attributes to present a nice balance of sonic strengths without fundamental flaw.
Listening to Reiner take the CSO through Rimsky-Korsakov's Scheherazade, Op. 35 [Classic Records/RCA LSC-2446] I found the C-J amp just slightly darker than the Thor monoblocks. Extending from bottom to top, the character of these amps is fundamentally more similar than different. Both lean toward the yin -- sweet and slightly warm in the absolute sense -- in comparison to the Nightingales, though all retain a mellifluous tube-amp signature.
Scheherazade has a bold and brassy opening, and the C-J amp's 140Wpc serve it well to yield solidity and bottom-end weight, especially in the lower brass registers. Here the bigger amp is a wee bit blacker in the background space between the notes. However, the TPA-30 Mk IIs reveal better articulation and clearer harmonic differentiation in this part of the frequency. While the C-J amp nails the fundamental, the Thor monoblocks present a harmonic richness from the bass through the lower midrange that truly lays out the character of individual instruments at all volumes.
The big Premier 140 and my aural memory of the Nightingale amps suggest they are both the slightest bit faster than the Thor amp and both indicate crisper leading edges, whereas overtones in note decay live longer from the TPA-30 Mk IIs. In the third movement of Scheherazade, both the Thor and the C-J amps render the distinct staccato attack from the trumpets well, with the Premier 140 a nano-tad more incisive while the Thor amps better convey the instruments' golden tone. Both amps do a nice job of sustaining nuance from their upstream signals. Listen to the strike of the triangle in the third movement -- three notes very clear: bing, bing, bing. What the TPA-30 Mk IIs uniquely let me hear is that the percussionist has struck the inside of each of the triangle's bars in succession, with each strike tonally unique.
Both amplifiers do an excellent job of discovering details hidden in the grooves, and I heard no new notes or instruments from the Thor amps. However the TPA-30 Mk IIs unveiled a delicate dimensionality to individual instruments that is not as obvious from the C-J amp. The Avanti Century speakers do many things very well; however, one attribute I've heard infrequently from them is a holographic presentation of an instrument, or a voice issuing from a person outlined in space. In Scheherazade, listen to the harp and violin at the opening of the second movement, or to the delicate oboe. The Thor amps shower these instruments with a lit-from-within presence -- I sense the oboe as a radiating column of air built from the complex vibrations of a reed. In my mind's eye I see taut strings resonate against the harpist's fingers. The TPA-30 Mk IIs conjure the presence of musicians together in space, and generate a wholly believable soundspace.
Recognizing their difference in cost from the Premier 140, it is not a surprise that the Thor monoblocks show gradations of refinement. The TPA-30 Mk IIs are more transparent, and in relative contrast, the C-J amp lies behind the thinnest of veils, its image outlines slightly less clear and its sonic edges hinting at a wee bit of grain. Be mindful that all of these observations are a highlight of comparative merits, not absolutes, and they are fraught with the variables of my own system and the vicissitudes of a listener in time.
At the end of the day, each of these amplifiers is at least partially a product of its power tubes -- its sonic DNA, if you will. The Thor amps, built on the EL34, have such a sweet, compelling voice, a tonality that can be so gorgeously right, it will command your attention, like a beautiful woman walking by.
The wrap
From first unpacking to many nights when I put down my reviewer's notebook and just let the music wash away the cares of the day, my time with these amplifiers was thoroughly enjoyable. Their provenance appears impeccable, they performed without a hitch, and they come with a warranty that will take you and George Jetson from Bach to the future.
They may not fly around the room but they do bring music to life. With the TPA-30 Mk IIs, Paul Marks has uncorked the bottle of beauty to release the musical genie within.
...Tim Aucremann
tima@soundstage.com
Thor Audio TPA-30 Mk II Mono Amplifiers
Price: $10,990 USD per pair.
Warranty: Lifetime (90 days for tubes).

Thor Audio
315 Palamar Drive
Fairfield, CT 06825
Phone: (203) 373-9264
Fax: (203) 560-5360

E-mail: sales@thoraudio.com
Website www.thoraudio.com