December 2006
Thiel Audio CS7.2 Loudspeakers by Marc Mickelson


"...the pinnacle of Thiel's 30-year history"
Hall of Fame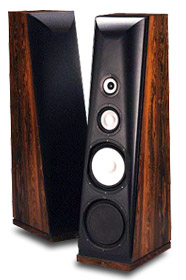 In the fall of 1999, I toured Thiel Audio's 35,000-square-foot facility in Lexington, Kentucky. To say that I was impressed with what I saw and heard there would be a vast understatement. What I remember most about that trip, however, was talking with Jim Thiel and Kathy Gornik about their early days in high-end audio -- from the company's beginnings in Jim Thiel's garage to attending the first-ever CES in 1977. Thiel is celebrating its 30th anniversary this year, and marking the occasion (they hope) with the CS3.7 finally rolling out of the factory in large quantities. At CEDIA in September, Jim Thiel made a few jokes about the delay of the CS3.7; reviews of the speaker in its finished form should begin appearing in 2007.
Amidst all of the anticipation and hoopla surrounding the imminent introduction of the CS3.7 it is easy to overlook Thiel's other speakers, including one I heard for the first time during my visit over seven years ago. The CS7.2 was the speaker creating anticipation then -- it was the new flagship -- and a pair of them was set up in Thiel's impressive purpose-built 34'L x 22'W x 14'H listening room. I remember sitting quite a ways from them -- more like the distance one would sit from live musicians, not a pair of speakers -- and being impressed by their keen retrieval of detail and huge soundstage. Sonic memory is supposed to be fickle, yet I remember distinctly that demo from the last millennium -- and the CS7.2.
Wes Phillips reviewed the CS7.2 on SoundStage! back in 2000 -- a rave that included this attention-grabber: "At $13,500 a pair, I'd put 'em up against anybody's $80,000 contender." While the CS7.2s have gone up in price in the intervening five years, to $16,000 USD per pair, this figure doesn't begin to explain their standing among loudspeakers today. The CS7.2 was the first Thiel speaker to use all Thiel-designed and -manufactured drivers, including an advanced coaxial tweeter/midrange and short-coil/long-gap lower midrange and woofer. All use stiff aluminum diaphragms, and the tweeter powerful neodymium magnets; as I can attest from my visit, Jim Thiel is into creating drivers, and all his parts and design choices aim at producing better drivers -- ones that are lower in resonance and distortion, and higher in output and power-handling capabilities. His crossovers, first-order designs, are renowned for their complexity and manufacturing precision. Thiel has written a white paper that explains his principles, and it is some of the most interesting and persuasive technical reading you will find on loudspeaker design.
The CS7.2's cabinet is as considered as its drivers. The intricately braced side walls and back panel are made of inch-thick MDF, while the time-aligned sloping baffle consists of a cast-mineral material. All of this, along with the drivers, makes each CS7.2 a 168-pound proposition. The fine-furniture-grade woodworking is impeccable, especially at the beveled bottom; the lack of a syrupy high-gloss finish coat over the veneer makes the grain of the wood stand out. In Thiel fashion, the binding posts are on the bottom of each CS7.2 for a cleaner look, but they're a pain in the knees for reviewers who have to swap speaker cables often.
It's a sad fact for writers that a perfectly good word like "awesome" has been turned into a youth-culture cliché. It literally means "showing or characterized by awe" -- the power to inspire reverence -- but it has come to mean "great" or "very impressive." Bah! Dictionaries have begun to list the alternate meaning and have likely hastened the word's trip to the linguistic trashcan.
But let's pretend that "awesome" really means, well, "awesome." It is the perfect word to describe the CS7.2's sound, which is really the result of Jim Thiel's goals for his drivers, crossovers and cabinets: extreme fidelity. The CS7.2's bandwidth is enormous -- seemingly without limit. It extends both high and low with evenness and a complete lack of obvious coloration. I've heard such highs from other Thiel speakers, most notably the CS2.4, which also uses a coaxial tweeter-midrange driver. However, the lows are new territory for me -- without one of the company's SmartSub subwoofers, that is. The CS7.2's bass depth and authority are shattering, and its bass weight is wholly realistic -- not warmed up to create a sense of fullness or heft from recordings that don't have it by nature. Bass notes are carved out with exceptional clarity, even at the speaker's very depths. Claims of 20Hz bass are common today, but if the CS7.2's 25Hz low-end specification is correct, many speaker companies are exaggerating. From my experience, you have to pay several times the CS7.2's price to rival its deep, linear bass.
Through the mids and into the treble, the CS7.2 continues its honesty and even-handedness. Horns and cymbals have a dense, substantial quality that few speakers equal. There is neither a wispy airiness nor any overt warmth or darkness. Truth reigns supreme. If your electronics get it to the CS7.2s, you will hear it in all its beauty or ugliness. Accordingly, you do not want to mate these speakers with mediocre components -- you will hear the mediocrity. Many speakers compensate for tendencies or flaws in electronics, but not the CS7.2. Forwardness, grain or any kind of coloration will not only be evident but also shown for what it is. Fatiguing treble, an oft-repeated knock against Thiel speakers, is a byproduct of a poor match and frankly a matter of blaming the messenger. When things are right -- with Lamm M1.2, Conrad-Johnson Premier 350 or Audio Research Reference 110 amps -- the CS7.2 will sing in a way that makes other speakers, including some that are highly acclaimed, sound blurry, dull or contoured.
When I reviewed the CS2.4s, setting them up proved to be a challenge. If I sat too close, the drivers didn't integrate fully, and I could hear the output of the tweeter and midrange above that of the woofer and passive radiator. I expected an even bigger challenge from the much bigger CS7.2s. However, I discovered that following my rule of thumb with the CS2.4s -- "sit far enough away to allow the drivers to integrate, but…only a little farther away than the speakers are apart from each other" -- was spot-on with the CS7.2s. Thus, while you won't want to squeeze the CS7.2s into a room that's too small for them, you don't need to have a room the size of Thiel's to hear what these speakers can do. Frankly, a greater worry is whether your room can support the low frequencies of which the CS7.2s are capable without rattling the walls or aggravating room modes.
Finding the right amount of toe-in was the most difficult part of setting up the CS7.2s in my room. I've seen various Thiel speakers demonstrated firing straight ahead, but in my room this projected music outside the speakers' positions with abnormal frequency. As expected, direct toe-in tended to skew the frequency response toward the treble. What I ended up with was a small amount of toe-in -- about 15 degrees. This created a wide, deeply arcing soundstage with illumination to the deepest recesses. The CS7.2s portrayed a sense of layering as well as any speaker I've heard. Every inch from the front edge of the speakers to beyond the wall behind them was in sonic play with the CS7.2s.
The big Thiels separated instrumental lines with ease, which, along with their huge soundstage, made listening to classical music thrilling. When the tam-tam strikes and bass-drum whacks occur on "Fanfare for the Common Man" from Telarc's well-known recording, they reverberate through the hall -- and the listening room. The sound is better than ever on SACD [Telarc SACD-60648], and it highlighted the CS7.2s' ability to capture even the finest high-frequency overtones and swiftest deep-bass impact. A speaker as truthful as the CS7.2 is not just a one-genre wonder; everything I played over it sounded clear and, moreover, convincing. It's one thing for a speaker to reproduce recordings with fidelity and another for it to melt away the fact that one is not listening to live music. Studio monitors do the former, while the CS7.2s manage both, and not just with only the best-sounding recordings. The vintage jazz that makes up so much of my listening diet was fully realized with the CS7.2s. I heard into each recording, and each performer occupied a spot in my listening room -- a rare sonic achievement.
When you consider all of the design and hand work that went into the CS7.2, especially in light of other speakers on the market, its price seems curious. What would a speaker with proprietary drivers, first-order crossovers, a concrete-like baffle, and heirloom good looks cost from, say, a boutique European speaker manufacturer? $50,000 per pair? $75,000? Even when you consider the dirt-floor cost of manufacturing in Asia, the made-in-America CS7.2 seems like a bargain. Imagine that -- an American company making products that Asian manufacturing can't touch!
Credit the made-from-scratch complexity of the CS7.2 for this. Such a speaker isn't designed or manufactured with haste. Even a company like Thiel has to work up to it, and the development required for a replacement is likely one of the reasons that the CS7.2 has been on the market since 1999 without change.
The CS7.2 was a Reviewers' Choice back in 2001, and so it is today. It may be a seven-year-old speaker, but it remains the pinnacle of Thiel's 30-year history. Adjusting for inflation, I'd put it up against anyone's $90,000 contender.
...Marc Mickelson
marc@soundstage.com
Thiel Audio CS7.2 Loudspeakers
Price: $16,000 USD per pair in standard finishes.
Warranty: Ten years parts and labor.

Thiel Audio Products
1026 Nandino Boulevard
Lexington, KY 40511
Phone: (859) 254-9427
Fax: (859) 254-0075

E-mail: mail@thielaudio.com
Website: www.thielaudio.com