December 2006
Stello DA100 Digital-to-Analog Converter
by John Crossett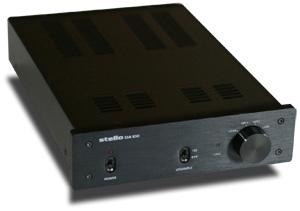 Review Summary
| | |
| --- | --- |
| Sound | In bypass, the DA100 produced "a clean, clear, precise sound, with decent width and depth, but with images that seemed a little flattened out -- basically good Red Book performance." "But when I flicked the upsampling switch to 192, things improved and my listening time became much more interesting. I'm not saying that 192kHz upsampling was a night-and-day difference, but it was easily noticeable." "Clarity and tonal purity, which kept my attention riveted on the music." |
| | |
| --- | --- |
| Features | "There are many features packed into this small package. There are gold-plated RCA output jacks and four digital inputs: one RCA coax, two TosLink, and -- surprise -- a USB connection." "Inside, the DA100 uses an AKM4395 DAC chipset, sixth-order digital filter, and a fully discrete class-A analog output stage with "true 192kHz/24-bit upsampling…." "Stello claims its ARSC (Asynchronous Sampling Rate Conversion), a specially designed clock circuit employing a PLL (phase locked loop), makes for 'extremely low jitter.'" |
| | |
| --- | --- |
| Use | "Hooking up a USB cable (included) from my desktop computer to the DA100 and running my iTunes library through it, I found I had the best radio station in the world playing in my bedroom." "Most of us already own a computer and perhaps an iPod or two, so I see real possibilities for an inexpensive music-server system using just the DA100's USB feature alone." |
| | |
| --- | --- |
| Value | "The DA100 is a product that I wish more high-end companies would make -- an affordable upgrade that really works as advertised." |
Upgrade: a word that causes some seemingly rational audiophiles to break out in a cold sweat. Yet for others it is a word to be anticipated and savored. However, for both groups, an upgrade is a costly proposition, right? Well, maybe not. It's true that many audio upgrades are on the expensive side. It is conventional wisdom, after all, that the more money one spends the greater the improvement should be. But every once in a great while some new product comes chugging down the pike that makes the word "upgrade" not only aurally appealing but fiscally attractive as well.
At a mere $695 USD, the Stello DA100 DAC more than meets the affordable end of the equation -- even for the most parsimonious among us. Heck, I've just spent twice that on a new phono cartridge, and four times that for a new CD player. And don't even get me started on my cable and accessory collection. The DA100 also comes packed with a feature set that many would only associate with much costlier equipment. But the DA100 is only a true "upgrade" if it improves things sonically.
Description
The DA100 is small -- 8 1/4"W x 2 1/8"H x 11 1/2"D, about half the width of a conventional piece of audio equipment -- but reasonably heavy at almost 8 pounds. Don't let its small footprint fool you into thinking it doesn't have quite a bit to offer the more impoverished audiophile. There are many features packed into this small package. There are gold-plated RCA output jacks and four digital inputs: one RCA coax, two TosLink, and -- surprise -- a USB connection. There's also the standard IEC power receptacle, so should you decide the included power cord isn't up to snuff, you can play around with after-market ones at your leisure.
And that's just the back panel. On the front are the power switch, a toggle switch for choosing between bypass and 192-upsampling modes, a small green LED to tell you the DAC has locked onto the signal, and a knob for choosing the digital input.
Oh, and lest I forget, the DA100 will accept incoming digital signals via any of its digital inputs of up to 24 bits and 96kHz, so those of you with DVD-As and Classic Records DADs can see if the DA100 works improvements on those discs over the DAC in the player you're currently using. If you're among the target market for the DA100, your current transport could be an inexpensive DVD player with a 24/96 output.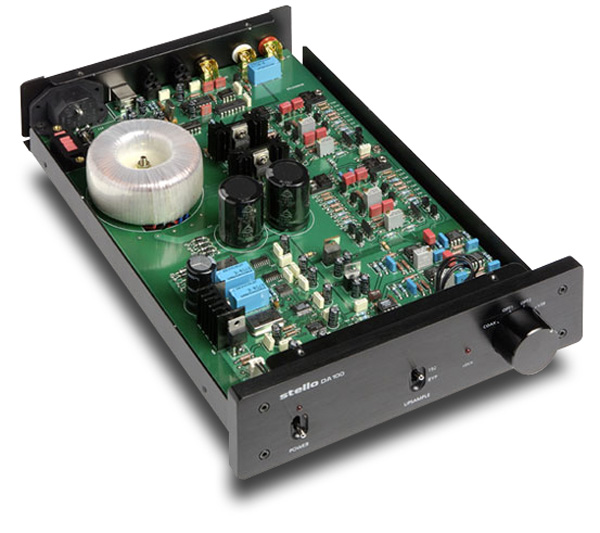 Inside, the DA100 uses an AKM4395 DAC chipset, sixth-order digital filter, and a fully discrete class-A analog output stage with "true 192kHz/24-bit upsampling" (this last bit according to the owner's manual). Stello claims its ARSC (Asynchronous Sampling Rate Conversion), a specially designed clock circuit employing a PLL (phase locked loop), makes for "extremely low jitter." Stello also uses a custom-made, decent-sized toroidal transformer to supply boatloads of power.
Whew! That's a lot to cram into a small box. Maybe the DA100's compact size is why it runs warm -- very warm. I could almost say hot. Must be that class-A output stage doing its thing. You'll want to make sure you give it plenty of space for ventilation.
Setup
I burned the DA100 in by inserting it into my bedroom system and letting it run almost continuously for about three weeks before I planned to move it out to the big rig in the living/listening room. But a curious thing happened to the DA100 on its way out to the listening room. Hooking up a USB cable (included) from my desktop computer to the DA100 and running my iTunes library through it, I found I had the best radio station in the world playing in my bedroom. I was the programming director, so the DA100 played only music I wanted to hear, and played it very well. And, by utilizing the 192-upsampling mode, even my ACC/320-ripped tracks sounded way better than I expected. So good, in fact, was the bedroom system that it took all my audio-reviewer willpower to disconnect the DA100 and move it out front for formal testing. Most of us already own a computer and perhaps an iPod or two, so I see real possibilities for an inexpensive music-server system using just the DA100's USB feature alone.
I also ran a TosLink cable from my Yamaha DVD-S654 universal player (sorry dear, no coax tonight; I have a headache) to the Stello DAC to hear what I might hear. There was a definite improvement in CDs, DVD-As and DADs. About the only disappointment this setup engendered was that the DA100 brought about only a two-channel improvement, but I blame that failing on the recording industry. Installation of the DA100, whether in the bedroom system or in my main setup, was extremely easy.
Sonic abilities
I began listening to the DA100 in the main system in bypass mode to hear if it was better straight in than my Marantz SA8260's internal DAC. What I heard was a clean, clear, precise sound, with decent width and depth, but with images that seemed a little flattened out -- basically good Red Book performance. But when I flicked the upsampling switch to 192, things improved and my listening time became much more interesting. I'm not saying that 192kHz upsampling provided a night-and-day difference, but its effect was easily noticeable. Vocalists took on a more fully fleshed-out dimension, instruments had more shape, and the soundstage opened up, with a greater sense of space. All my remaining listening was done in the 192-upsample mode.
Associated Equipment
Loudspeakers – Magnepan MG1.6/QR, PSB 1B, PSB C40.
Power amplifier – Bryston 4B SST, Yamaha RX-V657 surround-sound receiver.
Preamplifier - Audio Research SP16 with internal phono stage.
Analog - VPI HW-19 Mk IV turntable with TNT platter and bearing, Super Arm Board, VPI/Rega VTA adjuster, and VPI dropped counterweight; Butternut Audio-Modified Rega RB300 tonearm; Clearaudio Maestro cartridge.
Digital sources – Marantz SA8260 CD/SACD player, Stello CDA320 CD player/DAC, Panasonic DVD-F65 CD/DVD-V/DVD-A player, Yamaha DVD-S657 universal player.
Interconnects – Analysis Plus Copper Oval-In, Alpha Core/Goertz TQ2, DH Labs BL-1, Harmonic Technologies Pro Silway Mk II.
Speaker cables – Analysis Plus Oval 9, Alpha Core MI2.
Digital cables – DH Labs D-75 coaxial cable, Monster Cable and DH Labs TosLink cables.
Power conditioner – Monster HTS-1000.
Accessories - Salamander Archetype racks; Symposium Roller Blocks, Ultra Platform, Svelte Shelves, Isis shelf, Fat Padz and Roller Block Jr.
Where lesser DACs and CD players tend to gloss over the majority of the warts inherent to many digital recordings, the DA100 allowed a more detailed look into the competence of both the recording engineer's and mastering engineer's abilities. That may not always be a benefit, but it is the truth. While the DA100 offers plenty of detail, you aren't going to get to the point of hearing the rosin scraped off each individual bow in the violin section of an orchestra. However, you will hear more coming through your speakers than you'd expect from a sub-$700 DAC -- and that's impressive no matter how you slice it.
For instance, playing the CD Grand Slam [Telarc CD-83485], I heard a better sense of realism. This is a live recording of a jazz quartet, and the DA100 allowed me to hear that live nature clearly. There was an obvious depiction of space, and of four musicians (and the audience) occupying that space. Each of the musicians had his own spot in the soundstage, while still remaining a part of the organic wholeness.
Another demonstration of the DA100's resolution came via any of the vocal recordings I listened to. We all know that the human voice is one of the most difficult "instruments" to reproduce, and yet the DA100 blew through all the oh-so-close voices of Delbert McClinton, John Prine and Lyle Lovett on the song "Too Much Stuff" from McClinton's CD One of the Fortunate Few [Rising Tide RDC-53042] and Guy Clark, Jerry Jeff Walker, Steve Earle, Rodney Crowell, Jimmie Dale Gilmore, Eric Taylor and Nancy Griffith on "Desperadoes Waiting for a Train" from Griffith's CD Other Voices, Too (A Trip Back To Bountiful) [Elektra 62235-2] like a strong wind though a wheat field.
Separating lead and harmony vocals recorded close together can be a challenge for many expensive digital components, yet the budget-priced DA100 had no real difficulties in this regard either. I slipped Soulfarm's Scream of the Crop [Desert Rock Records 26-6] in the Marantz and was amazed to hear all the voices as complete, separate entities. This was one of those areas where the Stello DAC outshone the Marantz as a standalone player, and I liked it.
The DA100 handled the frequency extremes with aplomb, especially given its modest price tag. Whether it was Ray Brown's bass, Uri Caine's Fender Rhodes electric piano, or Jimmy Cobb's drumset and cymbals, all were reproduced with clarity and tonal purity, which kept my attention riveted on the music. The new Speech song "Braided Hair" from his album The Vagabond [Paste Magazine Sampler #19] was very clearly rendered. The bass that is the foundation of any good hip-hop recording was clear, deep, and tight. So well did the DA100 handle this track that it stopped being a simple pop song and became the message of family and relationship that Speech intended.
Acoustic music, such as classical, was well handled too. The DA100 presented each section of the orchestra as a distinct entity while keeping them all a part of the overall whole. It gave bite to the brass, breath to the woodwinds, and a silky-smooth sheen to strings. Its dynamic range was excellent -- I attribute this to its good-sized toroidal transformer -- which allowed the music to ebb and flow with a naturalness usually found only in more expensive components.
What did the DA100 lack? Well, the list is surprisingly short, though not completely trivial. First, the DA100 has a somewhat less energetic top end that keeps harmonics from wafting into outer reaches of the soundstage and space at less-than-maximum levels. You won't get the full sense of the recording venue (provided, of course, that it is on the disc to begin with) that more costly DACs provide as a matter of course. Second, even while using the upsampling mode, images still didn't have the full roundness of either real life or more expensive DACs. Third, the bass, while full and deep, isn't quite as articulate and detailed as I'd personally like it to be.
But, again, keep the cost of the DA100 firmly in mind. I'm willing to bet that the DA100 DAC will sound worlds better than the cheap DVD players and computer DACs Stello has targeted, a point I proved when I had it hooked up in my bedroom system.
Comparisons
When I connected the DA100 to a Stello CDA320 CD player ($1995) via a DH Labs D-75 digital cable and listened to the two DACs at work, I heard major differences. The internal DAC in the CDA320 was much better in all regards, producing a more spacious and authoritative sound. The CDA320 is four times the cost of the DA100 and uses a DAC circuit more in line with Stello's standalone DA220, which sells for twice the price of the DA100. Toss in the fact that with the CDA320's built-in transport, you don't have to lose anything to connection issues and you can see why the CDA320 pretty much wiped the floor with the DA100.
When I moved the DH Labs D-75 digital cable from the CDA320 to my Marantz SA8260 CD/SACD player ($1295) and used that as the transport, things became far more interesting. The SA8260 is a fine CD player on its own, and when I had the DA100 in bypass mode the sonic comparison fell, by a small margin, in the Marantz's favor. But when I flicked the upsampling switch, a feature the Marantz doesn't have, well, the worm turned -- somewhat. Now, the Stello DA100 more than held its own, and even surpassed the Marantz in some ways. I found that, after extensive listening, the DA100 offered a clearer, more precise view of the music than the Marantz unit alone, with deeper bass. Neither fleshed out images all that well, but the DA100 had better edge definition and placed images more cleanly in the soundstage than the Marantz player.
Where the DA100 really strutted its sonic stuff was when I hooked up a Monster Cable TosLink cable from my Panasonic DVD-F65 DVD-A/V player ($229), which can output a 24-bit/96kHz signal, to the DAC. Now I was cooking with gas. The DA100 was well and truly the better performer. It had deeper, fuller bass, clearer mids, and a sweeter, more extended treble. It also threw a wider, deeper soundstage than the Panasonic player did on its own, which sounded rather anemic by comparison. All the CDs, DADs and DVD-As I played through the DA100 using the Panasonic as the transport suddenly gained musical muscle, and sounded so much more like live music. I again credit the added brawn to that large toroidal transformer, which gives the DA100 the power to do its bidding.
I've already noted how good the DA100 sounded in the bedroom system. Now, on the surface, my bedroom system is pretty darn good for a second/entry-level system, and I've enjoyed listening to it when family obligations block me from using the big rig in the living room. But the addition of the DA100 made two-channel listening far more pleasurable. Many of the attributes heard when the DA100 was hooked up to the Panasonic player in the big rig were there when connected to the Yamaha universal player in my bedroom system. Cheaper players just don't have the power supplies to give the music played through them the added oomph they need to really get going. The DA100 adds a bit of rocket fuel, and my listening time was more enjoyable for it.
What these various comparisons really underscore is the flexibility of the computer-ready DA100. One additional area in which I can foresee an important use for the DA100 is partnered with its sibling, the HP100 headphone amp. I bet that combo would make for a dandy personal listening station with a pair of good-quality headphones.
Summation
No, the DA100 isn't perfect -- what did you expect for $695? -- but when used in an appropriate manner, it'll knock your socks off with how much more music your CD collection has. If you're using either a cheaper/older CD player or a basic DVD player for musical replay, the DA100 could very well be your inexpensive answer to the dreaded upgrade bug. The Stello DA100 can offer a significant upgrade in sound quality for less than you might expect to pay, and if you're considering putting together a computer-based system, that USB port is a godsend, allowing easy connection of a computer to an audio system and access to all the music files you have stored on your hard drive.
With products such as the Stello DA100 on the market, no audiophile need fear the word "upgrade" again. Along with its excellent sound quality (over that of the affordable gear it's most likely partnered with) comes its stunning versatility and that more-than-reasonable price. The DA100 is a product that I wish more high-end companies would make -- an affordable upgrade that really works as advertised.
...John Crossett
johnc@soundstage.com
Stello DA100 Digital-to-Analog Converter
Price: $695 USD.
Warranty: Two years parts and labor.

April Music, Inc.
894-18 Alpha Bldg, Bangbae-Dong
Seocho-Gu, Seoul 137-829 South Korea
Phone: 82 2 3446 5561
Fax: 82 2 3446 5564

E-mail: info@hifi500.com
Website: www.hifi500.com