September 2003
Staco Energy Products UniStar SX SB1001 Power Conditioner/Uninteruptible Power Supply
by David Millman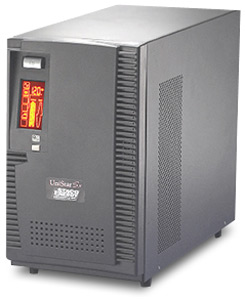 Review Summary
| | |
| --- | --- |
| Sound | "Right off the bat I could tell the sound was better -- deeper, richer, more detailed. If I had to sum it up in a single phrase, it would be 'increased presence.'" But "the fan on this model is non-defeatable, meaning that the second you turn the unit on, that fan is a constant companion. And trust me, you will hear it." |
| | |
| --- | --- |
| Features | "The UniStar SX series features hot-swappable internal batteries to combat brownouts and blackouts, surge protection, and double-inverting power conditioning. The units come in rack and tower configurations, and there are escalating voltage capabilities, from 700-3000VAC." |
| | |
| --- | --- |
| Use | "The receptacles are arranged in a single vertical line, and are too close together to accept four power cords with large terminations, like those many audiophiles employ." |
| | |
| --- | --- |
| Value | "I encourage Staco to explore the A/V market -- there are buyers waiting for their products if the company can just solve a couple of problems." |
So it begins
A few months ago, SoundStage! editor Marc Mickelson contacted me about reviewing the Staco UniStar SX SB1001, a $799 USD power product developed by a company with over 65 years in the power game. I've long been intrigued by the concept of cleaning up my incoming AC, but I just never did much about it (beyond building DIY Cable's JR-designed power filter last year -- my one DIY foray and probably my last, given my complete inability to sling solder). I happily agreed to do the review, my first for SoundStage!.
While waiting for the unit to arrive, I explored Staco's website, which is a strictly business-to-business presentation -- no nods to audiophiles or home-theater enthusiasts, just information from a company that is serious about cleaning up the energy that feeds computers and other electronic gear. Staco currently has several series of products available. The UniStar SX series features hot-swappable internal batteries to combat brownouts and blackouts, surge protection, and double-inverting power conditioning. The units come in rack and tower configurations, and there are escalating voltage capabilities, from 700-3000VAC. For the really detailed among us, you can even run software on your PC that will give you automatic and continuous status reports (obtainable remotely) to find out if there have been any power disruptions.
According to Staco, the core of the particular UniStar SX product under review is its double conversion function, meaning that the AC power from the wall is converted to DC and then reconverted into a completely new, clean AC signal. In addition, the UniStar SX is said to be designed to provide "output and frequency regulation, harmonic filtration, electrical noise attenuation and protection against voltage fluctuations, frequency fluctuations, brownouts and blackouts." It can operate at either 50 or 60Hz, though the factory preset and company recommendation is 60Hz for North America.
I was actually surprised by what arrived. First, the product has a little more industrial cool going on than I would have guessed from Staco's website. The dark metal casing and heavy 35-pound mass lend a serious air. The front view is pretty simple: a small control panel with power switch, alarm test button, six indicator lights (normal mode, battery mode, bypass mode, unit fault, battery charging and unit overload), a load indicator, and a battery-charge indicator.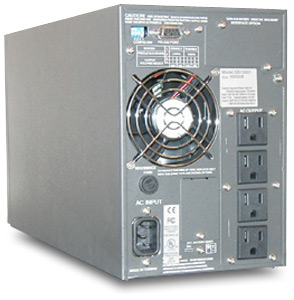 On the back are four 15-amp power outlets, a fan outlet, and an IEC slot to accept a power cord, which is included. The receptacles are arranged in a single vertical line, and are too close together to accept four power cords with large terminations like those many audiophiles employ. In fact, three such power cords is pushing it.
There are also four dip switches that need to be flipped before the unit can be used and a fan that runs continuously when in use to keep the operation running cool. Essentially, this is a plug'n'play unit. Depress the on/off switch until the tone stops and you're ready to go. There are instructions included, but they don't speak to the audiophile, and in fact, the visual representations don't match the unit I was sent. I don't think that was a mistake, however, as much as the thinking of a company that deals primarily with systems engineers and tech folk rather than laymen like me. Translation: Staco thinks you're smart enough to figure this out, and likely you are.
Music!
One of the perks of my day job as a music publicist is that I must listen to music all day. I keep a fairly simple rig at the office: a Rotel RCD-945AX CD player feeding a ModWright-modded MSB Link DAC II via a Mapleshade Clearview digital cable. This is connected to a Rotel 985 BX integrated amp via Decware Silver interconnects. The Rotel integrated drives Mordaunt-Short MS90 bookshelf speakers via a double run of AudioQuest Ruby speaker cables. This is budget gear with no quirks or reliability issues -- it just plays hour after hour of music, and it is a great conglomeration with which to break in new equipment.
At the office, I don't use any audiophile power cords, so I was able to plug the CD player, integrated amp, and DAC easily into the Staco UniStar. Right off the bat I could tell the sound was better -- deeper, richer, more detailed. If I had to sum it up in a single phrase, it would be "increased presence." And in my pursuit of audio enjoyment, that is a very important phrase. It helps define that moment when music goes from flat to round and everything suddenly feels alive in front of you. My office compatriots came over to enjoy a listen and were all struck by the differences when I did some quick A-B tests. They were also struck by how loud the fan was, as was I. My desk is a solid 20 feet from the speakers and that wasn't far enough to escape the eternal whirrrrrr.
After nearly a week of burning in the Staco unit, with no real break-in changes noticeable, I took the unit home for a serious listen. My home rig is a ModWright-modded Pioneer DVD-434 DVD player feeding a Perpetual Technologies P-3A DAC with Level II ModWright mods via a Jena Labs digital cable. This was connected to a Musical Fidelity A3 integrated amp via Jena Labs Trio interconnects. Speakers are Vandersteen 1Cs fed by Mapleshade Clearview Golden Helix speaker cables.
Again, the results were as I found at the office: better everything. Musicians took on more body, and the front-to-back soundstaging was better. Playing CDs such as Billy Bauer's fine Plectrist [Verve 70602] put the versatile '50s guitarist up front and added some excitement. Chico Freeman's Still Sensitive [India Navigation 1071] was consistently balanced and pleasing, which in my experience is not always so. Anouar Brahem's seductive Le Pas du Chat Noir [ECM 016373] took on an even more ethereal quality that filled the room. In every case, the music just seemed a little more pure, with a lower noise floor and that extra something all audiophiles crave.
But as I sat there listening, I kept wondering, Is this product worth $799? I mean, that is the question you eventually have to ask. Is it worth it? Is this a must-have product?
I was able to answer this question the very second I got off the phone with someone in technical support at Staco: The fan on this model is non-defeatable, meaning that the second you turn the unit on, that fan is a constant companion. And trust me, you will hear it. A visiting musician friend noted the sonic improvements but then added wryly, "Hmmm, it's like adding another instrument to every song."
Every quiet passage, every intimate musical moment was flooded with the extra noise. At one point I plugged my TV into the UniStar to see if there might be any video improvements (they were slight, and certainly less dramatic than the audio improvements), but I was still unable to get past the added noise.
At this point, I gave up looking for subtleties or experimenting with options. The conclusion had already been written, and it just didn't make sense to dig further. Though I don't doubt that the Staco UniStar SX performs its stated duty well, it doesn't do it quietly enough for serious audiophile use. Perhaps there are some who would position the unit in a different room, or build an enclosure for it, but that's not reasonable for me.
In preparation for returning the UniStar SX to Staco, I brought the unit back to my office. And, of course, what's the harm in one more listen? As it happened, a newly purchased piece of gear -- a PS Audio HCA-2 amplifier -- had arrived in the interim and I was breaking it in at the office. I'd asked Dan Wright of ModWright to upgrade the internal wiring, and he had taken the liberty of installing two Bybee filters as well. I don't know what the HCA-2 sounded like before the upgrades, but it's fully incredible now, even with my Rotel integrated as preamp.
Plugging everything into the Staco, the music once again leapt to a higher level. The Kings of Leon's outstanding Holy Roller Novocaine EP [RCA 60614] rocks with bluesy, riffy abandon. If you don't know this band yet, you will soon. Layered guitar parts took on greater delineation, and some background instruments revealed themselves for the first time. While grooving to Mosaic's wonderful Sonny Stitt set (The Complete Roost: Sonny Stitt Sessions [Mosaic, no catalog number]), I was floored by the absolute purity of Stitt's horn, one of the most thrilling aspects of hi-fi in my book. With the music turned up suitably loud, the Staco unit's fan wasn't much of an issue, but I don't listen at that kind of volume on a regular basis. More reactions from others: On several occasions, people on the other end of the phone line asked if someone was playing sax in my office, and another caller declared that my office rig sounded better over the phone than his home system sounded in person.
Turning back to Anouar Brahem's Le Pas Du Chat Noir, the oud, piano, and accordion all had such palpability that I couldn't help but get caught up in the music. My office mates once again commented on how much better everything sounded, how much more alive the music seemed using the Staco product, and how loud the darn fan was. They couldn't have been more right.
So it ends
Intrigued by the improvements I could discern, I now look forward to my next venture into power products. There is a wealth of sonic opportunity in this arena -- it's just a matter of finding something that gives me all the good with none of the bad, and hopefully at an attractive price. I commend Staco for what they've achieved -- the unit did improve the sound coming from my audio system, and I know there are many more benefits that other users will value from this unit.
But speaking for the audiophile community, there are two issues that must be addressed. The outlets have to be spaced to allow for larger power-cord male plugs, as is common on audiophile-grade cords, and the fan must be controlled, internalized, or otherwise sonically neutralized.
I encourage Staco to explore the A/V market -- there are buyers waiting for their products if the company can just solve a couple of problems.
...David Millman
davidm@soundstage.com
Staco Energy Products UniStar SX SB1001 Power Conditioner/Uninteruptible Power Supply
Price: $799 USD.
Warranty: Two years parts and labor.

Staco Energy Products Co.
301 Gaddis Blvd.
Dayton, OH 45403
Phone: (866) 261-1191
Fax: (937) 253-1723

Email: sales@stacoenergy.com
Website: www.stacoenergy.com