June 2005
Sound Quest SQ-84 Integrated/Headphone Amplifier
by Vade Forrester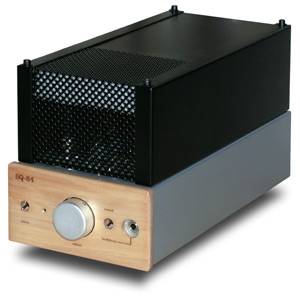 Review Summary
| | |
| --- | --- |
| Sound | As an integrated amp, "the SQ-84 sounded very punchy." "It does not plumb the depths, although I seldom noticed any real lack of bass…. The high frequencies complemented the lows -- they sounded just a smidgen subdued." "In a word, headphone listening was spectacular" -- "excellent transparency, deep bass extension, and smooth, detailed highs." "There was no attenuation of high frequencies with headphones, and the treble region was not over-emphasized either." |
| | |
| --- | --- |
| Features | Integrated/headphone amplifier that accepts a single input and outputs 10Wpc to loudspeakers. "The front end of the SQ-84's circuit consists of a pair of 6U8 tubes, which contain both a triode and a pentode section, serving as both input and driver stages, while two pairs of push-pull 6V6 tubes produce the power." "The SQ-84 is actually built in the USA by Stephen Monte's Quest for Sound, an audio dealership and distributorship located in Pennsylvania." |
| | |
| --- | --- |
| Use | "The internal attenuation provides a load for the output transformers, so if you want to use the SQ-84 solely as a headphone amp, you don't need to connect speakers. However, if you accidentally bump the switch from the Headphone position to the Normal position, the output transformers could be damaged. If I owned an SQ-84 and I wanted to use it only with headphones, I'd connect 20W 8-ohm resistors across the output posts to protect the output transformers against accident." |
| | |
| --- | --- |
| Value | "As an integrated amplifier, the SQ-84 would be worth $1000. As a headphone amp, it's easily worth that much. But to get both functions in a single package for $1000 constitutes significant value." |
From the tiny 47 Labs Gaincard to behemoths like the Musical Fidelity 500kW, integrated amplifiers come in all sizes and power ratings. There will always be a place for separate preamps and amps at the bleeding edge of audio reproduction, but for many of us, integrated amps have some real advantages. They eliminate the interconnects between the preamp and power amp, improving the sound due to a shorter signal path and the elimination of ground-loop hum between preamp and power amp. One fewer pair of interconnects can also save money, perhaps a significant amount depending on the interconnects you prefer. Doing away with a separate preamp makes it possible to minimize the number of gain stages in the system, reducing noise and distortion. Finally, using an integrated amp may free up a shelf on your audio rack.
There are real advantages to using a dedicated headphone amp as well, including the ability to drive more headphones to louder levels. However, headphone amps have to deal with a wide range of headphone impedances (from 32 to 600 ohms), and headphone sensitivities (from 74dB to over 120dB). Many headphone amps work well with either low-impedance or high-impedance phones, but not both; they wimp out when driving phones outside their "comfort zone."
Given all of this, a product that is both an integrated amp and headphone amp inhabits a small niche in high-end audio, precisely the place of the Sound Quest SQ-84.
Description
I confess that I had not heard of the Sound Quest brand and assumed SQ-84 was one of many Chinese-built integrated amps that are becoming so common today. However, Stephen Monte's Quest for Sound, an audio dealership and distributorship located in Pennsylvania, builds each SQ-84 from parts sourced overseas. Stephen says, "The SQ-84 [is an] incredible integrated amp; flip a switch and it becomes the best tube headphone amp you can buy!"
The SQ-84 epitomizes a no-frills approach. On the front panel are a power switch, a silvery volume control knob, a 1/4" headphone jack, and a switch to toggle between the headphones and speakers. With only one input, there's no need for a selector. Front-panel labels are laser-etched into a slab of light-colored wood. On the rear panel, a single pair of RCA jacks connects the SQ-84 to your favorite source, while a single pair of binding posts connects it to your speakers. Unlike most tube amps, the output impedance is specified as ranging from 4 to 8 ohms, so there's only one set of binding posts for speaker connections. Power output is 10Wpc.
The front end of the SQ-84's circuit consists of a pair of 6U8 tubes, which contain both a triode and a pentode section, serving as both input and driver stages, while two pairs of push-pull 6V6 tubes produce the power. For the review sample, the 6U8s were NOS JAN (joint army-navy) Philips tubes, while the 6V6s were current-production Shuguang Chinese military-grade tubes. The circuit uses minimal (6dB) negative feedback. Stephen Monte believes the 6V6s have a "sweetness and wonderful midrange, but also great authority on the bottom end." The SQ-84 straps these beam pentodes into triode. Replacement 6V6 tubes cost as little as $10 each, much less than a real triode like the 2A3.
The SQ-84 is a substantial unit, measuring 15 3/4" long by 6" wide by 8 1/4" high and weighing 27 pounds. A rugged, somewhat industrial-looking dark-gray cage extends the entire length of the unit. It protects the tubes and also the bare transformers, which lack the usual individual transformer covers. While I usually like to leave amplifier cages off to admire (and ventilate) the warmly glowing tubes, the naked transformers were not very attractive, so I left the SQ-84's cover on. The overall appearance reminded me of 1950s-vintage laboratory equipment -- very retro.
The headphone jack is driven by the output stage and attenuated to keep it from melting your headphones (and your ears). The internal attenuation provides a load for the output transformers, so if you want to use the SQ-84 solely as a headphone amp, you don't need to connect speakers. However, if you accidentally bump the switch from the Headphone position to the Normal position, the output transformers could be damaged. If I owned an SQ-84 and I wanted to use it only with headphones, I'd connect 20W 8-ohm resistors across the speaker binding posts to protect the output transformers against accident.
With speakers
My 102dB-sensitive Second ReTHM speakers ruthlessly expose any system noise; however, the SQ-84 was up to their challenge, proving to be one of the quietest amplifiers I've used. A very faint hum was barely audible within a few inches of the speaker, but that's all. In my installation, a Silver Circle Audio power cord provided power to the amp, while Blue Marble Audio's Blue Signal speaker cables proved to be a good sonic match with the SQ-84. The SQ-84's tubes generate quite a bit of heat, so make sure the amp is well ventilated. Don't even think about putting it in a closed cabinet.
The SQ-84 sounded very punchy. Dynamics, both macro and micro, were robust but unexaggerated -- they wouldn't draw a listener's attention away from the musical performance. Instead, the SQ-84's dynamics added excitement to the overall musical context.
Quest for Sound voiced the SQ-84 very shrewdly. It does not plumb the depths, although I seldom noticed any real lack of bass. Strong bass dynamics made the most of the low-end response and increased the overall bass power and weight during orchestral works. The high frequencies complemented the lows -- they sounded just a smidgen subdued. Orchestral triangles were missing that last iota of high-frequency sparkle, although high frequencies were open and airy. When I cued up my standard high-frequency torture track, Jennifer Warnes's "The Panther" from the CD layer of her hybrid SACD The Well [Cisco SCD 2034], the shimmering percussion instruments were reproduced with considerable tonal accuracy, sounding quite realistic. The very highest frequencies were slightly attenuated, but not by much.
Associated Equipment
Loudspeakers – Second ReTHM.
Headphones – AKG K 501, BeyerDynamic DT 990.
Power amplifiers – Art Audio PX 25 stereo amp, Wright Sound Company WPA3.5 monoblocks.
Headphone amplifier – HeadSave Classic.
Preamplifier – deHavilland Mercury 2.
Digital – Meridian 508.24 CD player.
Analog – Linn LP-12 turntable, Graham 2.2 tonearm, Dynavector DRT XV-1 cartridge, Dynavector P-75 phono stage.
Interconnects – Crystal Cable CrystalConnect Piccolo, Purist Audio Design Venustas.
Speaker cables – Crystal Cable CrystalSpeak Micro, Purist Audio Design Venustas, Blue Marble Audio Blue Signal.
Power cords – Silver Circle Audio.
If the SQ-84 didn't extract every smidgen of detail from musical recordings, it was still entirely respectable for a $1000 integrated amp. With each musical selection I cued up, I never felt I was missing any information. Accurate harmonics, which make instruments sound "real," were good, but have been bettered by other much more expensive integrated amps I've used. The attack and decay of notes were not quite as distinct as some other integrated amps. These criticisms should be kept in perspective, however; the differences I've noted between the SQ-84 and more expensive units were certainly not huge.
When I played Gutierrez's "Alma Llanera" from John Williams's El Diablo Suelto [Sony Classical SK 90451], the two guitars sounded full-bodied and very colorful. The SQ-84 easily distinguished between the sound of the four-string Venezuelan cuatro guitar and John Williams's standard guitar. Instrumental images were a little diffuse, but there was no tendency to bunch up the sound in the center of the soundstage or at the speakers. Instrumental placement was not pinpoint precise, but the presentation had an open, airy quality.
The SQ-84 really excelled in the pace, rhythm, and timing department, which gave music lots of drive. The SQ-84 dug into the music and provided a bouncy, lively depiction of the performances. To me, timing is as important to musical reproduction as tonality and dynamics; if this factor is deficient, performances will sound boring. The SQ-84 was quite involving.
The SQ-84 seemed more comfortable with small groups and soloists than with a full orchestra. Orchestral strings did not have the full resonant signature they have with more expensive integrated amps. When I played Dvorák's deliciously quirky Slavonic Dance #7 performed by Vaclav Neumann and the Czech Philharmonic on Dvorák: Slavonic Dances [Apex 0927 48999 2], the strings lacked their full, lush tonality and sounded a little dry. However, the perky woodwinds were accurately portrayed.
With headphones
I used AKG K 501 headphones for most of my listening, because they have excellent midrange and high-frequency response and present a modicum of a soundstage. Compared to the bass of 'phones like the popular Sennheiser HD 650s, the K 501's low end is somewhat attenuated, although it's tight and tuneful. I also occasionally listened through BeyerDynamic DT 990 headphones, whose balance resembles that of the Sennheisers. Both headphones need a good amplifier for best performance.
In a word, headphone listening was spectacular. The SQ-84 drove both pairs of 'phones to louder levels than any pure headphone amp I've tried, and displayed excellent transparency, deep bass extension, and smooth, detailed highs. I didn't try to determine how loud the SQ-84 would play for fear of damaging my hearing. The abundant driving power produced wide dynamic swings. Stephen Monte tells me that some of his customers use the SQ-84 with 74dB-sensitive AKG K 1000 headphones, which bring most headphone amps to their knees.
There was no attenuation of high frequencies with headphones, and the treble region was not over-emphasized either. Chimes and percussion from "The Panther" seemed to float in midair, with a complete overtone structure but without edginess. Bass was extended (for K 501s), with plenty of slam and impact. The SQ-84 capitalized on the K 501's soundstaging abilities to produce a very open and airy presentation with good localization of performers, although not nearly as good as with speakers.
On the Dvorák Slavonic Dance #7, the triangles (one of Dvorák's favorite instruments) seemed to have unlimited high-frequency extension, while string tone was more harmonically complete, sounding more lush than through the speakers. Dynamic range was huge, and the overall sound was very spacious, not centered in the middle of my head.
Comparisons
I could compare the SQ-84 to my reference deHavilland Mercury 2 preamp and Art Audio PX 25 amp, which together list for $10,000, but if I told you those units sounded considerably better, you'd probably say, "So what?" Well, they do sound better, a lot better, but not ten times better; the law of diminishing returns is quite evident here.
A more appropriate unit for comparison is the Opera Audio Consonance Cyber-10 Signature integrated amp, which I recently reviewed. It's rated at 11Wpc, very close to the SQ-84's 10Wpc rating. Although considerably larger than the SQ-84 and more sophisticated in design (five inputs, remote control of both volume and input selection, and real triode output tubes), the Cyber-10 Signature costs only twice as much ($2000) as the SQ-84.
While I didn't have the Cyber-10 Signature on hand for a side-by-side comparison, my memory and listening notes told me that it and the SQ-84 sounded rather similar. Like the SQ-84, the Cyber-10 Signature had a somewhat lean bass and a more flat-sounding top end. I actually slightly preferred the SQ-84's sound, because its treble was better balanced with the low end. The Cyber 10 Signature's more extended treble was somewhat clinical-sounding (although Ian Large, from Alium Audio, Opera Audio's UK/Ireland distributor, tells me that upgrading the 2A3 tubes makes a big improvement). The Cyber-10 Signature definitely had a more three-dimensional soundstage, with performers placed precisely in space in front of me. The SQ-84 was even quieter than the Cyber-10 Signature, which was quite good in that respect. The Cyber-10 Signature's strongest sonic feature was its startling dynamics, which were remarkable for any integrated amplifier; but the SQ-84's dynamics were also quite good and served the music well. The Cyber-10 Signature has no headphone jack.
Moving on to headphone amps, the SQ-84 had much greater power than my $250 HeadSave Classic, a solid-state unit. The Classic occasionally clips when playing music with loud, deep bass, but the SQ-84 never got remotely close to clipping. Compared to the SQ-84, the HeadSave amp is tiny; it will literally fit in your pocket (although it uses a hefty wall-wart power supply). That means it can share a shelf with my preamp, an important consideration in light of my always-cluttered reviewer's audio rack. The Classic is quieter than the SQ-84, although the latter was scarcely noisy. The SQ-84's barely perceptible noise floor wasn't really evident until I compared it to an even quieter amp. It certainly didn't intrude on the music.
When I played Slavonic Dance #7 through the HeadSave amp, strings sounded a little thinner. Bass was excellent, perhaps even deeper than with the SQ-84. Overall, however, the sound was just a little polite, but very clear and undistorted. I much preferred the richer sound of the SQ-84 and its effortless orchestral climaxes.
Bottom line
How does one approach a product like the SQ-84? Is it an integrated amp with headphone functionality thrown in, or a headphone amp that can also drive speakers? If your speakers are sensitive enough to work with its low output power and if you only use one source, the Sound Quest SQ-84 is worth hearing given its price and the added value of its headphone jack. If you're a headphone fan, the SQ-84 is a very worthy amp that also happens to be able to drive sensitive speakers. As a headphone amp, its drive capability handily exceeded some far more expensive dedicated headphone amps I have auditioned, and its sound quality is rich, detailed, and explosive. It's the best headphone amp I've heard so far.
As an integrated amplifier, the SQ-84 would be worth $1000. As a headphone amp, it's easily worth that much. But to get both functions in a single package for $1000 constitutes significant value. Check out the SQ-84 -- with your speakers and headphones.
...Vade Forrester
vade@soundstage.com
Sound Quest SQ-84 Integrated/Headphone Amplifier
Price: $1000 USD.
Warranty: One year parts and labor, 90 days for tubes.

Quest for Sound
2307-R Bristol Pike
Bensalem, PA 19020
Phone: (215) 953-9099
Fax: (215) 953-9982

E-mail: questforsound@aol.com
Website: www.questforsound.com