November 2003
Simaudio Moon Nova CD Player
by Doug Schneider

Review Summary
| | |
| --- | --- |
| Sound | "The Nova is alive, with infinitely extended high frequencies that aren't muted in the least; midrange frequencies that are clean, detailed, and incisive; and bass that is tight, strong, and deep. Music doesn't flow as much as it springs." |
| | |
| --- | --- |
| Features | "A scaled-down version of Simaudio's ambitious Eclipse CD player," but "what you won't find are the fully balanced circuitry, the floating transport mechanism, and the separate power supply of the pricier player"; "the Nova uses Burr-Brown PCM1704U-J DACs…and a Burr-Brown DF1704 digital filter." |
| | |
| --- | --- |
| Use | Regarding the Nova's FRM remote: "I'm not sure the world needs a remote control that weighs more than three hockey pucks and can break a glass coffee table when you drop it. I can sum it up in one word: clunky." |
| | |
| --- | --- |
| Value | The Simaudio Moon Nova is a luxury good that retains some commonsense appeal, and for many, it may well be the last CD player they'll own. |
"You have to be crazy to buy a CD player!"
People were saying that five years ago and, no doubt, many more are saying it today. And there's some truth to it: SACD and DVD-A, the formats purported to supplant CD, are actually creeping into the marketplace -- unbelievably slowly, mind you, almost like a wounded animal that may or may not die. And to add fuel to the anti-CD-player fire, now you can buy universal players that will accommodate most, if not all, of the digital formats we have today. You'd have to be crazy, right?
But, of course, there are counter-arguments that are as valid today as they were five years ago. First, CD is still the dominant digital format. Go ahead and try to find SACDs and DVD-As in most record stores. The biggest threat to CD isn't SACD or DVD-A; it's low-resolution formats like MP3 -- but that's another story. Second, I have yet to find a universal player that is as good at playing CDs as the CD-only-capable reference units I currently use. And since CD is far and away the most dominant format today, and will be for years to come, well, you can see where I'm going with this.
As far as I can see, 16/44 playback has plenty of gas left in its tank, and that makes a CD-only player like the $2950 Simaudio Nova as relevant today to state-of-the-art-chasing audiophiles as it has been since CD first hit the market.
Description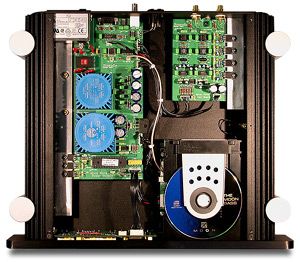 The Nova is a scaled-down version of Simaudio's ambitious Eclipse CD player that debuted a few years ago, but that doesn't mean that the Nova is an also-ran. It's built with all the attention to detail of the nearly double-the-price Eclipse.
With its rounded sides and heavy-duty, side-mounted legs with screw-in points, the Nova has the appearance of a stocky animal ready to pounce. In reality, though, the Nova isn't going anywhere. That unique chassis construction and those legs give it an extraordinarily stable footing, most likely to control mechanical resonance better, making it obvious to me that mechanical and electrical engineers had a hand in the Nova's design. The brushed-aluminum faceplate is 1/2" thick, and it's this unique design and the stylish, heavy-duty construction that help to differentiate the Nova from lower-priced, entry-level CD players with their generally flimsy faceplates and stamped-out chassis.
So while the construction of the Nova is every bit as good as that of the Eclipse -- it's a heavy, solid, and well-finished player -- what you won't find are the fully balanced circuitry, the floating transport mechanism, and the separate power supply of the pricier player. These are where Simaudio has scaled back. The Nova is more conventional in that it uses a typical CD tray and all the circuitry is placed into one chassis. The Nova uses Burr-Brown PCM1704U-J DACs (the Eclipse uses K series DACs) and a Burr-Brown DF1704 digital filter. As expected, the Nova also has all the features that are standard on every CD player -- start, stop, pause, track skip, and all that -- and there's also the exceptionally heavy, all-aluminum FRM remote control that could double as a baton for self-defense.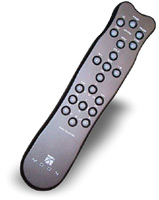 And it's this piece that I'm forced to take issue with after using it for a time. While I admire Simaudio for offering a remote control that, at least in terms of build quality, is a cut above the plastic jobbies that are everywhere, I'm not sure the world needs a remote control that weighs more than three hockey pucks and can break a glass coffee table when you drop it. I can sum it up in one word: clunky. And that's precisely why I ditched the FRM in favor of my old, light-as-air generic Philips remote that operated all the Nova's features in fine fashion. The FRM is built in a way befitting a $3000 CD player, but it ends up being a bit of a showpiece that lacks some practicality.
The Nova's main controls are on the front panel, including the Standby switch for day-to-day powering on and off. Each button is well spaced and sturdy-feeling, but it's here I also have to quibble a bit, although these complaints also apply to a good many CD players, not just the Nova. When I placed the Nova on a low shelf, I had trouble discerning which button was which because they all look the same and the gray lettering on the black faceplate doesn't make it easy to read the descriptions. I ended up always having to bend down close to the faceplate to see exactly what I was pressing. The Eclipse, on the other hand, has top-mounted buttons that I found a little more user-friendly.
Around back you'll find a single set of RCA output jacks, two digital outputs if you want to connect an external DAC (XLR-based AES/EBU and BNC-based S/PDIF), the IEC receptacle for a detachable power cord, the main on/off switch (only to be turned off if you won't be playing the Nova for long periods), and, finally a bi-directional RS-232 port that allows you to display the status of the Nova and control it externally, presumably for a custom installation. All connections are of good quality, and they're spaced well for easy setup.
Despite the minor ergonomic quibbles, the Nova is a substantial piece of audio gear that comes with one more nice touch: a three-year warranty on the transport mechanism and a whopping ten years on the rest of the electronics. The Nova is built like a luxury item, has a price tag that goes along with that, but it has an ample warranty, and that's not a thing to overlook. I applaud Simaudio for including it since I think it's important for people who will quite possibly look at the Nova as the last CD-only player they'll buy.
Systems
As with many products that enter my house, the Nova saw plenty of use in a wide variety of system configurations. Associated electronics included the Orpheus Labs Two preamplifier and Three S amplifier, Zanden Audio's Model 600 integrated amplifier, and Simaudio's own Moon i-3 integrated amplifier. Speakers included the StudioLAB Reference Ones, Von Schweikert VR-1s, Verity Audio Taminos, and Mirage Omni 60s. Speaker cables and interconnects were either Nirvana Audio S-L or Nordost Valkyrja. In the latter part of the evaluation, I plugged the Nova into the outstanding ExactPower EP15A power conditioner/regenerator.
Sound
Unlike many CD players that have come through my door and sounded quite similar, if not identical, the Nova quickly distinguished itself. It stood out with a lively and punchy presentation. And although it's been far too long since I've heard the Eclipse to make meaningful comparisons to that player, I do recall that this was something I liked about it as well.
The Nova isn't some dark-sounding, nuance-and-shadows player that tries to seduce you with a weighty, syrupy, caramel-coated presentation -- seemingly shelving down the top end, smoothing out the midrange, and bloating the bass to make some of those thin and lifeless CDs we all have in our collections sound sweet. The Nova is alive, with infinitely extended high frequencies that aren't muted in the least; midrange frequencies that are clean, detailed, and incisive; and bass that is tight, strong, and deep. Music doesn't flow as much as it springs.
For quite some time I had the Nova hooked up to the Simaudio Moon i-3 integrated amplifier driving the Von Schweikert VR-1 speakers. Each of these components has that same lively character, and for a while, I assumed that the sonic outcome might be too much of a good thing. It wasn't. Buena Vista Social Club Presents: Omara Portuondo [Elektra/Asylum 79603] contains punchy, razor-sharp Latin music with strong percussion. To come alive, this music needs components capable of impressive detail and dynamics, and that's precisely what the Nova and the rest of the system provided. The Nova sounds fast and tight, and it can slice through recordings to unravel detail with ease. Portuondo's voice is placed up front in this recording, quite starkly in mix, and I liked the way the Nova rendered the subtle inflections in her voice in such a clear manner and presented images that were well defined and stable. Precise is one word that describes the Nova's sound well.
The Nova's precision also shone through on Glenn Gould's A State of Wonder: The Complete Goldberg Variations (1955 & 1981) [Sony Classical 87703]. The rapid striking of the keys had crystalline clarity, and overall the piano had excellent weight and dimensionality. Gould's piano was well defined, and there was certainly an "in-the-room" quality to the presentation.
As impressed as I was with the Nova's lively and spirited nature, I couldn't help but think that it might be problematic with the high number of harsh digital recordings that form a large chunk of our music collections, so I pushed the Nova further to see how it would decode these. But what I learned was that there's a big difference between lively and nasty -- that hard, edgy, brittle sound that you get from bad digital -- and lively and clean. Case in point: Cat Steven's The Very Best of Cat Stevens [UTV Records 314 541 387-2] has those awful-sounding high frequencies that are like bacon sizzling. Play it on a cheap, nasty-sounding CD player through speakers with a hot tweeter and you may cause irreparable hearing damage. And even if you don't damage your hearing, I guarantee the disc won't stay spinning long.
So while the Nova doesn't cover up recording flaws, it doesn't irritate or exacerbate them either, and I attribute that mostly to its clean and precise demeanor. What you get, then, is a startlingly clear look into some very flawed recordings. Or, in other words, if the recording sounds like crap, it just doesn't sound crappier. And when there are treasured moments of good sound in these generally bad-sounding CDs, then those can even shine a little more brightly. On Cat Stevens' "Morning Has Broken," for example, I was particularly taken with how polished and precise the piano and voice were despite other irritating aspects of the recording, such as the brittle guitar sound.
But with better-sounding recordings, the Nova's strengths were highlighted even more, and a better case was made for why someone might fork over almost $3000 for a CD-only player. Unlike Cat Stevens' transition from vinyl to aluminum, the 1999 re-release of Willie Nelson's Stardust [Columbia 65946] has been transferred to quite a well-produced CD that offers excellent presence and a healthy chunk of detail. I have been using this recording quite a bit while evaluating the StudioLAB Reference One speakers.
On "Georgia on My Mind," the Nova's punchy and lively character lent a sense of vibrancy and life to the presentation, and I was thoroughly impressed with how stark and well-defined Nelson's voice was -- carved out wonderfully from the mix, with and an excellent sense of space, and detail and texture that are the marks of a true high-end, high-resolution source.
Comparison
The $13,500 Weiss Medea DAC arrived in my listening room in the same timeframe as the Nova. Admittedly, the Medea's asking price is great -- obscene to some -- but it's the price of perfection, I guess, because in my setup with a Theta Data Basic transport and an i2Digital digital cable I found it to be a reference-caliber source that you can judge others against. In my review, I described it as a "'laboratory-grade' digital-to-analog converter for the home-audio enthusiast." Comparing the Nova to the Medea tells exactly how far the Nova makes it up the ladder in terms of reaching for state-of-the-art sound.
The Nova and the Medea-based setup sound similar -- they both share an even, neutral character that neither emphasizes nor recesses any part of the spectrum, and they both have a similarly punchy and dynamic sound. I suspect that played to many listeners they would come off as nearly indistinguishable, particularly if the associated electronics or speakers aren't capable of resolving minute differences -- and that's really what we're talking about here: small differences that sometimes cost the big bucks to get.
Some call it diminishing returns, but I now call it Doug's Rule of Fives. Essentially, you pay about five times the price for far less than one-fifth of the improvement in sound quality. And indeed, when you really compare the Nova to the Medea setup you can hear small differences throughout the frequency range, but mostly in terms of resolution.
On bass-capable speakers, the Medea can rumble the room with blast-you-back authority. It's downright forceful down low, as I remember the Simaudio Eclipse player to be as well. The Nova is no lightweight, mind you, and reaches just as deep itself, but the Medea setup portrays the bass with a little more solidity and grunt. The Medea with my transport has gut-wrenching articulation that the Nova is a notch shy of. And that Medea grunt gets heard through the midrange, too. When I played a heavily textured voice such as, say, Robbie Robertson's or Willie Nelson's, the Medea-based setup had just a bit more incisiveness to it.
Slightly greater differences can be heard in the top end. The Nova sounds clean, and if you never heard anything else you'd walk away thoroughly impressed, but it's when you put it head to head with the Medea setup that it sounds a touch coarse and mechanical. In short, I found my Medea setup a wee bit more crystalline and pure-sounding.
Finally, while the detail the Nova unveils is impressive, going head to head against the Medea-based setup I realized that the Nova wasn't quite showing it all. I remember playing Blue Rodeo's Five Days in July [Discovery 77013] through the Medea setup and marveling at hearing the most delicate cues that I never knew existed on this disc -- subtle decay, echoes, and other nuances that are almost microscopic in scale, but that give an increased sense of dimensionality and space when played on a high-rez system. The Nova couldn't quite match that quality.
So while the Nova doesn't meet the standard of the Medea-based setup I used, that's hardly anything to hold against it. In fact, how much it achieves speaks volumes for how good this CD player is. As I said, many listeners would find the two nearly indistinguishable. It's only when you clean your ears, turn the lights down low, and start doing piece-by-piece comparison that these small differences come to light. And remember, the Nova is roughly one-fifth the price of the Medea setup. The point is not if the Nova gets all the way there, but how close it gets -- for a fraction of the price.
Conclusion
At almost $3000 and built to impressive standards, the Simaudio Moon Nova CD player isn't likely to appeal to casual enthusiasts. The Rule of Fives dictates this, meaning that casual enthusiasts will go for something like a $600 CD player. Instead, I see the Nova appealing to the serious but sensible audiophile who wants to get the most out of his CD collection, desires a product that is distinctively styled and built more substantially than most of what's on the market. However, he isn't willing to spend the amount of money necessary to get absolutely everything sonically, instead letting the insane folks with money to burn spend five times the amount to get every last iota out of CD playback.
So while the Nova isn't quite a state-of-the-art digital source -- and I suspect the Simaudio folks would agree, because this isn't as all-out an effort like their Eclipse -- it doesn't cost the astronomical amount edge-of-the-art units do either. It gets you almost all of the way there sonically and offers superb build quality. You certainly don't have to be crazy to buy a Nova. And the healthy warranty Simaudio provides -- which I believe is a reference to judge others by -- will appeal to music lovers who buy components and use them for the long term, as opposed to those in the flavor-of-the-month club who buy and sell more components than some retailers.
The Simaudio Moon Nova is a luxury good that retains some commonsense appeal, and for many, it may well be the last CD player they'll own.
...Doug Schneider
das@soundstage.com
Simaudio Moon Nova CD player
Price: $2950 USD.
Warranty: Three years parts and labor for transport mechanism; ten years parts and labor for all other circuitry.

Simaudio Ltd.
21 Lawrence Paquette Drive
Champlain, NY 12919
Phone: (450) 449-2212

E-mail: info@simaudio.com
Website: www.simaudio.com