February 2007
Simaudio Moon i5.3 Integrated Amplifier
by Philip Beaudette


Review Summary
| | |
| --- | --- |
| Sound | "To my ears, the defining sonic trait of the i5.3 is its sparkling highs. The crash of cymbals was bold, even bright, but not so much so that it became irritating or piercing." "I found this integrated neutral overall, with the exception of a hint of warmth and forwardness in the midrange, which gave the music wonderful presence." "The i5.3's sound was as solid and unwavering as its chassis." "Everything was always under control, even as I stressed the i5.3's output capabilities." |
| | |
| --- | --- |
| Features | "The i5.3 is mostly a dual-mono design -- both channels share only a transformer and power cord." "Furthermore, the i5.3 has no overall feedback, and like all Simaudio products it boasts a very short signal path -- a mere 14 inches from input to output. The amplifier section operates in class A/B, but the first 5 watts are produced in class A." "Chassis construction is impressively solid, the purpose here to reduce the effect of external vibrations." |
| | |
| --- | --- |
| Use | "The display is used to show the volume level of each channel and therefore features just two pairs of numbers, one to each side of the display. Having two sets of numbers to indicate volume is a bit unusual, but I really liked the fact I had such precise control over channel balance." |
| | |
| --- | --- |
| Value | "The i5.3 is an interesting product. It falls at a price point where there is no shortage of competent integrated amplifiers, but one must spend considerably more money to take a discernible sonic leap forward." |
In a recent review, I remarked that the greatest perk of writing about audio equipment is getting the chance to spend time with a variety of gear in the comfort of my listening room. Another perk occurs when I write a string of reviews about the same type of product -- in this case, integrated amplifiers. This gives me the opportunity to switch equipment in and out and hear how the sonic character of one piece compares to that of another.
Through my recent reviews, I've come to realize that there are a number of well-built, superb-sounding integrated amplifiers that don't break the bank. Most recently, I've been spending time with the Simaudio Moon i5.3 ($3000 USD). As with the Flying Mole and Krell integrateds I've reviewed recently, this was the first time I'd ever listened to a product from Simaudio. As each new integrated arrives on my doorstep, I become more excited about the exceptional sonic performance one can expect for $3000 or less.
Description
Part of Simaudio's bread-and-butter Moon Classic series, the i5.3 is mostly a dual-mono design -- both channels share only a transformer and power cord. It measures 17"W x 4"H x 15"D, weighs 28 pounds, and produces 85Wpc into 8 ohms and 130Wpc into 4 ohms. The i5.3 has a massive 500-volt-amp toroidal transformer, which Simaudio claims has low magnetic, electrical and thermal loss to improve current delivery and dynamics. Furthermore, the i5.3 has no overall feedback, and like all Simaudio products it boasts a very short signal path -- a mere 14 inches from input to output. The amplifier section operates in class A/B, but the first 5 watts are produced in class A.
In contrast, the preamplifier section of the i5.3 is pure class A and allows the user to connect five source components via RCA inputs, one of which bypasses the volume control so that the connected component, such as a home-theater processor, adjusts gain. It has two sets of RCA outputs, one a tape output and the other for use with a separate power amplifier. Speaker connections are made through sturdy WBT binding posts that accept banana plugs, spades or bare wire. A generous ten-year warranty and full-function remote control are part of the package as well. The remote is the same all-aluminum number included with components from Simaudio's upscale Evolution series.
Chassis construction is impressively solid, the purpose here to reduce the effect of external vibrations. The front panel is a very thick piece of brushed aluminum on which you will find a large rotary dial for adjusting volume as well as five buttons for selecting the input, muting the output, engaging a standby circuit, and turning the bright-red display off. The display itself warrants some discussion. When I first saw it, I couldn't help but think of the bright-red digits on the pinball machines I used to see in arcades when I was growing up. The display is used to show the volume level of each channel and therefore features just two pairs of numbers, one to each side of the display. Having two sets of numbers to indicate volume is a bit unusual, but I really liked the fact I had such precise control over channel balance.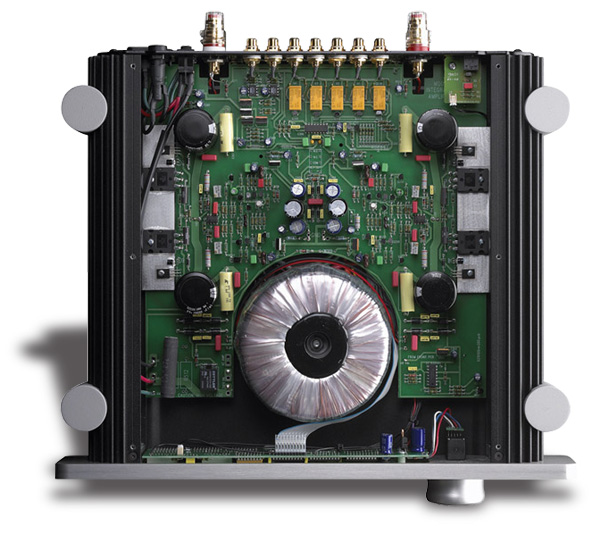 As I've come to expect from products at this price point, the build quality of the i5.3 is excellent and far exceeds anything you'll find in stores that don't specialize in high-end audio. The i5.3 has the sort of construction that lets you know you're using a serious piece of equipment. The rounded heatsinks that run along the sides of the unit and the silver legs on which everything stands make the i5.3's appearance more the thing of science fiction than high-end audio. Personally, I really liked it. My only complaint is that the legs weren't painted black to match the faceplate and chassis. However, if this is a problem, you have the option of buying a silver faceplate to match the legs. In short, the i5.3 is a cool-looking piece that you'll be proud to display in your equipment rack.
Sound
Due to the number of competent integrated amps on the market today, a new model has to be special in some way if it's going to get noticed. Even in the company of so many capable designs, the i5.3 stands out. More specifically, it climbs on the shoulders of some of its competitors, the authority with which it plays music commanding attention. The i5.3 never flinched when I pushed it to play louder. Everything was always under control, even as I stressed the i5.3's output capabilities. The highs were smooth and very extended, the midrange was clear and open, and the lows were quick but not at the expense of weight or impact. I'm not suggesting the power on tap was limitless. What I am saying is that it's becoming more apparent to me how few watts I actually use for most listening. I think that for many people 85Wpc could be all they'll ever need. If you don't believe me, consider this: An amplifier three times more powerful than the i5.3 (i.e., 255Wpc) can play only 6dB louder. Clearly the issue is quality, not quantity.
The i5.3 does so many things well that it's the sort of piece that makes you wonder how much more you need to spend to improve significantly on its sound. Listening to it just gave me the sense there was more "there." Recording venues were created in my listening room and my own walls ceased to exist. Mostly, I thought the i5.3 excelled because its detailed and vibrant sound, excellent rhythm and firm foundation gave all the music I played through it a sense of completeness. I didn't feel I was missing much. The i5.3's sound was as solid and unwavering as its chassis.
Associated Equipment
Loudspeakers – PSB Platinum M2.
Integrated amplifiers – Flying Mole CA-S10, Krell KAV-400xi.
CD players – NAD C542, Simaudio CD5.3.
Interconnects – AudioQuest Copperhead.
Speaker cables – AudioQuest Type 4.
To my ears, the defining sonic trait of the i5.3 is its sparkling highs. The crash of cymbals was bold, even bright, but not so much so that it became irritating or piercing. Most people have heard a drum kit live and know that the sound of shimmering metal plates will send tingles up your spine. Thankfully the i5.3 doesn't gloss over this. The sound wasn't cold, but it was highly detailed. I found this integrated neutral overall, with the exception of a hint of warmth and forwardness in the midrange, which gave the music wonderful presence. The vibrant nature of the highs infused many recordings with energy, imparting the sort of vitality that gets your toes tapping and your head nodding.
One example of this is the Alice In Chains' Unplugged CD [Sony Music B000002BM5] that's been playing more than in its fair share over my system as of late. "No Excuses" is a track whose driving rhythm, crisp guitars and quick-sounding percussion give the song a liveliness that contrasts sharply with the grim reality explored in the lyrics. The i5.3 did a superb job of capturing the pace and attack of the song, producing a wide and well-defined soundstage where the position of each musician was easy to discern. Sean Kinney's drums had plenty of pop, and Jerry Cantrell's acoustic guitar sounded immediate -- like it was in the room with me.
A singer my brother introduced me to last year was an American artist, Neko Case. Her 2002 release Blacklisted [Mint Records/Bloodshot Records 20099] is one of the finest albums I've heard recently, owing in no small part to the haunting and intoxicating nature of her voice. The i5.3 did an excellent job reproducing Case's reverb-soaked vocals, retaining the sheer power and authority of the engaging voice with which she delivers her lyrics. Again, the Simaudio integrated sounded fast and was always dynamically up to the task, no matter what disc was in the CD player.
This isn't to say the i5.3 wasn't graceful. Listening to a collection of Erik Satie's Piano Works [Universal 4681602] performed by Reinbert de Leeuw demonstrated this integrated's ability to reproduce the decay of notes with a delicacy that sort of makes the world around you stop. If Neko Case was intoxicating, then the i5.3 made de Leeuw's extraordinarily sensitive and beautiful interpretation of Satie's "Gymnopedies" downright inebriating, each note hanging in the air as though time and space ceased to exist around it. However, fast-forward to "Gnossiennes No. 1" and you'll hear that the i5.3 can also handle more aggressive piano passages, reminding me of the size and weight of the instrument being played.
Comparison
Of the integrateds I had on hand, the Flying Mole CA-S10 ($1795) and the Krell KAV-400xi ($2500) were the closest competition to the i5.3 in terms of price and performance. The CA-S10 is a beautifully made piece whose revealing sonic nature exceeds anything I've had in my system to date. The control it exhibited over the midrange/bass driver of my PSB Platinum M2 speakers was exceptional, producing bass that was as tight and fast as I've heard. However, for all of its talents, the CA-S10 left me feeling a bit cold. There were times that I felt it was dissecting the music. In contrast, the i5.3 was highly detailed but offered more bloom in the bass, making it sound fuller and more pleasing in comparison. Its slight warmth and bit of forwardness in the midrange were more involving, which resulted in listening sessions lasting far longer than with the Flying Mole integrated.
Krell's KAV-400xi sounds more similar to the Simaudio i5.3 than the Flying Mole CA-S10. Like the i5.3, the KAV-400xi doesn't reveal musical detail quite like the CA-S10 does. However, both the KAV-400xi and i5.3 did a marvelous job of producing a wide soundstage with a good sense of depth and strong image outlines. Where I preferred the i5.3 was in its ability to pull me right into the music. The KAV-400xi was no slouch in this regard; in fact, I listened to a lot of live music with it because it did such a great job of placing the performance in my listening room. However, as good as it was at giving the music presence, the i5.3 was superior. The i5.3's slight midrange forwardness was mostly responsible for this, and I found it addicting.
With its 200Wpc, the Krell integrated is over twice as powerful as the i5.3 on paper, but the extra power wasn't a factor in my listening room, where I reached wholly satisfying levels without ever tapping into the reserves of either unit. If you have less sensitive speakers or a larger room than mine, you may find the high power of the Krell integrated beneficial. For many listening rooms, however, power should not be the issue.
While each of these integrated amplifiers performs remarkably well and will have its own followers and detractors, if I were in the market for an upgrade I would choose the i5.3 over the other two. For me, it was such a consistently pleasing integrated that I simply found myself hooking it up more often than the others when I felt like listening and relaxing.
Conclusion
The i5.3 is an interesting product. It falls at a price point where there is no shortage of competent integrated amplifiers, but one must spend considerably more money to take a discernible sonic leap forward. To do so would likely lead to purchasing separates, and, of course, Simaudio makes these as well. However, if you don't have the money or space for separates, you needn't worry. There is a strong case for buying a one-box solution due to the abundance of high-quality integrated amplifiers available today. Besides, the money you save on an integrated amp can be spent buying more music to enjoy. If you decide to buy the Simaudio Moon i5.3, I suspect it will be one purchase you enjoy for a long time.
...Philip Beaudette
philipb@soundstage.com
Simaudio Moon i5.3 Integrated Amplifier
Price: $3000 USD.
Warranty: Ten years parts and labor.

Simaudio Ltd.
95 Chemin du Tremblay
Unit 3, Boucherville, Quebec Canada J4B 7K4
Phone: (877) 980-2400

E-mail: info@simaudio.com
Website: www.simaudio.com