November 2002
Ruark Acoustics CL10 Loudspeakers
by Doug Schneider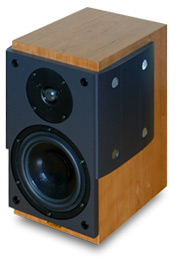 Review Summary
| | |
| --- | --- |
| Sound | "Lively" -- "precise and exact in its delivery"; "a bit of an up-front character, most noticeably in the mids"; "tweeter…delivers bell-like clarity if your upstream components are so inclined." |
| | |
| --- | --- |
| Features | Two-way minimonitor made by a well-known British manufacturer; biwire/biamp capable. |
| | |
| --- | --- |
| Use | The CL10's sound, though lively, "could be altered in character with a change of upstream components"; Ruark offers a matching center-channel speaker and subwoofer for home-theater use. |
| | |
| --- | --- |
| Value | An "undeniably enjoyable speaker to listen to" that competes in the nearly $2000-per-pair range with its clarity and liveliness. |
I'm well versed enough with the older Ruark speaker lines to know 'em when I see 'em. We have good distribution of the brand in Canada, and I've often run into Ruark speakers at audio trade shows. In those settings, I've liked the sound, but I always had a few concerns about the styling. The speakers were certainly well built, and the ones with the dark veneers often had kind of a regal, majestic look about them. But to my eyes, those older designs looked a little, well, out-of-date for consumers who constantly cry for something new and modern-looking.
No one will say that about Ruark's new Classic series. When I first saw the CL10, which costs $1799 USD per pair, as well as the larger CL20 and CL30, I never even recognized them as part of the Ruark line. I thought they might be Scandinavian since they look so un-British. They aren't Scandinavian, of course. They're Ruark, British and all, just with a new, updated look.
On one side of the coin, the CL10 is a pretty standard wood-veneered box measuring just under 14" high by almost 9" wide and about 11" deep. It weighs in at 22 pounds and is sturdy. This well-finished loudspeaker comes in steamed beech, natural cherry, and rosewood veneers. Fit, finish, and all that stuff you expect in the higher-priced speaker camp are very good. Although I couldn't get into the cabinet, literature on the speaker says the cabinet has a "critically damped multiple layer differential construction, with full internal bracing system." The CL10 feels solid. Snap-on grilles are available for driver protection (although I did my serious listening without grilles).
The CL10's tweeter is a 1" soft-dome type, while the woofer is a 7" treated paper-pulp cone with a cast basket. The crossover point is 2.7kHz. On the back is a port behind the tweeter, and down below are dual sets of high-quality binding posts for biwiring, with jumpers supplied should you want to single wire.
On the other side of the coin is the dark-gray faceplate Ruark has added and the funky plates they've wrapped around the top part of the sides. I couldn't find much information about the baffle or side panels, but I suspect they offer a combination of form and function. Knocking on the add-on baffle reveals it to be quite solid, which is good for mounting the drivers. And visually, these add-ons take the speaker away from being just a wood box with a double set of drivers to something somewhat cooler-looking and quite distinctive -- and, of course, so un-Ruarkian. If anything, the CL10 looks a little space agey.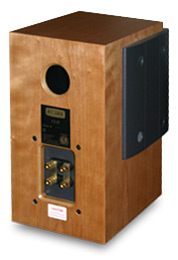 According to supplied specifications, the CL10 has a sensitivity of 87dB and a nominal impedance of 6 ohms -- pretty normal for a speaker of the CL10's size and configuration and a relatively easy load for amplifiers of modest power. Ruark says amplifiers from 25 to 150 watts will do. Sounds right. For my own tastes, 50Wpc will get the speakers humming nicely, and more than that will allow you more headroom and oomph for when you want to play your music quite loud.
Completing the modern thinking of Ruark these days are a CL15 center-channel speaker and a CL300 subwoofer, which flesh out the Classic series and allow for potential expansion into full surround sound. Based on my listening, in this type of scenario the CL10s can definitely be used up front for mains if you don't want to go for the bigger CL20s and CL30s.
System
The CL10s were shipped with the Arcam FMJ A32 integrated amp and the CD23T CD player, so the speakers were used mainly with those. I also drove the CL10s with the new tube-based Zanden Audio Model 600 integrated amplifier, using the same CD23T CD player up front. Nirvana Audio cabling was used front to back.
The speakers were placed atop 26"-high Osiris stands, although I suspect that you could go as low as 24" and still get as good, if not better, results. Toe-in was a modest 10 degrees, but don't cast that in stone. I suspect toe-in will vary quite substantially room to room, and it's more or less a tweaking thing to optimize the sound and imaging in a given listening environment. In other words, play with the speakers a bit.
Sound
I was immediately struck by the lively sound of the CL10. It has a bit of an up-front character, most noticeably in the mids, but, surprisingly, it's not objectionable in any way. In fact, I quite liked it, as it placed the stage right at and sometimes a little in front of the speaker plane. The upper mids are very well behaved, and the high frequencies are fully extended, with a clear, almost crystalline character similar to the sound of the good Dynaudio speakers I've heard. The tweeter here is pristine and delivers bell-like clarity if your upstream components are so inclined.
Buena Vista Social Club Presents: Omara Portuondo [Elektra/Asylum 79603] is the perfect recording to show the CL10's agility and "jump," which help define the speaker's sound. This Latin-flavored, percussion-intensive disc has a rapid, incisive nature that the CL10s track nicely. Omara Portuondo's voice and the collage of instruments pop vividly into the stage with solid left-to-right placement and a good sense of depth. I had no trouble getting strong center fill with this disc, or others I tried. The voice was very well formed, with a reach-out-and-touch presence. All the instruments were carved out beautifully, with a level of precision to the sound that was exciting.
Norah Jones' Come Away with Me [Blue Note Records 32088] is a nice showpiece for the CL10s too. This piano-dominated disc is a little more forward here than with many other speakers I've listened to, but as I said, with the other qualities the CL10 exhibits, such perspective is not necessarily a bad thing. Perhaps if the speaker was rough or edgy in some way, these could make the presentation be too in your face. But the way it handles almost everything else is just fine, and that more up-front midrange simply makes the CL10 sound more lively.
While Jones' piano is rendered just a little more "close" to you and her voice has a touch more immediacy, what impressed me is that the CL10 didn't exacerbate sibilance or have a spitty quality. This surprised me -- I expected a more forward speaker to have some sibilance issues. It simply turned certain things "up" a little, and this made the openness and transparency quite impressive. Again, that tweeter showed itself off nicely, with the upper end of Jones' piano having a pure and natural sound.
Ruark says that the -3dB point for the bass is 45Hz -- a figure that will be substantial enough for some, and not low enough for others, particularly bass freaks. I just need enough bass and place more emphasis on clarity and detail and getting the frequencies the speaker can produce right -- that's why I'm so happy reviewing minimonitors. The CL10 meets my criteria and has a full-enough-range sound for my tastes, although I admit this is not a statement that satisfy everyone.
Where the CL10 can extend in the bass, it reaches with tightness and control, and the incisive quality it has down in the bass matches ideally with the rest of the frequency range. On the Portuondo album, the percussion is reasonably deep, with a drum sound that has thwack and punch. This certainly isn't under-controlled bottom end that flops around fat and lifeless. It's tight, tuneful, and well behaved -- the way it should be. But it's not rock bottom and it's not subwoofer material -- or even close. That's why subwoofers were created.
Tweaking
Overall, the CL10 is precise and exact in its delivery, and that's what helps give it an open and transparent sound. But don't take that to mean dry, lean, or clinical. It's not these things at all. And because it plays cleanly and you don't have to try and "cover things up" to make it a more palatable or polite speaker, I found that its sound could be altered in character with a change of upstream components.
The squeaky-clean-sounding Arcam FMJ A32 proved an excellent match with its similar precise sound. With the Arcam/Ruark combination there was not that much to fault, and I suspect that may well be why the distributor up here in Canada sells both brands and shipped all these pieces together. Zanden's Model 600 tube integrated amplifier has a decidedly bigger and grander sound than the A32. The 600 has just a wee bit more of a robust sound that can complement the CL10 in a different way than the A32's sound. With the A32, the CL10 has precision without any edge -- fast, exciting, lively, and clean. With the 600, that hyper delivery is slightly muted, but richness is gained that can give the sound more vibrancy and majesty -- richer, fuller, and a smidgen warmer.
It's that old tube-versus-solid-state thing, and although that argument is getting a little old in the year 2002, it still holds a bit of truth here. Both the Zanden and Arcam integrated amplifiers are great examples of competing technologies at their finest, but they sound different and I suspect that in this case it is the technologies employed.
Comparison
The most logical comparison for the CL10 are Revel's Performa M20 speakers priced just a bit higher at $2000 per pair, plus a little more if you want grilles.
Physically, the M20 is a little larger, but not all that much larger that its size will likely sway someone one way or the other. The finish quality is surprisingly similar in that the natural cherry pair of CL10s I received closely resembled the finish on the M20s -- not exact, but close enough that the M20s were the first thing that popped into my mind when I unboxed the CL10s. As well, both speakers sport rather distinctive baffles that make the speakers look rather "techie" around their more standard wood-clad sides. It's obvious these days that designers are trying to dress up rectangular boxes and doing something on the baffle seems like a good way. In the end, they're each quite distinctive in their appearance, and they'll likely both have admirers and detractors. Personal preferences will dictate.
Sonically, they vary enough that no one is going to mistake one for the other. But before I get to that, there's one thing I want to make clear: This isn't going to be a debate about American and British sound. Perhaps there was a time when such discussion was valid -- just like the old tube-versus-solid-state thing -- but with the nature of manufacturing today, not to mention the fact that companies are bent on making good-sounding products, not good-sounding-for-a-certain-country products, the debate is largely a myth nowadays.
That said, I've never referred to the M20 as laid-back, but I found that the M20 is indeed a little more recessed at certain frequencies than the CL10. The CL10's most defining characteristic -- that slight bit of up-frontedness -- makes it "project" a little more than the M20. Things leap out a touch, particularly vocals. As I mentioned, Norah Jones was just a little closer to my listening seat than with most speakers. Is it a coloration? Likely, an emphasis of some sort. To my ears, the M20s are not recessed but rather right on the button in terms of overall balance. The CL10 comes at you in the midrange a little more.
Lateral imaging is comparable, and more than likely, careful placement with some minor tweaking for best positioning will make the biggest difference here. Much can be said about the bass too. Still, the M20 seems to edge it on the illusion of soundstage depth and spaciousness. The M20 seems to create a more vast sense of space in my listening room. On the other hand, the CL10's tweeter has a little more of a bell-like delivery than the Revel's tweeter, and this can make the M20 sound a little more musical and the CL10 a little more clinical.
Conclusion
The Ruark CL10 has a unique combination of traits. It's bass is tight and controlled, while its highs are pristine and clear. The midrange is a little forward, something that can be unpleasant in some designs, but it's the exact opposite here. Instead, this is a lively and undeniably enjoyable speaker to listen to. Ruark may have changed the way their products look, but they've retained the legacy of good sound. The CL10s are worth a look -- and a listen.
...Doug Schneider
das@soundstage.com
Ruark Acoustics CL10 Loudspeakers
Price: $1799 USD per pair.
Warranty: Five years parts and labor.

Ruark Acoustics Limited
59 Tailors Court
Temple Farm Industrial Estate
Southend-on-Sea, Essex
United Kingdom.
SS2 5TH
Phone: (44) 1702 601410
Fax: (44) 1702 601414

Website: www.ruark.co.uk

U.S. distributor:
The Sound Organisation
11140 Petal Street, Suite 350
Dallas, Texas 75238
Phone: (972) 234-0182
Fax (972) 234-0249

Website: www.soundorg.com

Canadian distributor:
Emerald Audio Resources R.R. 1
Palgrave, ON
L0N 1P0
Phone: (905) 880-7070
Fax: (905) 880-7071

E-mail: info@emerald-audio.com
Website: www.emerald-audio.com