April 1999
Audio Aero Capitole Amplifier
by Marc Mickelson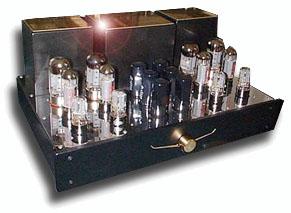 Review at a Glance
| | |
| --- | --- |
| Sound | Resolving, light-filled sound; enormous soundstage -- deep and wide; seemingly pushes out the music; has deep bass that lacks some weight in absolute terms; does not possess the fullness and body of some other tube amps, but counters with "vividness." |
| | |
| --- | --- |
| Features | TRAC system with both 6550C and E34L output tubes; pairs of 4- and 8-ohm binding posts. |
| | |
| --- | --- |
| Use | Will sound its best after 40 minutes of warm-up; a big amp that will not fit easily on many equipment racks. |
| | |
| --- | --- |
| Value | Gorgeous looks and sound; just misses the Reviewers' Choice designation. |
There's something about a tube amplifier that makes audiophiles turn their heads, and something more about one from a French company that makes them do a full about-face. Jadis has certainly done a great deal to create this image, and Audio Aero's new Capitole amplifier only enhances it with its mirrored deck and gold-topped transformers against which the tubes, a dozen of them, shine. And what's this? Two different output tubes?
The $8360 Capitole is a product of French high-tech firm Mazčres Aviation, the corporate umbrella under which Audio Aero is a single division. In addition to the Capitole, Audio Aero produces a pair of mono amps, the $20,750 Prestige monoblocks, as well as the $6650 Capitole CD player with tubed output stage and adjustable volume. On the budget end, the company also makes the Prima CD player and integrated amp, $1680 each. What else does Mazčres Aviation manufacture? Only airplane parts, high-tech carbon bicycle frames, and competition motocross motorcycles.
Beauty
Perhaps the first thing that strikes people about the Capitole is its looks -- lots of chrome, gold and black metal work accented by the tubes. The second thing that catches the eye are the tubes -- 6550C and premium E34L output tubes on the same amp! These are fundamental for what Audio Aero calls the TRAC system (Tube Relay Amplification Concept), which the company says is "based on a 1950s triode-pentode amplification design" that produces "triode musicality and pentode power." The Capitole uses matched quads of 6550Cs, E34Ls and 6SN7GTs to deliver 50Wpc in class A.
The Capitole is a rather large and heavy amp: 20 1/2"W x 9"H x 14"D and 85 pounds. You may not find room for it on your rack, but it fits nicely on a Bright Star Big Rock 1 on the floor. The amp's slim front panel has the on/off knob and single LED that turns red while the amp is warming up and green once it's ready to pass a signal (like essentially all tube amps, the Capitole sounds its best with some warm-up, about 40 minutes worth in its case). Around back are the high-quality gold-plated speaker binding posts -- pairs for 4- and 8-ohm output and a pair for ground -- RCA inputs and an IEC power-cord connector. The footers permanently attached to the bottom of the amp are interesting. They are large golden pucks that are said to help drain off unwanted resonance. The Capitole worked flawlessly while I had it here -- not a groan or hiccup -- and it presents quite a light show when powered up in the dark.
System
I used the Audio Aero Capitole to drive my reference ProAc Response Fours as well as the Shun Mook Bella Voce Reference speakers, which made a particularly wonderful pairing. Source equipment included my Timbre TT-1 DAC/Wadia 20 transport setup and a Mark Levinson No.39 CD player. Amps and preamp were from Lamm: ML1 and ML2 monoblocks and L1 linestage. I also ran the No.39 CD player directly into the Capitole via its adjustable output. Cables were from JPS Labs (Superconductor2 interconnects and NC Series speaker cables) and Audio Magic (the Tubed Interconnect). I used JPS Labs, API and Audio Magic power cords. The amps and transport rested on Bright Star Big Rocks.
Me and my Aero
Right from the start I was struck by the powerful, light-filled sound of the Capitole, thinking that it reminded me of an amalgam of two amps I've reviewed previously: the Mesa Baron (which in one of its early incarnations also used two different output tubes) and the OTL Joule Electra VZN-80 Mk III. Like the Baron, the Capitole pumps out the music, having no trouble with dynamic challenges. And like the Joule Electra amp, there is a very appealing uncongested quality to the Capitole's performance that makes individual sounds seem very singular and whole. The Capitole is not a traditionally tubey tube amp -- its sound is far too nimble and resolving for that. Instead, it does its job with airiness, openness and light, among other things.
First, about that light. Where this shows up noticeably is in the detail and expansiveness of the Capitole's soundstage. In this regard, it has few peers among amps at any price. The Capitole throws an absolutely immense soundstage that shows tremendous depth and width. Recordings like Ry Cooder's great Buena Vista Social Club [World Circuit/Nonesuch 79478-2], which is expansive itself, seem to grow in stature, the space between the musicians taking on a life of its own. This same thing happens with another beautifully recorded Nonesuch disc, Don Byron's joyous Bug Music [Nonesuch 79438-2]. The quiet opening to "Powerhouse" soon turns chaotic, as it should, with the music almost seeming to swirl around the room. The layering of the Capitole's soundstage is as impressive as its size, something that's immediately apparent when listening to CDs like Buena Vista Social Club or another well-recorded Cuban-tinged favorite of mine, Paquito D'Rivera's Portraits of Cuba [Chesky JD145]. It's not difficult to hear which musicians are behind others with the Capitole in use.
As you might guess, the Capitole presents a very clear and resolved sonic picture, one that is, once again, about as good as it gets. However, this clarity is also tinged with just a touch of tube sweetness, so the sound is not inherently dry or sterile. The Capitole is deft and nimble, seemingly changing sonic direction instantly, rather like my reference Lamm ML1 monoblocks, which are, however, a slightly darker brew overall. The Capitole's treble, as you'll hear on the wonderful JVC XRCD of The Modern Jazz Quartet's Concorde [JVC JVCXR-0203-2], is extended and clean -- like the sky on a cloudless summer day. Milt Jackson's vibes ring and resound, and I can even make out what seems to be their sound bouncing around the recording studio in 1955. As with the overall sound of the amp, the individual strikes on the vibes project -- from far back in the soundstage to almost in your lap. Even though Concorde is an over-40 recording and in mono, you won't care, especially with the Capitole doing the driving.
The moderate 50Wpc of the Capitole handle dynamic swings with ease. The moments when the full big band cuts loose on "Straight, No Chaser" from the Bill Holman Band (JVC XRCD2 Sampler [JVC JVCXR-0201-2]) come off with more than enough volume and power. What the Capitole also does is portray small-scale shifts in tempo well -- very smoothly and without any sense of crude gradual progression. "Bounce of the Sugar Plum Fairies" from Bug Music as well as "Topsy" from Dick Hyman's fabulous-sounding Reference Recording disc From the Age of Swing [RR-59CD] show how effortlessly and distinctly the Capitole reproduces the pace of the playing. And as impressive as the Capitole was with my ProAc Response Fours, it seemed to be the soul mate for the Shun Mook Bella Voce Reference speakers, producing sound that was more coherent and seamless than I've heard from a dynamic speaker. Great stuff.
The bass of the Capitole is very good, but a bit restrained in absolute terms. The good news is that it goes lower than that of most tube amps, digging out the nethermost touches of bassist Scott LaFaro's fine playing on the Bill Evans Trio's seminal Waltz for Debby [Victor VICJ-60141]. However, pull out your favorite bass-heavy jams, like Sublime [MCA/Gasoline Alley GASD-11413], and you'll hear them in a more subdued way, without any added thump or exaggeration, but also without a hip-hop kind of bounce. This is a small point -- overall, the Capitole's bass is above average for that of a tube amp. The Capitole shows itself very well with all types of jazz and acoustic music, even well-recorded pop -- I loved James Taylor's Dad Loves His Work [Mobile Fidelity UDCD 726] and Squeeze's East Side Story [Mobile Fidelity UDCD 739] with the Capitole in my system. But music like that of Green Day and The Presidents of the United States of America, and even the fine DCC remaster of Van Halen [DCC GZS-1129], benefit from an amp that has as much bass weight as depth.
And while the Capitole focuses very well on individual performers, it is not the very best you'll encounter in this regard. Once again, images are airy and light with easily discernible outlines, but they are more thinly drawn than those of the Lamm ML1 monoblocks, which also cost more than twice the Capitole's price. The fullness and body of the Lamms are not equaled either. The Capitole's vividness, however, helps to compensate, making such concerns the kinds of things you'll pay attention to only when you have another amp around that does them markedly better -- and then you may miss what the Capitole does so well. It's really a matter of presenting the music differently, and the Capitole does its job in impressive fashion.
To the point
The Audio Aero Capitole is a refined yet extended tube amplifier, one whose overall character is very appealing. It offers much of what tube lovers listen for, and maximizes some of these attributes -- including its way of throwing a gigantic and highly resolved soundstage, its clean and extended treble, its small touch of overall sweetness, its way of pumping out the music. The Capitole is at its very best with jazz and acoustic music (and classical too), but it does well by pop and finds no dynamic challenges in any of it.
I first heard the Capitole at CES '99 playing music low over a pair of Leedh Nazca speakers, also a French product. The sound was terrific. I can say that I am even more impressed with the amp now because I've heard it in my system with a range of equipment and music. In fact, I think I've mentioned more recordings in this review than in any other I've written -- which is a testament to the sound the Audio Aero Capitole produces. If you're in the market for a tube amp in the $8000 price range, make sure you hear this one.
...Marc Mickelson
marc@soundstage.com
Audio Aero Capitole Amplifier
Price: $8390 USD.
Warranty: Two years parts and labor.

Audio Aero
2 rue Louis Breguet
31700 Cornebarrieu France
Phone: (33) 561-85-14-70
Fax: (33) 561-06-19-60

E-mail: jpc@audioaero.com
Website: www.audioaero.com

US distributor:
Lauerman Audio Imports
103 West Fifth Ave.
Knoxville, TN 37915
Phone: (423) 521-6464
Fax: (423) 521-9494
E-mail: realhifi@aol.com