December 2000

Redgum Audio RGi120 Integrated Amplifier

by Doug Schneider


High power, unique styling,
thoughtful design, and terrific
sound.


Review Summary
| | |
| --- | --- |
| Sound | "Clean, clear, fast and precise" with "no type of fatiguing anomalies"; "I listened to this unit so much because I simply wanted to, not because I had to." |
| | |
| --- | --- |
| Features | Greater-than-average power output for an integrated amp in its price range; unique styling; dual volume controls. |
| | |
| --- | --- |
| Use | Volume controls are not stepped; power-on switch is replaced by the turn of a key; no remote control. |
| | |
| --- | --- |
| Value | "Can easily be compared to [units] costing much more money." |
Redgum: If you haven't heard of this company or the type of wood that is its namesake, I'm not surprised. However, if you see them once -- the wood or the company's products -- you will not likely forget them.
Redgum, the company and wood, comes from Australia. Redgum Audio has been building amplifiers for many years, but they've only been exporting since 1995. Recently, through NuView Audio, a Canadian-based company with an office in the US, Redgum products have been brought to the North American market.
The person behind the organization is Australian Ian Robinson, a self-described "analog man." I met him at the recent audio show in Toronto. Redgum produces other products, like a CD player that will be reviewed here in the future, but Robinson sticks to the analog portion of the designs (someone else designed the digital stage of both of the company's CD players). As far as designing goes, Robinson is a very down-to-earth guy who favors high value over frivolous cost. And that's not to say that he likes lower-cost products better. He just doesn't believe a product has to cost a lot in order to sound really good. Therefore, if you look at his company's product line, you will see some very reasonable prices. Redgum boasts the way plenty of companies do, but after meeting Ian Robinson, I can assure you that Redgum really means it when they say that their products are designed to be the best-sounding audio electronics you can buy. The RGi120 is priced at a very reasonable $1700 USD and is capped off with a lengthy seven-year warranty.
Distinctive features
It's hard to stand out in the crowd these days, but there are two things that make the Redgum amplifiers unique. The first is the faceplate, which is a solid piece of redgum wood. It has as attractive reddish/orange look that gives the amps their novel appearance. The fact that there are only three knobs on the front -- volume for each channel plus the input selector -- further shows off the wood. The knob on the far right is the input selector, which simply "clicks" into place for up to six input sources. The two volume controls, one for each channel, take some getting used to. I like simplicity, and I also like the idea of dual mono volume controls to possibly improve the performance of the unit (dual mono is done to increase channel separation and also negates the need for a balance control). But the implementation of it here is my only real quibble with this otherwise excellent amplifier.
So I took this complaint straight to the top! In Toronto, I pointed out to Ian Robinson that "I have an issue with…." I only had to start moving my hands to the volume controls. Robinson started into a big sigh. He knows.
See, the Redgum volume controls are not stepped attenuators that click with each increment. Furthermore, there is only a white dot on each volume control and nothing to line that up with on the faceplate. Essentially, ensuring correct channel balance takes a keen set of eyes and ears to get it just right. However, this is a quibble, and really minor when I think just how good an integrated amp this is in terms of sound. Get it to your favorite volume setting, leave it and you may not care. Robinson tells me he is working on a locking mechanism that will "strap" the two volume pots so they can both be moved together.
The other interesting feature is the key that turns the unit on. Yes, a key, not a power switch, complete with a Redgum key chain and a locking mechanism on the wood faceplate that is similar to what you would see for a car door. While I'm sure some audiophiles will speculate as to the inclusion of the wood and key mechanism, I'm pretty sure these exist so the product gets noticed and remembered. And it works! Simplicity is the hallmark of Redgum designs, so there is no remote control.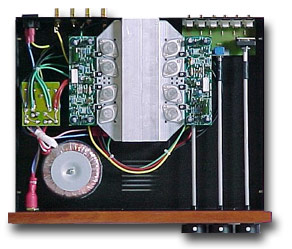 The RGi120 is MOSFET based and rated at 120Wpc into 8 ohms. Redgum makes two other integrated amps that look very similar, the RGi35 and RGi60, but they have lower power outputs and, hence, are lower in price -- $995 and $1250 respectively. There are also high-current versions of each of the integrated amplifiers, and these are priced somewhat higher too. They have beefier power supplies (bigger transformers and that sort of thing) that will output the same power into 8-ohms, but they offer better output into 4-ohm loads. For myself, with the speakers I have on hand, the RGi120 worked just fine. I would say that if your speakers are of lower and nastier impedance, you may be wise to look at the higher-current version, which costs $2500. If your speaker load's benign, you can save a little money. Adding to the features, Robinson says his integrated amps are virtually indestructible, and I could try to short the RGi120 out if I wanted. I didn't take him up on the offer.
Around the back you can see the good-quality speaker binding posts lining up horizontally (the high-current version of the integrated amp has slightly better posts), along with the RCA input jacks. Heatsinks are located internally and vented out the back. All in all, I found this to be an understated and elegant unit that will be a pleasure for the eyes of many audiophiles. As well, it is quite small in size despite a fairly hefty power rating. This will make the RGi120 a welcome sight for many people tired of behemoth-sized equipment.
System and sound
I used the RGi120 in my regular listening room with a group of components I have been using of late -- some new, some up for review -- that end up working exceedingly well together. In particular, the Resolution Audio CD55 CD player, the Magnan Bronze interconnects and Signature speaker cables, along with an assortment of speakers from Cliffhanger, Axiom Audio, and PSB, among others.
As mentioned, the RGi120 has no trouble powering any of the speakers I threw at it. However, it should be noted that none of these constitute any type of unreasonable load. They are all of at least average efficiency and are reasonable loads. Having something, say, like Cliffhanger's Bulldog loudspeaker that I reviewed months ago (an excellent monitor, but one that needs plenty of rock-solid power) would have been a better test. However, that particular speaker is not in my room anymore. Still, the type of speakers I use have specs that are representative of more than 80% of the speakers on the market and likely similar to what would be used with this amplifier.
After turning the key, the amplifier gives a slight thmmp, and you're ready to roll. Although I found the amp to sound just a touch better after a short warm-up period, I was surprised how good it sounds from a cold start. I guess if Redgum wanted to do something really unique, they could have made it so you have to turn the key a few times to mimic those winter cold-car starts.
There is no better way to describe the RGi120 than to say it sounds exceedingly neutral. Put into more descriptive terms, it is clean, clear, fast and precise. What's more, those superlatives remain even when comparing it to power amps or integrated amps of any price. Imaging is tight and stable, and detail is excellent. I'm used to my reference-level Blue Circle gear, stuff that excels in letting all the details through, and this Redgum integrated amp is definitely right up there -- so close, in fact, that given its price it's downright scary!
I queued up all my favorite discs and came out with nary a criticism. If I were just listening to this amplifier without seeing it and someone told me that it cost $3k or $4k, I wouldn't have thought twice. The depth of stage and image specificity from "Everest" on Ani DiFranco's Up Up Up Up Up Up Up [Righteous Babe Records RBR-013-D] came very, very, very, very, very, very close to what I heard when I had the outstanding JMlab Mini Utopias running with my Blue Circle amps. To give you more perspective, that combo was among the best I've ever heard in my room. Given the price of the gear here, the Redgum RGi120 is all the more impressive.
"Passion and Pride" from the Inakustic demo disc (this track is also available on Friedman: Passion and Price [Biber 76671]) was rendered with lightning speed and tremendous articulation. This track also has stellar dynamics, and I could hear some of the smaller speakers puttering out before the amp had a hint of strain. No, this amp does not have quite the low-end "whump" that a super-high-current separate power amp has, but it's not far off and more than sufficient for my own use. And even at high volumes, there was no clouding or congestion, which indicates very good performance and control. Highs are pristine without any sort of "tizz." Lows are deep and tight. Midrange is spot-on and without any exaggeration or bloat. At both low and high volumes, detail and retrieval of ambient cues are outstanding. Image placement and depth of stage remain stable and are very impressive. Sometimes with lower-priced gear, there is a flat-as-a-pancake type of presentation. Not with the RGi120. This type of performance, along with the fact that I found no type of fatiguing anomalies, is why I believe this integrated amp can easily be compared to those costing much more money.
As I mentioned, I found very little to criticize, and this is what makes the RGi120 increasingly difficult to describe. The RGi120 does not bloat, emphasize, or warm up the sound. It conveys what's there. I just bought Paul Simon's You're The One [Warner Bros. CDW 47844]. On the whole, it is well recorded, and Simon's voice has a full, fleshed-out sound on many of the tracks -- and that's just the way it sounds played through this integrated amp. The RGi120 doesn't add any unnatural warmth, and it certainly doesn't take it away either. Like I said, it just passes on what's there, and that's exactly what a great amplifier should do.
Overall, this performance is very similar to what I hear from the excellent products from Simaudio. There is a clean, neutral and natural sound that many don't often associate with solid state (solid state often brings about terms like gritty or grainy). But if it doesn't sound like solid state, does it sound like tubes? Well, certainly not tubes in the traditional (i.e., historical) sense. If what you are looking for is the warm, fat, and bloated sound of tube amps of yesteryear, you won't get that here. That's perhaps an unfair characterization of tube gear because many of the excellent tube-based amps today don't sound like this. But the point is to get across the characteristic (coloration) that some associate with the sound of certain amplifiers. Vocals are not unnaturally pronounced here, and bass frequencies are not overly warm or unnaturally full-sounding. No, the RGi120 doesn't do any of that. In my system, its sound is exceedingly clean, wholly natural and completely listenable. In fact, I listened to this unit so much because I simply wanted to, not because I had to. And that's the highest compliment I can give it.
Conclusion
There will be a group of audiophiles for which an amplifier like this will simply be "too cheap." Then there are others who may bypass it for separate components, feeling that separates are the only way to get the ultimate in performance (and there is a point there if you are going for the ultimate statement in sound). And there are others who may have a hard time with a wood faceplate, feeling black or silver metal is the only way to go. Frankly, I don't blame these people because we all fall prey to our superstitions.
But I found this $1700 integrated amplifier to be a sonic knockout and every bit the equal of much pricier gear. It joins the select group occupied by the likes of Musical Fidelity and Audio Analogue -- superbly built, nicely styled, great-sounding equipment that doesn't cost a whole lot. Perhaps the high-current model will be better in some applications, but in my room, I wasn't even tempted. In the end, forget the price and just listen to music -- and don't be scared to pair this with speakers of any price. It's that good.
...Doug Schneider
das@soundstage.com
Redgum Audio RGi120 Integrated Amplifier
Price: $1700 USD.
Warranty: Seven years parts and labor.

Redgum Audio Pty. Ltd.
Factory 3, 25 Clarice Road
Box Hill South 3128
Melbourne, Australia
Phone: 61-3-9897-1277
Fax: 61-3-9897-1399

E-mail: sales@redgumaudio.com
Website: www.redgumaudio.com

North American distributor:
NuView Audio
446 Harrison St.,
Sumas WA 98295
Phone: (877) 361-3630
Fax: (250) 833-4332

E-mail: info@nuviewaudio.com
Website: www.nuviewaudio.com