February 2001
Redgum Audio RGCD5 CD Player
by Doug Schneider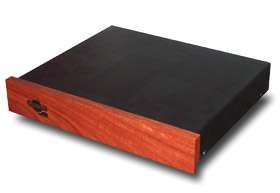 Review Summary
| | |
| --- | --- |
| Sound | "Almost uncanny smoothness and clarity with a complete absence of grain"; "not necessarily tubey-sounding…but…smooth and seductive"; "gets the voice right." |
| | |
| --- | --- |
| Features | Simple face plate hides a Creative Labs CD-ROM mechanism; but "what makes [this] CD player sound so good is not in the number crunching, but the analog output stage." |
| | |
| --- | --- |
| Use | No track/time display; because of its use of a CD-ROM drive, the RGCD5 is user serviceable; a power cord is not included. |
| | |
| --- | --- |
| Value | "Makes music, but…gets a mixed recommendation due to the ergonomics, or lack thereof." |
In what are now the twilight years of CD playback, I figured that we would be hard-pressed to see someone do something really different. Redgum Audio, the innovative company from Australia that makes the RGi120 integrated amplifier I like so much, has gone and done something that's taken me quite by surprise. From the outside, the $1600 USD Redgum RGCD5 looks like the rest of the Redgum line -- black, all-metal chassis with the trademark solid piece of redgum wood as a faceplate. It's a slick design that pictures don't really do justice to -- up close it looks a whole lot nicer. The RGCD5 doesn't need a "key" for powering on the unit, like the RGi120 integrated amp, but I guess this makes sense because an audio system needs only one "ignition" point. Since there are no controls on the front panel, not even the drawer, the RGCD5 has a simple and elegant look.
So where's the surprise? Drop RGCD5's hinged front plate. "What the?!" was my first reaction when I saw the Creative Labs CD-ROM mechanism inside. That's right -- a computer-based CD-ROM drive complete with the same ol' faceplate and the teeny-weeny remote control that comes with it if you have one in your computer. Many of the buttons on the remote, like Volume and Menu, don't work since they have no functionality here. As with other companies that use off-the-shelf parts, I would have thought Redgum would have tried to perhaps hide what the RGCD5 is -- but no. Instead, there's a reason behind the "openness."
I talked with designer Ian Robinson, and he made it all quite clear. During his research into CD playback, Robinson played with all kinds of transport mechanisms, and the differences in sound (to him) were negligible compared to other parameters -- like the analog section. Hogwash, you say? Well, since the company Redgum reclocks the data off the transport with a Cirrus Logic CS8412 chip, Robinson and his digital designer felt that this makes the RGCD5 more or less transport insensitive. According to Robinson, the way to give customers the greatest value (and keep the price down) is to give them the cheapest transport mechanism and put more effort elsewhere.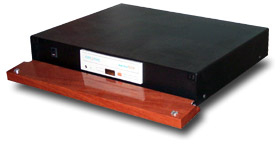 A side benefit of this is that the RGCD5 becomes user serviceable should it fail some years down the road. I've seen CD-player transport mechanisms fail long before the other inner or outer workings. According to Redgum, with the RGCD5 you simply need to take out the mounting screws on the bottom and slide a new compatible drive in. Undoubtedly tweakers will love this feature -- the chance to try different drives to see if differences are more than minuscule.
While I can certainly sympathize with Redgum's logic in terms of maximizing performance for the dollar, there is a down side to this approach. Despite the ability to service RGCD5 yourself, the usability of the player is not very good. There is no front display whatsoever. This means you'll never know what track you're playing unless you know it in your head. So the RGCD5 is about as minimalistic as it comes, with not much more than the ability to start and stop a disc as well as skip tracks. Using the RGCD5 is a bit of a pain, but I should give Redgum a break because in the unit's literature the company calls the RGCD5 a DAC with "compact disc compatibility." This would insinuate that it's not really meant to be a CD player in the traditional sense (although I suspect that with a drawer, most will think of it that way).
The rest of the player gets back to what would be considered "normal." On the back are a set of single-ended outputs, as well as a coaxial digital input and output (the input allows you to hook up your own transport should you wish). There is also an IEC power receptacle on the back (although the RGCD5 ships with no power cord, so you must supply it).
The digital design is attributed to Jon De Sensi of MusicLabs. For D/A conversion, he chose to use dual Burr-Brown PCM1710U 20-bit DACs with an 8x oversampling filter. Digitally, there is nothing really cutting edge in this design. What with upsampling and the talk of how many bits one needs -- 16, 20 or 24, depending on whom you talk to -- this player is using pretty standard, tried-and-true technology.
Sound
Idiosyncratic operation aside, the sound of this player is splendid, a testament to the fact that a lot of what makes a CD player sound so good is not in the number crunching, but the analog output stage. Among the best digital playback today it is hard to hear any massive differences, but there are some subtle things that separate the top dogs. This Redgum player has an almost uncanny smoothness and clarity with a complete absence of grain. It's not necessarily tubey-sounding, like Audio Aero's Capitole, but it's easily as smooth and seductive. Bass is as strong and tight as any player I've heard, save for the Simaudio Eclipse operating in its 24/96 mode. Highs are clear and extended, with a kind of bell-like clarity I like so much but rarely hear from CD players -- this, the Resolution Audio CD55, and the Audio Aero Capitole players (standard and 24/192 version) are the only ones I hear it from.
Associated Equipment
Loudspeakers – Axiom M3Ti, Cliffhanger CHS-2/W-2, JMlab Chorus 706, PSB Image 2B, Revel Performa M20.
Amplifiers – Blue Circle BC2 mono amplifiers, Redgum RGi120 integrated amplifier, Vecteur I-4 integrated amplifier.
Preamplifier – Blue Circle BC3000.
Digital – Audio Aero Capitole 24/192, Resolution Audio CD55, Simaudio Eclipse.
Interconnects – Nirvana S-L, Nordost Quattro-Fil.
Speaker cables – Nirvana S-L, Nordost Red Dawn II.
I spent an entire afternoon listening to Bruce Cockburn's wonderful Humans [Columbia CK-48748] on the RGCD5. It's a 1980 release, the last with Cockburn's exclusive use of acoustic guitar. It's my favorite album of Cockburn's, and the LP has the distinction of being the only record I ever wore out! I played it so many times that I have every musical nuance memorized. The RGCD5 brought out all the glory of the album. Vocals were smooth, full and rich. Acoustic guitar shimmered with resonance, body, and excellent high-frequency extension. Drums (recorded in a late-'70s way) bloomed with warmth and weight. Hugh Marsh's violin stood out with great clarity. It didn't matter that the RGCD5 has no track display. I know this album all too well, and I just played it over and over again. The kind of natural ease I hear here is akin to that of more expensive players like the Audio Aero Capitole and Resolution Audio CD55.
Much the same goes for Ani DiFranco's Not a Pretty Girl [Righteous Babe Records RR007-D]. "Tiptoe" can sound hollow, distant, closed in, or worse depending on how well a player can handle vocals. With the RGCD5, it sounded clear, smooth and wholly natural -- this player gets the voice right. The RGCD5 is not quite as bulbous as the full-sounding Capitole (regular model), but it is as smooth and assured. Guitar is fast, detailed, and never brittle. Soundstaging is precise, and there is little to quibble with unless you go and compare the sound to that of the state-of-the-art Resolution Audio CD55 or Audio Aero Capitole 24/192. The very best CD players offer a little more depth by perhaps squeaking out just a smidgen more resolution.
I also like to play the warm and sappy "Falling Down Blue" from Blue Rodeo's Tremolo [Discovery 73001]. This track has a very liquid feel and plumb bottom end. I wondered if the RGCD5, with its own sense of smoothness, would exacerbate these into something too bloomy. It didn't. Instead, the disc sounded as smooth and full as ever without any bloat or exaggeration.
The soundtrack to the movie Gladiator [Polygram 467094] is rich- and powerful-sounding with an expansive soundstage. With the RGCD5, there is good image specificity, a nice sense of depth and lots of low-level detail. The track titled "Battle," is particularly rousing, and the RGCD5 handled all the dynamics with aplomb. Instruments and musical textures were natural, and the stage was as wide and deep as the recording allowed. All in all, the sound was completely listenable and with little to criticize.
Finally, I pulled out a demo favorite -- "Passion and Pride" from the Inakustic demo disc (this track is also available on Friedman: Passion and Price [Biber 76671]). This cut is designed to test transparency and dynamics, and does so in spades. When I played this disc with the RGCD5, I was using the Revel Performa M20 speakers wired with Nordost Red Dawn II speaker cables. This speaker/cable combination is as neutral and transparent as anything I've heard. Everything was rendered in a laser-sharp fashion and had great stage definition and depth. In the "hand-clapping" part, there is excellent delineation and separation. You can really hear into the recording. However, more impressive were the midrange and high frequencies, which were never harsh or spitty, even through the extremely extended Revel speakers. Like I said, this is one smooth player.
Conclusion
I love the way the Redgum RGCD5 CD player makes music, but in the end it gets a mixed recommendation due to the ergonomics, or lack thereof. The RGi120 integrated amp had its own little operational quirks (the unstepped dual volume controls mainly), but the RGCD5 goes far beyond this. While I can live with some things, I can't live without others. If the RGCD5 at least had a numeric display, it would be much more usable.
But even so, this player sounds great -- don't look by it just yet. It's also proof positive that all the latest marketing and buzzwords don't mean as much as solid implementation of technology -- the RGCD5 is still a well-designed player that, in the end, sounds very good. People with other Redgum components who wish to match the pieces of their system aesthetically will definitely want to try the RGCD5. Like the other Redgum components, it is unique, compact and elegant. And there may be people who won't care about the limited functionality -- or they'll connect the player to another transport mechanism -- and in this regard, it will be wholly suitable.
Whatever the case, the Redgum RGCD5 is certainly a unique CD player and worth looking into for its sound quality.
...Doug Schneider
das@soundstage.com
Redgum Audio RGCD5 CD Player
Price: $1600 USD.
Warranty: Seven years parts and labor.

Redgum Audio Pty. Ltd.
Factory 3, 25 Clarice Road
Box Hill South 3128
Melbourne, Australia
Phone: 61-3-9897-1277
Fax: 61-3-9897-1399

E-mail: sales@redgumaudio.com
Website: www.redgumaudio.com

North American distributor:
NuView Audio
446 Harrison St.,
Sumas, WA 98295
Phone: (877) 361-3630
Fax: (250) 833-4332

E-mail: info@nuviewaudio.com
Website: www.nuviewaudio.com