July 2006
PSB Image T45 Loudspeakers
by Philip Beaudette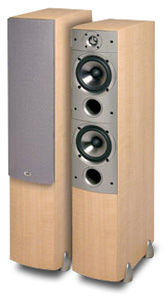 Review Summary
| | |
| --- | --- |
| Sound | "Wonderful presence and excellent high-frequency extension," "a natural-sounding midrange and full, room-filling bass." "Driver integration is seamless." "The T45s are also very capable when it comes to creating a realistic soundstage." "These speakers do a great job of out getting out of the way and letting even delicate music come through." |
| | |
| --- | --- |
| Features | "The $749 USD-per-pair T45 uses two…5 1/4" midrange/bass drivers in conjunction with a 1" tweeter in a two-and-a-half way design. The tweeter handles everything above 2.2kHz, and the midrange hands off to the bass driver at 500Hz. The T45 is referred to as a two-and-a-half-way because one 5 1/4" driver does double duty, handling both the midrange and upper-bass regions." |
| | |
| --- | --- |
| Use | "Anechoic sensitivity is 90dB/W/m, with approximately 93dB/W/m being the case in a typical listening room. In combination with nominal impedance of 6 ohms and minimum impedance of 4 ohms, the T45 presents a relatively easy load for any reasonably powerful amplifier. A solid 50 watts per channel would be a good place to start." |
| | |
| --- | --- |
| Value | "Given their asking price of $749 per pair, I have no hesitation recommending the T45s to anyone who wants to make a small purchase and avoid a big upgrade for some time to come." |
During my first foray into high-end audio several years ago, I purchased a system consisting of a Yamaha home-theater receiver, Panasonic DVD player, and PSB Image 4T speakers. Although I thoroughly enjoyed that entire system, I can say with conviction that the 4Ts were my favorite parts of it. Since then I have switched out the electronics in favor of an NAD integrated amplifier and CD player, but I have held onto my PSBs. Each time I wondered whether I should upgrade the 4Ts, I spent more time listening to them and was reminded why I bought them in the first place. I am certain that while I could achieve a different sound for a similar price, better sound is what I'm after, and it will cost much more money.
Therefore, I was happy when I found out that I would be reviewing the PSB T45s, the entry-level floorstander in the updated Image series and the replacement for my precious 4Ts. Is newer always better? Read on for details.
History, specs and setup
PSB is one of the best-known manufacturers of high-end loudspeakers in Canada. Founded in 1972 by Paul Barton, the company has established a reputation for offering exceptional performance in products that are accessible to consumers interested in hi-fi but who are unable to afford the exorbitant prices offered by some of the competition.
Much of PSB's success is due to the fact that it conducts all research at the National Research Council in Ottawa. Paul Barton and PSB were the first loudspeaker maker and company to use the NRC when they began there in 1974. The NRC facilities have enabled Barton and his engineering team to amass a wealth of knowledge regarding the interactions between loudspeakers, listeners and room acoustics. Their extensive speaker analysis and double-blind listening tests have allowed them to produce speakers that offer exceptional value.
Over the past 30 years, PSB's design goals have been to build speakers that accurately reproduce a wide frequency and dynamic range, and have neutral tonal balance and realistic imaging. With the launch of the first Image series, PSB introduced cost-effective manufacturing techniques that are still employed in the updated Image line. This includes the use of a 1" ferrofluid-cooled aluminum-dome tweeter shared by all models as well as 5 1/4" and 6 1/2" injection-molded metalized polypropylene woofers used in different configurations across the line. The advantage of using the same tweeter and just two woofers in various combinations is that PSB is only required to make four different front baffles in which to mount the drivers. From a manufacturing standpoint, this lowers production costs when large numbers of speakers are built, because each model is merely a variation on a theme. The drivers and crossovers of each of the eight Image models are individually optimized for their unique enclosures, so that everything is fine-tuned to enhance the performance of each speaker.
The $749 USD-per-pair T45 uses two of the aforementioned 5 1/4" midrange/bass drivers in conjunction with a 1" tweeter in a two-and-a-half way design. The tweeter handles everything above 2.2kHz, and the midrange hands off to the bass driver at 500Hz. The T45 is referred to as a two-and-a-half-way because one 5 1/4" driver does double duty, handling both the midrange and upper-bass regions. PSB rates the frequency response at 35Hz-23kHz +/- 3dB. Low-frequency extension is down 10dB at 30Hz. Anechoic sensitivity is 90dB/W/m, with approximately 93dB/W/m being the case in a typical listening room. In combination with nominal impedance of 6 ohms and minimum impedance of 4 ohms, the T45 presents a relatively easy load for any reasonably powerful amplifier. A solid 50 watts per channel would be a good place to start.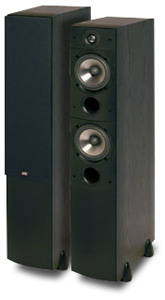 The cabinet is constructed of what PSB describes as "heavy non-resonant wood composites" that utilize extensive cross-bracing. Each speaker measures 36"H x 7"W x 14 5/8"D and weighs 37 pounds. All drivers are magnetically shielded to allow placement next to a video monitor. Wiring is accomplished via dual five-way gold-plated binding posts that accept banana plugs, spades or bare wire. The second set of binding posts provides the option for biamping or biwiring. Furthermore, the inclusion of two ports on the front of the cabinet means that the T45s can be placed closer to the wall behind them if necessary. Finally, the T45s are available in a choice of three vinyl finishes: black ash, maple and sienna. The review pair was supplied in maple, which the silver front baffle and metalized polypropylene cones accent nicely.
The T45s were inserted into my system consisting of an NAD C372 integrated amplifier and C542 CD player. AudioQuest Copperhead interconnects and Ultralink Challenger Premium speaker cables terminated in banana plugs were used to connect all equipment.
Image & sound
The sound of the T45s was what I have come to expect from every PSB design I have heard. To my ears, this is a very good thing. Music is conveyed with wonderful presence and excellent high-frequency extension. There is a natural-sounding midrange and full, room-filling bass. Driver integration is seamless. My preference has always been for a simple stereo setup. Because I only use two speakers (I do not use a subwoofer for music), I tend to favor full-range speakers that can do it all. Given my broad taste in music, the T45s get quite a workout and still meet my requirements.
Take, for example, the 1994 release of Underworld's Dubnobasswithmyheadman [Junior Boys Own JBO1001992]. In the world of electronica, this album is a personal favorite. The dark and seductive music is equally comfortable played in a club as within the confines of one's home. On the track "Mmm Skyscraper I Love You," the fast tempo of the drums produces a captivating rhythm that provides an energetic underpinning to the song. While the drums carry the music, they do not draw attention solely to themselves. Synthesizers paint the rest of the sonic picture with so many different sounds and textures, all of which are presented cleanly and powerfully on the T45s. The bass may not plummet as low as that of larger speakers, but I'd choose the quality of the T45s' bass over the boomy and flatulent garbage that comes out of most club speakers I've heard. I realize clubs emphasize the bass to provide a more visceral experience, but it is almost always accompanied by high distortion and zero definition. Besides, if you need to feel the weight of that lowest octave, there are larger towers in the Image series that can produce it, such as that T65s that Eric Hetherington reviewed on GoodSound!
While I'm on the subject of bass, another CD I played extensively during my time with these speakers was DJ Shadow's debut, Entroducing [Mo'Wax/A&M 540 007-2]. The song "Building Steam with a Grain of Salt" combines punchy and tight drum beats with an underlying piano melody that produces an almost hypnotic mixture. While I love the sound of the piano, my attention is most frequently drawn to the drums, which are kept tight and precise. As with the Underworld track, the very lowest Hertz are missing, but the lows that are there are addictive because of their clarity and definition.
The inclusion of the music of Underworld and DJ Shadow in my review brings me to another point regarding the T45s. Although they sound great at low listening levels, their high sensitivity and 6-ohm impedance means they can easily play loudly without requiring a massive amplifier to drive them, making me wonder how well they'd do with a single-ended-triode amp. They offer a great sense of timing and move enough air to easily energize a medium-sized room. Again, if you have a very large room you might consider one of PSB's larger towers, but given a handful of clean watts behind them, the T45s are even fun party speakers.
The T45s are also very capable when it comes to creating a realistic soundstage. On the 1997 reissue of Miles Davis's classic Kind of Blue [Columbia/Legacy, CK 64935] you get a real sense of being in the studio with the musicians as they made this legendary recording. On the legendary "So What" you can hear the shimmering of the cymbal, as the drums are placed just back of the right speaker. When the saxophone enters, its presence on the other side of the stage immediately commands your attention. Although I will never get to hear most of the music in my collection performed live, my system allows me a glimpse into the recorded performance, and with the finest recordings, it's not difficult to envision the musicians right in front of me. All that's required is a little imagination -- and speakers the quality of the PSB T45s.
On a trip to Toronto last summer, I visited a CD shop that was playing one of the most tranquil and beautiful pieces of music I have ever heard on the piano. I inquired about it and learned that the music was from a collection of Piano Works composed by Eric Satie and performed by Reinbert de Leeuw [Universal 4681602]. This disc has since become a regular late-night listening selection. I have often noticed that many of my piano recordings do not fully capture the presence and breadth of this instrument, the result being that I am very aware that I am listening to speakers and not the piano itself. In short, the effect is not always convincing. While Piano Works is not perfect, I think it is still one of the better-sounding piano recordings I own. I listen to this album frequently because it is one of the most serene pieces of music I have ever heard.
On the T45s, the tenderness with which "Gymnopedies No. 2" is played is captivating. The tempo is breathtakingly slow, and the decay of notes becomes intoxicating. One cannot help but be overcome by a profound sense of calm while listening. In contrast, the dynamic abilities of the T45s are well displayed on "Gnossiennes," as softer notes give way to louder ones in a manner that allows their impact to be felt. These speakers do a great job of getting out of the way and letting even delicate music come through.
Compare and contrast
The most obvious sonic comparison for the T45 is the Image 4T ($649 per pair when still available) that it replaces. However, one of the biggest differences between these two speakers is in terms of appearance. The original 4Ts are very minimal, and their slender cabinets and small profile make them attractive and easy to place in a variety of rooms and decors. I especially like the fact the 4Ts look so unassuming. I've always enjoyed demonstrating to friends what big sound can emanate from relatively small boxes. However, while I like the look of the 4Ts, I prefer the look of the T45s. The curve of the top and front of the cabinet gives it a softer appearance, bestowing the speaker with more elegance than its predecessor. In addition, the choice of three finishes gives buyers even more options to match the speakers with their rooms.
In contrast to the way the speakers look, I can't say that I found the sonic differences between the Image T45 and 4T to be night-and-day different. While I listened to the T45s, I had the impression that its bass exhibited a bit more control than the 4Ts'. However, in a blind listening test, I'm not certain I could distinguish the two very easily. That I didn't notice a huge difference in sound is not a shortcoming of the T45. I really like the sound of the 4T, and I am equally pleased with the sound of its successor. Given that I prefer its more sculpted appearance, I have to say that if I could buy either the new or the old Image model, I would definitely own the new. After all, the aesthetic appeal of a speaker also plays a part in the overall enjoyment it brings.
A speaker I reviewed recently, the Revel Concerta F12 ($1198 per pair), represents an interesting contrast to the T45. The F12 utilizes a different set of drivers and a larger cabinet; most important (and obvious), it is made by a different company with different design concerns. In my review of the F12, I noted that it sounded very neutral. This contrasts with the T45, which seems to have a slightly more prominent midrange. I noticed this most with vocals, where the T45 gave the impression of the singer being closer to the listening position. The overall effect is that it offers a more intimate view of the performance, and gives the music a bit more presence in the room. Because vocal music dominates my CD collection, I really like this characteristic. The F12 does a wonderful job in terms of midrange reproduction as well, and a difference such as this reflects a personal sonic (and company design) preference rather than a strength or shortcoming in one speaker or the other.
The second-most noticeable difference between the PSB and Revel speakers is in their low-frequency extension. While the bass response of each is rated about the same, the F12 can play deeper, with greater weight and therefore more impact. Depending on the music you listen to or the size of the room in which the speakers will be used, this may or may not be a good thing. The most important consideration is that both speakers produce bass that is clean and weighty, and because I did not have the Revels on hand for a direct comparison, I can't pick a clear winner with regard to bass quality.
Conclusion
I recall the first time I listened to the PSB Image 4Ts in my system. I remember that I was not exactly blown away by their sound. For a couple weeks afterward I even wondered if perhaps I should have chosen another speaker. Several years later, I have no regrets about my decision. In fact, other than what I perceive as a slight prominence in the midrange, they sound quite neutral to my ear. Over time this has become the sound I prefer. Extended listening is not fatiguing, and I get the sense that I am hearing more of what the recording engineer wanted me to hear, rather than what the speaker designer had in mind.
If this distinction appeals to you, then put the T45s on your list of speakers to audition. They will not dominate your living space, and their slim dimensions make them easy to set up. More important, they sound great with all types of music, and you'll find yourself spending countless hours playing back your CD collection with them. Given their asking price of $749 per pair, I have no hesitation recommending the T45s to anyone who wants to make a small purchase and avoid a big upgrade for some time to come.
...Philip Beaudette
philipb@soundstage.com
PSB Image T45 Loudspeakers
Price: $749 USD per pair.
Warranty: Five years parts and labor.

PSB Speakers International
633 Granite Court
Pickering, ON Canada L1W 3K1
Phone: (888) 772-0000
Fax: (905) 837-6357

E-mail: info@psbspeakers.com
Website: www.psbspeakers.com