October 2006
PSB Alpha B1 Loudspeakers
by S. Andrea Sundaram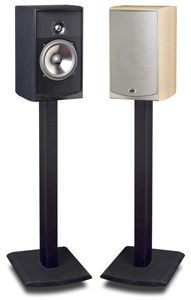 Review Summary
| | |
| --- | --- |
| Sound | "The first concern that many prospective purchasers are likely to have about such a small speaker is the quantity and quality of the bass.… Although not abundant, the Alpha B1's bass is clean and reasonably articulate." "The overall character of the Alpha B1s is similar to that of other PSB designs that I've heard: slightly to the warm side of absolute neutrality and never fatiguing." "Every PSB speaker I've heard has had a wonderfully smooth midrange, and the Alpha B1 is no exception." |
| | |
| --- | --- |
| Features | "The Alpha B1 looks to be a typical small, rear-ported, two-way design," but "the proprietary drivers -- a 3/4" aluminum-dome tweeter and 5 1/4" injection-molded metalized polypropylene woofer -- are new to PSB speakers." "The tweeter uses technology that reportedly extends response beyond 21kHz, while the woofer uses a new composite rubber surround that is said to reduce unwanted break-up modes and enhance midrange articulation." |
| | |
| --- | --- |
| Use | "I found that the Alpha B1s were not terribly fussy about placement unless installed within a foot of the wall behind them, which made their bass a little weightier but less articulate." |
| | |
| --- | --- |
| Value | "If you are one of those guys with $50,000 speakers, you should buy a pair of the Alpha B1s for each of your non-audiophile friends. I can't think of a better way to help them understand what your obsession is all about." |
A criticism often directed at audio reviewers is that we are out of touch with fiscal reality. How many of our readers really possess speakers that cost $50,000, CD players for $10,000, all connected with cables that add up to another $5000? How many potential new audiophiles will be turned off by what, from reading these reviews, they perceive to be the extreme cost of entry into our community? The answers to these questions are, respectively, very few and far too many.
While I have never personally owned speakers from PSB, I know that it is one of the brands that has brought joy to many a music lover and beginning audiophile. While some more recent PSB designs were aimed at a much loftier market segment, Paul Barton has not forgotten the products that built his brand name, and he still strives to offer high-performance speakers that cost little more than what one can pay for inferior speakers in a big-box store. The Alpha B1 speakers under review here are just such a value-oriented design. While they may not be state of the art, at a paltry $279 USD per pair, they present the opportunity to discover what good audio reproduction is really all about.
The Alpha B1 looks to be a typical small, rear-ported, two-way design. The top, bottom, and sides of the cabinet are made of MDF, while the front and rear panels are of a thick, non-resonant plastic. In fact, the knuckle-wrap test produced a more hollow sound from the sides than it did from the back. The edges of the cabinet are sculpted, though whether to reduce diffraction or just to give the speakers a modern look, I can't say.
The proprietary drivers -- a 3/4" aluminum-dome tweeter and 5 1/4" injection-molded metalized polypropylene woofer -- are new to PSB speakers. The tweeter uses technology that reportedly extends response beyond 21kHz, while the woofer uses a new composite rubber surround that is said to reduce unwanted break-up modes and enhance midrange articulation. The woofer cone is injection-molded rather than vacuum-formed, which, Paul Barton says, improves consistency between driver units.
A metal grille with a rubberized PSB logo at the bottom center protects the drivers. Around back, below the port and recessed, is a pair of plastic binding posts that, although they did not properly accommodate my spade-terminated speaker cables, are a far cry better than the spring clips generally found on budget speakers. The Alpha B1 measures a mere 11 7/8"H x 7 11/16"W x 9 1/2"D and weighs all of 9 pounds.
PSB provides unusually detailed specifications with the Alpha B1, which shouldn't really come as a shock. Paul Barton has spent a great amount of time at the National Research Council in Ottawa measuring his speakers. On-axis frequency response is rated at 65Hz-21kHz (+/- 3dB), and 30 degrees off-axis as 65Hz-10kHz (+/- 1.5dB). The response is down 10dB at 55Hz and is subjectively inaudible below that point. Sensitivity is a moderate 88dB/W/m, with a nominal impedance of 6 ohms, and a 4-ohm minimum impedance. These speakers don't require a muscle amp to drive them, but low-powered SET amps should be avoided. I found that the entire presentation firmed up when switching from a 25Wpc GRAAF Venticinque integrated to the 50Wpc GRAAF GM-50 with a higher damping factor, but the overall character of the speakers did not change.
Setting up for sound
The Alpha B1s took up residence atop 30" Plateau stands filled with kitty litter in the same positions normally occupied by my Amphion Argon 2 speakers. I found that the Alpha B1s were not terribly fussy about placement unless installed within a foot of the wall behind them, which made their bass a little weightier but less articulate. For most of my listening, the speakers were located 48" from the front wall and 36" from the side walls, and angled in toward the listening position. If I were more space constrained, I don't think their performance would suffer if the speakers were placed closer to the walls. The Alpha B1s have provision around back for wall mounting, but, unlike a number of other speakers, they do not come with foam port plugs. If you were to mount the speakers on a wall, it would be worth a few dollars to buy some foam and block those ports. When the speakers were not toed in, the high frequencies seemed a little lacking. The positive side of the directed high frequencies is that side boundaries will effect less change in the speakers' tonal balance.
Someone who has not setup a quality pair of loudspeakers before may find the preceding advice overly restrictive, but compared to many speakers, the Alpha B1s really aren't picky about their placement.
Small packages
The first concern that many prospective purchasers are likely to have about such a small speaker is the quantity and quality of the bass. No, the Alpha B1s will not rattle your windows or drive a sledge hammer into your chest, but PSB has avoided the pitfall of many a small speaker by not having a pronounced hump in the midbass cover up a lack of low bass. Although not abundant, the Alpha B1's bass is clean and reasonably articulate.
The low-frequency cutoff of 55Hz is adequate for many types of music, but does have some consequences. Walking bass lines tended to sound uneven because the fundamental frequencies of the lowest notes were not reproduced. The brain is remarkably adept at filling in the missing fundamental, but its absence makes the lower notes a little lighter than higher ones, where the fundamental is produced. Once you've lived with these speakers for a while, you very well might get used to this effect, but I never quite did. Mind you, it did not stop me from playing, and thoroughly enjoying, many acoustic jazz recordings. However, if you listen to a lot of pipe organ, or electronic music with earth-shaking qualities, the Alpha B1s will leave you wanting. If you absolutely must have those lower frequencies, you know the solution: either have to move to a bigger speaker or add a subwoofer.
Associated Equipment
Loudspeakers – Amphion Argon2, Energy RC-10.
Integrated amplifiers – GRAAF Venticinque, GRAAF GM-50.
Analog source – Michell Tecnodec turntable with modified Rega RB-300 tonearm and Shure V-15X cartridge, Trigon Audio Vanguard phono stage with Volcano power supply.
Digital sources – Mel Audio Rechav CD player, Marantz SA-15 CD/SACD player.
Interconnects – QED Silver Spiral, JPS Superconductor.
Speaker cables – DH Labs Q-10.
Power conditioner – Equitech Son of Q.
Even though the Alpha B1s don't cover the entire audible frequency range, don't be fooled into thinking that they're just satellites for a home-theater system. I expect that they would work well in that application, but they were designed, first and foremost, for musical reproduction. The overall character of the Alpha B1s is similar to that of other PSB designs that I've heard: slightly to the warm side of absolute neutrality and never fatiguing. This formula is one that works well with the somewhat bright-sounding solid-state amplifiers with which the B1s are likely to be paired. They also mated well with the exceedingly neutral GRAAF GM-50 integrated. Pairing the Alpha B1s with a dark-sounding amplifier could result in an uninvolving presentation, but no more so than with the vast majority of speakers.
Every PSB speaker I've heard has had a wonderfully smooth midrange, and the Alpha B1 is no exception. Upper woodwinds, such as flutes and oboes, have a sweetness that is beguiling. Male vocals have a little less chestiness than through other designs, and female vocals are very well balanced. When listening through the Alpha B1s, one can clearly hear how a vocalist like Jacintha supports her voice with her lungs, while a vocalist like Diana Krall is almost always using her head voice. While these sorts of differences are not subtle to a musician, you'd be surprised how many speakers, even ones costing much more than the Alpha B1s, obscure them. Perhaps due to the focus on the midrange, the high frequencies seem to have a bit less energy than with other designs. Jerry Douglas's Dobro on New Favorite [Rounder 610495] didn't have quite as much bite as I hear through my Amphion speakers, but Alison Krauss's voice still made me smile.
Speed is one of the characteristics most responsible for making an audio component sound lifelike, at least to my ears. While the Alpha B1s can't match electrostatics in speed, their small drivers help them sound much faster than the dynamic speaker competition in their own price class. In an absolute sense, note attack with the Alpha B1s was clean, but slightly rounded. Piano, as on the BIS Rachmaninov SACD [BIS SACD-1518], had slightly less transient snap than I am accustomed to hearing, but notes never bled into each other. This rounding of attack was nothing like what you will hear from a lush-sounding tube amp, just a little slower response than is possible from more expensive designs. Timing was very good, and I always felt as though the Alpha B1s were keeping the music moving along, starting the notes at the right time and getting off them when they should.
I can't say whether the injection-molded woofer cones were the reason, but the left-right soundstaging of the Alpha B1s was exceptionally well defined and very stable. Instruments and vocals weren't carved out with the last bit of precision, but they were clearly distinguishable from each other, and each occupied its own space. On some recordings, the soundstage even extended beyond the speakers. A good pair of speakers should always disappear, and the Alpha B1s had no trouble accomplishing that task.
While lateral imaging was excellent, depth was lacking. Individual sounds seemed to emanate from one or two feet behind the speaker plane, but did not vary much from that depth. On well-recorded classical discs, the Alpha B1s could keep the different sections of the orchestra separate, but they did not explicitly place the brass at the back. It is not that the Alpha B1s presented all the music as coming from a flat plane. Instead, they did not clearly place various sonic elements at different distances from the listener. While I do prefer holographic imaging, and feel that it lends to the sense of being there, I would much rather sacrifice depth than have pianos wandering around across the stage.
Another concern common with small speakers is whether they can play loud when called upon to do so. The Alpha B1s certainly managed this task, as they could play far louder than I could tolerate. At high SPLs, they kept their composure, giving way to some compression, but never shouting or doing anything else nasty. Much more important, they were able to play at low volumes while maintaining their sonic signature. The ability to play loud without strain, and soft without sonic compromise made for very good macrodynamics from such a small transducer. Though rarely found in popular recordings, violent swings from soft to loud are what tend to give classical music its excitement.
At the sub-$300 price point, most speakers specialize in one aspect of reproduction. Some speakers can produce surprisingly deep bass, while others are particularly suited to playing at high volumes. The greatest strength of the Alpha B1s is that no one trait is dominant. PSB has produced an extremely well-balanced budget-priced speaker that can satisfy the majority of listeners without offending any of them. There are some audiophile tricks that the Alpha B1s simply don't do, but this never really interfered with my enjoyment of whatever music I played. When I'm listening to a good recording, I often close my eyes or turn out the lights. During some of these times, I completely forgot that I was listening to the PSBs and instead simply enjoyed what I was hearing. To be convincing, musical reproduction doesn't have to get any more complicated than that.
Comparison
Earlier this year, I reviewed the Energy RC-10s, which are slightly bigger and about twice the price of the Alpha B1s -- $550 per pair. The absolute price difference is not much; in audiophile terms, it is less than the cost of the speaker wire I used for both reviews. However, in the context of a budget system, that difference could easily be put to use elsewhere. What do you get when you spend those extra $270?
First of all, the construction quality of the RC-10s is much better. The Alpha B1s are well made, but, at their price, you cannot expect the heavy cabinet and real-wood veneer of the RC-10. The RC-10s are also biwirable, although, at their price, it usually makes more sense to run a single good cable than two cheaper ones.
Sonically, the Alpha B1s are slightly warm, while the RC-10s are dead neutral. However, where the RC-10s really justify their higher price is in frequency extension. Their highs seem to extend a good bit beyond those of the Alpha B1s, even though the specifications don't indicate a difference. Those extended highs are also ultra smooth. The high frequencies of the Alpha B1s are smooth, but they are not as open and are slightly less delicate. The RC-10s also manage to convey quite a bit of depth information that the Alpha B1s do not.
At the other end, the RC-10s play lower than their smaller competitors. It's true that you could fill out the bottom end of the Alpha B1s with a subwoofer, but the cost of that sub would put you into the RC-10's price range and would not give you the more expensive speaker's other refinements. There are some installation situations in which a subwoofer is the only way to get low bass, but for most people a larger main speaker is preferable.
Having the added extension at both ends of the frequency spectrum not only produces greater timbral accuracy and more pounding bass, but it also conveys a better sense of the recorded ambience and the space around performers. For me, one of the advantages of SACD reproduction over that of standard Red Book CD is hearing that greater sense of space. That ambience is really what makes the difference between the sound of an acoustic instrument and a good synthesizer. With the Alpha B1s, I could not hear the differences between the SACD and Red Book layers of even well-recorded discs, such as Weingartner Symphony No. 4 [CPO 777 098-2], as easily as I could with the RC-10s. That sense of space is not essential to enjoying the music, but it is something that I value. The Alpha B1s tended to give the impression of live recordings having been made in a slightly drier hall than I heard with the RC-10s or with my own Amphion speakers. These details aren't on every recording, and they won't be reproduced by all equipment, but when they are there, the Energy RC-10s do a better job of telling you about them.
If you are putting together a budget system, which speaker should you buy? The Energy RC-10 is the better speaker, but if you cannot give it appropriate partnering equipment, you won't hear all of its benefits. If I had a budget of only $1000 for the entire system, I'd spend $500 on a good budget-priced integrated amp, $200 on a competent CD player, $279 on the Alpha B1s, and whatever was left over on some CAT5 wire for speaker cable. Such a system could be eminently satisfying, particularly for small-scale ensembles in any musical genre.
Conclusion
When faced with a budget-oriented speaker, some reviewers are amazed that they don't sound awful and rave about them simply because they don't know any better. It may be 20 years since these reviewers have heard a similarly priced offering, so their conclusions are suspect. I am not so out of touch with reality. While there are a number of competent speakers around the $300 mark, a new entrant must still have something significant to offer. The Alpha B1s are well engineered, well made, and supported by a company that has been around for a long time. They do many things well -- some very well -- and their faults are largely of omission. What makes the Alpha B1s special is that those omissions do not interfere with musical enjoyment -- something that can't always be said of the competition.
Whether you're just starting out in hi-fi or building your second system, the Alpha B1s offer excellent value. And if you are one of those guys with $50,000 speakers, you should buy a pair of the Alpha B1s for each of your non-audiophile friends. I can't think of a better way to help them understand what your obsession is all about.
...S. Andrea Sundaram
s_andrea@soundstage.com
PSB Alpha B1 Loudspeakers
Price: $279 USD per pair.
Warranty: Five years parts and labor.

PSB Speakers International
633 Granite Court
Pickering, ON Canada L1W 3K1
Phone: (888) 772-0000
Fax: (905) 837-6357

E-mail: info@psbspeakers.com
Website: www.psbspeakers.com