January 2001Shunyata Research PowerSnakes Sidewinder, Sidewinder "Venom," and Viper Version 2 Power Cords by Marc Mickelson


The Sidewinder [is] a Reviewers'
Choice...given its price, broad
applicability, and sonic acuity."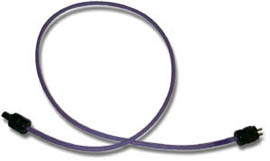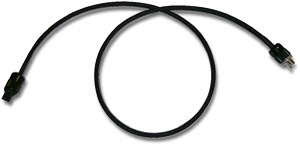 PowerSnakes Sidewinder (top) and Sidewinder "Venom" power cords
Review Summary
| | |
| --- | --- |
| Sound | "I found the Shunyata cords to increase the purity of my system's sound, not necessarily adding smoothness or ease, but rather increasing the organic character of my electronics. Resolution is increased, with more subtle gradations between soft and loud, perhaps because detail dissolves more slowly into the background." |
| | |
| --- | --- |
| Features | Silver-over-copper conductors as well as silver- and rhodium-plated plugs and IECs; proprietary Stardust compound is used in the Black Mamba, Viper Version 2 and King Cobra Version 2 power cords. |
| | |
| --- | --- |
| Use | An all-King Cobra V2 system is very pricey, but using the Viper V2 with amps, Black Mamba with digital, and either Sidewinder with preamps saves money and still imparts the Shunyata sound. |
| | |
| --- | --- |
| Value | "Although the company began by making pricey power cords, Shunyata Research now has you covered no matter what your budget." |
In the good old days of high-end audio a scant dozen years ago, equipment was powered with stock, nothing-special power cords. In fact, much audio equipment had captive power cords -- attached, that is -- so even if you wanted to use some other cord, you were out of luck.
Thus, an exploitable niche existed, and the after-market power cord came into existence. Now just about every cable manufacturer has a power cord or two in its line, and companies like ESP and Shunyata Research sell only power products, and chiefly power cords. Shunyata made its name through its very expensive King Cobra power cord, which we reviewed some time ago in its original version (it's now up to Version 2 status). Since that review, Shunyata has expanded its product offerings, mostly in a downward spiral in terms of price. The Sidewinder power cord reviewed here costs a mere $280 USD for a five-foot length, more money with Shunyata's "Venom" connectors. The Viper Version 2, also reviewed here, is the power cord one step down from the King Cobra in price and employs many of the same materials and ideas found in its more pricey snake-brother. We review these three power cords together to give a taste of the high and low ends of the Shunyata line and also to talk about what Caelin Gabriel of Shunyata Research has been up to lately.
Details
Interesting fact: Except for the King Cobra, all Shunyata PowerSnakes power cords use the same 10-gauge silver-over-copper conductors. What accounts for the price differences is the implementation -- the plug and IEC connectors used and also the amount of Shunyata's Stardust compound used inside each power cord. The Sidewinder uses Shunyata's standard Marinco brass connectors, while the Sidewinder "Venom" is the same power cord with a black over-mesh for cosmetic purposes, a silver-plated plug and rhodium-plated IEC connector. According to Caelin Gabriel, these proprietary connectors have 50 times the amount of silver and rhodium plating as other connectors, which accounts for the cost they add to the Sidewinder: $250. Shunyata developed the Sidewinder as an inexpensive power cord that had the desired sonic effect the company was after, then added the "Venom" option to create a power cord with high-quality connections for the few pieces of pricey equipment they've found that don't work well with their power cords utilizing the Stardust compound, of which the Sidewinder and Sidewinder "Venom" are devoid.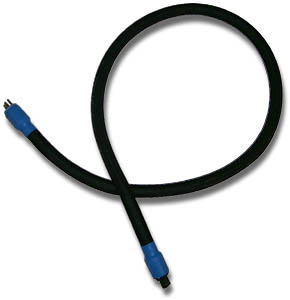 PowerSnakes Viper Version 2
The Viper Version 2, unlike the King Cobra, was built to a price point, albeit a lofty one: $998 for a six-foot cord. It uses the "Venom" connectors, as do all Shunyata power cords beyond the standard Sidewinder, and an amount of Startdust compound second only to that used in the King Cobra. The Viper V2 is a thick power cord, but it's also oddly supple, so it's easy to run behind and around your audio equipment.
All PowerSnakes power cords are very precisely finished, their plugs and IEC connectors perfectly wrapped and labeled. Even though they make primarily power cords (look for a review of the company's Hydra power-line product soon), Shunyata Research obviously has very high quality-control and aesthetic standards.
A pit full of PowerSnakes
In addition to the Sidewinder, Sidewinder "Venom," and Viper V2 power cords, Shunyata Research supplied Black Mamba and King Cobra Version 2 power cords, for comparative purposes. Thus I was able to PowerSnake my entire system reference and budget-reference systems in various ways, and I'm able to tell you which lineup of Shunyata power cords worked best.
And with so many power cords at my disposal, I was able to use them with an extremely wide array of equipment, including Lamm L1 and L2 preamps and ML2 amps, Bel Canto EVo 200.2 amp, Pathos Classic One and Audio Analogue Puccini SE Remote integrated amps. Digital source components that received the Shunyata treatment were the Bel Canto DAC1 digital-to-analog converter and Mark Levinson No.39 CD player. Speakers used with all of these electronics were Wilson WATT/Puppy 6es, Speaker Art Proklaim IIs, And Merlin TSM-SEs. I used interconnects and speaker cables from Nordost (Quattro-Fil and SPM Reference), TARA Labs (Air One), JPS Labs (Superconductor2 and NC Series), DH Labs (Silver Sonic BL-1 and T-14) and DiMarzio (M-Path and Super M-Path). I used all of the PowerSnakes either directly into my hospital-grade wall sockets or a specially made Shunyata power strip, although at the tail end of the review period, I substituted in one of Shunyata's new Hydra power-line conditioners or the PS Audio P300, the latter of which I comment on below.
One note about prices and use: The power cords sent to me range in price from $280 to $2330, but I did not let their prices dictate with which equipment they would be used. Thus each power cord received a good workout with various pieces of equipment at various prices, and my comments on the sound the power cords helped produce take into account the various ways in which the cords were used.
Ssssssound
For me, and I'm sure a good many audiophiles, power cords are the frosting on the high-end cake. Ideally they should compliment the equipment with which they are used, adding a kind of "flavor" that, when it's at its best, is hard to live without. But just as you can't have a fulfilling meal of frosting, you can't expect for power cords to transform a system that's half baked to begin with.
Even with all of the Shunyata power cords I had for review, I found identifying their contribution to the audio buffet in my listening room a relatively easy task. I started with the Sidewinder, then introduced the other power cords incrementally, noting the changes along the way. I have nothing but praise for these fine power cords, and for some specific reasons.
Overall I found the Shunyata cords to increase the purity of my system's sound, not necessarily adding smoothness or ease, but rather heightening the organic character of my electronics. Resolution is increased, with more subtle gradations between soft and loud, perhaps because detail dissolves more slowly into the background. On the remastered version of the venerable Folk Singer [MCA/Chess CHD-12027], Muddy Waters' voice emerges from deeper in the sonic black and hall sound and fades back there slowly -- but not until it's hung around for more time than I'm used to. The Wilson speakers and Lamm electronics allow this, of course, but the Shunyata power cords make it something worth noting.
In fact, the words that litter my listening notes for the Shunyata power cords are "gradation," "emerge," "texture," "dissolve," and the like -- ones that express the refinement that these cords bring to the sound of the components they power. I have never found myself absolutely "blown away," in reviewer-speak, by any power cord, but these PowerSnakes get under my skin by the fine points they help reveal. I've mentioned Television's eponymous CD [Capitol 100197] numerous times in my reviews, and it's a disc I perhaps know better than any other in my collection. The music is atmospheric, sublime even, and while the recording isn't stellar, the playing is very singular, producing music that's the opposite of a "wall of sound." I listened to Television with the full compliment of PowerSnakes in use, and I found I was following each of Tom Verlaine's guitar lines and vocal inflections more easily -- and more intently -- the instrumentation appearing with a natural sense of pace and trailing off like smoke in a light breeze. "These cords are SWEET," my notes read.
The traits I discuss above more or less exist in the individual Shunyata power cords, their prevalence often corresponding to price. The Sidewinder and Sidewinder "Venom" sound rather alike, the "Venom" connectors increasing the snap of transients to my ears. The Sidewinder is a terrific power cord, especially given its price, and if it cost double what it does, it would still justify its price. The King Cobra V2 and Viper V2 also sound alike, both offering high resolving power amidst the civilizing influence they bring to the music. The King Cobra V2, however, maximizes the combination of resolution and purity, allowing sounds to emerge (there's one of those words again) from way, WAY back in the mix, which is really neat. The somewhat-odd cord out is the Black Mamba, which seems to my ears uniquely suited for use with digital gear, as it adds a slight buttery character to the mix.
Comparison
While I had power cords from other companies here for comparison to the Shunyata cords, I thought the most interesting comparison would be PowerSnake vs. PowerSnake, in which I could convey how the two Sidewinders and the Viper V2 stack up against the King Cobra V2 and Black Mamba and ultimately give you an idea of how I outfitted my reference system with PowerSnakes, which reveals some projected real-world uses for the power cords I had on hand.
The King Cobra V2 has such a name for good reason: It's at the top of the PowerSnake heap, improving upon all of the other Shunyata power cords, in some ways by great margins. In addition to the characteristics I mention above, the King Cobra V2 brought a propulsive nature to the amps with which I used it, a finely wrought sense of tonal shading, and an overall music-friendly disposition. As I've mentioned, the Black Mamba is the power cord to use with digital gear, but don't think this means it's the equivalent of a classic tube amp. It retains the King Cobra V2's tonal shading, but doesn't offer quite the same get up and go as its more expensive sibling. The Sidewinder and Sidewinder "Venom" are not up to King Cobra V2 standards, but they nonetheless belong to the same family, it's clear. The tonal shading is still there, but more coarse, not as integral. The Viper V2 essentially duplicates the low-end solidity of the King Cobra V2 while sounding slightly more detailed in the process. In many ways, the sound of the Viper V2 and Black Mamba together equal that of the King Cobra V2.
The Sidewinder proved to be an incredibly versatile power cord. I used it to great effect with the Pathos and Audio Analogue integrated amps as well as both Lamm preamps. I ultimately settled on using the Sidewinder "Venom" on the preamp in my reference system, although the standard Sidewinder would have been a good choice too. In terms of amps, the best choice was the King Cobra V2, but with a pair of mono amps, even of the cost of the Lamm ML2s, using a pair of these power cords makes one pause at the price. I ultimately settled on the Viper V2 cords, not cheap themselves, because they seemingly cranked up the resolution of the Lamms without ceding anything in the bass to the cords I was using previously, the very good JPS Labs Power AC cords. Digital was easy, and here I greatly preferred King Cobra V2 cords on my DAC and CD transport. In terms of saving money, using a Black Mamba on the Bel Canto DAC1 was a fine choice too because it seemed to enhance the DAC1's smooth, easy-on-the-ears character.
One last recommendation: The Shunyata power cords work very well with the PS Audio P300. I settled on a Sidewinder "Venom," but once again, the King Cobra V2 worked the best, adding some smoothness to the P300's sound. How a power cord does this for a power-line product like the P300 is a mystery to me, but I doubt that many audiophiles will pony up $2330 for a power cord to use with the $1195 P300. I'm sure Caelin Gabriel will let me know if I'm wrong here.
Snake dance
Shunyata Research has built an interesting lineup of products that function together as a power-delivery system that's complexly satisfying. But even if you have only budget for one power cord, you'll find that Shunyata can oblige -- on the low end with the Sidewinder or the high end with the mighty King Cobra Version 2. Making the Sidewinder a Reviewers' Choice is easy given its price, broad applicability, and sonic acuity; perhaps the only thing holding back the King Cobra, at least for me, is that I can't say for sure if it's a state-of-the-art power cord. It will be my first choice for system-wide use when I win the lottery, and perhaps a couple of other SoundStage! writers will evaluate its chops for future inclusion. It's easily the best-sounding power cord I've used.
But there are stops in between these two power cords for consideration, and I'm not sure that even a full system of the top-of-the-line King Cobra V2 power cords would be any better than mixing and matching all of the cords -- Viper V2 on amps, Black Mamba on DAC, Sidewinder or Sidewinder "Venom" on preamp, King Cobra on transport or CD player -- to produce the desired sonic effect. Although the company began by making pricey power cords, Shunyata Research now has you covered no matter what your budget.
...Marc Mickelson
marc@soundstage.com
Shunyata Research PowerSnakes Sidewinder, Sidewinder "Venom," and Viper Version 2 Power Cords
Prices: Sidewinder, $280 USD; Sidewinder "Venom", $530; Viper Version 2, $998; Black Mamba, $700; King Cobra Version 2, $2330.
Warranty: Five years parts and labor.

Shunyata Research, Inc.
424 Camber Lane
Port Ludlow, WA 98365
Phone: (360) 437-5135
Fax: (425) 671-0648


E-mail: info@powersnakes.com
Website: www.powersnakes.com