August 1999
Polk Audio RT35 Loudspeakers and PSW650 Subwoofer

by John Potis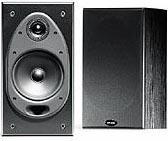 RT35

PSW650
Review at a Glance
| | |
| --- | --- |
| Sound | A "well-balanced, neutral and uncolored speaker," the RT35 casts a notable soundstage that "extends well beyond the boundaries of their physical locations"; weakness is in the treble, which lacks ultimate refinement; the RT35/PSW650 combo sounded "fairly laid-back in perspective, smooth and composed." |
| | |
| --- | --- |
| Features | Employ a number of proprietary technologies; subwoofer has 250-watt amplifier and high-pass filtering through both speaker-level and preamp-level inputs. |
| | |
| --- | --- |
| Use | Combo sounded its best with the power amp connected in series with the PSW650's high-pass filter; 24" stands worked well with the RT35s. |
| | |
| --- | --- |
| Value | "The RT35s and the PSW650 proved to be an excellent choice for a $1000 or so full-range speaker system." |
Among the many ways that home theater has affected high-end audio is the narrowing of the gap between traditional high-end companies and their mass-market relatives. There's now a common ground for the two to stand on, and it's put the two a little closer together, with high-end companies making home-theater products and the larger mass-market companies making products with more high-end appeal. And while in the past Polk Audio speakers may have been looked down upon in high-end circles, Polk's recent products are aimed squarely at discriminating audiences. Their design and execution claim a high-performance heritage, and the fact that Polk has a large dealer base doesn't hurt the chance that audiophiles just about everywhere will have a chance to hear the company's products.
But what about the speakers in question here, the Polk RT35 minimonitors and PSW650 subwoofer? How do they sound and ultimately stack up against stiffer competition?
RT35
Polk's RT35 is a small two-way bookshelf design incorporating Polk's 6 1/2" polymer/mineral-composite woofer and 1" shielded polymer-dome tweeter. The speaker's walls are fabricated from 3/4" MDF, but the front baffle is a full 1" thick, while the rear baffle is of an injection-molded mineral-filled polymer. The speakers measure 15"T x 8"W x 12"D and weigh 20 pounds each.
Polk has also incorporated several proprietary technologies in the RT35. Beginning in 1988, Polk began a long-term research project in partnership with Johns Hopkins University. This resulted in a new research tool that enabled Polk to view and analyze the entire vibrating surface of a speaker driver. In particular, Polk was able to see and understand the resonance that develops on loudspeaker cones as they move. Modal resonance is a major cause of frequency-response aberrations and other distortions in loudspeakers. The result of this analysis, Polk's Dynamic Balance[R] technology, allows the company to design drive units with, in their words, "unusual clarity, detail and extension."
Additionally, Polk's Power Port[TM] technology refers to the company's method of reducing air turbulence at the mouth of the bass port. Polk says that by reducing this turbulence, in addition to reducing "chuffing" noise, they actually improve bass efficiency by a full 3dB while reducing distortion. The Power Port itself consists of a "cone" at the mouth of the port that occupies the space between the port (pointing into the port's mouth) and a supporting plinth. According to Polk, "the cone promotes laminar airflow and the ever-increasing cross-sectional area of the space mimics a very long flared port." Conveniently, the port's plinth also acts as a handy wall-mount bracket.
Perhaps the most interesting of the technologies incorporated is the Acoustic Resonance Control system. Simply put, this is a method of counteracting identified internal box resonance's by designing a port system tuned to those same resonance frequencies -- but out of phase. As the out-of-phase output from the ports combine with the resonance of the speaker system, the two cancel each other out. Polk adds: "The audible results are greater midrange clarity and detail with noticeably more natural and accurate reproduction of vocals. Imaging is also markedly improved, [and] the speaker exhibits superior localization stability and image depth."
Connection to the RT35 is via a single pair of gold-plated five-way binding posts. Finish is a black wood-grain-vinyl, but the front baffle is a pebble-grain black vinyl -- quite handsome actually. Polk states a frequency response with -3dB points of 50Hz and 23kHz. Crossover is accomplished by second-order high- and low-pass filters at 2kHz. Sensitivity is stated as 90dB, and nominal impedance is said to be compatible with 8-ohm outputs. The retail price of the RT35 is $399 per pair.
PSW650
The $699 PSW650 is a new dual-10"-driver Dynamic Balance subwoofer incorporating two of the aforementioned Power Ports. The cones are composed of polypropylene, and the enclosure baffles are 1" MDF, while all other walls are 3/4". Polk specifies the -3db frequency response limits of 28Hz and 125Hz. Overall dimensions are 18 3/4"H x 17 1/2"W x 18 3/4"D. Features include a high-current 250-watt power amplifier, a subwoofer volume control, a variable crossover control, and a phase switch. An auto on/off circuit automatically turns the subwoofer on when it senses a program signal, and a +3dB bass-boost switch provides increased output when connected to electronics with low-output subwoofer-output jacks. An unfiltered LFE input is provided for use with low-pass-filtered subwoofer-output jacks. High-pass filtering is available through both speaker-level and preamp-level inputs.
System
While Polk's PSW650 powered subwoofer is a new addition to the company's product line, the RT35 isn't, and this wasn't my first run-in with these little guys. I'd spent a considerable amount of time with the RT35 last year (when they were new), but in the context of a home-theater review. So impressed was I by their musicality and value that when looking for a relatively inexpensive (yet high-performance) subwoofer/satellite system, the RT35 leaped to my mind. And what better to accompany this little speaker than one of Polk's brand-spanking-new Power Port subwoofers?
The Polk speakers and subwoofer displaced my pair of NHT's excellent 3.3 speakers. Electronics consisted of a Classé 5 preamp and CA-100 power amp. Source component was a Sony DVP S500D DVD player feeding a Meridian 563 DAC. With the RT35s coupled via mounting putty to 24" sand/shot filled Celestion stands, I settled on a placement which had the speakers 31" out into the room and with only a minor amount of toe-in, which provided a good look at the inner walls of the speakers. The layout of the room meant that there were, for all intents and purposes, no side walls in meaningful proximity.
Listening to the RT35s
Soundstaging was one of the first things that struck me about the RT35s. These budget-priced speakers threw an excellent soundstage, extending well beyond the boundaries of their physical locations, and even the soundstage height was greater than it had any right to be. The sense of soundstage depth was quite good for a speaker in this price range, if not overly holographic. The RT35s were doing an excellent job of disappearing in my room.
Subsequent impressions were that the RT35 is one well-balanced, neutral and uncolored speaker for the asking price. While the bass will never send nicknacks plummeting from their shelves, neither was the music left unsupported without a good foundation. Further, the bass that they do portray is completely natural, with no "fake bass"-inducing upper-bass/lower-midrange hump. However, bass fiend that I am, it was time to put the PSW650 into the system.
Adding the PSW650
Connected via the line-level inputs and foregoing the sub's internal high pass filtering, I began tinkering with the output level and location of the sub (although after experience with several subs in my room, I pretty much knew where it was going to go). Then came the final fine-tuning of the sub's low-pass filter. It didn't take long for me to dial the PSW650 in for a good blend with the RT35s.
The RT35s and the PSW650 made for an extremely satisfying listening combo that, if I may show my hand this early in the review, both belied its modest asking price and transcended my expectations. Overall presentation was the antithesis of "in-your-face"; rather, the combination was fairly laid-back in perspective, smooth and composed. Only when pushed to their dynamic limits (which was pretty loud) did the speakers start to lose their composure and begin to become somewhat shrill and hard. At more accommodating levels, the word "shrill" would be the last to come to mind -- that is unless the recording dictated such.
On Sarah McLachlan's Fumbling Towards Ecstasy [Arista 17822-18725-2], "Plenty" was a demonstrative track. While the deep bass lines were full and solid, they did sacrifice the last degree of definition that other subs, albeit more expensive ones, are capable of (more on this later). But on "Good Enough," the PSW650 gave a better-than-good-enough account of itself. Bass drums were tuneful, tight and fast, and bass-guitar lines flowed smoothly, had good delineation and were easy to follow.
What followed throughout the disc was notable more for the fact that the speakers didn't call attention to themselves for what they did differently or, as would be far worse, for where they failed in meaningful ways in relation to other more expensive speakers I've had through here. Overall, McLachlan's voice could be characterized as slightly thicker and richer than I'm used to hearing it, but not to such a degree as to be in the least bit objectionable. On a number of more expensive speakers, my enjoyment of this disc was lessened by a resonance at the bottom range of McLachlan's vocals. Undoubtedly a problem with the recording, this resonance is exacerbated by some speakers more than others. Thankfully, the Polks did not offend in this regard.
The Eagles Hell Freezes Over [Geffen GEFD 24725] showed off some of the Polk system's strengths as well. "Hotel California" exhibited a huge soundstage with a high degree of specificity. Bass was as full-bodied as expected, while the kick-drum suffered none of the bloating and overhang I've heard on lesser systems. Don Henley's voice suffered none of the overly rich coloration that I noted on Sarah McLachlan's. As a matter of fact, his voice was one of the CD's highlights, sounding just about as good and natural as I've ever heard it.
"Love Will Keep Us Alive" and Timothy B. Schmidt's performance highlighted one of the RT35's best attributes: its smooth, balanced and non-aggressive midrange. There was no sign of the glare or grit that so often afflict many speakers in this class, and the tonal balance of Schmidt's voice was in perfect keeping with his position on the stage in relation to the other performers. In other words, the smooth midrange allowed all the performers to remain in perspective on the stage, neither bringing anything forward nor leaving anything to the rear. "Life In The Fast Lane" showed that this combo can rock! Bass drum was clean and articulate, and electric guitars had just the right amount of authority and muscle. Rhythm and pace were good, and the system's lack of congestion made for a presentation that didn't easily get bogged down in the details. And "Take It Easy" once again demonstrated the RT35's tendency to enrich the midrange and upper midrange. The overly steely and, to my ears, bright guitars were tamed just a tad. Actually, I welcomed this pleasing artifact, but it remains that I know the recording to sound brighter.
Jennifer Warnes' Famous Blue Raincoat [Private Music 82092-2] and its track "Bird On A Wire" impressed with very good delineation of instrumental outlines and little image smear. Once again, I was satisfied by the way the presentation didn't suffer in meaningful ways from what I've heard over and over on much more expensive systems. That the Polk combo didn't fall on its face by comparison has earned it my admiration.
But that's not to say that they are perfect. The reality is that no speaker in this price class can be. So where do the Polks fall short of my ultimate expectations? Well, considering their price, I never felt any disappointment, but in absolute terms the speakers do have some reasonably expected shortcomings.
The RT35's Achilles heel is to be found in its treble. While by no means bad for the RT35's class (far from it!), it is what reminds me that these are inexpensive speakers -- albeit excellent examples thereof. While the RT35's tweeter doesn't send up a red flag by being spitty or edgy, as do lots of other inexpensive tweeters, it's not exactly the ultimate in refinement. The RT35 doesn't have the smoothness to be found in more expensive monitors, and it doesn't have the subjective reach either. The opening chimes in Warnes' "Joan Of Arc" didn't have the sheen or delicacy that I've come to listen for and neither did they float in a defined space. Similarly, the ride cymbals on McLachlan's "Ice Cream" didn't have the shimmer I expected, nor were they as transparent. They just didn't have the "hear-through" quality that (much) more expensive speakers can give. Ditto for the sound of the acoustic guitars on The Eagles' "Hotel California" -- they just didn't have the "ring" of live guitars. But even while highlighting what the tweeter doesn't do well, I'm compelled to point out that its limitations are in what it doesn't do. I would much rather it err by omission than commission. Lastly, I'll point out that only on occasion was I bothered by this aspect of the RT35's performance and then only in comparison to much more expensive speakers -- it's not by any means a constant annoyance and certainly not a fatal flaw.
The only other failings of the speaker combo are those only expected of far more expensive speakers and sought after by only the most hardcore audiophiles. You know -- the qualities whose labels alone will have most normal people looking at you with strange expressions on their faces. Palpable presence? Huh?
Balancing the speakers' flaws are their merits, things they do supremely well for their price. They have as uncolored a midrange as I can imagine a $400 pair of speakers to have, and this is their greatest strength. That I've described the midrange and upper midrange as sounding a touch richer than I'd expected is probably a blessing in disguise when you consider the class and nature of electronics with which these speakers will probably be mated. I would say that this added richness makes the RT35s somewhat forgiving of budget amplification and given this, their slight "anomaly" may just be better listed among the RT35's strengths.
Spotlight on the PSW650
Turning my attention to the PSW650 in particular, I chose to reconfigure the system. I now connected the power amp in series with the 650's in-line high-pass filter. My goal was to remove the bass from the satellites, thereby isolating it to the Polk subwoofer.
My first observation was that there were no obvious deleterious effects when I placed the subwoofer's 80Hz high-pass filter circuit in the path of the speakers-- that's good news! The next good news came when I listened to the McLachlan "Plenty" track again. Where previously I had been let down by the limited resolution of the deep-bass texture, I was now pleasantly surprised to find the resolution kicked up a notch. What I was probably hearing before was the strained output from the RT35s combining with that of the PSW650 and serving to blur things a bit. While what I was now hearing was not quite world class, it was much more acceptable and could easily be called very good. Based on what I was now hearing, I can recommend to prospective purchasers that they go ahead and use Polk's in-line high-pass filtering system. I certainly would.
That out of the way, I turned to my software collection in search of some bass-rich selections. GRP's GRP Live In Session [GRP D 9532] is a live studio recording with fabulous sound. Abe Laboriel's bass lines take a back seat to nothing in the mix and need to be heard to be appreciated. Larry William's drums are mixed to accentuate tom-toms, floor toms and the bass drum. The sonics are at once great fun and eminently musical. Track two, "Oasis," didn't disappoint where bass power, speed and articulation are concerned, and I was now convinced of this subwoofer's musical prowess. It came within spitting distance of what I get from the 12" woofers in my reference NHT 3.3 speakers -- not quite, but close enough to be very satisfying.
Encouraged, I was now going to find out what it took to make this little sub scream "uncle!" MCA's Jurassic Park [MCAD-10859], "Opening Titles," quickly pointed out to me that this was easier said than done. It sounded great and was possessed of much more power than had been hinted at while listening to previous music tracks. I also realized that this should be an excellent budget-priced sub for home theater too.
Hmmm…home theater. Can I sneak a movie soundtrack into an audio review? Sure! It's why we are all putting DVD players in the audio systems, right? Well, I popped in Armageddon and I watched the entire movie with only the RT35s and the PSW650 working. I have to say that once I cranked up the volume on the subwoofer a notch (something very easy to do thanks to the front-mounted volume control), the experience was extremely involving and satisfying. The PSW650 did an admirable job on the various sound effects, which ranged from helicopter traffic to nuclear blasts to a growling asteroid. The RT35s were responsible for a great job of localizing dialog in this stereo situation and did so very well, even though I spent little time exactly in the sweet spot. The 35s threw a very large wall of sound and did an excellent job of portraying off-stage sound effects. For instance, at the beginning of the movie, when Harry is chasing A.J. with a shotgun, empty shells were littering my kitchen, which is off to the left of the system. As impressive as this system was with music, it was even more so with movies.
Conclusion
Polk's RT35s are one of only a few under-$500 pairs of speakers that I would own and enjoy. If you think that this is just reviewer's rhetoric, you should know that I happen to own four of their little brothers -- the RT25s -- which spend time in the theater when I'm between review samples. As good as the RT25 is, the RT35 represents a large improvement in terms of smoothness, dynamics and bass. Particularly when coupled with a subwoofer, the RT35's excellent dynamics, soundstaging, imaging and uncolored midrange make them a great bet for both an inexpensive music system and home theater.
As much as I liked the RT35s going into the review, I came out of the review maybe even a bit more impressed with the PSW650 sub. The name Polk has never sprung to mind when I thought of subwoofers (even though their little PSW120 is an excellent performer -- for peanuts too), but the PSW650 is one great inexpensive subwoofer. Like the RT35s themselves, the PSW650 did an excellent job with music and really came alive in the theatre, where I never did get it to say "uncle!"
I think that as a package, the RT35s and the PSW650 proved to be an excellent choice for a $1000 or so full-range speaker system. They worked well together, promise to be somewhat forgiving of inexpensive electronics, and will fill the needs of all but the most finicky music lovers out there -- who had better be ready to shell out the big bucks for something better. Check the RT35s and PSW650 out and see what you think.
...John Potis
johnp@soundstage.com
Polk Audio RT35 Loudspeakers and PSW650 Subwoofer
Price: RT35, $399 per pair USD; PSW650, $699.
Warranty: Five years parts and labor.

Polk Audio
5601 Metro Drive
Baltimore, MD21215
Phone: (800) 377-7655

E-mail: polkcs@polkaudio.com
Website: www.polkaudio.com