March 2008
Oracle Audio Technologies SI 1000 Integrated Amplifier
by Uday Reddy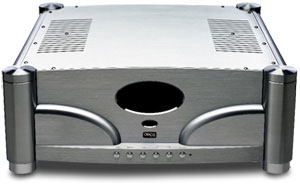 Review Summary
| | |
| --- | --- |
| Sound | "There was such a degree of transparency that musical details were laid bare, giving a sense of palpability to images that were seemingly real." "With regard to tonal balance, the SI 1000 had a slightly cool bias, favoring the treble over midrange and midbass warmth, but never did this manifest as harshness or induce listening fatigue." " One thing that struck me right away was how good the SI 1000 sounded at low levels" -- "pure effortlessness and no evidence of congestion or compression." |
| | |
| --- | --- |
| Features | "A class A/B, solid-state, dual-mono integrated with a rated power output of 175Wpc into 8 ohms and 275Wpc into 4 ohms…. Gain is via a variable digital volume control from Cirrus Logic ranging from 0-60 in half-step increments." "The front panel has an oval fluorescent display with large characters that were easily viewed from my listening position. It displays the input selected and volume level." |
| | |
| --- | --- |
| Use | "The other jacks are outputs that allow the SI 1000 to be used as a standalone preamplifier or in a biamp configuration with a separate power amp, or to be connected to a powered subwoofer or a subwoofer controller." "The back panel also has an on/off power switch, but during daily operation the standby switch can be used while the integrated is not in use to limit the current draw while still maintaining the circuitry at optimal operating conditions." |
| | |
| --- | --- |
| Value | "At a price that's close to ten large, the SI 1000 is very expensive. But viewed in the context of its flexibility and functionality…the SI 1000 will represent significant value to its lucky owner, and there's a lot to respect in that." |
The integrated amplifier is not quite the Rodney Dangerfield of the audio world, but it certainly doesn't get all of the respect it deserves. Audiophile dogma will have you believe that nothing short of a separate preamplifier and power amplifier will allow you to achieve sonic nirvana, but I firmly believe that, with the exception of cost-no-object separates, a well-designed, high-quality integrated amp provides virtually identical sonic performance at a much better price-to-performance ratio. And what's not to like about that? An integrated amp occupies less real estate and requires one less interconnect and power cord, and you don't have to worry about system matching with regard to the preamp and power amp. Furthermore, the money saved by buying a high-quality integrated can be applied to other parts of your system. If you're like me and prefer to keep things simple, I can't think of a better way to go.
Founded in 1979, Oracle Audio Technologies, based in Sherbrooke, Quebec, Canada, has long been known for its cutting-edge technology and sleek, futuristic aesthetics, represented most prominently by the Delphi turntable, and the SI 1000 is no exception. There's no mistaking the $9250 USD SI 1000 as anything but an Oracle, even though it's a little bit chunky compared to the P 1000 power amplifier and the DAC 1000 digital-to-analog converter and preamplifier. However, my wife Sonia, who has impeccable taste, took one look at its lacquer-coated, hand-brushed aluminum chassis and said "Wow, that's gorgeous."
The SI 1000 is a class A/B, solid-state, dual-mono integrated with a rated power output of 175Wpc into 8 ohms and 275Wpc into 4 ohms. Frequency response is quoted as 10Hz-35kHz (+/- 3dB). Gain is via a variable digital volume control from Cirrus Logic ranging from 0-60 in half-step increments.
Dimensionally, the SI 1000 measures 17 1/2"W x 6 1/2"H x 19"D and weighs 60 pounds. Despite its heft and the lack of handles, it is surprisingly easy to grip and lug around, and it actually feels a lot lighter than its weight would suggest. Each corner has a column-type post that supports the chassis and elevates it off the floor. The front panel has an oval fluorescent display with large characters that were easily viewed from my listening position. It displays the input selected and volume level. Also on the front panel are six buttons that allow for input selection, bypass (for use with a surround-sound processor), volume control, standby and mute.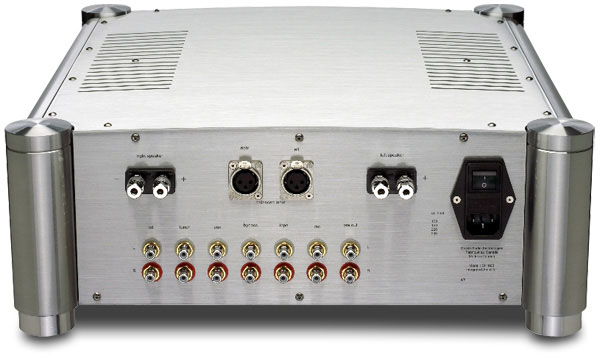 The back panel has a pair of Cardas high-quality rhodium-plated binding posts that accept spade lugs, banana plugs and bare wire. There is a single set of balanced inputs for any balanced source and seven pairs of RCA jacks. Two of these are for a CD player and a tuner, plus one auxiliary input for other sources such as a DVD player. Three of the remaining four sets of jacks are for bypass, tape in, and record out. The other jacks are outputs that allow the SI 1000 to be used as a standalone preamplifier or in a biamp configuration with a separate power amp, or to be connected to a powered subwoofer or a subwoofer controller. A/C input is via a detachable power cord; the SI 1000 is designed to operate at various line voltages, each set by the dealer. The back panel also has an on/off power switch, but during daily operation the standby switch can be used while the integrated is not in use, to limit the current draw while still maintaining the circuitry at optimal operating conditions.
Also supplied with the SI 1000 is an aluminum remote control with the same brushed-metal, lacquered finish. The remote is ideally sized and fits comfortably in the hand. One nice touch is the rubber footers attached to the underside. Why have so few companies thought of this? The footers not only protect the surface of your tabletop, they also anchor the remote in place, preventing it from sliding away from your fingers. The remote not only controls the volume, mute, input, standby and bypass functions, but is also able to control Oracle Audio CD players and other manufacturers' CD players that use the RC-5 code set. One additional button on the remote, speaker off, disconnects the speaker terminals if the SI 1000 is being utilized strictly as a preamplifier and powering a separate amplifier.
Special mention must be made of the shipping crate that the SI 1000 arrived in. After opening the outer cardboard carton, I found a particleboard crate with the lid secured by eight screws. Removing the lid revealed the SI 1000 snugly nestled within, held in place by foam inserts. A nice touch that should ensure safe passage anywhere.
Starting over
I first received the SI 1000 back in November, but I only had it with me for about two weeks before I had to send it back to the importer so that it could be displayed at CES. This was beneficial. In the intervening six weeks prior to getting the amp back, I was able to become familiarized with my new listening room. Before September of last year, I was living in West Hartford, CT (hometown of both Brad Mehldau and Joel Frahm!) and had my own dedicated, wood-paneled-and-carpeted listening room, which was well damped and had excellent acoustics. Then we moved to Los Angeles, where we've been renting a small house while we wait for the real-estate market to stabilize, and the room I now use for listening is an asymmetric spare bedroom that is less than ideal -- with 40% less volume and highly reflective surfaces. Still, with Wilson Audio's setup instructions and some damping treatments, I was able to achieve an arrangement that I could live with, the only major problem being that the width and depth of the soundstage were compressed because of the reduced room boundaries.
From the time of the SI 1000's initial delivery and for a few days following its return from CES, I listened to it casually before beginning any serious auditioning. Knowing that it had already been broken in, I did not expect -- and, indeed, did not notice -- any appreciable change in its sonic character throughout the review period. The stock power cord was used throughout the entire review. Despite use over extended periods of time, sometimes at high levels, the SI 1000 remained cool enough to touch and performed flawlessly.
Invisible & invincible
When I want to hear just what a component is capable of, I reach for live recordings from the MaxJazz label. Not only is the MaxJazz roster of artists superb, but the recording techniques are stellar, with a house sound that presents a you-are-there experience. On Mulgrew Miller's Live at the Kennedy Center Volumes 1 & 2 [MaxJazz MXJ 217 & 219] the SI 1000 didn't disappoint, delivering a suitably wide and deep soundstage with 3-D imaging and no loss of focus. There was such a degree of transparency that musical details were laid bare, giving a sense of palpability to images that were seemingly real. This quality wasn't limited to modern recordings. The recently remastered At the Five Spot by Thelonius Monk [Milestone MCD-47043] was beautifully rendered, with a front-row perspective that allowed me to get a real feel for Monk's and Johnny Griffin's interplay.
Associated Equipment
Loudspeakers – Wilson Audio Sophia.
Integrated amplifier – Jeff Rowland Design Concentra.
Digital – Wadia 830 CD player.
Interconnects – Transparent Audio Ultra MusicLink.
Speaker cables – Transparent Audio Ultra MusicLink.
Accessories – Audio Power Industries Power Pack II.
Multi-track studio recordings also benefited from this degree of up-front clarity. I've spent a lot of time recently listening to the Miles Davis boxed set The Complete On the Corner Sessions [Columbia/Legacy 88697062392]. Recordings from this era of Davis's musical career were multi-track performances recorded over many sessions and heavily edited by Davis and producer Teo Macero, splicing together multiple recordings from different dates to produce individual tracks. Despite this, individual instruments were not lost in the mix, and soloists stood out in plain relief against the dense and heavy soundscapes.
One thing that struck me right away was how good the SI 1000 sounded at low levels. Because our house is so small and my listening room is adjacent to the other bedrooms, many times I have to listen at far-less-than-realistic volume levels. With lesser integrated amps, this would result in a loss of micro detail and collapsing of the depth and width of the soundstage. Not with the SI 1000. The New Mastersounds Live at La Cova [3 on the B Records 3BRCD004] was quite revealing. With a high-energy live recording like this, I would have expected the sonic images to be flat at lower levels, but the SI 1000 reproduced the music in a holographic manner. Yes, the overall sonic picture was less full, and goosing the music with a little more power certainly allowed the aural imagery to blossom, adding to the weight of the music, particularly with the bass, but in no way was the sound less than satisfying during late-night listening when my family was sleeping. When I wanted to listen at moderate to ridiculous levels, the SI 1000 happily obliged with pure effortlessness and no evidence of congestion or compression.
With regard to tonal balance, the SI 1000 had a slightly cool bias, favoring the treble over midrange and midbass warmth, but never did this manifest as harshness or induce listening fatigue. If anything, this cooler presentation may have added to the transparency that so impressed me during the course of the review. The treble itself was reproduced smoothly with excellent high-frequency extension. Cymbals were reproduced cleanly with realistic shimmer and crash, sounding nothing like high-frequency noise but like wood striking brass. John Coltrane's soprano saxophone on "My Favorite Things" from My Favorite Things: Coltrane at Newport [Impulse B0009076-02] extends into the upper registers with ease and no sense of strain, and the SI 1000 conveyed its harmonium-like tone perfectly.
Although the SI 1000's manner leaned toward the cooler side, this was not at the expense of the midrange or a lack of naturalness in the re-creation of a live performance. The Brent Jensen/Rob Walker Quintet 's Art of the Groove [Origin 82427] was recorded live to two-track, and the tone was rich and energetic with no sense of leanness and acute re-creation of the studio's feel. Jensen's alto sax had an almost velvety-rich tone that was quite captivating, and Walker's flugelhorn was brassy and vibrant.
The SI 1000 was able to deliver current to the speakers so effortlessly that bass impact was nothing short of visceral. On the title track of Steely Dan's Everything Must Go [Reprise 48435-2], drums and bass were punchy, tuneful and fat without sounding bloated. Increasing the volume considerably delivered more of the same without muddying things up, and there was seemingly limitless power. I'm sure my speakers could have handled more, given how easily and cleanly this signal was served up, but my inherent caution got the better of me, and I dialed the volume down to a more reasonable level. Such bass control held true for all types of music -- symphonic, jazz, blues, rock'n'roll -- and at no point did the SI 1000 strain to deliver.
However, I do have a few functional nits to pick with the SI 1000, though they are fairly minor. The most significant was the presence of only one balanced input, but that's fairly easy to get around by just muting the integrated and switching the interconnect at the source. Also, while most people can probably live without a balance control, as I've recently found out, in less-than-perfect rooms, this can be very useful. Last, although I haven't listened to vinyl in more than 20 years, one of the attractive qualities of my Jeff Rowland Concentra integrated is the optional MM/MC phono card (still available) should I suddenly want to dip my toes back into analog waters. The SI 1000 has no phono stage, which seems especially odd, given that Oracle's best-known product is a turntable.
All of these are certainly not deal breakers, especially in light of the SI 1000's stellar fidelity.
Comparison
As I mentioned, the SI 1000 has a slightly cool tonal balance, and when compared to my reference, an original Jeff Rowland Concentra ($5600 when still available), this was all the more apparent, with the SI 1000 sounding somewhat drier, but not so much so that the music sounded sterile or clinical. I can envision pairing the SI 1000 with a speaker possessing a warmer tonal balance to even things out, but this might be at the expense of the SI 1000's superb transparency, which provided an open window into the recorded event. The Concentra brings some of its own warmth to the proceedings, making it a pleasing sonic match for a wider array of speakers.
More important, however, was the dynamic headroom that the SI 1000 supplied. Its higher power output and its ability to deliver current to the speakers allowed it to present the music realistically at all volume levels -- more so than the Concentra. With a lower power output, the Concentra approached but did not equal the SI 1000 at higher SPLs, but at lower volumes, the SI 1000 was better able to convey the sense of scale of the performance in a way that the Concentra was unable to match. The added power also conveyed additional low-end grunt, giving the SI 1000's low bass more impact at higher volumes.
In this case, more money gets you more of certain things and also a distinctly different view of the music. I like living with the Concentra, but the SI 1000's visit was one I'll certainly remember.
R-E-S-P-E-C-T
When listening casually, I'm often reading the newspaper or a magazine, but well-executed components will present the music in such a convincing fashion that it is impossible to ignore. The SI 1000 is one such component. I often found myself putting down whatever I was reading to focus on the music because it sounded so compelling. At a price that's close to ten large, the SI 1000 is very expensive. But viewed in the context of its flexibility and functionality, especially when paired with an Oracle CD player or another compatible player, plus a DVD player in a 2.1 channel home-theater setup, the SI 1000 will represent significant value to its lucky owner, and there's a lot to respect in that.
...Uday Reddy
uday@soundstage.com
Oracle Audio Technologies SI 1000 Integrated Amplifier
Price: $9250 USD.
Warranty: Two Years parts and labor.

Oracle Audio Technologies, Inc.
6136 Boulevard Bertrand Fabi, Suite 101
Sherbrooke, Quebec, Canada J1N 2P3
Phone: (819) 864-0480
Fax: (819) 864-9641

E-mail: info@oracle-audio.com
Website: www.oracle-audio.com

US distributor:
Audiotion, LLC
1313 Hillside Avenue
Richmond, VA 23229
Phone: (804) 442-6500
Fax: (804) 201-9750

E-mail: rusty@audiotion.com
Website: www.audiotion.com