October 2001
Opera Consonance T-1 Preamplifier
by Tom Lyle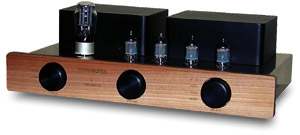 Review Summary
| | |
| --- | --- |
| Sound | "A great deal of the tube sound"; "softened the leading edge of transients, and the extreme high and low frequencies were somewhat truncated"; but there were "midrange qualities that were akin to analog playback" too. |
| | |
| --- | --- |
| Features | Tube circuitry -- "uses two 12AU7 tubes per channel, and a 5Y3 tube rectifier"; lacks a few conveniences -- no tape monitor, remote control or phono stage. |
| | |
| --- | --- |
| Use | Tom found the tubes to be microphonic, so he swapped in some Sovteks, which helped "the preamp sound more focused in the bass and upper midrange/lower treble." |
| | |
| --- | --- |
| Value | A "bare-bones" preamp, but " worth a listen…for lovers of tube sound no matter the system." |
The Opera Consonance T-1 preamp is built and designed in Beijing, China, yet this simple preamp attempts to go up against many established brands from the West. Why is it "simple"? First of all, it has no tape monitor. This might be more of a big deal to some potential buyers, but as most audiophiles know, a tape loop is used for more than just making cassette copies of CDs. Secondly, it has no remote control, which again, might be more of a big deal to some than others. It also has only one set of outputs, which might limit its usefulness. Lastly, it has no phono stage, which I'm sure bothered me more than most. I could, however, recommend more than one inexpensive outboard phono stage to rectify that situation.
The $1750 USD T-1 uses two 12AU7 tubes per channel, and a 5Y3 tube rectifier that the company claims has a very slow rise time. The preamp has no negative feedback, and it uses Philips electrolytic capacitors. The T-1 has custom-made resistors, MIT coupling capacitors, and is hand-wired with pure copper cable. I couldn't figure out by experimenting or otherwise whether or not the preamplifier inverts polarity.
On the front panel are three controls -- on/off, volume, and source selection. On the rear panel are four pairs of single-ended RCA line inputs and a single pair of RCA line outputs -- there are no XLRs. An IEC receptacle allows use of an after-market power cord. The unit measures 17"W x 9 1/2"D x 5"H and weighs 10 pounds. In my main system, I placed the preamp on a shelf of my Target rack, and there was enough room above it so no undue amount of heat built up. The T-1 looks pretty sharp. With its real cherry front panel and exposed tubes and transformers, it has a retro-chic appeal to it.
There was one glitch with the T-1. The 12AU7s shipped with the preamp were quite microphonic. Tapping on them with my fingernail transferred a pretty loud ring through the speakers. Replacing them with commonly available Sovteks did the trick. Not only were the Sovteks much less microphonic, they the preamp sound more focused in the bass and upper midrange/lower treble.
Sound
In the main system, it was immediately apparent that the T-1 had a great deal of the tube sound. Some call this the yin rather than the yang -- the T-1's darker sound softened the leading edge of transients, and the extreme high and low frequencies were somewhat truncated. But this isn't as bad as it may sound. The T-1's subtractive faults weren't huge and made much of the music I played through it, especially of the classical and jazz varieties, very captivating. This was largely due to midrange qualities that were akin to analog playback, including an increase in dynamic "distance" between two or more instruments playing simultaneously at different volumes. This asset was combined with an increase in the depth of the soundstage that made the back wall and other boundaries of the recorded environment more apparent. It was as if I could hear an instrument's location in the soundstage by the air surrounding it.
Associated Equipment
Loudspeakers – Legacy Classic, PSB Stratus Mini, Velodyne HGS-15b subwoofer.
Amplifiers – Krell KAV-250a, Muse Model 150 monoblocks.
Preamplifiers – Audible Illusions Modulus 3A with Gold MC phono board.
Analog – Basis Debut Mark V turntable, Wheaton Triplanar VI tonearm (with Discovery Cable wired directly to preamp), Lyra Clavis DC phono cartridge.
Digital – Pioneer DV-525 DVD player (used as transport), AH! Tjoeb 99 CD player (used as either CD player or transport) Perpetual Technologies P-3A DAC and P-1A digital correction engine, Monolithic Sound P3 Perpetual Power Plant power supply.
Interconnects, digital cable and speaker cables – Cardas Quadlink 5 interconnects; MIT 330-plus and Terminator 2 interconnects; MIT Terminator 3 digital cable; MIT Terminator 2 biwire speaker cables.
Accessories – Sennheiser HD-600 headphones, Headroom Little More Power headphone amp, PS Audio Power Plant P600 AC regenerator, Chang Lightspeed ISO 9300 power conditioner, MIT Z-Cord II power cord, Target TT5-sa equipment rack, German Acoustics cones (under preamp), 1/2" MDF/ten Vibrapod model 1s/1/2" MDF sandwich (under analog), Winds stylus-pressure gauge, StaticMaster photo negative brush, LAST stylus cleaner, LAST Stylast stylus treatment, Record Doctor II record cleaning machine, Record Research Vinyl Wash, AudioQuest and VPI record brushes with which to apply record-cleaning fluid.
Bax's Fifth Symphony played by the Royal Scottish National Orchestra conducted by David Lloyd-Jones [Naxos 8.554509] was a superb way of hearing the aforementioned traits. I picked up this CD because I heard that this was from Bax's "Sibelius period." It's true -- Sibelius has a large effect on this symphony. In fact, Bax dedicated this work to him. As a result, it ends up relying heavily on the lower strings of the orchestra, yet the T-1's bass didn't seem to matter much. Its overall sound succeeded in drawing me into the piece. And since each section of the orchestra occupied its own space in the soundstage, transients seemed to be less noticeable. Would I go as far as claiming that the T-1's sound was seductive? Sure, that's the appeal of tubes, even though I was aware some things were missing.
The T-1's tubey character was a bit more of a difficult road to navigate when spinning rock or pop. On Nick Cave and the Bad Seeds' latest No More Shall We Part [Mute/Reprise 9 48039-2], the loss of focus in the frequency extremes was difficult not to notice. The kick drum and bass guitar were a little too warmed over, with a noticeable rise in the midbass, and the cymbals of the drum kit and other percussion instruments seemed somewhat buried in the mix. But I think it's important to stress that the appeal of the T-1's sound came through in the vocals and the midrange, and this just about made up for any limitations.
With other equipment
Next up I substituted the much smaller two-way PSB Stratus Mini speakers for my full-range Legacy Classic speakers. This made a big difference, especially when using a Velodyne powered subwoofer (although with the T-1's one pair of outputs, I used the subwoofer in a less-than-optimal high-pass arrangement). I also tried the T-1 in an entirely different system comprised of a pair of Muse monoblocks, an inexpensive portable CD player, and the PSB speakers and sub.
On the Bax CD, the low end hardly mattered. Whether this quality was concealed by the more limited frequency response of the speakers or the prominent and warm midbass of the T-1, it's difficult to say. I guess it was a combination of both. Although not powerful in any sense of the word, the lower strings that were missing their lowest reaches were clearly audible, and the end result was exceptional sound. Of course, the treble still possessed a great deal of what some might consider the negatives of the tube sound, but it was very tolerable because the midrange possessed many of the positives.
The Nick Cave CD also benefited from both setups using the smaller speakers. The loss of focus in the frequency extremes was, as expected, much less noticeable. The kick drum and bass guitar had the same qualities as the lower strings on the Bax disc. The cymbals of the drum kit and other percussion instruments also seemed less buried in the mix. These traits combined with the allure of vocals and the midrange splendor of Cave's piano and other instruments enabled me to enjoy this CD from beginning to end.
When I threw on an audiophile-approved disc such as the Classic Records 24/96 DVD of John Coltrane's Blue Train [DAD 1028], the sound was even more alluring. This disc is not only sonically spectacular, but the performance is legendary. Joining Saint John are Lee Morgan and Curtis Fuller on horns, Kenny Drew on piano, and a rhythm section of Paul Chambers on bass and "Philly" Joe Jones on drums. What more could a jazz fan ask for? This 1957 recording by none other than Rudy Van Gelder could hardly be better if it were recorded today (although the slight tape hiss and the hard-left/-right panning seem as if they'd be major faults; the other aspects of the recording are so magnificent that these hardly matter). Blue Train was an excellent demonstration of the T-1's assets. Coltrane's sax took on an almost lifelike midrange presence. Also, the treble is so perfect on this CD that on the big system, the sound is scary. When played through a smaller system, the sound quality seems to compensate for any shortcomings.
Comparison shopping?
I regret not having a similar-priced tube preamplifier on hand for a direct comparison, but I did have my Audible Illusion Modulus 3A, which costs a little more at $2295 without phono stage. The Audible Illusions preamp, also tubed, has many of the benefits of tubes with hardly any of the disadvantages. Therefore, the T-1s midrange qualities, for example, became much more noticeable because they were more characteristic of the unit's tubey sound. The Modulus 3A excelled in terms of transparency, frequency extension and detail. I'd rather not rely too much on my sonic memory to judge The T-1 preamplifier against other similarly priced tube units that have been in my system in the past. But if forced, I'd say that it was indeed competitive with other similarly priced products, although its sound may be more to the liking of some listeners than others. Most other preamps will seem feature-laden when compared to the bare-bones T-1.
Conclusion
I suppose the ideal buyer of the T-1 would be one of two audiophiles: someone who wants to put together a system built around a sub/sat speaker system and doesn't mind having a very basic preamp, or an audiophile who wants a tubey preamp to perhaps match with a more lean solid-state power amp. In either case, the Opera T-1 is worth a listen -- as well as for lovers of tube sound no matter the system.
...Tom Lyle
tom@soundstage.com
Opera Consonance T-1 Preamplifier
Price: $1750 USD.
Warranty: One year parts and labor.

Opera Audio Company, Ltd.
No.4, Xihai Xiyan, XiCheng District
Beijing, China 10035
Phone: 86 10 66112678, 66139523
Fax: 86 10 66139523

Website: www.operaudio.com.cn

North American distributor:
NuView Audio Marketing
6487 Dayton Drive
Sardis, BC V2R 1V2 Canada
Phone: (877) 361-3630

E-mail: info@nuviewaudio.com
Website: www.nuviewaudio.com