May 2002
Opera Consonance M800 Mono Amplifiers
by Marc Mickelson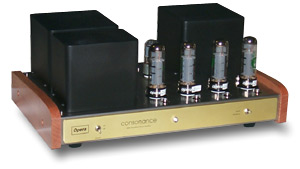 Review Summary
| | |
| --- | --- |
| Sound | "Not the kind of seductive, illuminated-from-within SETness, but there was plenty of EL34 sweetness along with good bass punch and tightness" in ultralinear; triode "ramped up the sweetness some, making the amps simply luscious throughout the midrange"; the "highs were completely free of hardness, glassiness, grit, grain" in triode too. |
| | |
| --- | --- |
| Features | Push-pull, EL34-based, "little"-negative-feedback design; triode/ultralinear switchable on the fly with a corresponding jump in output power. |
| | |
| --- | --- |
| Use | A bit noisy, so at their best with a solid-state preamp or CD player with volume control and less sensitive speakers; one-year warranty. |
| | |
| --- | --- |
| Value | Flexibility and fun from a pair of tubed monoblocks that don't break the bank. |
Opera may be an Italian invention, but it's been adopted as the name of a manufacturer of audio electronics from mainland China, Beijing to be exact. The company has a rather large product line consisting of phono stages, preamps, integrated amps, and power amps. At first I thought that the M800 mono amps were part of a special Consonance line, but after looking through Opera's product booklet, I discovered that every one of its products, even those badged from its Reference line, have Consonance as part of their name. And then there's the issue of the M800 model name. It makes me think this mono amp puts out 800 watts. Maybe it's just me.
Naming aside, the M800 is a nice-looking amplifier with its cherry side panels, gold-toned front plate and tubes out in the open. It's also a push-pull amp with some flexibility, as it can be switched on the fly from triode to ultralinear output with a corresponding jump in power: reportedly from 35 to 75 watts. Each monoblock uses a quad of EL34 output tubes, a pair of 6SN7s as drivers, and a single 6922 at the input stage. None of these tubes is exotic, so retubing the M800 should be relatively cheap. Bias for the output tubes is adjusted via regulators near each tube and requires the use of a volt/ohm meter; the recommended setting is 40mA. On the front panel are the on/off and triode/ultralinear switches, while around back are the speaker binding posts (for 4- and 8-ohm loads), a single RCA input jack, and an IEC power-cord receptacle. The M800 costs $2200 USD per pair, which is on the low side for tubed monoblocks.
The M800's manual indicates that the circuit uses "little" negative feedback, so the M800 is not a zero-negative-feedback design. Frequency response is quoted as 6Hz-60kHz. The M800 measures 14"W x 7 7/8"D x 6"H and weighs 45 pounds. The warranty is a mere one year parts and labor. Opera has recently finalized its agreement with a US distributor, who will assume the responsibility of warranty repairs. This is very good news because otherwise your amps would need to go on a slow boat to Beijing if anything went wrong.
System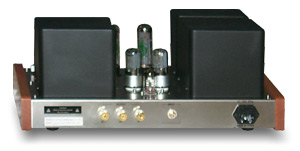 I used the M800 monoblocks with my usual cast of review equipment: Lamm L2 preamp, Wilson Audio WATT/Puppy 6 speakers, Bel Canto DAC1.1 DAC, and Mark Levinson No.39 used as a CD player (through the preamp and directly into the amps) and transport. Cables were Nordost Quattro-Fil and SPM Reference or DH Labs Air Matrix and Q-10 -- interconnects and speaker cables respectively. Power cords were from Shunyata Research (Sidewinder, Sidewinder "Venom," King Cobra v2, Viper and Black Mamba) or TARA Labs (RSC Air and The One). The amps sat on sand-filled Bright Star Big Rock bases, as did the No.39, while a pair of Target TT4 racks supported the other electronics.
I also had on hand the Audio Research Reference Two Mk II preamp and VTM200 mono power amps as well as the Bel Canto eVo 200.2, a non-tube digital amp that has some characteristics of single-ended tubes -- to my ears at least.
Performance
I am a big fan of the EL34 output tube, which so often displays a just-right mixture of sweetness, dynamic bloom and resolution. I've been able to use the tubes in amps like the Quicksilver M135, Mesa Baron, and Audio Electronic Supply AE-25 Super Amp, and with each I was always happy to switch from other output tubes to EL34s and settle in for some pleasure listening.
I began listening to the M800s in ultralinear, and I was immediately impressed with the sound. There was not the kind of seductive, illuminated-from-within SETness, but there was plenty of EL34 sweetness along with good bass punch and tightness. I was listening to a good many jazz reissues at the time, and they were very well served by the M800 monos. One of my faves from the JVC XRCD catalog is The Modern Jazz Quartet's Concorde [JVC JVCXR-0203-2]. With the M800s in ultralinear, Milt Jackson's vibe work on "Ralph's New Blues" rang out with clarity and projected appropriately -- not too much or too little -- into the room. Image delineation was very good -- no congealing or fuzziness. Also, the illumination of the back corners of the soundstage was reminiscent of the way an 845-based tube amp would do it, which is to say that the sound was very spacious indeed.
After getting my fill of the M800s in ultralinear, I switched to triode, which ramped up the sweetness some, making the amps simply luscious throughout the midrange. One day, completely out of the blue, I received an e-mail from singer/songwriter Vince Bell, whose Texas Plates [Paladin 9 247725-2] I had mentioned in an equipment review. He had read the review and wanted to thank me for mentioning his music. Well, Vince, here's another plug, this time for Phoenix [Watermelon CD 1027]. Vince's gentle, expressive voice on "Frankenstein" was eerily present over the Opera amps in triode, and the amps' highs were completely free of hardness, glassiness, grit, grain -- you name the malady -- but not lacking in resolution. Phoenix begged to be played loud, so I obliged. The bass was not quite of the same quality as it was in ultralinear, but it was not out of line with what I heard from the Audio Electronic Supply AE-25 Super Amp or, I suspect, other triode designs. There was also not quite the same definition of images, which were more full but with outlines that were a touch less crisp.
I had a hard time deciding which was better -- ultralinear or triode. I did decide, however, that proper warm up is necessary with the M800s. Before the amps have been on for at least 30 minutes, triode sounds dense and unremarkable, while ultralinear sounds more driving and incisive. After warm up, triode's intimacy narrows the gap, making the choice a matter of taste and the music being played. But the great thing is that you don't have to choose. Just get out of your seat, flip the switch on the front panel, and you have a different, and still very good, amp.
No matter the mode, there is one weakness of the M800: noise. In either triode or ultralinear mode, I was able to hear tube hiss and noise through the speakers from my listening position, and this made for the opposite of music appearing from an ultra-black background. Instead, the smallest bit of ultimate low-level resolution was stunted, as on the MJQ disc. The piano and bass were a touch obscured by the higher background noise (the remaster is already plagued with a bit of tape hiss), so they didn't have the life and vitality of the vibes. You might be thinking that the amps were just amplifying the hiss from the tubed preamps used, but I also used the amps with the Mark Levinson No.39 straight in, and the noise was still there. This configuration did help things a bit, so maybe it's best to use these amps with a very quiet solid-state preamp or a CD player run directly in. Also, my Wilson speakers, at 91.5dB sensitive as measured at the NRC, will make the noise a little more prominent too.
Comparison
Bel Canto's eVo 200.2 was a very popular product for the company (it's since been replaced by the eVo2), earning a Reviewers' Choice nod from us for its distinctive sound. In terms of technology, the eVo 200.2 and the M800 monoblocks couldn't be much more different: stereo amp versus monoblocks, digital versus tubes, high power versus medium power (or less in triode mode). The prices are similar, $2200 per pair for the M800 to $2395 for the eVo 200.2 when I reviewed it in February 2001.
The thing I noted right away with the eVo was the drop in the noise floor and corresponding better handling of low-level detail. The eVo is more powerful too, able to reach rave-approved volume levels with the sensitive WATT/Puppy 6 speakers. However, the M800s were particularly seductive, especially in triode, and fun to use given the ability to switch output modes. Ultralinear brought the sound closer to that of the eVo 200.2, but the tube signature was always present. And when I wanted more sweetness, I just switched to triode.
If you have a need for power, you should audition one of Bel Canto's eVo amps -- they're terrific. But if you're a tube guy who likes the idea of switching between ultralinear and triode output, not to mention the luxury factor of monoblocks, seek out the Opera Consonance M800s.
Final act
I have to admit to having reservations about the Opera Consonance M800's one-year warranty. However, I have no reservations about the sound of these fine mono amps, as they were always fun to use and rewarding to listen with. They can sound sweet or more driving and spacious at the flip of a switch, and in most cases, you'll have fun listening to your music both ways. I especially liked the treble in triode, as it was as free of electronic artifacts as any I've heard. The noise floor was higher than I would have liked, but this versus the price, flexibility and overall sound quality of the M800 monoblocks is a trade I would make, especially if I were using a CD player with a volume control and had less sensitive speakers that wouldn't emphasize the noise.
As distribution for Opera Audio products is put in place wherever you are, you will have more chances to see and hear these fine amps. Don't let the opportunity pass you by, especially if you're in the market for something pricier.
...Marc Mickelson
marc@soundstage.com
Opera Audio Consonance M800 Mono Amplifiers
Price: $2200 USD per pair.
Warranty: One year parts and labor.

Opera Audio Co., Ltd.
C-1501, Building No.9 Kingdom Garden, Xiaoxitian
Haidian District, Beijing, China
Phone: 86 10 62220935
Fax: 86 10 62220935

E-mail: klep@public.bta.net.cn
Website: www.operaudio.com.cn/company/operaudio/eindex/eindex.htm

US distributor:

Quest for Sound
2133 Bristol Pike
Bensalem, PA 19020
Phone: (215) 637-3263

E-mail: questforsound@aol.com
Website: www.audiogon.com/cgi-bin/sh.pl?0&1&adlr&Questforsound&1&
---
Opera Audio responds:
It was great to read such a professional review. We are very appreciative for the chance to be reviewed by SoundStage!.
The noise level is higher for M800 than other Opera products by design to acquire the most musically engaging sound. To lower the noise floor, bias adjustment must be done very carefully by users in the home setting. The final bias setting may need to be slightly different from factory-recommended setting to accomplish a very low noise floor.
It's quite a high compliment that "I have no reservations about the sound of these fine mono amps." Thanks again!
Liu Zhaohui and Ma Wei
Opera Audio