August 2003
Nordost Valkyrja Interconnects and Speaker Cables
by Marc Mickelson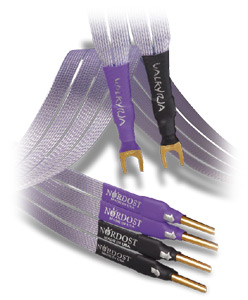 Nordost Valkyrja speaker cables...

Review Summary
| | |
| --- | --- |
| Sound | "Fast, open, airy, and highly detailed but also able to convey tremendous bass weight and slam along with palpability and presence through the midrange"; subjectively, they have less of a sonic signature than a good many other cables I've used." |
| | |
| --- | --- |
| Features | "Singular in their design approach and construction" -- 28 22-gauge eight-nines copper conductors over which 60 microns of high-purity silver are extruded. Teflon monofilament is then wound around each of the conductors, after which the bundled conductors are encapsulated in .5mm of FEP Teflon." |
| | |
| --- | --- |
| Use | "These cables are precision instruments." -- "whatever sonics your equipment and recordings have to offer, you will hear them with Valkyrja." |
| | |
| --- | --- |
| Value | "Valkyrja offers supreme neutrality, which makes me wonder what more Nordost's Valhalla can possibly offer." |
Over the past couple of years, I've used and written about a smorgasbord of audio cables with diverse design approaches. There were those that used esoteric conductor materials (Acoustic Zen and Analysis Plus), those that employed unique geometries (Shunyata Research), and those that featured inline networks (Transparent Audio and MIT). I can now add to this roster interconnects and speaker cables that are perhaps more singular in their design approach and construction than any other: Nordost's new Valkyrja (pronounced Val-ky-ra), which use the company's Teflon Micro Monofilament design to produce small-diameter tube-like interconnects and thin, wide speaker cables that are as flexible as any I've encountered.
Valkyrja's design and execution are unique, owing much to Nordost's top-of-the-line Valhalla cables, which Nordost calls its "extreme reference." Valhalla has garnered tremendous praise from reviewers and audiophiles alike. Teflon Micro Monofilament construction made its debut with Vahalla, but new production methods and tooling have made for simplified manufacturing and lower costs for Valkyrja. While Valkyrja is not cheap at $2000 USD per meter pair of interconnects and $4600 per eight-foot speaker cables, it doesn't come in near the cost of many top-of-the-line offerings, including Valhalla, which costs $3300 and $7350 respectively.
Valkyrja speaker cable is eye-catching -- 1 1/2" wide and .39" thick, the same thickness as a credit card. Each positive/negative run has 28 22-gauge eight-nines copper conductors over which 60 microns of high-purity silver are extruded. Teflon monofilament is then wound around each of the conductors, after which the bundled conductors are encapsulated in .5mm of FEP Teflon, which gives the speaker cables their lavender hue. These painstaking processes are said to reduce the capacitance, inductance, DC resistance, and dielectric constant of the cables, improving their ability to carry the audio signal. The patented extrusion process and Micro Monofilament technology are proprietary to Nordost. One glance at the Valkyrja speaker cables will make you a believer -- they certainly don't look like traditional speaker cables.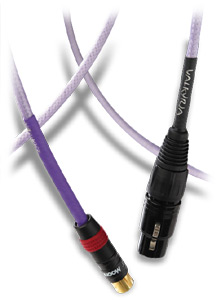 ...and interconnects
Valkyrja interconnects use the same 28 22-gauge conductors of the speaker cables in the same spatial relationships, but this time the ribbon is shaped into a tube whose center represents an air dielectric. Again, electrical properties are "extremely low," as Nordost states it, allowing the cable to pass the signal at 94% of the speed of light. Faster than the Flash! The RCA connectors are worth mentioning because they are Nordost's own MoonGlo RCAs, which have a spring-loaded outer ground sleeve that retracts so the center pin makes contact before the ground, reducing the chance of sending a palpitation-inducing buzz through your gear if you change cables with everything on. They're nice.
For you trivia buffs, the Valkyrja are from Norse mythology, the handmaidens of Odin who protect those who fall in battle and choose among them who will go to Valhalla. On a recent trip to Chincoteague, VA, I had my picture taken next to the world's largest peg-leg viking, and now I'm reviewing cables whose name has Norse origins. I'm getting back to my Norwegian roots without even trying!
Review system
I used the Valkyrja cables in my reference system: Wilson Audio WATT/Puppy 7 speakers, Lamm ML1.1 amplifiers, Lamm L2 Reference preamp, Zanden Model 5000 Mk III DAC, Mark Levinson No.37 transport, and Esoteric DV-50 universal A/V player. The digital cable between the DAC and transport was an i2digital X-60 with BNC connectors. Power cords were from Shunyata Research: Anaconda Alpha for the amps, Anaconda Vx for the preamp and DAC, Taipan for the transport, and Anaconda Vx for the Esoteric player. Power was provided by Shunyata Hydra and Hydra-8 power conditioners as well as a Sound Application XE-12S with thick 20A Elrod power cord. The amps and preamp sat on Silent Running VR-3.0 isoBases, while the transport or universal player sat on a conglomeration of two Bright Star Big Rock bases and a Townsend Seismic Sink.
Interconnects and speaker cables used to help determine the sound of the Valkyrja cables were from Acoustic Zen (Silver Reference II and Hologram II), Analysis Plus (Solo Crystal Oval and Solo Crystal Oval 8), Shunyata Research (Aries and Andromeda), and MIT (Oracle v2.1), but for comparison purposes, I used Nordost's own Quattro-Fil interconnects and SPM Reference speaker cables.
Taking a liking to a viking
My previous exposure to Nordost cables prepared me somewhat for the performance of Valkyrja, but not completely. These are fabulous cables -- fast, open, airy, and highly detailed but also able to convey tremendous bass weight and slam along with palpability and presence through the midrange. Subjectively, they have less of a sonic signature than a good many other cables I've used (MIT Oracle v2.1, which sounds great but has more of a sound, comes quickly to mind here) but never tip over and sound bleached or threadbare.
But quick discussions like this tell only part of the story; close attention to the music tells the rest. It's often great fun to rediscover a CD you once loved but haven't heard in a long time -- and especially haven't heard with your current equipment lineup. This happened to me with Peter Case's long-out-of-print The Man with the Blue Post Modern Fragmented Neo-Traditionalist Guitar [Geffen 24238], which I listened to practically nonstop while I was in graduate school but haven't listened to much since -- for no reason other than that I have so many more CDs now. I always considered this recording to be middle of the road at best in terms of its sound -- a bit thin and bleached, perhaps due to the Adcom and Sony gear I owned in graduate school. But the music is wonderful: guitar-driven blues with some of the smartest lyrics you will hear. On "This Town's a Riot," Case begins:
Standin' on the corner of walk and don't walk
Tryin' to read Spanish on the wall
It takes 15,000 pounds of pressure
To be standin' on this corner readin' nothing at all
Valkyrja -- second listen
Prior to the Valkyrja interconnects and speaker cables arriving, Nordost's Red Dawn Rev. II speaker cables and Quattro-Fil interconnects had been a mainstay in the many systems I've assembled. The Quattro-Fil interconnects are hard to fault. They're certainly not inexpensive, but as a music-signal conduit, they're as transparent-sounding as anything I've heard. You want to hear your components? Quattro-Fil will help you do it.
Much the same can be said about Red Dawn II, but it's here that I can find a few misgivings. For the most part the Red Dawn II speaker cables perform flawlessly, but with the occasional speaker and amplifier combination, they can sound a little bit strident and lean. When that happens, I switch to my other speaker-cable reference, Nirvana S-L, which has a weightier, slightly darker sound. Between these two speaker cables, things always work out.
Like the Quattro-Fil interconnects, the Valkyrja interconnects are faultless at simply letting the signal through. Coloration-free? I think so. You can hear what every component does. Inexpensive? Certainly not, but if you value supreme neutrality, chances are they're the only interconnects you'll ever need. Don't consider them as patches to compensate for poor electronics -- they won't do that. Rather, get your electronics just right first and consider the Valkyrja interconnects the icing on the cake.
It's the Valkyra speaker cables, though, that impressed me the most when I compare them to what I had been using. While still not quite as weighty-sounding as my Nirvanas, they are close and certainly fuller-sounding than the Red Dawns. And while some may consider the Valkyrjas lean when you compare them to some really fat-sounding cables -- far fatter-sounding than the cables I consider references -- I don't consider those products that more or less butter-up your system with colorations to be neutral. I'd rather have my components sound like they really do. And that stridency I heard from the Red Dawn IIs? Given that I've lived with Red Dawn II for years and Valkyrja for only a couple of months, I haven't been able to assemble system combinations to the same extent. But from what I can tell, the stridency is gone.
Valkyrja interconnects and speaker cables are equals -- reference-caliber, no doubt.
...Doug Schneider
das@soundstage.com
What a complex and satisfying image! Here the protagonist is obviously in the inner city, at a corner with a stoplight. He sees graffiti, Spanish graffiti, and realizes that it'll take a serious piece of cleaning equipment to remove it. Why not just say it straight? Doing so wouldn't convey the feeling of the moment with anywhere near the same verisimilitude or flair. The Man with the Blue Guitar... is filled with moments like this. If you can find a copy on eBay, buy it.
Where does the Valkyrja fit in? The recording that previously I thought was OK at best took on new spatial dimensions. Case's voice floated between my Wilson Audio speakers, with lots of air around it. This is by no means a lush-sounding recording, but overall resolution is quite high, too high for my less-refined graduate-school system to handle. With Valkyrja, I heard everything on the disc, none of it hyped up or shelved down. These cables are precision instruments.
Throughout all frequency ranges, the Valkyrja cables maintain a very balanced presentation. Highs sparkle with metallic sheen and immediacy, the midrange is not emaciated or overly full, bass is deep and weighty. Whatever sonics your equipment and recordings have to offer, you will hear them with Valkyrja. Marimba can be difficult to record and reproduce because the mallet strikes don't always produce explosions of sound, often due to the subtlety with which the instrument is played. Carrefour's Romeo & Juliet [Turtle Records 298123] offers interpretations of Prokofiev's music for marimba quartet. The Turtle Records recording offers oodles of space but also a more distant perspective that doesn't exactly enhance the presence of the instruments. The Valkyrja cables pass all of the recorded information along, to the point of helping to define more distinctly the space of the recording venue and the mallet strikes. If you have a truly high-rez system, this CD is one you should hear on it. It's a great test.
Speaking of high-rez, the Valkyrja cables excelled with SACD, letting me hear more of each recording. We're all just finding out that not all SACDs are created equal and sound distinctly better than CDs. While Universal Music's Peter Gabriel SACDs do sound better than the often poor-sounding original CD releases (Security was the second CD I purchased back in 1982), they do not transform the recordings into demo material, and I think this is not so much because the master tapes aren't very good. Instead, the distinct see-into quality of SACD is missing. The neutrality of Valkyrja doesn't solve this problem -- and in fact makes its root cause all the more discernible. Yes, I can only speculate as to why the Peter Gabriel SACDs don't live up to other SACD remasters, but when your audio system is adding so little of its own to the sonic output, speculation gets closer to root cause.
But it's not all bad news with Valkyrja and SACD. When you play one of the better-sounding SACDs, like the Misha Mengelberg Quartet's Four in One [Songlines SA1535-5], a live-to-stereo-DSD recording, you will hear even more space and an even better portrayal of the instruments' tonality. If you like your cables to editorialize, look to something other than Valkyrja, especially if added weight and fullness are what you seek. But if you love your electronics and music, Valkyrja should be near the top of your cables-to-hear list.
Comparison
I've used Nordost Quattro-Fil and SPM Reference off and on for a couple of years. There have been equipment combinations that have worked better or worse with these two cables, which used to be at the top of Nordost's line, but the cables' performance has remained a constant of high resolution and neutrality -- much like Valkyrja. However, to my ears, Quattro-Fil and SPM Reference can also tip a system's balance over into sounding lean and lacking tonal color. Are the cables or the equipment to blame for this? Hard to say, but I know that with Audio Research's 100.2 solid-state power amp and the Lamm L2 preamp, Quattro-Fil and SPM Reference are not as satisfying to listen to as, say, the fine cables from Shunyata Research, whose wonderful image density is very welcome.
How does Valkyrja stack up? Very well indeed. While the resolution of Quattro-Fil and SPM Reference is retained, the leanness is largely gone, as the sound takes on a more tangible quality. This is the greatest difference between the cables, with the Valkyrja offering perhaps a smidgen greater detail retrieval as well. Would I sell my Quattro-Fil and SPM Reference to buy Valkyrja? If I were bothered by what I mention above, I would. In some systems, the differences between these cables may well make for a more balanced final presentation, but in the case of Quattro-Fil and SPM Reference it would have to be in a system that is voiced toward lushness. In every other case, Valkyrja would be the better choice.
One of the things that defines high-end audio is improving performance over time. Because the prices of Quattro-Fil ($1800 per meter pair) and SPM Reference ($3300 per eight-foot pair) are similar to Valkyrja's but the performance of the new cables is better, I suspect that the older cables are not long for this world. Rest in peace.
What I'm hearing
Over the course of my cable-reviewing extravaganza, I have received an e-mail or two questioning that I could possibly be hearing what I describe. Let me say here that the sonic attributes I note are present but certainly not as apparent as those of a pair of speakers, for instance. When cables are right, they can pull a system's sound together that last little bit, but only in rare cases will a certain cable completely ruin the sound of an otherwise finely assembled audio system. Try before you buy is the rule of thumb with all audio components, and it's so easy to do with cables that you'd be foolish not to experiment before laying down your long green. In fact, Nordost has put together a demonstration case for its "reference" dealers and distributors, who are ready and able to lend you whatever Nordost cables you want to hear.
In no way are the Valkyrja interconnects and speaker cables inexpensive, but it's nice to see a company like Nordost find a way to make a product similar to its flagship but costing quite a bit less. How closely Valkyrja and Valhalla perform to each other will be for another writer to report on, but to my ears, Valkyrja offers supreme neutrality, which makes me wonder what more Valhalla can possibly offer.
...Marc Mickelson
marc@soundstage.com
Nordost Valkyrja Interconnects and Speaker Cables
Prices: Interconnects: $2000 USD per meter pair; speaker cables, $4600 per eight foot pair.
Warranty: Lifetime.

Nordost Corporation
200 Homer Avenue
Ashland, MA 01721
Telephone: (508) 881-1116
Fax: (508) 881-6444

E-mail: info@nordost.com
Website: www.nordost.com