November 2002
NHT Evolution T6 Loudspeaker System
by John Leosco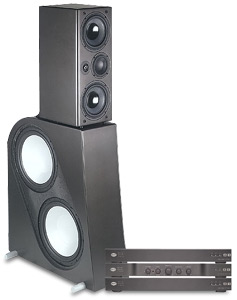 Review Summary
| | |
| --- | --- |
| Sound | "Uncolored, dynamic, and precise"; "frequency response rings essentially neutral with only a mild softening in the uppermost highs"; bass is "powerful and extended"; however, "create a window of sound at the speaker fronts that rarely departs outside the speaker boundaries." |
| | |
| --- | --- |
| Features | Modular speaker system that includes satellites, bass modules with amplifiers, and a crossover -- "nine cardboard boxes in all"; monitor speakers magnetically shielded, but not the bass modules. |
| | |
| --- | --- |
| Use | Ideal combination of satellites and woofer modules depends on the size of your listening space; setup is "not difficult to figure out because the NHT Evolution owner's manual is well written and complete." |
| | |
| --- | --- |
| Value | "The system includes not only subwoofers, but amplification and a crossover to boot" -- "a remarkable achievement considering the price tag." |
For a moment, pretend you're ten years old again. It's Christmas Eve, and multicolored lights twinkle on the tree, silhouetting a pile of presents beneath. What hidden treasures lie within all those packages? Anticipation consumes every thought, and permission to tear the wrapping away can't come quickly enough.
I experienced Christmas in summer thanks to Santa Claus, otherwise known as Mr. Freight Man. He unloaded a wooden pallet stacked high with the NHT Evolution T6 speaker system. Let's count -- one, two, three, four…nine cardboard boxes in all. Yup, nine!
NHT developed the Evolution lineup to blur the boundaries between two-channel audio and home theater, ultimately providing increased flexibility to the consumer. Traditional loudspeaker lines improve performance or add features as they escalate in price. Alternatively, Evolution systems center around two basic monitors, both similar in performance. Based on room size alone, the M5 monitor is selected for small or medium-sized rooms, and the M6 is for larger spaces in which greater output is required. The rectangular satellites may be placed horizontally or vertically, in an entertainment center or on a shelf, and used as any channel in a stereo or home-theater environment. Optional pedestals are available.
Better yet, an M monitor coupled with a B bass module meld into a single full-range transducer. The B5 or B6 bass modules form the foundation of a tower speaker plus include larger woofers to fill out the bottom end. Allowing for independent placement, NHT also makes separate subwoofers called the U1 and U2. To power and control the speakers, the A1 amplifier (used here for the bass modules only, but it can power any NHT Evolution speaker too) and the X1 crossover complete the Evolution system.
What did I find inside all nine boxes of the bundle? NHT determined that my 22' x 15' room and adjoining areas qualified as large, so they sent two M6 monitors and two B6 bass modules. Two A1 amplifiers would drive the B6s, and one X1 active crossover served as the control center for the stereo pair. A parts kit contained hardware to assemble the tower speakers, such as stabilizer bars, brackets, spikes, and screws. The ninth box held a comprehensive owner's manual, a two-headed screwdriver, black gloves to wear so as not to smudge the smooth anthracite gray finish, and a combination binding-post-wrench/beer-bottle opener embossed with the NHT logo. Ah, a company after my own heart! Together, the Evolution T6 system comprises all these pieces, and the whole shebang can be had for $4000 USD -- a little over $400 a box!
Some assembly required
I felt like a kid with a jumbo-sized Erector Set while setting up the T6 system. First I unpacked the 27"H x 8 1/4"W x 23 5/8"D B6 subwoofer modules, flipped over the 71-pound cabinets, and screwed two aluminum stabilizer bars to the bottom of each. The B6 uses a pair of 12" aluminum-cone drivers per channel to give a rated response of 26Hz-140Hz, -6dB down at 24Hz. The woofers are mounted on the sides of the mirror-image pair and covered by black grilles. When a large object, like a television (the monitors are magnetically shielded, but not the bass modules), is between the modules, the woofers point to the outside; otherwise the four drivers should face each other. Two pairs of industrial-grade binding posts are located near the floor on the rear of the B6. One set connects the subwoofer and the other routes the high-frequency signal to the upper terminal cup, where the M6 attaches.
After securing the supplied buttress and wiring harness on top of a B6, I fastened an M6 monitor. This three-way acoustic-suspension loudspeaker splits a pair of 6 1/2" laminated cone woofers with a side-by-side 4" polypropylene midrange and 1" aluminum dome tweeter. When mounted vertically, as in the T6 tower, the tweeters are placed inward. Frequency response is specified as 61Hz-30kHz, -6dB down at 45Hz. Crossover frequencies are 400Hz and 2.3kHz, with 12 dB/octave slopes. Sensitivity is specified at 86dB (2.83V/1m) with a nominal impedance of 6 ohms and a minimum of 4.2 ohms, so NHT recommends 200 watts of amplification to drive an M6. The braced cabinet is constructed of laminated 3/4" MDF. An internal midrange chamber features non-parallel surfaces to minimize standing waves. The tweeter is attached to a solid-aluminum bar, which acts as a massive heatsink and further increases cabinet rigidity. Detachable grilles are included.
Once the speakers were assembled, my wife thought the T6 Towers looked "ummm, modern." Style is personal. To me, the M6s appear boxy, an impression the more curvaceous B6 modules can't overcome. I suppose that's what happens when a 20"H x 8 1/4"W x 10 1/4"D rectangular box weighing 36 pounds is elevated on a pedestal. From the front, however, the speakers rise like a pair of slim columns and blend with the décor.
The A1 is a full range class-G monaural power amplifier that runs cool to the touch. A substantial 250 watts of power are on tap into a 6-ohm load, enough power to drive one B6 bass module. Both RCA and XLR inputs are included, and the A1 outputs via a pair of five-way binding posts. The thin attractive black chassis measures only 1 3/4"H x 17"W x 12 1/2"D, weighs 18 pounds, and it matches the X1 crossover. These electronics share a power-management system with three modes: always on, automatic turn on/off by signal detection, and operation by an external 5-24 volt DC trigger.
The NHT X1 active crossover adjusts bass characteristics to integrate with the primary speakers and the listening environment. Coaxial or balanced inputs feed the X1 with system volume controlled by your preamplifier or processor. Up front, Master Gain adjusts bass volume, and Low Pass and Phase vary the frequency range and relative phase of the subwoofer. Boundary EQ compensates for subwoofer proximity to walls and corners. LFE Gain Control sets level for a separate low-frequency-effects channel present on some movies. Around back, switches select the high-pass frequency and stereo or mono operating modes; a 10dB subwoofer gain increase is available. Man, the tuning options are practically infinite. Signals leave on RCA and XLR jacks, the high and low frequencies split as assigned.
Does all of this seem intimidating? Trust me -- it's not difficult to figure out because the NHT Evolution owner's manual is well written and complete. Read the book first, then simply follow the assembly and connection directions, and begin with the recommended X1 crossover settings provided as starting points. And maybe use the beer-bottle opener once you're finished, as I did.
Fine fine-tuning
The M6 satellites contain crossover switches on their terminal plates to compensate for room boundaries. If the speaker is placed within a cabinet, on a shelf, above a television set, or near a corner, the switch should be in the 1 position. Position 1 reduces bass response between 80Hz and 500Hz by about 3dB. In my home, with the monitors well out into the room, I selected the flat, 0 position. NHT recommends a two-channel stereo listening distance of one-and-a-half times the speaker spread. For starters, I placed the T6 towers about eight feet away from my chair and about five-and-a-half feet apart, monitors parallel with no toe-in.
The Evolution monitors utilize a technology called Virtual Focused Image Geometry. Midrange and tweeter placement combine with a crossover null to intentionally reduce sound directed toward the side walls. With the tweeters on the inside edge of the cabinet, sound in the listening window should be unaffected. At the same time, energy from 2kHz-6kHz is reduced by as much as 10dB outside the speakers, resulting in less reflected sound.
Whew! I'm done with the engineering briefing, I promise. All that technology must work, though. On first listen, I heard a soundfield completely contained within the loudspeakers' edges. No music, applause, crowd noise or hall ambiance seemed to extend outside the T6 towers. In search of a wider soundstage, I ultimately settled on a placement nine feet from my listening chair with the monitors spread seven-and-a-half feet apart. This process likely introduced some side-wall reflections, but it proved a good compromise between precise imaging, overall image size, and spatial cues. However, the soundstage width rarely strays beyond the speakers.
Initially, bass reproduction also felt corralled by the towers themselves. Strong, dynamic thumps surged from between the bass modules as if blasting through a wind tunnel. Moving the speakers further and further away from the front wall combined with tweaking the X1 crossover eventually cultivated great bass in several locations. I heard the very best lows with the modules located about ten feet into the room, including admirable pitch definition, extension and weight. Fearing for my life (spousal homicide), I immediately shoved the T6 towers four feet backward, adjusted the crossover accordingly, spiked the stabilizer bars, and proceeded with the review.
In-house gifts
A PS Audio Lambda CD transport fed data through an Illuminations D-60 coaxial digital cable to a Dodson Audio DA-217 Mk II D digital-to-analog processor. I installed a Sony DVP-S330 DVD player for movies. An Ayre K-1x preamplifier controlled volume, and an Ayre V-1 or a Krell KSA-150 powered the M6 monitors. AudioQuest Diamond and Opal and JPS Labs Superconductor FX interconnects with Synergistic Research Resolution Reference and JPS Labs Superconductor+ Petite speaker cables tied the system together. An API Power Wedge 116 conditioned AC power to the front-end components.
Duality in action
Steely Dan's remastered Aja [MCA 088 112 056-2] sounded right at home on the NHT Evolution T6 system, whose frequency response rings essentially neutral with only a mild softening in the uppermost highs. Concise drum snaps and cymbal taps set a lively beat throughout this classic pop/jazz-crossover menagerie. Donald Fagen's lead vocals emphatically take center-stage with needlepoint accuracy and smooth back-up vocals enter occasionally to nicely fill the stage between the speakers. Come to think of it, this whole album is a series of comings and goings with keyboard plinks, guitar riffs, biting saxophone solos and even a police whistle briefly making a statement and departing just as quickly. Amazingly enough, the entire mess flows together into a highly musical production and the NHT's do their part to punctuate the message.
Moving on to things of a more delicate nature, I played the new Norah Jones Come Away with Me [Blue Note 7243 5 32088 2 0]. Jones' sultry lyrics command position between the towers -- located dead center just ahead of the grilles. Through the M6 monitors, Jones' inflections were smooth but dry, like a good martini, with only a slight pulse of air around her compelling renditions. On "Seven Years," picks from the steely guitar in the right channel are darn clear tones, but seem to be missing some metallic twang and resonance. Consistently, the midrange delivers a dynamic enough blow with the fundamental note, but during the ring down some vibrancy, overtones, and air are lost, resulting in a deceptively clean yet more sterile image. My suspicions were confirmed with the opening fiddle from Reba McEntire's "'Til Love Comes Again," from Sweet Sixteen [MCA MCAD-6294], a long-term reference of mine. Normally, the bow strikes are full, rich, and biting as if dusted with rosin. This time they were leaner and more soothing, ultimately lacking some bite and bloom.
As I alluded to earlier, the NHT M6s create a window of sound at the speaker fronts that rarely departs outside the speaker boundaries. Within the sonic pane, individual images are taut and always in control. If you're after a huge, engulfing, layered three-dimensional soundstage, then the NHT Evolution T6es probably aren't for you. I enjoyed them most with driving rock music and explosive movie scenes. Whether reproducing car chases, missile launches and steps through slimy entrails, or rockin' to the Rolling Stones and appreciating Beethoven, most desirable loudspeaker skills remain the same. An uncolored, dynamic, and precise resurrection is paramount. Toward this, the NHT Evolution T6es strive.
Prior to viewing the summer blockbuster Men in Black 2, I swiveled a big-screen TV between the T6 towers, popped in the Men in Black DVD, and hit the play button. Voracious alien roars leapt from the screen. Flame-thrower blasts, Neuralizer bursts, and the requisite action-flick gunfire showcased the dynamic capabilities of the Evolution T6 system. Vault and door closures appeared cavernous. Realistic chugs, clanks, and bangs accompanied the lurching Zap-Em pest-control van through New York City, driven by an alien bug dude with an attitude cloaked in Hillbilly's skin. Neat! With the T6es' clearly defined dialogue and adequate center fill, I felt no need for a center-channel speaker while seated between the speakers. Full-range sound from a home-theater setup truly turns movies into a much more engrossing experience. Don't settle for less.
I also must say that seeing images of the World Trade Center towers standing and in all their glory was eerie and sobering.
How much is too much?
I feel a little guilty comparing the NHTs to the B&W Nautilus 801s, a pair of revealing loudspeakers that retail for about three times the cost of the entire Evolution T6 system. But both speakers share similar goals of full-range accuracy, dynamics, and pinpoint imaging, making their signatures surprisingly more alike than different.
I've heard comments and read descriptions regarding two possible imperfections with the Nautilus 801s. Since the NHT T6es' version of reality differs within the same two areas, presumably some listeners might actually prefer them. First, the 801s' delivery can be so intensely dynamic that a funnel of sound is thrust forward -- like experiencing a trumpet or saxophone in a small jazz club. The M6 monitors also place the same instruments ahead of the speaker faces, but about two steps further back than the Nautilus 801s. Secondly, the Nautilus tweeter presents pristine, unfiltered highs that may be perceived as excessively bright, while the M6 tweeter is also very clean but not quite as hot. Ultimately, I consider the Nautilus 801 to be brutally honest and the M6 monitor more forgiving.
The T6 towers don't fall short in the low frequencies either. The speakers are always powerful and extended, and they proved to have almost the equal to the 801s' impressive bass. Low lows from the Nautilus 801s are omnidirectional and seamless, as if the energy radiates from space with no discernible source. The NHTs' bass emerges around the B6 modules despite placement. Impact, especially in the upper bass, feels quicker through the T6es, with a bit more pop.
The Nautilus 801s really distinguish themselves with stunning midrange potency and detail. Tones are more harmonically complete and realistic, and tend to retain their rich subtleties even at extreme volumes. The NHT T6 isn't in the same league here, but its sins are always of omission, as comparatively the speaker comes across as a little restrained.
The T6 towers do convey about 90% of what the Nautilus 801s can -- a remarkable achievement considering the price tag. I guess the rest of the story costs at least another seven grand, not uncommon given the diminishing returns of audio gear. Other speakers in the same price range as the T6 towers (the Vandersteen 3s come to mind) give up their 10% to the Nautilus 801s in other areas and will please some listeners more than the NHT speakers.
The verdict
As a whole, NHT's Evolution T6 Tower system offers a neutral and easy-to-listen-to perspective on full-range sound. Innovative technology delivers highly focused images and reduces side-wall reflections, in turn limiting soundstage width on some recordings. Lacking subtle harmonics separates it from the very best, but I can't think of another contender with this degree of powerful and extended bass anywhere near this price point. The system includes not only subwoofers, but amplification and a crossover to boot.
Modular design makes the NHT Evolution components flexible and easily integrated into a home-theater or audio system. The X1 crossover provides a legion of adjustment options, opening the door to solid bass in almost any environment. The full admission price isn't required up front either. A user could purchase the primary monitors first, then supplement with the bottom octaves later.
What are you waiting for? Santa still has enough space in his sleigh for an Evolution T6 system.
...John Leosco
johnl@soundstage.com
NHT Evolution T6 Loudspeaker System
Price: $4000 USD for system.
Warranty: Five years parts and labor (one year for subwoofer amplifiers and crossover).

NHT
527 Stone Road
Benicia, California 94510
Phone: (800) NHT-9993
Fax: (707) 747-1252

Website: www.nhthifi.com