March 2007
NHT Classic Three Loudspeakers
by Sid Vootla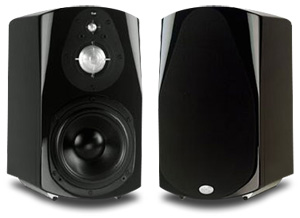 Review Summary
| | |
| --- | --- |
| Sound | "I was drawn to the rich midrange, which didn't spoil the speaker's fundamental neutrality, a prerequisite for any good speaker design." "The Classic Threes succeeded very well in disappearing, leaving behind a wide and deeply layered soundstage. This is a big-sounding small speaker." |
| | |
| --- | --- |
| Features | "The Classic Three is a three-way design, which is unusual for a minimonitor. According to NHT, the three drivers will have broader dispersion and higher dynamic range than just two. The speaker has a 3/4" aluminum-dome tweeter and a 2" aluminum-dome midrange, both of which are fluid cooled and have a neodymium magnet structure. The 6 1/2" aluminum-cone woofer complements these two drivers." |
| | |
| --- | --- |
| Use | "At this point I realized that the speaker grilles were still in place. When I removed them, the high frequencies opened up. Needless to say, I continued listening without the grilles, and I would urge you to do the same." |
| | |
| --- | --- |
| Value | "…a very compelling value, clearly matching or exceeding the performance of other bookshelf designs." |
In the early 1990s, when audiophilia was just beginning to infect me, one of the pieces of equipment that I most coveted was NHT's 3.3 floorstanding speaker. Maybe it was the company's iconic name -- Now Hear This -- or the reputation of then-designer and founder Ken Kantor, or the beautiful piano-black finish and angled front baffle, but when I heard the 3.3s in my local dealer's showroom, they blew me away. Unfortunately, at $4000 a pair, they were way beyond my budget then, so I settled for a pair of NHT SuperZeros with a subwoofer, and these little gems sounded pretty close for a fraction of the cost -- at least that's what I told myself.
That purchase marked the beginning of my love affair with minimonitors and, more important, with the NHT brand. I still use the SuperZeros in a third system, and I am still amazed at the sound quality -- especially the midrange upwards -- of these diminutive speakers. Since then NHT has changed hands a few times. It is now owned by Vinci Labs, which is owned and managed by the Vinci Group. So when I got the opportunity to review a pair of NHT Classic Threes, I was very curious and eager to find out if these speakers possess the magical NHT sound that had seduced me many moons ago.
Details
As their name suggests, the Classic Threes ($800 USD per pair) belong to NHT's Classic range, which consists of two more bookshelf and one floorstanding model along with two center-channel speakers and two subwoofers. All of the Classic speakers are sonically matched for seamless integration in multichannel and home-theater applications.
When I unpacked the Classic Threes, I was delighted by their physical appearance. They are not quite the rectangular boxes that proliferate among the ranks of larger bookshelf models. Instead, they have a curvaceous front baffle, bottom and top that make the cabinet look very voluptuous and visually appealing. Who doesn't like a shapely body? The piano-black finish was striking and literally glistened. The Classic Threes are also available in a "Special Dark" finish for those who prefer a less-reflective surface.
The Classic Three is a three-way design, which is unusual for a minimonitor. According to NHT, the three drivers will have broader dispersion and higher dynamic range than just two. The Classic Three has a 3/4" aluminum-dome tweeter and a 2" aluminum-dome midrange, both of which are fluid cooled and have a neodymium magnet structure. The 6 1/2" aluminum-cone woofer complements these two drivers. Crossover frequencies are 3.2kHz (18dB/octave) and 800Hz (12dB/octave). The cabinet is sealed, which leads to a rather low sensitivity rating of 86dB. The impedance is 8 ohms nominal. The Classic Three's frequency response is rated at 45Hz-20 kHz +/- 3dB. Recommended maximum power handling is specified as 150 watts.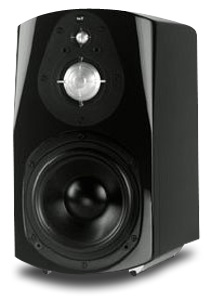 The Classic Three is not a large speaker, measuring just 13 3/4"H x 7 1/2"W x 10 3/8"D and tipping the scales at 17 pounds. A single pair of nickel plated five-way binding posts is provided for speaker-cable connection. NHT also provides two pieces of foam with adhesive backing, which they recommend sticking between the tweeter and midrange drivers to reduce reflections caused by interaction between the two drivers.
Because the bottom of the speaker is curved, NHT supplies a pair of aluminum bars with embedded rubber rails in order to place the speaker on a stand or any flat surface. These bars have to be mounted to the bottom of the speakers with four supplied screws. The Classic Three can also be wall mounted using the threaded inserts on the rear of the cabinet.
Reference system and setup
My digital source is a Marantz SA-8260 SACD/CD player, which feeds a Musical Fidelity X-10v3 tube buffer, which in turn feeds a Musical Fidelity A324 upsampling DAC. My preamp is a ModWright SWL 9.0 SE, which sends its signal to a pair of Quicksilver Mid-mono mono amplifiers. B&W Nautilus 805s are my reference speakers. For this review, I also used a pair of Paradigm Studio 20 v3 speakers. Additionally, I used a Sansui TU-717 tuner for listening to FM broadcasts. Cabling included Audio Art Cable IC-3 interconnects, PS Audio X-stream Plus speaker cables, and Shunyata Research Diamondback power cords. Power accessories are a Monster HTS 5100 power conditioner and a PS Audio Ultimate Outlet. Component supports include Finite Element Ceraballs, a Plateau equipment rack and a pair of Sound Organization 24" metal speaker stands filled with sand. Room treatments consist of a trio of Echobusters panels lining the space behind the speakers.
Although the manual does not specify any break-in time, I ran the Classic Threes continuously for approximately 80 hours before doing any critical listening. I located the speakers on the long wall of my listening room approximately nine feet apart. The speakers were placed on the stands approximately 32" from the front wall and 26" from the side walls, a position that has worked well for other speakers. I toed-in the speakers slightly toward my listening position as recommended in the manual.
Initially I found that the higher frequencies seemed slightly recessed. This was further exacerbated by my having just finished reviewing the Dynaudio Focus 110s, which have notable upper-treble sparkle. Suddenly the bite of trumpets and other brass instruments sounded slightly diminished, aluminum drivers notwithstanding. At this point I realized that the speaker grilles were still in place. When I removed them, the high frequencies opened up. Needless to say, I continued listening without the grilles, and I would urge you to do the same. The speakers looked quite pleasing alfresco, the aluminum drivers providing a nice contrast to the glossy black cabinet.
Sound
Listening to Counting Crows' popular August & Everything After [DGC 206424528-2] over the Classic Threes, I found that lead singer Adam Duritz's distinctive somnolent voice and melancholic lyrics were rendered as accurately as I have heard them. Right away, I was drawn to the rich midrange, which didn't spoil the speaker's fundamental neutrality, a prerequisite for any good speaker design. Its neutral portrayal may make the Classic Three sound lackluster initially, but its true strengths will be revealed through extended listening. I enjoyed the presentation of the Counting Crows CD so much that I proceeded to listen to the follow-up releases, Recovering the Satellites [DGC-24975] and This Desert Life [DGC 069490415-2], all in one sitting. Bob Dylan's eccentric and imperfect singing on his latest CD, Modern Times [Columbia 82876876062], was projected as faithfully as I have heard from so many of his recordings, all the way back to the '60s. The Classic Threes rendered Modern Times as listenable and enjoyable, even thought it is a mediocre recording. I have numerous older Dylan CDs that sound much better.
Cueing up "Pieces" from Patricia Barber's Verse CD [Blue Note 2435-39856-2], which I often use to evaluate bass performance, I was easily able to discern the kick-drum beats, which filled my room with deep impact. There was excellent definition and texture to the Classic Three's bass. The percussive abilities of the speakers were further demonstrated when I listened to Stanton Moore's III [Telarc CD-83648]. Moore's explosive drumming came across with distinct attack, and the cymbal strikes produced that ever-elusive shimmer and decay that are hallmarks of a live performance. I thoroughly enjoyed listening to this CD through the Classic Threes.
With some speakers, John Faddis's sizzling trumpet from his Teranga CD [Koch Records KOC-CD-9969] can fatigue the ears. With the Classic Threes, it came across with the right amount of bite, and did not sound harsh or grating. More brass, this time James Carter's Chasing the Gypsy [Atlantic 7567-83304-2]. At 1:11 into "La Derniere Bergue," the guitar player's solo performance to the left rear of the stage was so precise and well defined it felt as if a spotlight were literally shining on him. The Classic Threes succeeded very well in disappearing, leaving behind a wide and deeply layered soundstage. This is a big-sounding small speaker.
There was also a great sense of air around the instruments and a natural decay to the notes. On the SACD version of Patricia Barber's Companion [Mobile Fidelity 2179720236], the Classic Threes exhibited great space, further enhancing the realism of this live recording at the famed Green Mill Club in Chicago. Hall acoustics and other performance-venue cues were also very well rendered. Norah Jones' voice on Come Away with Me [Blue Note 2435-32088-2] was exquisitely reproduced without any sibilance or harshness. The presence and immediacy were as good as I have heard from my system.
NHT vs. Paradigm and B&W
The Paradigm Studio 20 v.3s retailed for $800 per pair when I bought them a couple of years ago as part of a seven-channel home-theater system, so they are a logical competitor to the identically priced Classic Threes. Upon listening to the Studio 20 v.3, I noticed right away that its high-frequency reproduction was a tad more polite than that of the Classic Three. This does not mean that the Classic Three's treble was unruly or unrefined, but it did sound more forward. The midrange was about the same with both speakers, though the Classic Three sounded slightly richer. In terms of bass, the Studio 20 v.3 had greater extension, but the Classic Three had better pitch definition. The imaging qualities of both speakers were similar, with the Studio 20 v.3's soundstage depth being slightly greater. The Studio 20 v.3 resolved detail a little better as well. In terms of dynamic punch -- the ability for a speaker to go from soft to loud quickly -- the Classic Three was clearly the leader. Perhaps this can be attributed to the three-way design. I certainly would say that the Classic Three would be well suited for a dual-purpose music/home-theater system.
I also compared the NHT speakers to B&W Nautilus 805s, which cost quite a bit more at $2000 per pair. In terms of the all-important midrange, the Classic Three was very close in performance to the 805, but the Nautilus tweeter sounded smoother and more articulate. The bass performance of both speakers was almost identical, with the B&W having a little more control and tautness. Soundstage width and depth were better served by the 805, but not by much.
Though my comments may indicate otherwise, for the most part the level of performance exhibited by the Classic Three and Nautilus 805 was so close that it required a lot of careful listening to discern subtle differences. This is quite an accomplishment for the Classic Three. The Nautilus 805 may costs two and a half times more, but I can state with a very high degree of confidence that the sound was not two and a half times better.
Conclusion
The sub-$1000 price point for speakers is a very competitive one. It is here that you can find many competent small floorstanders in addition to the many well-designed minimonitors on the market. When compared to most bookshelf designs, floorstanders usually prevail in low-frequency reproduction and dynamics due to their greater cabinet volume, but there is something about the simplicity of a minimonitor that overcomes the difference in bass for some listeners.
With their three-way design, the NHT Classic Three has made this a non-issue because of their superb dynamic range and quite extended low frequencies. In fact, in some ways, I would be hard-pressed to discern the Classic Three's performance from that of a similarly priced small floorstander. Add in the outstanding imaging and soundstaging capabilities and the Classic Three becomes a very compelling value, clearly matching or exceeding the performance of other bookshelf designs. The overall neutrality and rich midrange reproduction enhance this value further and lead me to conclude that the NHT magic has been preserved -- and then some -- in the Classic Three.
...Sid Vootla
sidv@soundstage.com
NHT Classic Three Loudspeakers
Price: $800 USD per pair.
Warranty: Five years parts and labor.

NHT
6400 Goodyear Road
Benicia, California 94510
Phone: (800) NHT-9993

E-mail: customerservice@nhthifi.com
Website: www.nhthifi.com