December 2005
Music Hall CD25.2 CD Player
by Aaron Weiss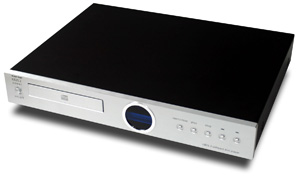 Review Summary
| | |
| --- | --- |
| Sound | "Hard to pin down" -- "a component with three personalities: "a high-resolution treble region, a somewhat indistinct soundstaging ability, and a solid, focused bottom end." |
| | |
| --- | --- |
| Features | "The CD25.2 features a solid, smooth-gliding Philips VAM1202/19 transport mechanism and a Burr-Brown PCM 1738 24-bit/192kHz DAC." "On its backside the CD25.2 features a pair of RCA analog outputs along with optical and coaxial digital outputs." "Music Hall gear is built in Shenzhen, China, in a shared factory with Shanling, a Chinese audiophile brand also imported and sold by Music Hall." |
| | |
| --- | --- |
| Use | "The blue dot-matrix LCD display is housed in a circular window that looks like a ship's porthole. The circular shape is attractive, but it makes the display a bit difficult to read from an angle." |
| | |
| --- | --- |
| Value | The CD25.2 "does not markedly disappoint or wildly exceed expectations for its price." |
Audiophiles are different from most people in several ways. We cringe at what's on display at Best Buy. When our friends ask us what stereo they should buy, we go into a discourse about fully regulated power supplies, jitter reduction, and loudspeaker sensitivity. They walk away in a daze and buy the Aiwa mini-system that's on sale. The one with the dual cassette deck. And high-speed dubbing.
As audiophiles we also operate with our own exchange rate. One audiophile dollar is equal to several real-world dollars. Your average man on the street would probably balk at spending $600 on a CD player. Do they even sell $600 CD players at Circuit City? Yet, to an audiophile, a $600 CD player is a budget model. We almost want to ask, "Six hundred dollars? What's wrong with it?"
As much as we audiophiles like to profess that "it's all about the music," for many regular people, it's about the money, too. Most of us only have so much of it, so it is impossible to escape fiscal context when looking at audiophile gear. We often talk about the sound of audio gear in dollar values. "This $1500 amplifier sounds like $2500!" It's a peculiarity of the field. If only audiophiles worked in real estate: "This three-bedroom, two-bath ranch lives like a house twice its price!" Or at a farm stand: "This delicious $1.29-per-pound apple tastes like $3 a pound!"
Can we be satisfied with a CD player that costs $599 USD? Longtime audiophile distributor Music Hall thinks so, particularly with the house-brand CD25.2, the company's second-generation release following the original CD25.
Details
The Music Hall name is familiar to many audiophiles. Since 1985 Roy Hall has been importing and distributing two-channel stereo components. In addition to a lineup of imported products from respected audiophile brands such as Creek and Epos, Music Hall began distributing private-label turntables in 1998. Building on the house brand, Mr. Hall set up manufacturing in China in 2001 and began creating Music Hall electronics, which now include the Maverick SACD player ($1495), Mambo integrated amplifier ($1295), Maven stereo receiver ($1495), A25.2 integrated amplifier ($599) and the CD25.2 CD player ($599).
Music Hall gear is built in Shenzhen, China, in a shared factory with Shanling, a Chinese audiophile brand also imported and sold by Music Hall. The original Music Hall CD25 was based closely on the Shanling CD-S100 player. Since Shanling has upgraded that model to a Mk II version, there is some Internet speculation that the new Music Hall CD25.2 similarly shares a Shanling heritage. But according to Roy Hall, there is "no relationship other than they are made in the same factory." Unlike with the original CD25, Mr. Hall explains that the new CD25.2 was "spec'ed…according to my desires. I didn't even look at the Shanling model."
The CD25.2 features a solid, smooth-gliding Philips VAM1202/19 transport mechanism and a Burr-Brown PCM 1738 24-bit/192kHz DAC. Rather than add fancy additional circuitry, the CD25.2 is designed as a budget-oriented player with high-quality, hand-selected components. On its backside the CD25.2 features a pair of RCA analog outputs along with optical and coaxial digital outputs. The included thick power cord is removable and easily swapped out.
The 15 pound unit is confidently solid and sports a substantial brushed-aluminum face. At 17" wide, 14 1/2" deep, and 3" high the CD25.2 easily occupies your standard rack. The face features a power button on the left side and five push buttons on the right for all of the standard functions. The blue dot-matrix LCD display is housed in a circular window that looks like a ship's porthole. The circular shape is attractive, but it makes the display a bit difficult to read from an angle. While the CD25.2 has no trouble playing CD-R media, the display does not show CD-TEXT information if available.
The long, metallic remote is backed with a grippy rubber and can control all functions of the player. The remote can cycle the unit's display through three levels of brightness, although the display cannot dim to black. Because the remote can also control the Music Hall A25.2 integrated amplifier it features some buttons -- volume and input, for example -- which do nothing for the CD25.2. The remote buttons offer an unusually soft and spongy feel, compared to the clickity-click of many remotes. If you like a plush pillow-topped mattress, this is the remote for you.
Review System
My reference Primare A60 integrated amplifier drove ProAc Response 2S loudspeakers. I used DH Labs BL-1 interconnects and Canare 4S8 speaker cables in a single-wire configuration. The speakers are set atop sand-filled four-pillar stands that you may have seen late at night on ESPN2 being carried by a Swede competing in the World's Strongest Man competition.
I evaluated the CD25.2 alongside my usual Marantz CC65SE five-disc changer and another review unit, the considerably more costly Vincent CD-S6 Mk II ($1795). I occasionally wired an Audio Harmony TWO harmonic filter into the mix, but mostly ran all the players straight through to the Primare integrated.
Listening
Early on I threw Jesse Cook's Gravity [Narada 63037] at the CD25.2, listening closely to his solo run at the climax of "Mario Takes a Walk." I was struck by a clinical vibe coming off Cook's acoustic guitar. He sounded a little thin, even cold. At the highest registers I thought I'd caught hints of sibilance. Was this coming from the recording itself or CD player? For some reason, Cook's tone reminds me of the first movement of "Shine On You Crazy Diamond" from, of course, Pink Floyd's Wish You Were Here [Capitol/EMI 29750]. It starts with an organ swell, which sounded wide and diffuse. When David Gilmour comes in, he plucks off some notes that also flirted with sibilance. Staying with the track, it was clear that there is plenty of detail here. The remastered disc seems to turn up the sharpness on Pink Floyd's proto-industrial, almost machine-like precision, and that biting quality comes through on the CD25.2.
Two good tests of resolution come from Mark Levinson Live Recordings at Red Rose Music Volume One [Red Rose Music RRM 01], on the tracks "In a Sentimental Mood" and "Recitativo in Scherzo for Solo Violin." The first begins with a reedy sax, bristling clearly. The "Recitativo" is sharp-edged and jagged, which benefits from the CD25.2's resolution. But this violin solo can also become nearly holographic on some systems, tightly focused at the rear center of the soundstage. The CD25.2 does not cast Adele V. Anthony's position with that kind of laser precision. Her location sounds more ambiguous. I hear two loudspeakers playing, like a pair of binoculars just slightly off dead-center alignment.
That same ambiguity persists in turning back to the Pink Floyd album. On "Wish You Were Here," it's not clear that the CD25.2 can find the center of the soundstage. Detail is dialed up, but when the rhythm section kicks in as Gilmour sings "Do you think you can tell?" Roger Waters and company all seem to be standing on top of each other. Considering how poorly they get along, this could be uncomfortable for them.
I explored the wide, somewhat diffuse soundstage further with Everything But the Girl's Temperamental [Atlantic 83214]. On this, EBTG's second full-length foray into club-oriented beats, they progress -- for the better -- far from their acoustic-lite brunch-music origins. Tracey Thorne's vocals are recorded to float in the air, filling a club rather than pinning her down as a singer standing behind a microphone. Listening to "The Future of the Future," the CD25.2's dispersed sound serves this style of music well. It fills the space rather than sounds constrained. The beats are strong, with a well-defined bass, articulate with deep extension. With this sort of music, satisfying ambience is more important than "absolute sound" precision, which plays to the CD25.2's strength.
The CD25.2 has plenty to offer at the low end; its bass articulation is more tightly focused than its midrange. Chris Squire's melodic bass lead-in on "Heart of the Sunrise" from Yes's Fragile [Elektra 73789] is quite squarely centered, the way I had hoped for from "Recitativo in Scherzo or Solo Violin." Throughout the track, the bass retains a solid, strong and unwavering identity. But Jon Anderson's delicate vocals sink a little bit into the mix. His urgency can be lost a bit amidst Bill Bruford's kinetic drumming.
Even Trent Reznor, whom few would accuse of being a delicate vocalist, is similarly obscured on "The Hand that Feeds" from Nine Inch Nails's newest album, With Teeth [Interscope 0004553]. Although it's not difficult to get Reznor's message, because his idea of a chorus is to repeat his song's sloganeering title over and over (and over), the industrial slam of his backing electronics overwhelm him. Yet, via the CD25.2, the track is no less propulsive or industrial, with plenty of slam.
I often cite Joan Osborne recordings in reviews because her voice has such a tangible presence. Subtle changes in reproduction are easy to hear. Unfortunately her second album, Righteous Love [Interscope 490737], isn't nearly as engaging as her first. She did manage to score some airplay with "Safety in Numbers," the kind of track where her voice can dominate the room. I like the big, floating head that Ms. Osborne conjures up, but the CD25.2 renders her closer to the mix. All the gravelly detail in her voice is there, but she doesn't sound so close that you can smell her breath, if you like that sort of thing. What we really hear throughout this cleanly produced album is that the CD25.2 doesn't cater to divas. It gives equal attention to the whole band, whether you want it to or not.
The CD25.2 is hard to pin down; it might be best to describe it as a component with three personalities: a high-resolution treble region, a somewhat indistinct soundstaging ability, and a solid, focused bottom end. All three personalities merge with great success on Gogol Bordello's latest, Gypsy Punks: Underdog World Strike [Side One Dummy 1271], a disc full of Ukrainian-by-way-of-New York songs which, like the album title, seems to mean something but kind of doesn't. The whole disc has a live-performance feel, yet it is well produced and displays great detail. On "Avenue B," head Ukranian partymeister Eugene Hutz sings about political debates in Russian bathhouses in New York's Lower East Side -- I guess. The track swells and surges on traditional old-world instruments and a weirdly punkish mentality. You can almost feel yourself tossing back shots of Stoli. The CD25.2 keeps everything flowing here -- the soundstage takes shape, whether accurate or not, the slow/fast pacing manages not to derail, and the whole thing just sounds like a grand old time. Gogol Bordello's lively, carnivalesque spirit transcends our fiddly audiophile labels, and the CD25.2 finds its niche.
Comparison
Head-to-head comparison between the CD25.2 and my Marantz CC65SE ($550 when still available) proved challenging. The two players are more similar than different. The slightly ambiguous soundstage I heard on tracks like "Recitativo in Scherzo for Solo Violin" is only a hair more focused on the Marantz. Upon closer inspection, the Marantz pulls out less detail at the upper end, particularly noticeable on dense recordings like Wish You Were Here. In this sense, the Marantz is a bit softer, whereas the CD25.2 renders detail like a television with the sharpness knob turned up a hair shy of harsh. Along with this extra detail comes a shade or two of luster, making the Marantz sound a little darker, a touch moodier, by comparison. The Marantz player displays less bloom in the midrange, and weaker, less-defined deep bass.
The Marantz player's warmer side is brightened up with my Audio Harmony TWO harmonic filter, a kind of preamplifier that is brighter than the CD25.2 needs. Despite these observations, the casual listener would at first be hard-pressed to tell these two apart. Whereas the Marantz CC65SE offers five-disc convenience in a '90's-style dowdy black plastic case, the CD25.2 spends its $599 on a brighter, more detailed sound housed in a solid, sexy aluminum single-tray chassis.
Introducing the $1795 Vincent CD-S6 Mk II player into the comparison is a bit unfair, considering you can buy three CD25.2's for the money. The Vincent CD player displays a three-dimensionality to the soundstage, and an overall balance across the spectrum, that puts the compromises of both the Marantz and the CD25.2 into sharp relief. The CD25.2 can't re-create a musical space the way the CD-S6 Mk II can, but it can reproduce some of the individual qualities -- detail, bass extension, pacing -- that the higher-end player weaves together into a whole.
Conclusion
The audiophile economy is about spending more for less -- we pay more dollars for fewer compromises. It is also an asymptotic marketplace. As we approach zero compromises, our cost approaches infinity, and infinity is a lot of money. Bill Gates doesn't even have that much.
The audiophile without an infinite wallet -- in other words, all of us -- picks and chooses which qualities are most, and least, important. The CD25.2 costs "only" $599. It does not markedly disappoint or wildly exceed expectations for its price, a fact only reinforced by how closely its sonic qualities match those of my Marantz CC65SE -- an older player at a similar price point. On the other hand, with the CD25.2 your $599 will buy gobs of detail and deep, articulate bass, wrapped up in a solid, well-built, attractive chassis -- just what some budget-constrained audiophiles are seeking.
...Aaron Weiss
aaron@soundstage.com
Music Hall CD25.2 CD Player
Price: $599 USD.
Warranty: One year parts and labor.

Music Hall LLC
108 Station Road
Great Neck, NY 11023
Phone: (516) 487 3663
Fax: (516) 773 3891

E-mail: info@musichallaudio.com
Website: www.musichallaudio.com