August 1999

Monarchy Audio SM-70 Amplifier

by Frank Alles


Another big winner in a small package -- and at a small price -- from Monarchy Audio.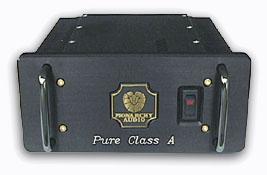 Review at a Glance
| | |
| --- | --- |
| Sound | Smooth, dynamic, dimensional and focused; slightly forward soundstage presentation. |
| | |
| --- | --- |
| Features | Small size; can be used as a 25Wpc stereo amp or as a bridged 70-watt monoblock. |
| | |
| --- | --- |
| Use | Has a very sensitive input stage -- works best with very low-noise or passive preamps, especially when used with high-efficiency speakers; balanced input is for monoblock configuration only. |
| | |
| --- | --- |
| Value | Extremely high level of performance and very low price make the SM-70 an unheard-of bargain; "may be all the amplifier you'll ever need to buy." |
Several months ago I reviewed the latest version of the Monarchy Audio SE-100 monoblock amplifiers. I was very impressed with their performance; impressed enough to recommend them for the coveted SoundStage! Reviewers' Choice award. Upon reading my review, Monarchy's head honcho, C.C. Poon, volunteered to send me his company's lowest-powered and lowest-priced offering, the new SM-70 amplifiers, which he suggested might actually out-finesse their higher-powered brethren. My first inclination was to dismiss Mr. Poon's claim as mere marketing hype and company pride, but I'd be lying if I said that I wasn't intrigued at the prospect of panning for gold in the Monarchy tributary.
But before you get any untoward ideas, be advised that the S&M in the model name stand for Stereo/Mono and nothing further. As a stereo amplifier, the SM-70 delivers 25 robust watts per channel into 8 ohms, and at the flip of a rear-panel switch, the amp becomes a monoblock that can deliver in excess of 70 watts into 8-ohm loads. Since each unit costs only $719, the monoblock idea is a very good one for most speaker systems of average sensitivity that need more than 25 watts to play loudly. Conversely, for those of you who have very sensitive speakers with efficiency ratings in excess of 92dB/W/m, or for those who normally play music at modest volume levels, a single SM-70 may well suffice.
The SM-70, like other current Monarchy amplifiers, is physically diminutive. It measures just 12"D x 9"W x 4.3"H and weighs in at 18 pounds. Its styling is also similar to its bigger brother's, retaining the extra-thick black aluminum faceplate with black-chrome rack handles and gold embossed Monarchy Lion emblem in its center. The only front-panel control is a lighted on/off toggle switch.
Two pairs of binding posts (one pair per channel) are mounted on the rear panel for use when the amp is a stereoblock. For mono use, only the two top red posts are live in conjunction with the left RCA input. Additionally, each amp has a balanced XLR input for use as a true-balanced monoblock. Mr. Poon prefers the balanced input configuration, but for my tests I used only the RCA inputs. An IEC receptacle is included on the rear panel to facilitate the use of after-market AC cords. Truth be told, the stock black cord that Monarchy supplies proved to be excellent, actually besting some of the expensive after-market cords that I tried.
The SM-70 features all-FET circuitry from input to output. Four output MOSFETS are used in each amplifier, with each device rated to handle 100 watts. A 140-watt toroidal transformer is standard equipment. The input sensitivity is very high, requiring only 1.35 volts peak to peak for full rated output.
The amplifier is a class-A design that eschews the use of any global feedback, although some local feedback is employed. In spite of this, distortion (THD) is reportedly held to below 0.01% at rated output. Monarchy claims that due to the zero-feedback design, dynamics are unbridled and the amp exhibits very clean clipping when overdriven. This should translate into an amplifier that subjectively sounds more powerful than its specs would indicate.
System notes
Initially I installed the SM-70s as monoblocks in my secondary reference system using the Paradigm Reference Studio/100 loudspeakers as well as Eminent Technology LFT-8a speakers. I use the same digital and analog sources in this system as in my primary reference system, but the preamplifier is the R.E. Designs LNLSA-1 instead of the new AHT tube line stage, and the amps that I had been using were the Monarchy SE-100s.
Later in my auditioning, the Monarchy SM-70s replaced the Sonogy Black Knight amp in my primary reference system, driving the electrostatic panels of my InnerSound Eros speakers. My analog source was a Townshend Audio Rock Mk III turntable with a modified Rega RB300 tonearm. The cartridge was a Transfiguration low-output moving-coil design, which fed a custom AHT/P phono stage. Wireworld Equinox III interconnects linked the phono preamp to an AHT tube line stage, which in turn delivered the signal to the InnerSound active crossover/bass amp unit via Wireworld Equinox III interconnects. The digital source consisted of a Parasound C/BD-2000 belt-drive transport linked to a Parasound D/AC-2000 Ultra converter with a Harmonic Technology AES/EBU digital cable. Full Spectrum Signature interconnects conveyed the analog output from the DAC to the AHT line stage. Out of the InnerSound crossover, Full Spectrum Signature interconnects fed the midrange/treble amplifier, a Sonogy Black Knight, which was connected to the Eros' 'stat panels with Sonoran Desert speaker cables. Finally, the InnerSound bass amplifier dumped its current to the Eros' woofers through Luminous Audio Prestige speaker cables. A Full Spectrum Signature AC cord was used on the DAC, and a Full Spectrum Exotic AC cord was employed on the Black Knight amp. When the Monarchy amps were substituted, the stock Monarchy AC cords were used in lieu of the Full Spectrum Exotic.
Listen up!
My first impressions of the SM-70s, driving the Paradigm Reference Studio/100 speakers, were extremely favorable. Replacing a very expensive tube amplifier in this system, the SM-70s appeared to be much better mates for the Paradigms. In fact, on the Paradigm speakers, I actually preferred the sound of the SM-70s to that of Monarchy's more powerful and more expensive SE-100 Delux amps. I thought that the smaller amps were a little more transparent overall, and they seemed to throw a slightly deeper soundstage, with the SE-100s appearing to flatten the stage just slightly.
I have previously reviewed the Studio/100s, and it was my finding that they exhibited a mild reticence in the upper midrange. As it happened, the tube amp that I was using had a similar tendency to sound slightly dark and probably was not the best choice to drive the Paradigms. If anything, the Monarchy SM-70s have a very mild rise in their upper-midrange spectrum (if it is a rise, it's extremely slight) and this made them a good compliment for those speakers. If I had instead used speakers that tended toward brightness in that region, I may have heard different results.
Be that as it may, I thought that the SM-70s had more natural-sounding bass response as well. The Paradigms can sound vague or sloppy down south if the amplifier driving them lacks a respectable damping factor and decent current capability. I'm happy to report that the SM-70s sounded appropriately punchy and agile in the lower octaves. Playing a cut like "Flight of the Passing Fancy" from the Squirrel Nut Zippers' Hot CD [Mammoth 354 980 0137-2] was a sheer joy. The brass was rendered in a smooth and harmonically accurate fashion, and the cymbals and drum work near the end of the track sounded sprightly and transparent. When I closed my eyes I could visualize the band right in front of me.
Though the soundstage of the SM-70s was quite dimensional, I thought that instruments and performers were pulled toward the listener a tiny bit. In effect, these amplifiers (and even the SE-100s) tend to impart the perspective of sitting a bit closer to the orchestra. I confess that I enjoyed this, though others might opt for a more distant view depending upon the choice of speakers and personal taste.
When I switched to the Eminent Technology LFT-8a speakers, the tide shifted. Since the ETs are very inefficient and power-hungry speakers, I believe the SM-70s ran out of gas. I have to say that if this is true, the SM-70s certainly have very clean clipping characteristics. All that was really noticeable was a mild compression of dynamic peaks. The sound didn't turn hard or nasty, and the soundstage didn't collapse. With this kind of severe load, I found the gutsy performance of the SM-70s to be truly impressive. By the way, for you ET LFT-8a fans, the Monarchy SE-100s are a wonderful match for these speakers. They display plenty of punch and impact in the bass and the midrange is exquisite -- gorgeous even.
For SET fans
For those of you who are presently smitten with your expensive and perhaps finicky low-powered SE triodes, I'm afraid that I may have some bad news. Since the SM-70 puts out a very robust 25Wpc when used as a stereo amplifier, only one unit (at $719) is needed to drive your high-efficiency speakers. The bad news is that this amplifier sounds so good that you may actually prefer it to your 300B-mobile! Also, its very high input sensitivity makes it a natural to be driven by a high-quality passive preamplifier. This led me to try a single SM-70 in a friend's system.
This system uses high-efficiency Kilpsch Cornwall speakers, a CAL Icon II CD player, a Creek OBH-12 passive preamp and a Music Reference RM-10 amplifier (I know -- push-pull). The funny thing about this little experiment was that my good friend Paul had purchased the RM-10 tube amp because he had tried a few decent transistor designs in this system and found all of them to be irritating in extended listening sessions. He felt that the tube amp painted a nicer harmonic soundscape and was much more listenable over the long haul.
After I inserted the Monarchy SM-70 into his system, Paul found out, to his surprise, that it was the tube amplifier that sounded harsh by comparison. On loud peaks of vocal works, for example, the sound was decidedly hard and biting when compared to that of the SM-70, which maintained its composure, sounding almost relaxed. We found that we could play the system much louder without fatigue simply because the Monarchy amp wasn't hurting our ears. Additionally, the SM-70 had more extended and better-controlled bass and a wider soundstage. Moreover, the instrumental outlines were much clearer and better focused. Comprehension of lyrics and inner detailing were definitely improved too.
The big leagues
With such sonic success in the aforementioned systems, the feisty SM-70s would have to make their way into my primary reference system, replacing my Sonogy Black Knight amp to drive the electrostatic panels of my InnerSound Eros hybrid speakers. The Eros system is very efficient, delivering about 94dB per watt of input. Also, the amp driving the panels operates only from 450Hz and up. The SM-70s' 70Wpc proved more than capable of driving the Eros to very loud levels with no hint of distortion or compression. Although the amps were effectively relieved of having to reproduce bass, the electrostatic panels present an odd load to the amplifier in terms of their unusual impedance characteristics. Starting at 113 ohms at 450Hz, the impedance tapers way down to 2 ohms near 20kHz.
The SM-70s handled this strange load with aplomb, displaying excellence in the quality of its treble reproduction. In fact, the treble performance of the Monarchy amps was right on par with that of the Black Knight, which was the best match I had found for driving the Eros to date. Clear, delicate and focused are all adjectives that depict the SM-70s' treble spectrum. Air was apparent, cymbals shimmered, and when playing a bit of zydeco music, washboards were incisive and distinct as could be -- without sounding harsh. Try Queen Ida's "Willie On The Washboard" from Queen Ida Caught In The Act [GNP Crescendo GNPD 2181] and you'll understand my point.
In the area of dynamic contrasts, the diminutive Monarchy SM-70s displayed the heart of a true champion. When C.C. Poon says these amplifiers are capable of unbridled dynamics, he's not just dropping a load of horse dung. Listen to Humperdink's "Witches Ride" from Hansel And Gretel on the Classic Records' reissue of Witches Brew [RCA LSC-2225]. The various sforzandos and fortissimos come through loud and clear -- and with no discernible loss of impact. Subtle changes in volume are likewise well served by the nimble Monarchy amps. Perhaps they are not the last word in the arena of microdynamics, but they are certainly very expressive amplifiers and can't be very far from the mark. Both strings and brasses were reproduced sweetly and naturally through the SM-70s. Violins and cellos were very convincing, and loud blasts on the trumpet were both startling and correct in their timbre.
The verdict
Clearly the Monarchy SM-70s are devices that provide exceptional sonics and outstanding value. They are attractive, well made, and hefty for their size. No operational glitches or anomalies were observed during my reviewing period. The only exception was that I blew one fuse driving the Eros system to very loud levels. Replacing the fuse with one of a higher rating (provided) permitted the higher power levels into the Eros' 2-ohm load. The fact of the matter is that I had to look very hard to discover even the tiniest of flaws in the performance of the SM-70s. They competed with amplifiers many times their asking price and bettered the bulk of them.
If you own a Monarchy SM-70 or two, you can revel in the knowledge that many serious audiophiles will overlook this fine amplifier merely because of its modest price tag. If you're acquainted with someone who fits this description, just for fun, bring your $719 amplifier over to his domicile and put it head to head with his multi-thousand-dollar unit, be it tube, transistor, or single-ended triode. This will serve to drive home the remarkable value that this fine amplifier represents -- though your friend may not speak to you for some time afterwards.
Those of you with inefficient speakers and high power requirements might need to seek out a more powerful amplifier (pity!). Others might prefer an amp with a darker, more laid-back soundstage presentation, one that locates the instruments and vocalists back behind the plane of the speakers. The best news is that for all other tastes and applications, the Monarchy Audio SM-70 may be all the amplifier you'll ever need to buy.
...Frank Alles
frank@soundstage.com
Monarchy Audio SM-70 Amplifier
Price: $719 USD.
Warranty: One year parts and labor.

Monarchy Audio
380 Swift Ave., #21
S. San Francisco, CA 94080
Phone: (650) 873-3055
Fax: (650) 588-0335

E-mail: monarchy@earthlink.net
Website: www.monarchyaudio.com