April 2001
Monarchy Audio Model 33 DAC and DIP 24/96
by Ken Micallef

Monarchy Audio Model 33 DAC
Review Summary
| | |
| --- | --- |
| Sound | The Model 33 DAC has an "in-your-face personality" -- "vibrant, spacious, slamming, weighty, extended, detailed"; "the soundstage was simply huge, extending beyond [Ken's] speakers; not the "absolute lowest in the bass registers" and lacking warmth when compared to the Bel Canto DAC1. |
| | |
| --- | --- |
| Features | Model 33 has coaxial, AES/EBU and TosLink digital inputs; single-ended and balanced line-level outputs; three line-level inputs and a volume control. The DIP 24/96 reclocks the digital signal, suppresses jitter, isolates the transport from the DAC, and converts 96kHz sampling frequency to 48kHz. |
| | |
| --- | --- |
| Use | With the 33 straight into an amp, "clarity and imaging increased dramatically"; adding the DIP 24/96 made the sound weightier and more extended down low. |
| | |
| --- | --- |
| Value | High value considering the sound quality and the added line-stage functionality of the Model 33 as well as the conversion and de-jitter work of the DIP 24/96. |
Is less really more? Is it still possible to go all Zen in the current audio climate? The major manufacturers scream, "Buy our SACD and DVD players NOW!" The high-end monkey on your back pleads, "Yes, that is the way; drop $5k and then give me 20." But the cautious angel on the other shoulder, the one less sure of another perfect sound forever, coos, "CD is here for a while, and the sound is better than ever. Just get one of those cool upsampling DACs or perhaps a 24/96 DAC that includes a line-stage preamp." Ah, back to the Zen way, and the subject of today's reading.
SoundStage! regulars will recognize the name Monarchy Audio. The San Francisco-based company has received many awards for their products, including 1999 SoundStage! Reviewers' Choice nods for both the SM-70 and SE-100 Deluxe amps. Countless publications have also paid tribute to Monarchy Audio through the years for their combination of forward-thinking technology in quality components offered at extremely competitive prices.
A flower by any other name...
The Monarchy Model 33 20-bit DAC follows in the steps of the lauded Model 22B DAC. Monarchy president and designer C.C. Poon pulled out the stops for the Model 33, incorporating a feature-packed, full-duty line-stage preamp based on his Model 10A (10+22=32 -- go figure). You might assume that quality commensurate with Monarchy's reputation would be compromised for a dual-action product sold at the price point of $1439 USD, but that is just not the case. All Monarchy products, even before you hear them, have the look and feel of real quality. No cheesy plastic casing or lamp-grade power cords here. This is a professional piece that practically proclaims "security, tradition, class." Sure, it's nifty to have a big product in a small package (such as my over-achieving Bel Canto DAC1), but hoary Americans that we are, we often still associate quality with something that feels weighty, massive and sleek. Sound is one thing, but touch and appearance can still get our juices going, even if you are a no-frills guy like me.


Rear view of Monarchy Model 33 DAC
The Monarchy Audio Model 33 DAC weighs ten pounds and has the look and feel of a small battleship. Ten pounds within a 2 1/4"H by 9 1/4"D by 16"W all-aluminum chassis is heavier than you might think. One hand will lift it, but you quickly use two. The Monarchy's front plate bears the familiar gold-bordered Monarchy logo (C.C. Poon obviously has a thing for lions). Simple but sculpted, the svelte Monarchy face puts me in mind of some oversized, heavy leather furniture in Dr. Freud's office. Ah, this is a manly device. Three silver toggle switches control Optical or Coaxial digital input, Aux 1 or Aux 2 line-level inputs (this is a preamp after all) and CD or Ext inputs, which I understand to be the setting for an outboard DAC. To the far right is an oversized, silver, 30-step volume knob, which again has the reassuring feel of $$$ as it gently clicks.
The rear of the Model 33 offers a wealth of options, making it perhaps the most full-featured DAC/line stage on the market. From left to right: two gold-plated RCAs for left and right line out, two balanced line outputs, and pairs of gold RCA inputs. A ground screw is supplied, along with TosLink, coaxial RCA and AES/EBU digital inputs, a power-cord receptacle, and an on/off switch.
Under the hood the Model 33 features a 25-watt toroidal transformer, a K-Grade Burr-Brown 20-bit D/A converter wedded to a "super high-speed current-to-voltage converter (2500 v/uS slew rate)." The Monarchy literature also states that a "Phase Coherent GIC filter...passes the audio signal through a straight wire" and that the line stage provides 14 or 20dB of gain (user selectable) for the two external signal sources. You might say that Monarchy's years of experience have come to bear on the Model 33.
The only blemish on the Model 33's visual design appears on its underside -- namely, four generic rubber feet. When will audio manufacturers get with it and supply their high-end gear with serious isolation via energy-directing feet? The manufacturer who includes a quality suspension is bound to turn heads while maximizing sound quality. Why must consumers do all the tweaking?
Like butta...
Vibrant, spacious, slamming, weighty, extended, detailed -- just a few of the words that describe the sound of the Model 33 almost out of the box. I ran the volume to the max to hear as much of the Model 33 as possible. I schtooped the Model 33 with a Shunyata King Cobra power cord, setting it atop four Vibrapods. Connected from the Theta Jade transport via a Harmonic Technology Platinum balanced cable, then to the Blue Circle BC21 preamp with a pair of NBS Signature II interconnects, the Model 33 perked my ears up instantly with its in-your-face personality. Johnny's home!
Associated Equipment
Loudspeakers – Audio Physic Virgo, Spendor 2/3.
Amplifiers – Atma-Sphere MA-60 Mk II.
Preamplifier – Blue Circle BC21 with power-supply upgrade, Placette Audio Remote Volume Control.
Analog – Oracle Alexandria turntable, Grado Platinum Reference cartridge, Camelot Merlin Pro phono stage.
Digital – Bel Canto DAC1 DAC, Theta Jade transport.
Digital cables – Harmonic Technology AES/EBU, JPS Labs Superconductor+.
Interconnects – Cardas Golden Cross, NBS Signature II.
Speaker cables – Cardas Golden Reference biwire.
Power cords – Shunyata Research PowerSnakes Black Mamba, Sidewinder, Mamba, and King Cobra.
Power conditioners – PS Audio P300 Power Plant, Richard Gray's Power Company 400S.
Accessories – Salamander and Standesign equipment racks, Dunlop "Anna Kournikova Abzorber" tennis balls.
The soundstage was simply huge, extending beyond my speakers. Depth was also very impressive, as layered and deep as an airplane hangar. Imaging was especially commendable, the best I've heard in my system, with pinpoint accuracy, air and resolution. Voices took on inflection and tone I didn't know existed, a good sign. Vocalists with an edge in their voices, like John Lennon and Donald Fagen, now sounded sweeter and more intimate as subtle nuances became more apparent. Sometimes, as with Lennon's weary lilt in "I'm So Tired" (The Beatles [Capitol 46443]) I could hear more dynamic range, variation and even breath; his notes took on more weight, and I could hear exactly where his notes ended in the mix, which seemed to be more sustained than before. Bass-drum whacks took on more slam and punch, and there was definitely newfound air and space around instruments in general. I could actually feel the air moving from the mallet striking bass drum, a visceral wallop that, as a drummer, I love. Guitars, such as Walter Becker's solo in "Gaslighting Abbie" (Two Against Nature [Giant 247192]) became liquid mercury. The Model 33 sounded very lucid, clean and transparent.
And more. Steely Dan's "Janie Runaway": Fagen's vocal is easily discernible as two double-tracked voices; bass drum is very solid, even touchable, cymbals are very clean but smooth, every last bit of detail is squeezed out, but never etched, grainy, tizzy or cold. While bass-guitar notes are perhaps not the absolute lowest I have heard, they are illustrated with great articulation and speed. Speed is a constant with the Model 33. And coherency, transparency. On "Jack Of Speed," bass notes are pungent, snare drum is taut, meaty and popping. Geddy Lee's My Favorite Headache [Atlantic 83384-2] sounded forward on the 33, and The Beatles' Revolver and Led Zeppelin's eponymous debut album sounded a bit flat, but open and pleasing in the frequency extremes.
Organist Larry Golding's meaty As One [Palmetto 2068] sounded amazing on the 33, with organ reaching down low stupendously while upper-register notes blew through the roof (and my skull). Console's Rocket In The Pocket [Matador 424-2] is brain-spinning German electronica laced with skyscraper-plumming synth bass notes and freakish sampled noises, all communicated accurately through the 33. The soundstage was again a revelation; I heard new stuff in the mix that was very surprising. There was so much depth that I felt I could walk in and take a seat between the computers. The Quincy Jones/Sammy Nestico Orchestra's Basie and Beyond [Qwest 47792-2] particularly revealed the 33's low noise floor, enabling easy rendering between brass, drums and bass. I could even pick out the variations in drummer Vinnie Coliauta's buzz roll! Again, the 33 is not the last word in absolute low bass or overall body and texture, but it is very close. Coming to Diane Krall, as we all do eventually, and When I Look In Your Eyes [Verve CIMPD-304], the acoustic bass breaks in "Let's Fall in Love" were completely tactile, with both pizzicato notes and deep bottom runs taking center stage.
Switching the Harmonic Technology balanced cable to a JPS Labs coaxial digital cable changed the sound ever so slightly. Imaging was not quite as immaculately resolving, the treble seemed a little warmer but also a little fuzzier, and bass frequencies remained extended but slightly less palpable. But the 33's basic signature remained intact.
The Model 33 does so many things so well, its minor shortcomings are very forgivable. Not the absolute lowest in the bass registers, it is nonetheless extremely articulate. The Model 33 is not dark, or even warm; it leans toward neutral and fast. If you want a warm and honey-let's-get-sweaty DAC, this is not it. You are there, first row and feeling the lights. It makes its presence and personality known immediately. And it takes no prisoners.
DIP-ping down below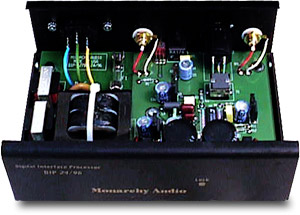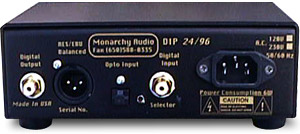 Monarchy Audio DIP 24/96
Next up I added the Monarchy DIP (Digital Interface Processor) 24/96 to the sonic stew. The much-acclaimed basic DIP was one of the earliest and most cost-efficient jitter removers of recent years. Selling for $249, it was praised by the international audio press for doing the job, and in a small, pint-sized unit. The original DIP reclocked the digital signal and suppressed jitter. It's also intended to isolate the converter from the transport, blocking hum and RFI, while boosting the digital signal for the hungry DAC. Finally, it converted between digital formats.
The new DIP 24/96 does all that and one-ups the original by accepting 24/96 signals for you DVD fans, decoding and encoding sampling frequencies from 32 to 96kHz, accepting and passing through any data between 16 and 24 bits, and obviously working with typical CD transports and DACS. It will not upsample (though Monarchy makes an upsampler called the DIP Sample Converter) or decode surround-sound formats. Weighing three pounds and measuring 4.5" x 7.5" x 2.5", it will fit anywhere, then disappear. Features include one RCA and one optical input, one RCA and one AES/EBU output, and a slot for a detachable power cord. But will it make the Model 33 sound even better for its standing price of $249? Let me crawl behind the rig -- again.
Staying with coaxial digital ins and outs, the DIP 24/96 had me revisiting Steely Dan, Golding and Krall. In each case, the DIP 24/96 made the music fatter and deeper, adding longer decays and slightly more soundstage depth too. It was almost like reinserting the balanced cable into the setup, but the sound was even weightier than that. Bass notes were especially extended, intense and more distinct now; cymbals had more breadth and body. The overall tonality seemed to shift downward ever so gently, while everything remained very harmonious. Is the DIP 24/96 worth the extra $249? It's a no-brainer and big bang for the bucks, and I haven't even tried it with a DAC other than the Monarchy.
"Am I not merciful?"
As always in this merciless situation, I was looking forward to comparing my Bel Canto DAC1 to the Model 33 with DIP 24/96 rig. The Bel Canto does upsample, and it has an organic sound that is thoroughly musical, but would it handle the Monarchy lion? I used two recordings to match the DACs' wits: Gladiator [Decca 289 467 0942] and Bullitt: Music by Lalo Schifrin [Aleph Records 018] (www.schifrin.com). The former is probably part of your stash already; the latter, a re-recording of the Bullitt soundtrack by Schifrin with the excellent WDR big band, is worth searching for. They are both incredible recordings.
The Model 33 portrayed Gladiator's "The Battle" with clarity and momentum, handling the great brass crescendos, snare-drum marching figures and piston-like bass-drum movements like a well-oiled machine. Dynamics thundered mightily, but the top end felt ever so slightly closed in. Low bass here and in "The Might of Rome" was stupendous though, quaking with power. Ever think your system is about to blow? Want to destroy the neighbors and their home? This is the album.
Gladiator was obviously recorded in a concert hall or on a movie soundstage, but Bullitt is a studio recording, with close miking and a more intimate palette. Bullitt is just as dynamic, though, with electric bass rumbling low but absolutely clear, strings sweeping sumptuously, and brass biting while drums and percussion are highlighted (very organically and naturally) in the mix. Bullitt's main theme is suspenseful, a panorama of orchestral sounds: temple and wood blocks, conga, ratchets and the full big band. The Model 33 handled it all with warmth becoming the very low bass, but also with purity and speed fitting the brass. It also portrayed the huge soundstage of both recordings with ease and character (uh, speed).
And as for the DAC1? Though not quite as dynamically extended or transparent, and lacking the impressive soundstage of the Model 33, the DAC1 had an overall sweeter and ever-so-darker sound that lent it a more laid-back quality. In "The Battle," it actually handled the dense musical fabric with greater ease (perhaps by not attempting too much), following the booming sounds with more accuracy. The difference was small, but noticeable. Some might prefer the Monarchy duo's minutely higher resolution and gut-pounding dynamics, but it is a matter of taste and system synergies, not to mention a difference of $400 with the DIP-equipped Model 33. The 33 announces itself and commands attention, a brainy beauty. The DAC1 is a bit simpler, flirting with you, hinting at what is about to transpire. Claudia Schiffer or Elle MacPherson? Katherine Zeta Jones or Mira Sorvino? You be the judge. With Bullitt, the bass was not as tight with the DAC1, but the wood blocks sounded hotter in the mix. The music was just as energetic, but slightly less organized and detailed. I popped Two Against Nature in again; the sound was more recessed and had less extended treble with the DAC1, but then, the electric bass lines were more pronounced and easier to follow.
Ramp up the amp
Before I check out of lion land, I wanted to hear the Model 33 strut its full preamp possibilities. As with the Birdland Odéon-lite DAC I reviewed a few months ago, clarity and imaging increased dramatically with the 33 in full-on preamp mode. And it was loud -- I couldn't put the volume past 8:30 going into the 60W Atma-Sphere amps. But I instantly missed my Blue Circle BC21's tube warmth, liquid feel and deeper soundstage. I would not personally listen to the Model 33 in this setting, but if you want bell-like clarity and as few devices in the signal path as possible, the Model 33 might be the ticket for you. Heck, I could hear all these funny duck quacks in "Gaslighting Abbie" that I never knew existed before, and all that bass picking and plucking.
Conclusion
The Monarchy Audio Model 33 DAC/ Line Amp, with DIP 24/96 is a very fine combo and a worthy addition to the Monarchy family of high-end gear. The Model 33 is marvelously extended, has fast but smooth-as-silk transients, articulate lower bass, and a weighty soundstage. And I have not commented at all on its midrange, which is almost invisible. I forgot to think about it, which just shows how transparent the 33 is. I don't know if the added line stage improves the sound over the 22B with a new DIP 24/96, but I imagine that the extra power has to make a difference. The Model 33 gets almost everything right. So while it ain't so Zen, it's a feat of clever technology and practicality. It roars like a lion, but it knows when to purr like a kitten. OK, you can forget Claudia and Elle, for now.
...Ken Micallef
ken@soundstage.com
Monarchy Audio Model 33 DAC and DIP 24/96
Prices: Model 33, $1439 USD; DIP 24/96, $249.
Warranty: One year parts and labor.

Monarchy Audio
380 Swift Ave., #21
S. San Francisco, CA 94080
Phone: (650) 873-3055
Fax: (650) 588-0335

E-mail: monarchy@earthlink.net
Website: www.monarchyaudio.com