October 2005
Merlin Music Systems TSM-MM Loudspeakers by Marc Mickelson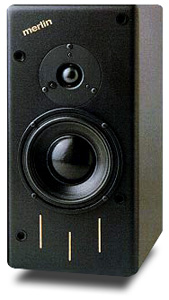 In today's audio world, where new products replace old with clockwork regularity, Bobby Palkovic's The Small Merlin, better known as the TSM, has a peculiar history. Back in December 1997, while we at SoundStage! were marking our two-year anniversary of publishing monthly on the Internet, we first wrote about the TSM. Between then and now, we've reviewed hundreds of different speakers, and revisited the TSM in a follow-up review published in late 1998 and "Standout Systems" column published in 1999. Between 1997 and now, Bobby Palkovic hasn't stopped refining and improving the TSM, first as the Special Edition (1997 to 2000), then as the Millennium (2000 to 2004) and now as the MM and MX (2004 to present). I won't recount all of the modifications that Bobby and company have developed for the TSM over the last eight years, but I will say that I owned and heard TSMs during that time, and each incremental improvement was sonically meaningful.
The "MM" in the TSM-MM's moniker stands for "Magic Mod" and involves three important changes to the speaker. First, the crossovers and RC networks, the latter of which attach to the speakers' binding posts, are subjected to cryogenic treatment, which involves using liquid nitrogen or helium to lower the temperatures of treated items to several hundred degrees below zero. This changes their molecular nature, and in Bobby's opinion improves the sound of caps and resistors especially. Second, the TSM-MM's high-frequency circuit has a different Q value, which removed 0.75dB of noise -- never a bad thing where audio signals are concerned. Finally, the torque settings for the drivers -- the amount of force applied to the screws that affix them to the cabinet -- have also changed. The TSM-MM still uses Morel drivers -- a 1" tweeter and 6 1/2" woofer -- and a second-order crossover set at 2150Hz. The speakers I reviewed were my personal pair upgraded from TSM-Ms (and TSM-SEs before that). The cost of upgrading varies based on the age of the speakers, but should run between $400 and $500 USD. Contact Merlin for details.
The TSM-MX is a different speaker based on the same platform. It includes one extra cryo'ed part in the crossover and a cabinet that's slightly more damped, due to a six-coat glossy finish (the TSM-MM always comes in Merlin's standard "studio black" finish). The difference in price is $1000 -- $2800 per pair for TSM-MMs and $3800 for TSM-MXes. Merlin considers the MX iterations of both the TSM and VSM to be the company's flagship products, a perception that the finish upholds. Because the vast majority of TSMs and VSMs sold are in studio black, a nearly flat textured black paint, seeing either speaker in one of Merlin's glossy finishes, which have intriguing names like "ruby heart red" and "black ice blue," is a treat.
I used the TSM-MMs just as I always have -- atop 24" Osiris Audionics Osiris speaker stands that were filled with sand many moons ago. Though discontinued several years back, these stands are still prized on the secondhand market, often for use with Merlin TSMs, with which they work beautifully, looking like they go together. I drove the speakers with Lamm M1.2 Reference mono amps or a Blue Circle BC204 stereo amp; although both are far more expensive than the TSM-MMs and not likely mates for the speakers, they were wonderful sonic matches, especially the Lamm monoblocks, which gave the TSM-MMs some real authority. I've used the TSMs in the past with more modest equipment, including Audio Analogue and Unison Research integrated amps. Bobby Palkovic touts the Spanish-made Ars-Sonum Filharmonia SE 30Wpc tube integrated amp ($3500) that he's importing as ideal for use with all of his speakers.
My new listening room is immense -- 20' wide by 29' long, with a 10' ceiling -- which gives many options for setting up speakers. Couple this with the TSM-MM's modest stature, even on stands, and it's easy for the speakers to look lost in my listening space. However, the TSM-MMs responded in resounding fashion, sounding bigger than any earlier iteration and as large as some of the floorstanding speakers I've reviewed in this same room. This surprised me. Like the various Merlin VSMs I've heard at shows, the TSMs have always disappeared with ease, but they were never particularly room-filling. The TSM-MMs are different. They cast a soundstage that belies their size -- one that's big and vibrant, the antithesis of the petite, dainty sonic picture that so many other minimonitors conjure. Close your eyes and you'll swear that the TSM-MM's cabinet extends to the floor.
This isn't so much a product of bass depth and weight -- both of which are satisfying -- but rather the way the sound spreads throughout the room. Bobby Palkovic attributes it to the TSM-MM's "power response," which is another name for what we call the "listening window" in our measurements: five frequency-response measurements (on-axis, 15 degrees left and right off-axis, 15 degrees up and down off-axis) that are averaged. Our take: "This measurement is especially useful because it allows for small variations in the listening position and ear height and can be a more useful determinant of real-world listening than the standard on-axis measurement." No matter the explanation, the TSM-MMs are capable of portraying a very wide scale of music convincingly -- from the extreme intimacy of R.L. Burnside's First Recordings [Mobile Fidelity UDSACD 2026] to the bombast of my favorite recording of Carmina Burana by Robert Shaw and the Atlanta Symphony Orchestra [Telarc CD-80056]. The big Wilson Audio speakers do it, and it's an especially noteworthy feat for a small two-way like the TSM-MM.
Merlin speakers have always been high-resolution designs that unravel music with ease. With earlier versions of the TSM, this could lead to crisp high frequencies that were unforgiving with the wrong ancillary equipment (often any components that didn't use tubes). I don't know if the 0.75dB reduction in the high-frequency circuit's noise is responsible, but the TSM-MM's treble is a little more relaxed and in better alignment with the midrange and bass. Because of this, resolution seems greater, as musical elements have more true-to-life contrast. Play some music with lots of high-frequency energy, like Buddy Guy's Blues Singer [Silvertone 01241], and be ready to hear it portrayed with unexaggerated speed and presence. This quality aids ambience-rich recordings, too, such as any of Mobile Fidelity's Patricia Barber SACDs. The TSM-MMs are SACD ready; they easily communicate the unique high-frequency elegance of very good SACDs.
The sound of past versions of the TSM has always displayed a high level of precision -- rather like that of the studio monitors on which the speakers were initially modeled. However, the TSM-MM sounds to my ears like a significant step forward for this speaker -- toward greater completeness and balance. Doug Schneider has reviewed more minimonitors than all SoundStage! writers combined, so he's the person who could determine where the TSM-MM fits in the current hierarchy. As for me, I can say that the TSM-MM is a superb speaker no matter its size, and it makes me wonder what heights the latest Merlin VSM reaches.
...Marc Mickelson
marc@soundstage.com
Merlin Music Systems TSM-MM Loudspeakers
Price: $2800 USD per pair.
Warranty: Ten years parts and labor.

Merlin Music Systems, Inc.
4705 Main Street, P.O. Box 146
Hemlock, New York 14466
Phone: (585) 367-2390
Fax: (585) 367-2685

E-mail: info@merlinmusic.com
Website: www.merlinmusic.com