May 1998

Shamrock Audio Eire Loudspeakers

by Mike Masztal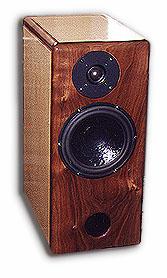 When the opportunity arrived to review the Eire loudspeaker from Shamrock Audio, I took a look at the company's website and saw what looked to be a speaker that was a labor of love. I've listened to several stand-mounted speakers in the last couple years and have developed an appreciation for the level of their performance. While some have made it to review and some haven't, the Eires looked promising. After a chat with the designer, Mike McCall, shipment of the speakers was arranged. The Eires are sold factory-direct with a 30 day in-home trial, but Mike is confident that audiophiles will like what they hear.
When the UPS delivery person arrived at my door with a largish plywood box, I thought these speakers would be something special because they were protected so well. But that was only one speaker! The second was dropped off on my doorstep, and I lugged the two sizable boxes into the house. The Eires are shipped in heavily constructed 1/2"-plywood boxes that look like they could survive a trip around the world, even if shipped by the Neanderthal Shipping Company (my apologies to any Neanderthals I may have offended). They are heavily protected inside the box with 2" of stryofoam padding and a long wooden strip running across the face of the speaker to protect the drivers. Impressive. I asked Mike why he didn't go the cardboard route. His answer was that he wanted to assure his buyers that his product would arrive safely. Good thinking! It would take a sledgehammer and a lot of sweat to pound these cartons to the point of damaging the speakers.
The design
The Eires are fairly large for stand-mounted speakers and quite unique-looking. They are rated at 85dB sensitivity, but Mike assures me they can be adequately driven with lower-powered single-ended amps (although I did not use such amps in my review). Anechoic response is listed at 38Hz-20kHz. The side panels are MDF and finished in a natural maple veneer. The baffle is solid walnut with walnut corner pieces and terminal plate. The combination of natural maple and walnut gives the speakers a neat art-deco sort of look.
The crossover frequency is 2100Hz with a 4th-order L/R acoustical slope on the tweeter and 2nd-order transitional on the woofer. The crossover parts are hard-wired and hand-soldered and include air-core inductors, non-inductive wire-wound resistors and Hovland capacitors. The speakers come in mirror-imaged pairs, which means there are definite right and left channels. The woofer is a Scan-Speak 7" carbon-fiber job (similar to those used in the Merlin VSM, ProAc 2.5, and Condor SC7, and others). The tweeter is a 1" Scan-Speak model mounted in an offset arrangement toward the inside edge of each speaker. The front-facing 2" port has a nicely rounded edge integrating into the baffle. The Eires do not use grilles.
Reference system
Source: CAL Delta transport, CAL Alpha DAC retubed with Brimar CV4004 tubes. Preamp: Aronov LS-9000. Amps: Aronov LS-9100 monoblocks sitting on Golden Sound DH cones and squares. Speakers: JMlabs Daline 3.1. Interconnects: JPS Labs Superconductor. Speaker cables: Nordost Flatline. Power Cords: JPS Labs Digital AC, Analog AC and Power AC cords. All components were plugged into a homemade, non-filtered outlet strip that in turn was powered by a dedicated outlet. My listening room is 12'x18'x8.5' and complimented by Corner Tunes and homemade "room tunes."
The setup
First, I'd like to thank Mike McCall for sending me a review pair of Eires, which saved me a week of break-in time. I found that the Eires were not particularly sensitive to room placement. They were mounted on 24" Celestion stands and placed in a slightly toed-in position. I ended up with the front of the speakers about 34" from the side walls and 38" from the back wall. (The front baffle allows for near-wall placement without muddying up the bass too much—an important consideration for those with smaller listening rooms.) I'd also like to note that the gold-plated binding posts are surface mounted on the back of the speaker and not recessed as found on a number of speakers. This makes for easy attachment of cables.
The music
After about an hour of warming up the Eires, I cued up "Florianopolis" from John McLaughlin's Live at the Royal Festival Hall (JMT 834 436-2). Nice soundstage... excellent ambience...very good spatial resolution...instrumental tonalities very nice. Huh? The music ended. What happened? I had just listened to the entire disc and remembered every piece. About the only way to explain is to say that I had an "out-of-body experience." The Eires utterly drew me into the music. Yes, they perform well from an analytical point of view, but is audio about analyzing equipment or being drawn into the sound? My experience with the Eires makes me believe the latter. Like the Silverline SR17 I recently reviewed, the Eires also projected an impressive amount of space around themselves while producing a soundstage I'd expect from a fine stand-mounted monitor.
Listening to my favorite female vocalists was an experience. Sarah McLachlan's, "Witness" and "Wait" from her discs Fumbling Toward Ecstasy and Surfacing (Arista 18970-2 and 18725-2 respectively) sound entirely intoxicating over the Eires. Solo and small-ensemble works really excel. Hearing "Romanesque" from Patricia Barber's Café Blue (Premonition Records Prem-737-2), one can appreciate Barber's vocal talent. The way this speaker conveys tonality and harmonic texture created a confluence between me and the music. The sizes of the instruments and performers are also correctly reproduced. I didn't get the image of a giant head singing in front of me.
Being large for stand-mounted speakers, the Eires produced bass that was greater than I had previously experienced. In-room bass went down into the mid-30Hz range. Not to fault earlier speakers I've tested, but I expect the amount of bass the Eires generate will satisfy the vast majority of audiophiles. Overall, the sound reminded me of some of the gorgeous Italian jobs costing twice as much.
More good news. On John McLaughlin's latest release, The Heart of Things (Verve 539153-2), the second cut, "Seven Sisters," has a passage where percussionist Dennis Chambers rapidly hammers double kick drums as quickly as Billy Cobham did in his prime. Though this is a fairly loud passage, I did not hear any chuffing from the speakers' ports. Often stand-mounted speakers tend to run out of gas on loud passages, causing the image to distort, the harmonic textures to change and the soundstage to shrink. Not so here.
In conclusion
The sound of the Shamrock Eires appeals to me very much—reviewing the speakers was an absolute pleasure. They offer a wide array of the audiophile goodies—beauty of tone, spatial resolution, extended bass—but maybe their greatest asset is the way they make time fly. I found the sound of the Eires to be totally addictive, and I had a hard time turning the music off, especially when there was work to do.
I can't imagine that anyone would find significant fault with the Eires. Mike McCall has really done his homework and presented a finished product. Those who love accurate (but not analytical) and musical (but not overly euphonic) sound should give the Eires a listen. I had a tough time sending them back. You may not be able to.
...Mike Masztal
mikem@soundstage.com
Shamrock Audio Eire Loudspeakers
Price: $3,495 USD per pair

Shamrock Audio
235 Coolidge St.
Silverton, OR 97381-2009
Phone: 503-873-3755

Website: www.shamrockaudio.com
Email: shamrock@viser.net
---
Shamrock Audio Responds:
Mike is correct about the Eire being a labor of love. We spent two years working solely on the Eire prior to introducing it. Our sincere thanks go to Mike for requesting a set for review, and for his appreciation of the fruits of our labors. Our thanks also go to Doug Schneider at SoundStage! for his efforts on the Internet. Thanks guys!
As a special offer to readers of SoundStage!, through a special agreement with high-end stand manufacturer Osiris Audionics, Shamrock Audio is offering a free pair of stands to any purchaser of the Eire through the end of June 1998.
Sincerely,
Mike McCall
Shamrock Audio