July 2002
Marsh Sound Design MSD-A450m Mono Amplifier
by John Leosco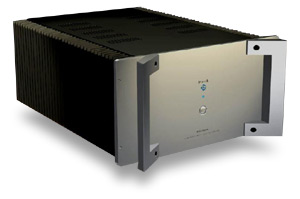 Review Summary
| | |
| --- | --- |
| Sound | "Pleasingly firm, conspicuously clean, and marked by clarity"; "exhibits a dead-flat tonal balance"; "the bass was always as extended and richly toned as the source material would allow, and very controlled." |
| | |
| --- | --- |
| Features | "A fully balanced, cascaded, complementary differential input circuit running class-A biased J-FETs is followed by a class-AB bipolar push-pull output stage"; "only two gain stages" too. |
| | |
| --- | --- |
| Use | John speculates that connection of large-diameter speaker cables in biwire configuration could be tricky because of the placement of the binding posts; captive power cord, albeit one from Monster Cable. |
| | |
| --- | --- |
| Value | "A few physical details distance it from other meticulous solid-state candidates, admittedly most of which are more costly. Do you care? If not, audition a pair." |
Back in 1983, Toyota management decided to create a luxury automobile capable of challenging the world's best. Technical competence, outstanding quality, and a measure of elegance, although essential, would still not be enough to crack into this established and well-heeled market. Their strategy relied on lower sticker prices relative to the competition for luring potential customers into the showroom. Six years later, the first Lexus hit the streets and people have gobbled them up by the boatload ever since. The marque thrives today as an undeniable success story.
On the solid-state-amplifier scene, a few distinctive brands have rooted into the high ground -- Mark Levinson and Krell immediately come to mind. Longevity and continual improvement breed name recognition and a loyal clientele, all combining to help weather the storm of lean times. Gaining a toehold among these giants seems a daunting task.
No, I wouldn't want to be in the amplifier business. Just producing a high-end contender, no matter how good it sounds, might not prove successful. A newcomer needs an edge, such as a blinding flash of innovation, a television pitchman, or maybe some gimmick. Or how about a rock-bottom price? As a card-carrying member of the SBA (Stingy Brotherhood of America), a potential bargain gets my attention.
Behold the Marsh Sound Design MSD-A450m, a gleaming hulk of a monoblock amplifier. Two huge milled-aluminum grab handles dominate the thick, shiny faceplate. Row after row of heatsinks makes the amp appear as long as an airport limousine, with the black fins and perforated vents nicely contrasting a silvery hue. On looks alone, this amp belongs in the same neighborhood with the big boys. A450m means 450 watts of power into an 8-ohm load, 800 watts into 4 ohms, and 1000 watts into 2 ohms. And the price? Far less than a Lexus at $9990 USD per pair.
The contender
A Marsh MSD-A450m takes up plenty of parking space, measuring 19"W x 8 1/4"H x 25"D and weighing in at 80 pounds. Twin pairs of handles, front and rear, ease the pain of moving the amplifier into position. Once there, operation is simple. Choose between coaxial RCA or balanced input by flipping a selector switch; the input impedance is specified as 94k ohms balanced and half of that single-ended. Four hefty binding posts allow for speaker biwiring. A captive, 7' Monster Cable Powerline 300 power cord supplies juice to a 15-amp circuit breaker on the rear panel. Touch the go button up front and you're ready to rock'n'roll, the bright blue LEDs cutting through darkness like a couple of high-intensity xenon headlights. At least you can easily tell if the amps are powered up come daytime.
While I'm on the subject, I have a few user-friendliness niggles. With an amplifier of this power rating, an owner may choose thick-diameter, heavy, and sometimes inflexible speaker cables. Marsh's two positive output lugs are located directly over the pair of negatives, all in close proximity to a handle. To make matters worse, the spade openings are oriented vertically. Accessing either positive requires worming the cable past the negative posts, accomplished with minimum frustration using a single cable duo but downright aggravating with four fat snakes.
Pop-quiz time: Once an amp is installed, what's the most-frequently touched control on it? Right, the on/off button. Tactile feedback from my fingertip says this piece on the MSD-A450m is a little cheesy, and the pushbutton in one sample occasionally hung on rebound, failing to communicate the military-grade Hummer-like build quality the rest of the amplifier conveys. Additionally, about three seconds after shutdown, more often than not, the amps exhale with mild klumpf sounds into the speakers. But to their credit, the pair of MSD-A450m amplifiers proved completely reliable during our time together.
Under the hood, a massive power supply is surrounded by all solid-state electronics. A fully balanced, cascaded, complementary differential input circuit running class-A biased J-FETs is followed by a class-AB bipolar push-pull output stage, the rugged output devices rated at 250W each. There are only two gain stages, and the monoblocks do not use separate bridged amplifiers to attain high power output. Despite their capabilities, the amps idle lukewarm to the touch and don't turn the listening environment into an oven. Eight red internal LEDs, visible through the upper-rear vents, are part of the biasing circuits. Servo control is a DC-correction circuit used to eliminate coupling capacitors in the signal path. Quoting Richard Marsh, designer and leader of Marsh Sound Design: "This amplifier uses a combination of voltage and current feedback, instead of voltage feedback alone. This [scheme] makes for low distortion at all power levels and into very low speaker impedance."
Marsh amplifiers are assembled in Bangkok, Thailand where skilled labor can be had at well below domestic rates. A virtual tour of the factory is available online at the Soliloquy website. Soliloquy is the marketing arm of Marsh Sound Design.
The test track
My review system consisted of a PS Audio Lambda CD transport feeding bits through an Illuminations D-60 coaxial digital cable to either a Dodson Audio DA-217 Mk II D or Theta DS Pro Basic IIIa digital processor. An Ayre K-1x preamplifier routed analog signals to the amps through single-ended AudioQuest Diamond and Opal or JPS Labs Superconductor FX interconnects. The B&W Nautilus 801 performed as the loudspeaker of choice, with Synergistic Research Resolution Reference and JPS Labs Superconductor+ Petite speaker cables. Comparison amps on hand were an Ayre V-1 and a Krell KSA-150, both stereo units. An API Power Wedge 116 conditioned AC power to the front-end components.
The test drive
Did I mention that a sole Marsh MSD-A450m could dump 450 powerful watts into 8 ohms? I thought so, but the raw numbers themselves spark arousal and are worth a recap. In the super-car world, Porche's new 911 GT2 boasts just over 450 horsepower with a top speed approaching 200 mph. For other than bragging rights toward whose, um, unit is bigger, can absurd power capabilities demonstrate any value? I'll leave the horsepower wars for the car nuts to debate, but in audio, I say "Yes!"
For starters, big power is big fun. I threw in the newly remastered versions of Michael Jackson's Thriller and Bad [Epic EK 66073 and EK 66072], cranked up the volume, and before long my place was jumpin' like an early-'80s MTV party. Percussion impacts became actual physical experiences, with energy radiating throughout my entire body. Transients seemingly hit and decayed at lightning speed. Up went the volume, having long exceeded the "stupid loud" setting and now venturing into "probable visit from the cops" range, yet the sound did not become distorted or muddy. Jackson's recorded heartbeat eerily kicks off "Smooth Criminal," creating the illusion of confinement within a human chest cavity, the walls of my listening room flexing with every pump. The peak clip indicators located on the MSD-A450m's front panel never even flickered. As Michael says, "Hee hee!"
If I had only one word to describe the sound of the Marsh monoblock -- if there is one -- I think it would be crisp, as in pleasingly firm, conspicuously clean, and marked by clarity. That about covers it. The potent MSD-A450m exerts iron-fisted control over a speaker, telling it exactly where, when, and how much to move.
Control is a good thing, especially on the bottom end. B&W Nautilus 801 loudspeakers utilize 15" woofers for awesome bass. They've also been saddled with a bit of a merciless reputation regarding a lack of bass temperance -- short on moderation and self-restraint. Even B&W deviated from the single-woofer concept, designing the new flagship 800 series with a pair of smaller low-frequency drivers. Two are easier to govern than one, I guess. I'm pleased to report that my Nautilus 801s are capable of wonderful bass if, first, as with any full-range transducer, the speakers are properly placed in a large enough room and, second, the amplifier is up to the task.
Strong, punchy bass lines on Janet Jackson's All For You [Virgin 7243 8 10144 2 4] tested the resolve of the Marsh amp in the lower octaves, and the MSD-A450m not only responded to the challenge but surpassed my expectations. "Someone to Call My Lover" contains several particularly earthy bursts that burrow down to bedrock. Striking! The bass was always as extended and richly toned as the source material would allow, and very controlled. The MSD-A450m provides world-class bass performance.
Ms. Jackson employs spoken interludes between tracks on All For You. With the MSD-A450m, her casual (and sometimes X-rated) thoughts are very sharply defined and stable, each vowel and consonant crystal clear with absolutely no overhang, tube-like warmth or resonance. Once the music starts, a complex modern mix is sliced and diced into distinct individual instruments separated by black space, the silence as cleansed as the dynamic notes. Unequivocally clean -- maybe too clean and analytical, if that's possible -- the resulting pinpoint imaging from the Marsh amps is simply amazing.
The MSD-A450m exhibits a dead-flat tonal balance and try as I might, no obvious defects were noted in the midrange or high frequencies. A smooth midrange is accompanied by clear, unfiltered highs. On some full-range material, the authoritative bass and sparkling top-end tended to draw my attention away from the fine, unassuming mids.
When playing large-scale classical music, the Marsh MSD-A450m really came into its own. I spent an entire afternoon dissecting variations of Mahler's Symphony No. 1 [Phillips 422 329-2] with the Boston Symphony Orchestra conducted by Seiji Ozawa, and Bruno Walter's version conducting the Columbia Symphony Orchestra [CBS MYK 37235]. An imperturbable feeling of power captured the orchestral grandeur with no sense of strain. A spacious, open soundstage contained precise players, each explicitly delineated. Strings were silky and never forward. Lunges from tympani jolted the room. Cool! By the way, other than the accompanying tape hiss, I prefer the Walter rendition -- more passion.
The race
My defending champion in the bass race has long been the Krell KSA-150. The Krell's bass feels a touch leaner and tighter, with snap to spare, while the Marsh delivers a slightly fuller, more robust version. Differences are minor, with excellent bass reproduction from either amplifier. Only the music itself determines the ultimate winner here. Relegated to the junior division in this group, the Ayre V-1 offers full-bodied bass but at times cannot effectively manipulate the Nautilus 801s' woofers, resulting in bloated lows.
On the other hand, a decade-old Krell can't compete with the Marsh MSD-A450m across the rest of the frequency spectrum. The KSA-150 sounds dark, somewhat veiled, and is less invigorating when compared to the Marsh monoblocks. The Ayre V-1 projects rich, three-dimensional close-mic'd images that are both slightly forward and extend deeper than the Marsh's likeness. Erupting from the Ayre are subtle micro details and harmonics that convey reedier tones through a saxophone, more vibrato and bite from bowed instruments, and juicier spit in a trumpeter's horn. The Marsh MSD-A450m brings its own toolbox of strengths, including smooth, clear images with tightly defined edges, vast space around instruments, pinpoint imaging, and a blacker background. Highs from the Ayre are more delicate, while the Marsh makes a confident statement.
Preference toward the Marsh MSD-A450m will likely depend on system interaction and listener bias. My system chain consists of several high-resolution components, including the Dodson DAC, the Ayre K-1x preamp, and of course the B&W Nautilus 801 speakers. The Marsh MSD-A450m makes four. Somewhere along the line, I want -- no, I need -- some warmth, and the Ayre V-1 does it for me. At no time did I feel compelled to remove the MSD-A450m since it was not aggressive, just enlightening. In fact, listening to the Marsh amplifier was usually a pleasure. Someone who desires additional resolving power may find the Marsh MSD-A450m to be a solid ride.
The verdict
No matter how fine an automobile a Lexus may be, it's no Mercedes-Benz. The Mercedes exudes a luxurious sense of style and refinement -- with a price tag to match. However, most Lexus owners probably don't care. They're driving a nice car several steps above average and for several thousand dollars less than the European brand.
The Marsh Sound Design MSD-A450m is a powerhouse capable of controlling difficult loudspeaker loads and delivering impressive bass performance. It offers a crystal-clear windshield with which to view the world of recorded music, lightning-quick reflexes, and a cool demeanor. A few physical details distance it from other meticulous solid-state candidates, admittedly most of which are more costly. Do you care? If not, audition a pair. Maybe there's room in your garage for them.
...John Leosco
johnl@soundstage.com
Marsh Sound Design MSD-A450m Mono Amplifier
Price: $9900 USD per pair.
Warranty: Two years parts and labor.

Operations Office:
Marsh Sound Design
62 El Camino Dr.
Corte Madera , CA 94925
Phone: (415) 927-4672
Fax: (415) 924-6846

Sales and Marketing Office:
Soliloquy Loudspeaker Corporation
2609 Discovery Drive
Building 105
Raleigh, NC 27616
Phone: (919) 876-7554

Websites: www.solspeak.com, www.marshsounddesign.com
---
Marsh Sound Design responds:
John Leosco paraphrases the Marsh mission statement to perfection. Despite appearances, Marsh is not a high-end brand. Rather, it's a high-value brand. Mercedes performance for Lexus pricing, indeed. And since there are no miracles in manufacturing, one can't expect certain cost-no-object features without penalty. Richard Marsh wisely decided to spend the money where it matters -- on the sound. This review unequivocally validates his success. We're pleased that the reviewer used B&W 801s, a notoriously taxing load known to give lesser amplifiers the fantoids.
Still, we would have liked to see comparisons with more expensive monoblocks than the A450m to truly drive this point home. Lexus did not compare themselves with Acura. Rather, they took on Mercedes, BMW and other European luxury brands. We feel that a similar comparison would have driven our intentions home with even greater enthusiasm. Performance and versatility, within reach of mere mortals. That's what it's all about.
At least that's our humble opinion. It's how we perceive our brand: uncompromised sonics, understated aesthetics, no fancy frills that lose their importance when the lights dim and the music begins.
Our sincere thanks to John for choosing to equate Marsh with Lexus. We couldn't have come up with a better image ourselves. Thank you!
Dave Berman
CEO
Soliloquy Loudspeaker Corporation, Marsh Sound Design, American Acoustic Development