February 2005
Mark Levinson No.32 Reference Preamplifier
by Marc Mickelson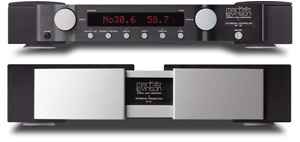 Review Summary
| | |
| --- | --- |
| Sound | "Silky, with such ease does it portray music, conveying all manner of relevant detail in an utterly agreeable, unrestrained manner"; "its performance is the antithesis of forward or assertive." "The music had grace and flow instead of aggression and edge." "Yet, as time went by, I began to wonder if the No.32's easy-going nature may be an impediment for some listeners, as it kept the music somewhat at arm's length." |
| | |
| --- | --- |
| Features | Feature-rich two-piece preamplifier with software-controlled user interface; "separated into discrete chassis is all of the audio circuitry…and anything that could affect its performance, including the power supply, the LED display, and all of the control functions"; "the No.32 Reference is also a dual-mono design that's balanced from input to output, including the single-ended inputs, whose signals are converted to balanced"; "the No.32's discrete attenuator uses 66 surface-mounted resistors per channel and provides volume control in 0.1dB increments." |
| | |
| --- | --- |
| Use | "More than any piece of audio equipment with which I am familiar, the No.32 can be tailored to your system and become an extension of the way you listen to music. It's a joy to use." |
| | |
| --- | --- |
| Value | "Even at the No.32's lofty price, it's not hard to understand how the money was spent in its manufacture." |
Amidst the many buttons, knobs, LEDs, and processing modes of home-theater preamp/processors, the plain-Jane simplicity of a stereo preamp of the sort audiophiles use in their systems seems like a quaint anachronism, a rusting two-seat roadster with sticky manual transmission in the days of sleek sedans that run on gas or battery power and have built-in DVD players and navigation systems. Audiophile preamps often use vacuum tubes and lack even the most basic of user niceties, while their home-theater counterparts are anything but limited, having multiple digital processing modes, support for multiple-zone use, and various means of connectivity, all of which their owners require.
But then there is the Mark Levinson No.32 Reference, a two-channel preamp that bridges the gap between the minimalism of the audiophile world and the rich functionality of home-theater systems. The No.32 will please purist audiophiles who need their preamps to function as true control centers for strict stereo or combined stereo/multichannel systems, and it will do so with the sort of ergonomic class for which Mark Levinson products are famous.
Creating a Reference
The $15,950 No.32 Reference is the oldest of three Mark Levinson stereo preamps currently available (there are also the No.320S and No.326S), having been introduced in 1999, and the only one that is a two-chassis design. It is also the only Mark Levinson preamp to warrant the company's Reference appellation, which designates it as the company's most technologically advanced and best preamplifier.
While separating a preamp's power supply from the rest of its circuitry is not a new idea, the No.32 takes this notion to a very logical extreme. Separated into discrete chassis is all of the audio circuitry (which Mark Levinson calls the Preamplifier; 4 1/8"H x 19 1/2"W x 11 3/8"D and 26 pounds) and anything that could affect its performance, including the power supply, the LED display, and all of the control functions (referred to as the Controller; 3"H x 19 1/2"W x 13D and 40 pounds). Therefore, only the audio signals, control commands and DC power enter the Preamplifier, with AC and any communication connectivity entering the Controller. This is an ingenious design and one that other companies, most notably VTL and McIntosh, have adopted for their highest-end preamps.
But the design innovations don't stop there. The No.32 Reference regenerates the power used for its audio circuitry to ensure absolute purity. This is accomplished by two independent power supplies that are dedicated to the audio circuitry. The DC from these powers an optimized power amplifier that produces only a pure 400Hz sine wave, which is then rectified, filtered and re-regulated to create the DC power for the No.32's Preamplifier circuits. The No.32 Reference is also a dual-mono design that's balanced from input to output, including the single-ended inputs, whose signals are converted to balanced after entering the Preamplifier and are handled in balanced fashion thereafter.
There's more. The No.32's discrete attenuator uses 66 surface-mounted resistors per channel and provides volume control in 0.1dB increments. The unit's expensive Arlon 25N circuit boards are said to outperform those of previous "S"-series Mark Levinson products, which are made of cyanate ester. Interestingly, the engineers at Mark Levinson have found that Arlon 25N is only beneficial for circuit boards that house active devices, while boards from other materials, including FR-4 glass epoxy, are used elsewhere. Their take: "We understand that the No.32 represents a big investment for anyone to make in their music system, and are careful to ensure that it is money well spent."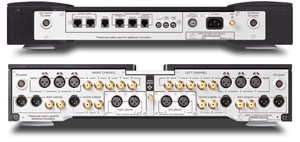 Connectivity is immense. The No.32 has eight pairs of inputs (three balanced and five single ended) and four sets of main outputs (two each balanced and single ended). There is provision for an internal MM/MC phono stage (I didn't test it, but it is rumored to sound incredibly good), which is also dual mono and fully balanced. Other than its inputs and outputs, the line-stage-only No.32 Reference has a grounding post and a pair of DC-power inlets on the back of the Preamplifier, and the IEC receptacle, a host of connectivity ports, and DC-power outlets on the rear of the Controller. The front of the Preamplifier has only a power LED, while the Controller has the knobs and buttons used to facilitate input switching and programming. Relevant functions are duplicated on the No.32's hefty remote, which makes up for its physical clunkiness -- it is broad and doesn't fit very well to hand -- with its ability to hit its mark with every command.
As with the Mark Levinson No.383 integrated amplifier I reviewed a few years ago, the No.32's software-controlled user interface is state of the art. It allows you to name and set the offset for each input (and turn unused inputs off), set the volume control's maximum level, set the mute level, and program a host of other characteristics of the No.32. The dot-matrix LED display, which is used for programming, is large and easy to see even from across the room, but you can dim it or turn it off completely if you find it distracting.
The No.32 Reference sets the standard for customization and user-friendliness for high-end audio electronics. More than any piece of audio equipment with which I am familiar, the No.32 can be tailored to your system and become an extension of the way you listen to music. It's a joy to use.
Review system
The No.32 Reference took its place among some equally expensive equipment. Speakers were Wilson Audio MAXX 2s, while amplifiers were Lamm ML2.1 and M1.2 Reference monoblocks as well as a Blue Circle BC202 stereo unit near the end of the review period. Source components were an Esoteric X-01 CD/SACD player, an Audio Research CD3 Mk II CD player, and Zanden Audio Model 5000 Mk III DAC used with Zanden Model 2000P or Mark Levinson No.37 transports via Audience Au24 or i2Digital X-60 BNC-terminated digital cables. Interconnects and speaker cables were from Cardas (Golden Reference), Siltech (Signature G6 Compass Lake and The Emperor) and AudioQuest (Sky and Volcano). The preamp for comparison was a Lamm L2 Reference.
Power cords for most of the review period were from Shunyata Research -- Anaconda Alpha, Anaconda Vx, Python and Taipan -- as was the Hydra Model-8 power conditioner. Because the No.32 regenerates its own power, I was curious to hear whether different power cords would have an effect on its sound. I tried a number of cords, including those as different as a Shunyata Taipan, which sounds very fast and lively, to an Essential Sound Products The Essence, which sounds rich and dark. Only with these two extremes did I detect any sonic differences, and then only very slight ones -- if any at all. I also used the stock power cord that comes with the No.32 for an extended period, and liked the sound of it as well as that of any after-market cord I tried. The verdict: Experiment, but don't ignore the null option and overlook the power cord that comes with the No.32.
Preconceived misconceptions
I've owned a lot of audio equipment over the years, but no solid-state preamps. I like the idea of having no tube-related maintenance, but the overall sound quality of the solid-state preamps I've heard has never equaled that of the best preamps that use tubes. The air, the sweetness, the midrange magic of a good tubed preamp are all undeniable. In many ways, the tubed preamps available today are like moving-coil phono cartridges: They are for those listeners who want the very best sound, are willing to pay a premium for it, and can deal with any added considerations involved.
The No.32 Reference, however, altered this notion. I won't say that its sound was tubey, but it was apparent from the first few moments of listening that the No.32 was in a sonic league of its own among solid-state preamps, at least the ones that I've heard. Its sound is best summed up as silky, with such ease does it portray music, conveying all manner of relevant detail in an utterly agreeable, unrestrained manner. The first few hours of listening took a bit of adjustment -- not in terms of my ears, but rather my head. I had simply never heard a solid-state preamp sound as good as, or similar to, the No.32.
As often happens when a musically significant piece of audio equipment comes into my system, I reach for a number of staple recordings so I can get a better idea of what that component is really doing. Keith Richards' Main Offender [Virgin 864992] was raucous and spacious at very loud levels, while the Rolling Stone's Let it Bleed on hybrid SACD [Abkco 90042] retained its hear-into-the-master-tape quality, and even sounded a touch sweeter than usual. Bass on "Words of Wonder" from Main Offender sounded warm and fuzzy -- exactly as it should -- while the pounding kickdrum from "Runnin' Too Deep" had impressive speed, heft and impact. I listened at louder-than-normal levels as this music begged for a heavy hand on the volume control. The No.32 untangled all of the instrumental lines, its performance never congealing or sounding stark or overly crisp -- quite the opposite, in fact.
At CES I talked with Winston Ma, the man behind the First Impression Music audiophile recording label, about the various formats in which FIM releases recordings. FIM recordings are created with extreme sonic care and have been released in HDCD, gold CD, XRCD, XRCD2, XRCD24 and SACD formats. Of course, this begs the question, "Which is the best-sounding format?" I asked Winston this, and his answer didn't completely surprise me: "XRCD24 is best for sound." I had been listening to two recent XRCD24s whose sonics were extraordinary: Portrait of Bill Evans [Victor VICJ 61171], a tribute compilation to pianist Bill Evans; and Manhattan in Blue [Victor VICJ 61172], a live-to-two-track recording by alto saxophonist Malta. Both of these carefully wrought CDs sound immediate and have huge soundstages that will tax the resolving power of any audio component. The No.32 handily conveyed all of the startling detail on both CDs and resolved the soundstage's impressive lateral spread. Piano on the Evans tribute was rendered well in terms of its size -- it filled the space between the big Wilson Audio MAXX 2s completely.
All of this initial listening was done with the No.32 fronting the 110W Lamm M1.2 Reference hybrid monoblocks, not the 18W ML2.1 SET amps, which I listen to most of the time. The No.32/M1.2 combination conveyed passion and intimacy as well as grandeur and authority. Maybe the best feature of the various Paul Simon Warner Bros. remastered CDs is the inclusion of demo acoustic versions of some of the songs, which present them in a completely different light. On Hearts and Bones [Warner Bros. R2 78903] Simon does "Rene and Georgette Magritte with Their Dog After the War" on acoustic guitar, and it's wonderfully personal and touching. The No.32 placed Simon, and indeed the entire soundstage, behind the plane of the speakers -- its performance was the antithesis of forward or assertive. The music had grace and flow instead of aggression and edge, and this more than anything came to characterize the No.32's sound in my system.
Yet, as time went by, I began to wonder if the No.32's easy-going nature may be an impediment for some listeners, as it kept the music somewhat at arm's length. Increasing the volume would lessen this, but the view of the music with the No.32 was always from a few rows farther back than I was used to. I have grown to love Ani DiFranco's Evolve [Righteous Babe RBR-030D] for its jazzy, funky playing and the profundity of a few of the songs. Through the No.32, "In the Way" sounded more gentle and subdued than I was used to, even at loud levels, and the title cut, which I used as a demo at CES and heard on roughly two-dozen different systems, lacked some of the thrust and bounce I had grown to enjoy.
This tendency was exacerbated when I began using the No.32 with the Lamm ML2.1 mono amps. The amps didn't lack for power, but the sonic signatures of the preamp and amps were not presenting a musical picture that included raucous immediacy as well as ease -- and everything in between. In fairness, the No.32 was created with powerhouse solid-state amplifiers like those from Mark Levinson in mind. With the hybrid Lamm M1.2 amps, the No.32's performance was satisfying and complete; with the ML2.1s, however, the sound was contoured, soft, and not to my liking.
Reference vs. Reference
The Lamm Industries L2 ($14,390) is similar to the No.32 in that it is a two-box unit that its maker has named its Reference preamp. However, the similarities end there. The L2 is a hybrid unit, with a solid-state line stage and a tube-rectified power supply. It has no remote control ("bad for sound," says Vladimir Lamm) and no balanced inputs (there is a pair of balanced outputs, but the L2 Reference is not fully balanced itself). It's not as conspicuous as the No.32 in its features or looks, but it is still one of the very best preamps I have used and a unit you should seek out if you're considering the No.32. Heck, when you're about to spend in excess of $15,000 on a stereo preamp, you should hear the L2 and all others in the same price range.
I reviewed the L2 almost four years ago, and owned one for over three years. What it lacked in user-friendly features it made up for with its sonic performance, which was stunning. The L2 made for an instructive comparison to the Mark Levinson No.32.
In my review, I described the L2's sound as "like [that of] a detailed and exceedingly smooth solid-state preamp with a touch of tube ease and romanticism." Had I heard the No.32 before my review, I would likely have modified this description. The L2 sounded more forward than the No.32, though not forward intrinsically. Its treble had a bit more vitality and sparkle than that of the No.32, while its midrange was every bit as unadorned and transparent as the No.32's -- not at all warm or tubey. The L2's bass is well integrated into the music it makes, not overly prominent in any way. This would apply to the low frequencies of the No.32 as well, but the No.32's bass does have more weight and impact.
The biggest difference between these two top-flight preamps is, therefore, in perspective -- with the No.32 putting the music a little farther away than the L2. The L2 is closer to absolute neutral in this regard -- it has less of a viewpoint of its own. Other sonic differences are negligible, and would be less likely to sway a potential buyer one way or the other. In terms of usability, there is no contest: the No.32 wins easily.
More is more
The Mark Levinson No.32 Reference may have a feature set suggestive of a home-theater preamp/processor, but it is a purist two-channel affair through and through. Its design is inspired and its execution heroic, it is delightful to use, and, most importantly, it is sonically competitive with the best tube preamps available, offering a perspective different from some of the competition. Even at the No.32's lofty price, it's not hard to understand how the money was spent in its manufacture -- it regenerates its own power for crying out loud! However, if you want its functionality at a lower price point, Mark Levinson has other preamps that make use of the No.32 design innovations and cost less.
All of the No.32's features make it a useful tool for audio reviewers, but I don't mean to limit it to such utility. The Mark Levinson No.32 Reference is a connoisseur's preamp -- a fully equipped hybrid sedan with the heart of a zippy, agile sports car. That it's just plain fun to drive is a considerable bonus.
...Marc Mickelson
marc@soundstage.com
Mark Levinson No.32 Reference Preamplifier
Price: $15,950 USD.
Warranty: Five years parts and labor.

Harman Specialty Group
3 Oak Park
Bedford, MA, 01730-1413
Phone: (781) 280-0300
Fax: (781) 280-0490

Website: www.harmanspecialtygroup.com