August 2000
Kharma Ceramique 1.0 Loudspeakers
by Marc Mickelson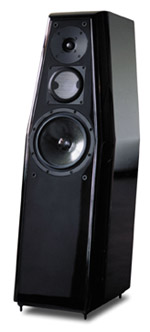 Review Summary
| | |
| --- | --- |
| Sound | "Both musical and accurate at the same time"; treble is "smooth," but the midrange is "the 'money' region"; bass is "quick, forceful and deep"; "a slight bit darker than some other speakers," but "very easy...to like." |
| | |
| --- | --- |
| Features | Soft-dome tweeter, ceramic midrange and Kevlar woofer; gorgeous glossy finish; cabinet uses seven kinds of acoustic-absorbing and damping compounds; only one set of binding posts, so no bi-wiring. |
| | |
| --- | --- |
| Use | As with any speaker, placement is key, as the Ceramique 1.0s will probably sound their best in rooms that allow them to "breathe." |
| | |
| --- | --- |
| Value | The least expensive, nearly full-range speaker in the Kharma line and offers "a large helping of the even higher-end sound without [the other speakers'] stratospheric pricing." |
Kharma speakers have been on my radar for a number of years, primarily because they have been shown with Lamm electronics, the entire line of which I've heard (and, for the most part, reviewed). Thus when I was chatting with Trevor de Maat of Kharma USA at the CES last January, it occurred to me to ask about reviewing the Ceramique 1.0s. Secretly, I would have loved to review the Exquisite Reference 1Bs, but I feared the idea of getting the speakers into and out of my basement -- they weigh over 600 pounds each! The Ceramique 1.0s were more manageable, and as I discovered from talking with Trevor and Vladimir Shushurin at Lamm, they were a good match in terms of impedance and efficiency for the Lamm ML2 SET monoblocks I use. So the review was on.
But don't get the idea that the Ceramique 1.0s are light and easy to move around. They're 140 pounds each and packed in their own wooden crates, so you'll want, at the very least, a strong friend to help with unpacking. Oddly, the 44"H x 16"W x 20"D Ceramique 1.0s are packed in their crates with no protection -- that is, they aren't shipped in plastic bags as most other speakers are. Instead, the crate, which has pieces of foam glued at strategic positions inside, fits very snugly around the speakers, protecting them by not allowing any movement. The whole thing is screwed together, forming a cocoon that even the ham-fisted shipping company, who broke open one of the crates at the corner, couldn't destroy.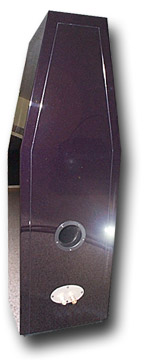 The review pair of speakers came in a high-gloss aubergine finish, a very deep purple that looks black until you see it reflect the light. It's very lovely, but other finishes are available too. In terms of drivers, the three-way Ceramique 1.0 uses a 1 1/2" cloth-dome tweeter, 4 1/2" concave ceramic midrange and an 11" Kevlar woofer. According to Kharma, the Ceramique 1.0s use "a subtractive or serial crossover," the order of which is kept a secret. Crossover frequencies are 200Hz and 2kHz, and the backward-sloping front baffle is an attempt at time-aligning the drivers. Rated frequency response is 30Hz-25kHz, with 90dB/W/m efficiency and an 8-ohm load.
Other than the single pair of binding posts around back, there is a port for the woofer. Kharma divulges that the cabinet of the Ceramique 1.0 utilizes seven different kinds of acoustic-absorbing and damping compounds, which is probably why the cabinet has such an utter deadness to it. Internal wiring is of a silver-gold amalgam, and the ubiquitous screw-type coupling spikes are included. The speakers sell for $15,000 USD per pair, making them third most costly in the Kharma line behind the Audiocratique ($65,999 per pair) and Exquisite Reference 1B ($64,599 per pair).
System
The Ceramique 1.0s spent time in my Lamm-powered reference system: L1 line-stage preamp and 18W ML2 single-ended mono amps (although, as you will read, I also listened to the speakers driven by the little AES AE-25 Super Amp). CDs were played via a Mark Levinson No.39 CD player and Bel Canto DAC1/Pioneer DV-525 DVD player combination, which also was used with the various 24/96 discs I played. Interconnects and speaker cables were from either JPS Labs (Superconductor2 and NC Series) or TARA Labs (Air One), as were the coaxial digital cables I used. Power cords were many, including models from JPS Labs, TARA Labs, API, Silverline Audio, ESP, Sonic Horizon and Audio Magic. I also used a Richard Gray's Power Company with my amps and a PS Audio P300 Power Plant with the preamp and digital goodies. Also in use at various times were the Ortho Spectrum AR-2000 Analogue Reconstructor and Taddeo Digital Antidote Two. Amps and CD player/DVD player sit on the fab sand-filled Bright Star bases.
My carpeted listening room is 12'W x 24'L and has a 7' suspended ceiling. I use egg-crate-like acoustic foam on the walls to cut down on slap echo and generally damp the room, but I haven't gone wild with it. I merely wanted to create something that would approximate a normal listening environment, so I can be reasonably sure that what I hear in my room will travel to yours.
How's your Kharma?
Before you can expect to get the most from speakers like the Ceramique 1.0s, you need to experiment with placement. I find that in my room, getting speakers away from the wall behind them helps to create deeper images, while small amounts of toe-in help in terms of broadening the soundstage. These rules worked perfectly with the Ceramique 1.0s. I placed the speakers over five feet from the front wall, 26" from the side walls, and with little toe-in -- no more than 15 degrees worth. At shows, the speakers are often placed very far apart and with greater toe-in, which may allow them to disperse with less side-wall reflection. In my more narrow room, less toe-in works and ensures that the tweeters don't beam right at the listening position.
More Kharma
I've heard the Kharma Ceramique 1.0s a number of times in a variety of settings. Common component threads running through the Kharma systems I have experienced are tubed electronics. Being the proud owner of some 200W solid-state bullies, I was determined to discover if the Ceramiques could take a little transistorized heat.
The Ceramique 1.0s have an absolute top-to-bottom coherence that, in my experience, is virtually without peer. The 1.0s' drivers keep perfect time with each other, allowing music to flow in a continuous and effortless fashion. "Point-source integration" and "seamless coherence" are noted on my couch-side scribble pad. There have been a number of expensive speaker designs through my room that can't touch the Ceramique 1.0s' single-driver voice.
These elegantly finished, mid-size speakers could fool a person into thinking that they may be light in the loafers down low. Perish the thought. The 1.0s' ability to render low-frequency body and accurate tonal weight is spot on. The entire bass range is pleasingly balanced, never leaning out or spilling over into excess. Classical music especially benefits from the Ceramique 1.0s' texture-rich overtones and midbass drive. Even when listening off axis, the swell of a full orchestra has a visceral, "you are there" quality that is a rare find in a speaker occupying any price range.
The Ceramique 1.0s present an ultra-fast, detailed midband that captures even the most subtle dynamic gradations of an instrument or voice. From small-scale movement to dynamic extremes, the 1.0s remain stable and sort out the notes in a way that defines them and captures their unique signature. The top of the midband can sound a wee bit hard when pushed to the limit, but at normal listening levels it's not an issue. The 1.0s' top octaves reside behind the mid and bass ranges in the soundfield, lending a languid and slightly shaded character to the speakers' sound. There is a complete absence of grain, emphasis or brittleness even when played at high levels.
The Kharma Ceramique 1.0s' collection of strengths and ability to maintain their character with both tubes and solid state make them one of the more complete loudspeaker systems I've had the pleasure of hearing.
...Grant Samuelsen
grant@soundstage.com
Even while moving the speakers around the room, I found them to sound very good, so I was anxious to get down to some serious listening. Right away I was utterly seduced by the Ceramique 1.0s' smooth treble and clean, clear midrange. The transition between the tweeter and midrange driver obviously exists, but it's nearly impossible to detect. Initially I listened to a handful of JVC XRCDs, which have such an evenness about their sound that I hoped they would help me discern a shift in the Ceramique 1.0s' highs and mids. No such luck. The music on Terry Evans' Puttin' It Down [JVC JVCXR-0014-2] and the Duke Ellington Quartet's Duke's Big 4 [JVC JVCXR-0022-2] unraveled in front of me with an absolute sense of continuity.
But I can't let the midrange rest as it is certainly the "money" region of the Ceramique 1.0s. I've not heard in my room a speaker with a ceramic midrange driver, and neither have I heard a midrange region as clear as that of the Ceramique 1.0s. The ProAc Response Fours that I used to own used the very costly ATC dome midrange drivers, and even they sound, by my recollection, a touch cloudy compared to the mids of the Ceramique 1.0s. Voices were portrayed with just the right mixture of body and liveliness. "I Know You Know" from Lyle Lovett and his Large Band [MCA MCAD-42263] made my head snap up from taking notes. It was a gut reaction -- I didn't want to miss it. The Ceramique 1.0s have the uncanny ability to sound both musical and accurate at the same time. With female vocals, I bypassed Diana Krall, Cassandra Wilson and Holly Cole and went to Natalie Cole and Unforgettable [Elektra 9 61049-2]. I've always thought the massed strings on cuts like "The Very Thought of You" and "Mona Lisa" sounded too synthetic, but Cole's singing just appears from between the speakers -- a little thin, as it should be, but pleasantly detailed.
Continuing downward, the bass of the Ceramique 1.0s does not extend to 20Hz in my room with any appreciable output (it would be surprising if it did given speakers' ratings). But the Kharma's big woofer is articulate and quick, giving the sonic illusion of two smaller, more nimble drivers. The bass is not blaty, farty or overdone, but it is notable for its articulation and impact. I've mentioned Frente!'s Marvin the Album [Mammoth 92390-2] in a good many reviews, and with the Ceramique 1.0s, it's a cinch to follow the bass line on songs like "Ordinary Angels" without even trying. I find the Ceramique 1.0s' low end to be exceptionally honest to the recording and my overriding idea of what reproduced music should sound like down low -- quick, forceful and deep. As we reviewers will often attribute to a performer's voice, the bass of the Ceramique 1.0s is simply there.
Having heard the Ceramique 1.0s many times at audio shows, I can say that they are exceptionally open-sounding speakers, although a slight bit darker than some other speakers. The Ceramique 1.0s are physically large, and the soundstage they cast can be correspondingly huge and airy. However, in my room, the speakers didn't quite achieve this same sort of sound, probably because of the room itself, which is much more narrow than even show rooms. Thus, if you want to get the very most from the Kharma Ceramique 1.0s, be sure your room can allow them to breathe. At shows, the speakers are usually set up with more than ten feet of space between them, which wasn't possible for me given the speakers' width and the width of my listening room (boundary interactions from having the speakers within a foot of the side walls created all sorts of sonic oddities, not the least of which was very lumpy bass).
In addition, if you own and love Lamm electronics, you have to hear the Kharmas. The ML2s had no trouble driving the speakers to very loud levels -- greater than 100dB peaks -- which means that any other Lamm amp will work like a charm with them too. There's some serious synergy happening between the Kharma speakers and Lamm electronics, and I suspect it has to do with similarities in their sound -- fine tonal balance, no high-frequency hype or adornment, an overall transparent character that doesn't scream out its presence. I've heard the Lamm M1.1 and ML1 mono amps drive the Exquisite Reference 1Bs, and the sound was even more impressive -- as it should be given the cost of the speakers. So Charles Van Oosterum of Kharma and Vladimir Shushurin of Lamm are kindred sonic spirits. Another amp I had on hand that worked very well with the Ceramiques was the little AES AE-25 Super Amp, whose 15Wpc were plenty to produce 100dB peaks. Although you may think this is a mismatch in price, you should hear the combination before you dismiss it.
Probably the most sublime bit of fun I had with the Ceramique 1.0s in my system was listening to Steve Earle's great Train a Comin' [Winter Harvest WH 3302-2], a richly balanced recording, which means it displays no digital nasties. With either the Lamm amps or the Super Amp driving the speakers, I couldn't help but crank the music. The Lamms deepened the bass and offered greater large-scale dynamics, but the AES amp, at $1200 ($1000 in kit form), revealed its strengths very well. I wouldn't fault anyone for saving money and buying one or two of these amps for use with speakers like the Kharmas. But here's a better, even cheaper recommendation: Get Train a Comin' and discover why Steve Earle is one the best songwriters alive. The sound is a treat too -- Earle's voice leaping from the speakers, the Ceramique 1.0s doing their usual clarity/integration thing.
A comparison
The only speakers I had around for direct comparison were the Silverline Sonatas, which, at $6000 per pair, cost far less than the Ceramique 1.0s. However, the speakers are almost identical in size, and they even look alike from the front or side. And in some broad ways, the two speakers sound similar, offering a view of the music that is never intrinsically harsh or soft. However, the Kharmas better the Silverlines in essentially every way -- in terms of bass power, midrange clarity and openness, overall grace and the ability to involve me in the music. I think the Silverline Sonatas are exceptional for their price (and the Sonatinas are even better in this regard), but the Kharmas are exceptional, period. So at least in terms of this comparison, there are no giant-killers lurking about. Sorry.
In the end
The Kharma Ceramique 1.0s are very easy speakers to like because they do everything so well. However, conveying how the parts combine to make a speaker that's as good as any I've heard so far in my listening room is another thing. They are clear and smooth, impactful and graceful, a very good match for the best tube amps or those that are overachievers. There is a balance about them that won't have you noticing one area of their performance over all others, and perhaps feeling disappointed in the process. Kharma does make even better-sounding speakers, but the Ceramique 1.0s give you a large helping of the even higher-end sound of those speakers without their stratospheric pricing. And they'll look great in just about any room.
Reviewing audio equipment is very different from listening to it for pleasure. The goals are different -- discovering what a piece of equipment is about versus letting it wash over you and elicit a response. This may be obvious information, but I mention it by way of conveying that the Kharma Ceramique 1.0 speakers mesh more closely with my personal preferences than any speaker I've had in my system so far. And if what I say about them appeals to you, chances are you'll be impressed too.
...Marc Mickelson
marc@soundstage.com
Kharma Ceramique 1.0 Loudspeakers
Price: $15,000 USD per pair.
Warranty: Five years parts and labor.

O.L.S. Audio Technology
Kalshoven 7
4825 AL Breda
The Netherlands
Phone: (+31) (0) 76-57 15 010
Fax: (+31) (0) 76-57 14 773
E-mail: vanoosterum@kharma.com

Kharma USA
121-03 84th Ave.
Kew Gardens, NY 11415
Phone/Fax: (718) 849-4567

E-mail: trevor@kharmausa.com
Website: www.kharmausa.com