June 2001
JMlab Chorus 706 Loudspeakers
by Doug Schneider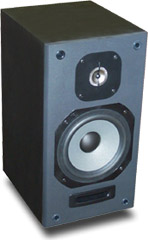 Review Summary
| | |
| --- | --- |
| Sound | "Share a clear, spacious, and open sound with the [JMlab] Mini Utopias -- lively captures it well"; "the highs are pristine and simply soar, but "where the speakers do fall back somewhat is in the projection of soundstage depth," overall retrieval of detail too. |
| | |
| --- | --- |
| Features | Focal drivers, including one of the company's inverted-dome tweeters; "JMlab has added some nice touches to dress up the speaker a bit," including three finish options. |
| | |
| --- | --- |
| Use | Don't require a lot of power to play loudly; JMlab's Chorus speaker line includes subwoofers and a center-channel speaker, so moving from two-channel to home theater is easy. |
| | |
| --- | --- |
| Value | "Worth an audition for those wanting two-channel sound now with the option of easy upgrade to home-theater use later." |
Over the past few years I've listened at length to tons of loudspeakers. But despite all of those and the fact that I sometimes forget a few, if you ask me which speaker is perhaps my favorite, one will leap to the top of the list: the JMlab Mini Utopia. The Mini Utopia is one of the very best stand-mounted loudspeakers you can buy. Set up properly in a small to moderately sized room, it can have you believing you've got a six-foot pair of behemoth-sized speakers in a massive room. Except for the inability to deliver very low bass, the speaker does little wrong and does so much right. However, it's also expensive -- really expensive, in fact. Certainly it has the looks and build to go with the price tag, but who can afford $7000 for a pair of loudspeakers? Undoubtedly some can, but heck, I can't. So dreaming may be fun, but reality is where it's at.
Trickle down
Luckily, the company behind the Mini Utopia has the means to create much less expensive speakers too. JMlab and Focal are, for all audiophile intents and purposes, the same company. Focal makes the drivers, JMlab the loudspeakers with Focal drivers. Having the ability to create drivers for your speakers is an enviable position that only the biggest and most influential companies are in. As a result, the company has the wherewithal to design any type of loudspeaker they want and custom design nearly any type of driver they need to make the speaker design work. So they can go all out, like JMlab did with their Utopia line, and then use what they learned and trickle down that technology to lower-priced speakers, like the new entry-level JMlab Chorus lineup.
The idea with the Chorus lineup is obviously to offer a broad selection of products and bring high-quality sound to a wider range of consumers. There are a number of Choruses, from the 705 to the 725, all of which can be used in a two-channel music setup. There are also some subwoofers and a center-channel speaker should you decide to move from two-channel audio into full-fledged home theater. The Chorus 706 is the second-lowest-priced speaker in the line and retails for $450 USD per pair.
The 706 is a two-way design using a 6.5" Polyglass woofer and a 1" inverted-dome tweeter -- "treated titanium," JMlab says, with a .75" voice coil. Along with the unique drivers, the other novel feature is the slotted port on the front bottom. All together they make for a pretty techie-looking front baffle. The cabinet measures about 14.5"H x 8"W x 10.25"D and weighs just over 13 pounds. I found the speakers to work well on 24" stands. Fit and finish are excellent; JMlab has added some nice touches to dress up the speaker a bit. I particularly like the dark gray baffle, which gives the speaker a little more elegance. My review pair was finished in black vinyl, which is a little industrial-looking, but there are also cherry and calvados vinyl options that should please people who are tired of basic-black components. Should you wish to conceal the drivers, the well-made grilles snap into place. Around back there is a single set of good-quality gold-plated binding posts. Hook up your speaker wire and you're set to listen.
The company rates frequency response down to 57Hz, (the -3dB point); nominal impedance is said to be 8 ohms, with a 4-ohm minimum. These coupled with the speaker's reported 89.5dB sensitivity rating make for a fairly efficient loudspeaker with suitable bass output for small to mid-sized rooms. The Chorus 706es were wholly satisfactory on their own for two-channel music, but they can be mated with a subwoofer for more bass extension (a subwoofer would be a must for home-theater use).
The 706es don't really need too much power to play. In fact, the company recommends amplifiers in the 20-60Wpc range and no more than 75Wpc for playing music. This is a little lowish in terms of a power rating, but don't let these numbers sway you (advertising bombards us with erroneous information about speakers taking hundreds or thousands of watts). It only takes a few watts to make a speaker sing, and I can tell you that these speakers will play plenty loud with only moderate power.
System
I used the 706es along with the excellent Vecteur I-5 integrated amplifier and L-3 CD player; wire was from Nirvana: S-L interconnects and speaker cables. These components combined proved to be an outstanding system, all at a fairly reasonable price. I also had the opportunity to listen to these speakers under blind-listening conditions at the NRC in the IEC-standardized listening room. In this case, the 706es were mixed with other loudspeakers, and their identity was concealed. Over a series of listening sessions, the speaker was played and evaluated several times (along with other speakers). The idea here is to reduce bias for such things as make, model and price. The 706es got a pretty good workout, and with pen in hand, I jotted my listening notes from both the sighted and non-sighted evaluations.
Sound
The first question many will ask is if with the Chorus 706 you get a Mini Utopia for a fraction of the price. The answer is yes and no -- but mainly no. What you get is sonic quality similar to that of the Mini Utopia (and likely other speakers in the JMlab lineup). You also get high value for your dollar -- definitely more than with expensive speakers like the Mini Utopias, in fact. But what you don't get is the exquisite detail and all the refinement for which you pay a whole lot more money. When you buy the Mini Utopia, you buy a speaker that's built to an astonishing standard, and you get cost-no-object refinement in its performance.
As for the high-value Chorus 706es, they are speakers that sort of jump out at you in terms of their sonic presentation. They share a clear, spacious, and open sound with the Mini Utopias -- lively captures it well. Some may mistake lively for bright, but that's not what I mean at all (in fact, at the blind-listening session, I rated the Chorus 706 "very neutral"). What it has is exceptional clarity; it's the sheen that makes it stand out in a crowd. Vocals and instruments have great articulation and leap from the mix -- the opposite of a more reticent, laid-back speaker.
The Chorus 706 shows itself particularly well on female vocals. On some nasty recordings, it can exacerbate sibilance a tad (particularly if the ancillary components are not well matched), but for the most part, it brings out a startlingly clear and exhilarating vocal performance. For example, Jewel's Spirit [Atlantic 82950] is a closely miked, up-front recording. Over these speakers, guitar has a tightness and vibrancy that breathes life into the music -- something you don't always get from speakers at the 706es' price. Jewel's voice is meticulously delineated, and there is a refreshing cleanliness and clarity to the sound. And there is the kind of spot-on tonal balance that you usually find with more expensive speakers. The highs are pristine and simply soar.
This isn't to say that you can only play female singers on these speakers. Male vocalists do very well too for the same reasons. David Johansen's "Well, I've Been to Memphis" from David Johansen and the Harry Smiths [Chesky JD 196] is a favorite recording for testing loudspeakers. On some speakers, the voice can sound overly resonant and chesty. Not here. The 706es again show the outstanding clarity and definition that they show with female vocals and nary a bit of bloat or overhang.
Turning to something more complex, "Friedmann: Passion and Pride" (Friedman: Passion and Pride [Biber 76671]) further shows the outstanding clarity and definition that these speakers are capable of. This cut is a myriad of acoustic instruments that test a system's resolution, dynamics, and overall transparency. The 706es' clean and clear performance garners high marks here and stands out against competitors'. However, where the speakers do fall back somewhat is in the projection of soundstage depth. Lateral imaging is good with strong and stable placement left to right, but try as I might, I could not get back-of-the-hall sound out of them. Something like the Axiom M3Ti or the $385 NSM Model 5 throws a better soundstage. With the 706, images stayed more or less at the plane of the speakers or just behind. Likewise, detail is a tad bit absent despite the outstanding clarity. The speaker gives you a lot of what's there in a crystalline way, but misses some of the fine details.
Where the Chorus 706 shows some deficiency as well is in terms of ultimate bass extension. The 706 is obviously a small speaker, and its lack of deep bass shouldn't be seen as a serious criticism -- hardly any small speakers go very low. It's simply worth noting that the speaker can sound a little lighter than, say, a floorstander or a satellite/subwoofer combination, but its bass is reasonably weighty and tight nonetheless.
One thing I greatly admired about the Chorus 706 -- because not all speakers regardless of price can achieve it -- is that the speaker slides easily through any type of music. In our blind test with music that ran the gamut, the 706 scored evenly throughout. I played rock, pop, jazz, classical, you name it. It's obviously a well-designed loudspeaker that plays any type of music well.
In terms of its competitors, the 706 holds up very well, with strengths that will push it to the lead for some listeners. In terms of the bass performance, the Chorus 706 can certainly reach a little deeper and play with more authority than the $275 Axiom Millennia M3Ti -- not surprising given the bigger cabinet volume of the 706. As well, I like the overall presentation here considerably more than the drier $399 PSB Image 2B -- the Chorus 706 is more lively in a good way, and as a result the slightly higher price tag is warranted as well. Things are a little different with the $465 Axiom M40Ti though. The M40Ti goes subjectively deeper in the bass, but it is a little fatter and rounder down below. It has a robust, romantic sound, while the 706, on the other hand, has a tighter and leaner character that can be heard easily when playing percussion. With both speakers the designers obviously chose a set of compromises and ended up with two good speakers with somewhat different sounds.
Conclusion
The market that JMlab is going after is no surprise. There are a wealth of music lovers gobbling up sub-$500 loudspeakers, and in North America it's a market that companies like B&W and Paradigm dominate. What the Chorus 706 offers is nice styling, good build quality, strong technology, and above all, a sound that will appeal to plenty of music lovers. Its strengths include outstanding clarity, particularly through the midrange, excellent extension in the highs without ever sounding bright or edgy, and an overall neutral character. At $450, they are worth an audition for those wanting two-channel sound now and the option of easy upgrade to home-theater use later.
...Doug Schneider
das@soundstage.com
JMlab Chorus 706 Loudspeakers
Price: $450 USD per pair.
Warranty: Five years parts and labor.

Focal/JMlab
15 rue Jean Claude Verpilleux
B.P. 201 - 42013 Saint-Etienne Cedex 2 France
Phone: (33) 04 77 43 16 16
Fax : (33) 04 77 37 65 87

Website: www.focal.tm.fr

North American distributor:
Audio Plus Services
P.O. Box 3047 Plattsburgh NY 12901
Phone: (800) 663-9352
Fax: (450) 585-5862

E-mail: info@audioplusservices.com
Website: www.audioplusservices.com