July 1998

Copland CDA 288: A CD Player Worth Herring

by Ian White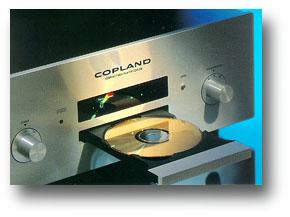 Elsinore. A listening room within the castle.
Prince Hamlet hovering despondently over his silent Rega Planar 3. Enter to him Rosencrantz and Guildenstern.
Rosencrantz: My dear lord!
Guildenstern: Oh master of the Danish Triode Guild!
Hamlet: My loyal friends! Do ye bring news of some glorious victory from the front? Have our brave troops recaptured my sacred phono stage from the evil Fortinbras?
Rosencrantz: Ah…actually we came by to see if we could borrow that new CD player the lovely Ophelia picked up for ye in Copenhagen.
Guildenstern: On another matter my lord…the King's physician concluded that the cause of death, in the matter of Polonius, was that he had been bludgeoned to death with an EL84 tube.
Hamlet: Make haste my friends! Take my Copland CDA 288 with thee…and don't forget to take this letter with you to England.
Copland is not exactly a household name in North American audio circles, but this joint Danish-Swedish endeavor has built a very strong name for itself around the world with its outstanding tube preamplifiers and power amps. Copland is based in Copenhagen, where founder Olé Möller and head designer Morten Simonsen run the research and development division of the business. All of the manufacturing takes place just a few hours away in Sweden by Xena Audio. Olé Möller 's audio career began with Danish cartridge manufacturer Ortofon, where he worked as a technical engineer. Möller left Ortofon to begin Copland almost a decade ago, and the young company has earned international praise for the superb sound quality, robust build, and reasonable prices of its equipment. Copland only recently entered the digital arena, and it was one of the first European manufacturers to offer an HDCD-compatible CD player. Copland produces three models: the CDA 266, CDA 277, and the flagship CDA 288, which, like a piece of Danish herring, I enjoyed in a variety of sauces—ah, systems.
The CDA 288 made a BIG impression on me right away. This CD player is 17" wide, 15.6" deep, and 6.9" high--which, in case you are keeping score, makes it almost double the size of most standard CD players. The casework is in black enamel and at 35 pounds is extremely heavy. My advice: Skip that second danish before you attempt to lift this CD player. Copland uses silver alloy for the gorgeous faceplate. Two machined alloy control knobs that have become the trademark of all Copland designs distinguish the CDA 288's front. If you have never seen a piece of Copland equipment before, then you have never experienced the sheer pleasure of turning the smoothest, most luxurious controls in the audio kingdom. There is also a small (OK, tiny), chrome push-button that operates the open-close function for the drawer that is located beneath the fluorescent-green display.
The two alloy knobs control the power, play and pause functions, and the track-step forward and back controls. There is also a green HDCD lamp that lights up when the CDA 288 is playing an HDCD-encoded disc. The CDA 288 comes with an excellent remote (made in Japan, of course) that I found easy to use, even in the dark. The remote allows you to turn off the display, but after numerous listening sessions I can report that it has no impact on the sound quality of the unit. The rear panel contains an IEC socket, high-quality gold-plated unbalanced audio outputs, optical (TosLink) and coaxial (RCA) digital outputs, and for some bizarre reason an output-off switch. Copland is not alone in this practice. I do not understand why a designer would spend a lot of precious time and money building a sophisticated digital decoder, and at the same time include a switch that disables it so that the unit can be used as a transport. I suspect that the output-off switch was included to make fickle audiophile-weenies in North America happy. The CDA 288 was problem-free during the review process; for $3200 it should have been.
Technology
Internally, the CDA 288 is anything but understated. Designer Morten Simonsen has skillfully engineered a very sophisticated digital design. The Copland uses the TEAC VRDS mechanism, and I would have to agree that it deserves its reputation for being reliable and quiet. The mechanism is solidly mounted within the case and has its own secondary transformer windings on the CDA 288's digital power transformer. The transport is flanked on the left by the power supplies and by the TEAC control and servo board on the right. The heart of this CD player is the very well laid-out digital decoder that lies behind the transport. Morten Simonsen evaluated six different digital oversampling filters before implementing the Pacific Microsonics PMD-100 digital filter in the CDA 288. The CDA 288 also uses two premium "K"-grade Burr-Brown PCM63 20-bit DACs per channel in a time-averaging configuration that Copland found sonically superior. The CDA 288's analog electronics (I/V-conversion, reconstruction filter, and output stage) are constructed with discrete semiconductors in a class-A topology, and a second-order, linear-phase Bessel analog filter is also used.
Another dish for the smorgasbord!
Of course, all of this solid engineering and attention to detail would be meaningless if this $3200 CD player did not beautifully reproduce music. The CDA 288 was designed to compete against the best (Naim, YBA, Theta). When served warm and with the right dishes, the Copland player proves that one does not need to spend a fortune to reach audio nirvana. I have heard the mucho-expensive designs from Levinson, Krell, YBA, Naim, and Theta and I must confess that only the Theta, Naim, and YBA gear got my juices flowing. I listened to the CDA 288 in a variety of systems to see if my rather instantaneous, euphoric reaction to it was justified. This proved to be a wise strategy because I discovered that the CDA 288 can sound terrible in the wrong system.
I bet that last sentence grabbed your attention. Read on!
I listened to the CDA 288 connected to systems using the Copland CTA-301 Mk II preamplifier, OCM 88 linestage, EAR 834P phono stage, Sonic Frontiers SFP-1 phono stage, and Copland CTA-501 integrated amp. I also used a YBA 2 Alpha HC power amp, OCM 200 power amp, and Copland CTA-501 (as a power amp) to drive my Martin-Logan Aerius and Meadowlark Kestrel speakers. I briefly used a pair of Meadowlark Herons to hear how deep the CDA 288 could go (all the way to China). I listened to vinyl recordings of the discs that I was using on an AudioMeca Romance Turntable with a Benz Micro Glider (oh so smooth!). I used a Rega Planet CD player, Monarchy Audio DT40A transport, Sonic Frontiers SFD-1 digital processor, and YBA CD1 CD player (briefly) to hear what the CDA 288 was doing better or worse than the competition. Cables included Cardas Golden Cross; van den Hul the First, Second, Revolution; Axon; and YBA Diamond speaker cable. I plugged everything into Chang 6400, 3200 and Foundation Research line filters. The CDA 288 rested on a Townshend CD Sink and Black Diamond Racing Cones supported everything else on my Design Progression (loaded with 40 pounds of neatly bagged sand) equipment rack. Mannequins of famous tyrants (Idi Amin, General Pinochet, Louis XIV, and Ming the Merciless) covered with foam and placed in the Four Corners of my room did wonders soaking up excess bass and treble energy.
So how does it sound?
The CDA 288 is a superb CD player. OK, everyone can go home now. Just kidding. Listening to the Copland convinced me that there is some serious merit to the point made by companies like Naim that an entire system from the same manufacturer, when set up properly, will sound better than one that is a mix-and-match deal. In the case of the Copland CDA 288, this proved to be true as well. Before the folks at Copland have a (I wonder how it's pronounced in Danish?) stroke from my last sentence, I want to say that the CDA 288 sounded excellent in most systems. Unfortunately, not in all of them.
Before I tell you why I think the CDA 288 is worthy of a serious listen, I have to detail a negative experience that I had with it. I connected the CDA 288 to the OCM 88, expecting to hear magic (the OCM made me expect this after its four very satisfactory years of making music in my home). I made myself comfortable in my chair, and pressed down on the remote....
After checking to see if my teeth were still in place and using a rake to straighten my hair, I removed the OCM 88 from my system and inserted the Copland CTA-301 Mk II. The OCM could be described as being somewhat hard sounding. The CDA 288 does not have the sweetest treble that I have ever heard, but it does not exaggerate the upper frequencies either. My cables (van den Hul) sound slightly rolled at the extremes, so I knew that they were not to blame. After I connected the CTA-301 Mk II, I had my answer. The OCM 88 is the wrong partner for the CDA 288. I tried Cardas, van den Hul, and Axon interconnects to confirm this and in each case, the OCM 88 was problematic.
I compared the CDA 288 to the "highly rated" YBA CD1 and discovered that the two units sound very different. Both CD players did a wonderful job reproducing Tori Amos' voice on Under the Pink [East/West CD 82567]. The YBA sounded warmer and smoother in the midrange, giving a greater sense of presence to Tori's sexy voice. The CDA 288's midrange performance was in the same ballpark as the CD1, only sounding slightly thinner. The YBA's midrange warmth came at the expense of a somewhat incomplete presentation. The YBA was inferior to the CDA 288 when it came to bass, dynamics, and overall presentation. The CDA 288 massacred the YBA unit when I listened to Green Day's nimrod [Reprise CDW 46794 HDCD]. The CDA 288 had no trouble keeping up with Mike Dirnt's heavy-duty bass lines and Tre' Cool's pounding. The YBA fell to pieces when I played this disc. The YBA CD1 is one of the best CD players that I have heard when listening to jazz, folk, chamber and choral works. Unfortunately, while I listen to all of the above, I also listen to Rush, Pink Floyd, Buddy Guy, Stevie Ray Vaughan, Nirvana, The Who, Leftfield, and Soundgarden. The CDA 288 is a better-balanced design that will accommodate all types of music.
The Copland would not be worth recommending if it did not work with jazz. I moved the CDA 288 out of my big room and hooked it up to the Copland CTA-501 integrated amplifier, which I used to drive my Meadowlark Kestrels. After listening to John Coltrane's Black Pearls [JVCXR-0017-2], Gene Ammons' Boss Tenor [JVCXR-0033-2], and Bill Frisell's gone, just like a train [Nonesuch 79479-2], I can confidently state that the CDA 288 was obviously designed by two jazz lovers. There was a richness and immediacy to the music that made it "frighteningly" real-sounding. There was nothing exaggerated about it. I have never heard an alto sax or tenor sax reproduced so well. Way to go!
The CDA 288 worked with just about every type of music that I threw at it. It does lean towards the musical side of the spectrum, but not in a way that makes recordings sound too rich to the point of sounding slow. Simon Shaheen and Vishwa Mohan Bhatt's Saltanah [Water Lily Acoustics ES-51 CD] is the best recording of Middle Eastern music that I have heard. Trust me, I have looked. I once schlepped 20 outstanding records across Israel, only to have them melt underneath a bus in the Negev. Listening to this recording through the CDA 288 was intensely satisfying. The Rega Planet, to its credit, did an excellent job conveying the passion of the recording. Through the CDA 288, I was standing at the side of that bus in the Negev, cursing out the driver in my broken Hebrew, trying to explain that my Benz Micro Glider would never be able to track melted records. Great stuff folks! The all-Copland system did an even better job when I hooked it up to the Martin-Logan Aerius.
OK…now what?
I know that there are a lot of you audiophiles out there who just cannot wait to get your hands on one of those DVD players that you have been reading so much about. I know that some of you are holding off on purchasing a CD player because you have read that "DAD is going to change the way that we listen to music." I have listened to two second-generation DVD players, and I was...mildly impressed. There is no question in my mind that DVD is going to become the standard for video playback. I have seen some rather poor transfers of late, but the quality of most DVDs is a huge improvement over VHS. Unless the major labels release the Spice Girls (minus Geri, of course), Puff Daddy, and Celine Dion in DAD, then this new format is DEAD! Reality is never a pretty thing. The general population is generally satisfied with the sound quality of CDs (poor slobs!), and it is going to take more than a few dozen releases from some audiophile labels to sell this thing. It might take years for DAD to become a commercial success.
With that in mind, I highly recommend that you get off of your behind (I know how hard it can be to leave that narrow sweet spot that you listen in) and find a dealer that sells the Copland CDA 288. It is built a lot better than a Saab, looks almost as sexy as those Swedish models that your mother told you to stay away from, and it is one of the best CD players that you can buy at any price. Rosencrantz and Guildenstern never returned to their Danish homeland. This Danish CD player is going to suffer a similar fate. I bought it!
...Ian White
ian@soundstage.com
Copland CDA 288 CD Player
Price: $3,200 USD

Copland
Ryesgade 25 D
Copenhagen, DK-2200
Phone & Fax: +45 35 36 08 08
E-mail: copland@creative-online.dk
Website: www.datateam.hu

US Distributor:
Divergent Technologies
P.O. Box 8287
Sylvania, OH 43560
Phone: 800-514-7555
Fax: 419-885- 7148

Canadian Distributor:
Divergent Technologies
21 St. Leger Street
Kitchener, Ontario
N2H 4L8
Phone: 519-749-1565
Fax: 519-749-2863