September 2004
Harmonic Resolution Systems Nimbus Couplers, Nimbus Spacers, and Damping Plates by Marc Mickelson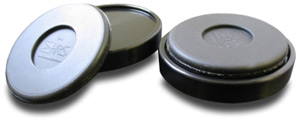 Harmonic Resolutions Systems Nimbus Couplers and Spacers...
It wasn't long after I finished my review of Harmonic Resolution Systems' M3 isolation base -- about an hour, in truth -- that I began experimenting with the other products HRS sent me to use along with the M3: Nimbus Couplers and Spacers as well as Damping Plates. These products address air-borne vibration (the sources of which, as HRS states, are "loudspeakers, humans, and other vibrating devices within audible reach of the [audio] system"), as opposed to the structure-borne vibration ("from loudspeakers, household devices, other audio components, and miscellaneous external disturbances") that the M3 base combats.
For both types of vibration, "the frequency range is very broad and complex." This means that one technique or material will not address the entire range of vibrational energy, which is why the M3, the Nimbus products and the Damping Plates exist. For the sake of completeness, I'll also mention that HRS makes a massive equipment rack -- it uses M3 bases as shelves -- and the Analog Disk LP clamp. All HRS products are the brainchildren of Mike Latvis, an engineer and audiophile who designs all of his company's handsomely made products.
HRS's Nimbus product line includes the all-in-one Nimbus ($45 USD each), the all-polymer Nimbus Coupler ($20 each), and the all-aluminum Nimbus Spacer ($29-$36 each depending on height). Which of these products you will need depends on the equipment with which they will be used, but the effect is the same: they reduce the bottom-panel vibrational energy of the products under which they sit and act as footers as well. The Nimbus is a 3"-diameter aluminum-and-polymer footer that can be used alone or with Nimbus Couplers and Spacers, depending on how much clearance is needed. The idea is for a polymer side, either from the Nimbus or a Coupler, to contact the bottom plate of the chassis. The custom-formulated polymer is good to 400 degrees Fahrenheit, so you don't have to worry about it melting if your gear runs hot.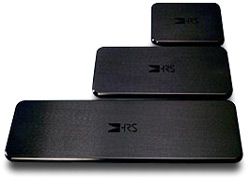 ...and Damping Plates
Latvis says that he most often uses five Couplers because "experimentation has shown this to be a good approach with most units." Therefore, I used five 0.8"-high Nimbus Spacers with two Nimbus Couplers each -- one on the top contacting the chassis bottom and one on the bottom touching the marble top plate of the M3 base, ten in total. Stacking Spacers and Couplers increases effectiveness, but it will also empty your wallet.
HRS's Damping Plates address the other side of the chassis -- the top plate. Each Damping Plate is a machined-aluminum "structural member" to which a polymer pad is bonded. The polymer side goes down and, just as with the Nimbus Coupler, the contact with the component's chassis kills vibration. HRS Damping Plates come in three sizes and prices: 4 1/2" x 5 1/2" ($75), 4 1/2" x 9 1/2" ($100) and 4 1/2" x 14 1/2" ($135). Three of the largest Damping Plates fit perfectly on my Mark Levinson No.37 CD transport and almost looked like they belonged there.
So there I was, CD transport propped up on five Nimbus Coupler/Spacer combos and with three HRS Damping Plates on top, the whole thing sitting on an M3 isolation base. However, getting to this point was not easy because of the non-flat bottom of the Mark Levinson No.37 as well as the experimentation required to get the placement of the Nimbus products just right. I am referring, first of all, to centering the mass of the component as much as possible. Then, with CD transports, you need to make sure the area nearest to where the CD spins is damped so that any vibration from the motor is not simply broadcast throughout the chassis. I positioned and repositioned each Spacer and Coupler until I felt that the No.37's mass was centered (you'll have a sense of this when you have it right) and the transport's mechanism was damped as well. This required some time, some patience, and a few angry outbursts as there is a limited amount of space underneath a Mark Levinson No.37 for positioning such devices. The Damping Plates were much easier to use -- I placed them horizontally on the No.37 with small gaps in between so they didn't touch.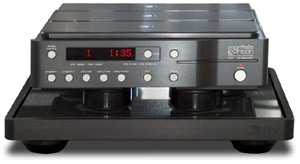 As with the M3 isolation base, the effect was not subtle. To my ears, the Nimbus products and Damping Plates greatly increased the effectiveness of the M3 isolation base. Images tightened up, image outlines were more solidly rendered, and the presentation had a greater sense of vitality -- all of this on top of the similar effects from the M3 isolation base. I was surprised. It's not that I didn't believe that such products could effect some sonic betterment; rather, I figured that the M3 isolation base would be what was responsible for the majority of it. From what I was hearing with the Nimbus products and Damping Plates, I'd say the outcome was about 50/50. This makes sense if you consider that, once again, HRS bills the M3 and Nimbus products/Damping Plates to be effective against different kinds of vibration and their sources.
HRS Nimbus footers, Couplers and Spacers along with the HRS Damping Plates are not on the low end of the cost scale for such products. Heck, when you use them with an M3 base, you can approach the cost of a component itself. Would I recommend buying, say, a lesser CD transport and a full HRS assortment to use with it? I can't say for sure if this is or is not a good idea -- I only used a Mark Levinson No.37 transport with the full suite of HRS products I had for review, and the No.37 is a very good transport to begin with. I can say that the HRS M3 alone was indispensable with 47 Labs' PiTracer CD transport, which, given its unique design, benefits to a great degree from attention paid to isolation and vibration damping. A turntable would probably benefit even more.
No matter -- Harmonic Resolution Systems' products work, and work very well. They comprise a true system for addressing vibration and its deleterious effects on the performance of audio equipment -- the most effective such system I've used. Once you're set in terms of your components, give Harmonic Resolution Systems' products a go. You'll discover there's more sound to be wrung from your equipment than you think.
...Marc Mickelson
marc@soundstage.com
Harmonic Resolution Systems Nimbus Couplers, Nimbus Spacers, and Damping Plates
Prices: Nimbus Couplers, $20 each; Nimbus Spacers, $29-$36 each depending on height; Damping Plates, $75-$135 depending on size.
Warranty: Five years parts and labor.

Harmonic Resolution Systems
255 Great Arrow Ave., Suite 39A
Buffalo, NY 14207
Phone: (716) 873-1437

E-mail: info@avisolation.com
Website: www.avisolation.com